Embark on an unforgettable adventure in the sparkling waters of Tampa Bay with a Dolphin Sightseeing Cruise.
Tampa, located on Florida's western coast, is famous for its diverse marine life. A cruise is an excellent way to watch dolphins in their natural setting.
These majestic creatures are known for their intelligence, grace, and acrobatic displays, and observing them in their natural environment is a truly awe-inspiring experience.
The serene beauty of Tampa Bay serves as a backdrop to this memorable excursion, offering panoramic views and the chance to appreciate Florida's stunning coastal scenery.
So, prepare to set sail on a Dolphin Sightseeing Cruise in Tampa and immerse yourself in the ocean's wonders.
Be captivated by the playful dolphins, marvel at the diverse marine life, and create memories that will last a lifetime.
This article covers everything you should know before booking tickets for Dolphin Sightseeing Cruise Tampa – tickets, timings, directions, and much more!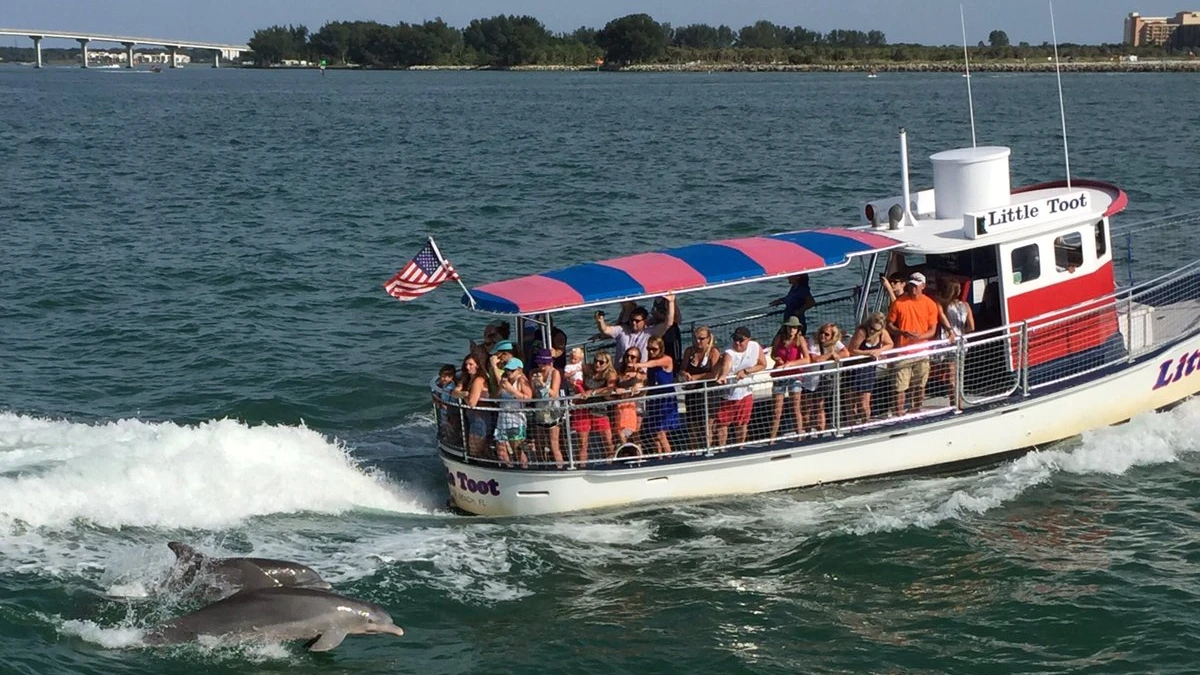 What to expect
Tampa Bay is known for its population of bottlenose dolphins, and these cruises provide excellent chances to witness these intelligent creatures swimming, leaping, and interacting with each other.
The sight of dolphins playfully riding the bow waves created by the boat is common, offering a thrilling spectacle.
The cruises are typically accompanied by knowledgeable guides well-versed in the behavior, habitats, and characteristics of dolphins and other marine life.
While dolphins take center stage, you may encounter other marine wildlife during the cruise. Watch for gentle sea cows as they glide through the water.
As you cruise through Tampa Bay, you'll be treated to breathtaking views of the surrounding coastline and natural beauty.
The sparkling waters, lush mangroves, and picturesque shorelines create a stunning backdrop for your excursion.
The boats often feature open-air viewing decks, ample seating, and onboard facilities that make your journey convenient.
Overall, a Dolphin Sightseeing Cruise in Tampa promises an enchanting experience, allowing you to connect with nature, appreciate the wonders of marine life, and create lasting memories of your encounter with dolphins in their natural habitat.
---
---
Where to book tickets
The tickets for Dolphin Sightseeing Cruise Tampa can be purchased online or at the attraction.
We suggest booking your tickets online to save both time and money.
Online ticket prices tend to be cheaper than tickets at the venue.
When you buy online, you can avoid the long queues at the attraction's ticket counters.
Because some attractions sell a limited number of tickets, booking early helps avoid last-minute disappointment.
When you book early, you also get your preferred time slot.
How do online tickets work
Visit the Dolphin Sightseeing Cruise Tampa booking page, choose a date and time slot, and purchase your desired number of tickets.
You will receive your tickets in your mail after payment.
There is no requirement to bring any printouts.
You can enter by showing your smartphone ticket.
Ticket prices
The Dolphin Sightseeing Cruise Tampa tickets are priced at US$31 for adults over 14 years.
For children between the ages of eight and 13, the tickets cost US$18.
For kids between the ages of one to seven, the tickets cost US$12.
Dolphin Sightseeing Cruise Tampa tickets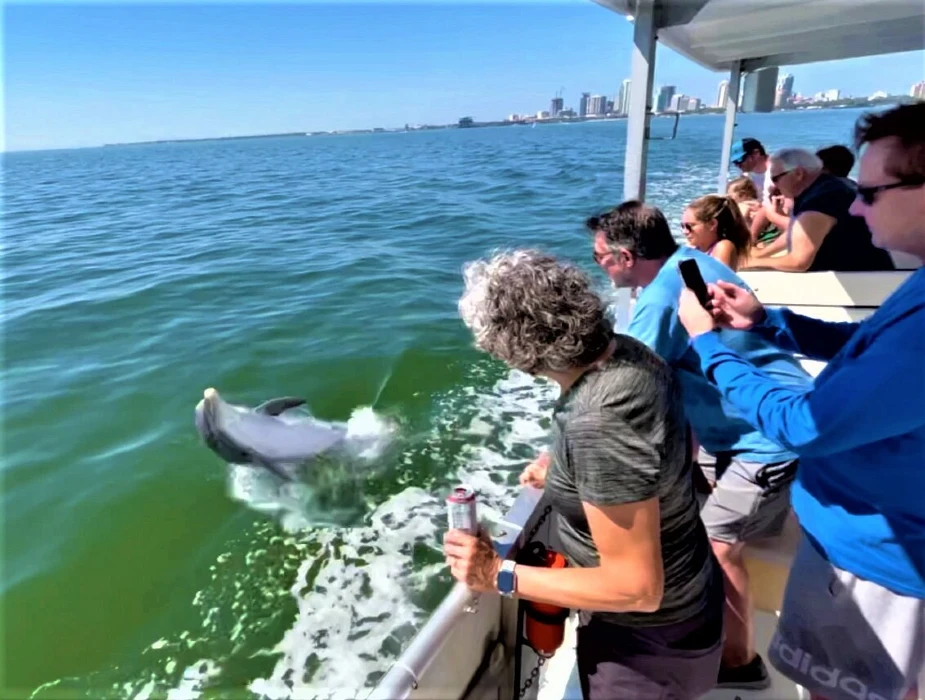 Dolphin sightseeing cruises are a popular method to see these lively animals in their natural environment. Dolphins can be found in huge numbers in Tampa Bay.
The guides on the boat will also be able to tell you about the dolphins' behavior and their role in the ecosystem.
Dolphin sightseeing cruises are a great way to see these amazing creatures up close and learn about their lives.
They're also a lot of fun, and you will surely have a memorable experience.
Ticket Prices
Adult Ticket (13+ years): US$31
Youth Ticket (8 to 13 years): US$18
Child Ticket (up to 7 years): US$12
Save time and money! The Tampa Bay City Pass lets you see Tampa's must-see tourist attractions while saving money. You can visit Busch Gardens Tampa Bay, the Florida Aquarium, and ZooTampa at Lowry Park. Then choose two additional attractions: Clearwater Marine Aquarium, The Tropics Boat Tours Dolphin or Sunset Cruise, Museum of Science and Industry (MOSI), or Glazer Children's Museum. This pass can be used for nine days, starting on the first day of use.
---
---
How to reach
The Dolphin Sightseeing Cruise is located in the sparkling waters of Tampa Bay on the western coast of Florida.
Address: 701 Channelside Drive, Tampa, Florida 33602. Get Directions.
By Light Rail
The Dolphin Sightseeing Cruise is only three minutes from Amalie Arena Station (Light rail: 800).
By Bus
The Dolphin Sightseeing Cruise is only five minutes from Meridian Ave @ Cumberland Ave (Bus: 9).
By Car
If you're traveling by car, turn on Google Maps and begin your journey.
Click here to learn more about the parking garages nearby the Dolphin Sightseeing Cruise.
Timings
The Dolphin Sightseeing Cruise in Tampa operates all year round, from 9.30 am to 5 pm every day.
Best time to go for Dolphin Sightseeing Cruise
Morning cruises typically start between 10 am and 11 am.
Early morning hours can be a great time for dolphin sightings as the waters are usually calmer, and wildlife tends to be more active.
Another optimal time for a Dolphin Sightseeing Cruise is late afternoon or evening, usually from 4 pm to 5 pm.
You may consider going early in the day when the visitors are minimum.
Avoid weekends and holidays if you prefer a less crowded experience.
How long does the cruise take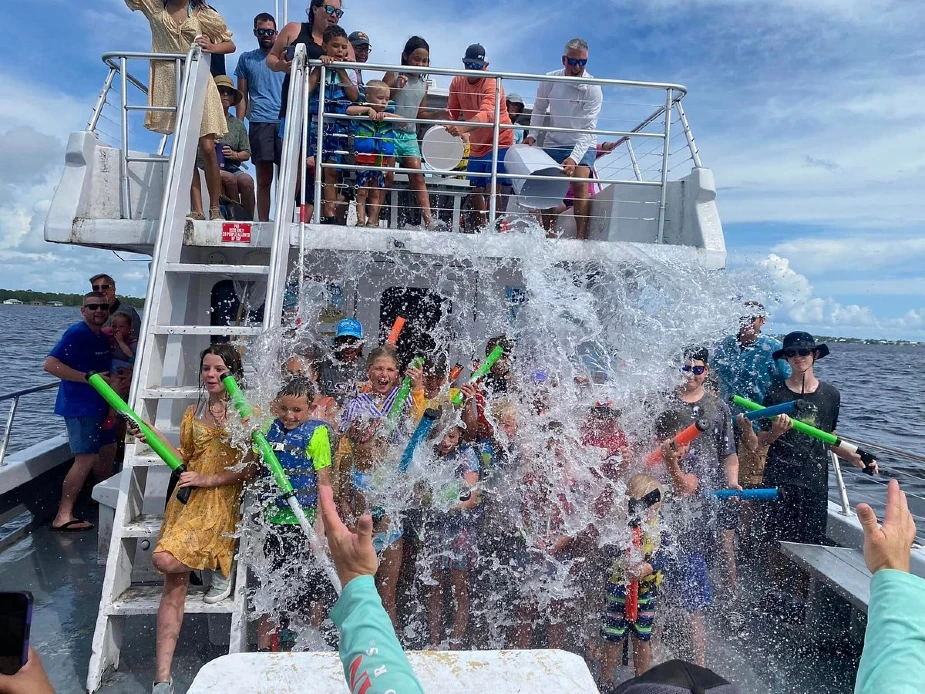 The duration of a Dolphin Sightseeing Cruise in Tampa can vary depending on the specific tour operator and package chosen.
On average, these cruises typically last between 1.5 to 2 hours.
---
---
FAQs
The most frequently asked questions about Dolphin Sightseeing Cruise Tampa are below.
What is a Dolphin Sightseeing Cruise in Tampa?
Dolphin Sightseeing Cruise in Tampa is a boat tour designed to allow passengers to observe and interact with dolphins in their natural habitat. 

The cruises usually occur around Tampa Bay, where dolphin sightings are common. 
How close can I get to the dolphins during the cruise?
The distance between the boat and the dolphins can vary, as it is important to respect the animals and maintain a safe distance. 

However, in many cases, the dolphins may come quite close to the boat, sometimes swimming alongside or leaping out of the water, providing a thrilling experience for passengers.
Are dolphin sightings guaranteed during the cruise?
As the tour operators try their best to locate dolphins, wildlife sightings can be guaranteed. 

Dolphin sightings are relatively common in the waters around Tampa Bay, so the chances of seeing dolphins during the cruise are generally high.
Is the Dolphin Sightseeing Cruise appropriate for children?
Dolphin Sightseeing Cruises are generally suitable for children. Many tour operators welcome families and provide a family-friendly environment on board. 
What should I bring with me on a Dolphin Sightseeing Cruise?
It is recommended to bring sunglasses, sunscreen, a hat, and a light jacket or sweater in case the weather becomes cooler on the water. 

Additionally, bringing a camera or binoculars can enhance your experience by allowing you to capture photos or get a closer look at the dolphins and other wildlife.
Are there any restrictions or rules I should know during the cruise?
You must stick to the crew's recommendations, which are intended to safeguard the security and well-being of tourists and wildlife. 

These guidelines may include not feeding or touching the dolphins, keeping a safe distance, and respecting the animals' natural behavior.
Is it permissible to bring food and beverages on board the cruise?
Policies regarding outside food and beverages may vary among different tour operators. 

Some cruises may have onboard snack bars or provide refreshments for purchase, while others may allow you to bring your food and drinks. 
Sources
# Flaquarium.org
# Viator.com
# Tripadvisor.com

The travel specialists at TheBetterVacation.com use only high-quality sources while researching & writing their articles. We make every attempt to keep our content current, reliable and trustworthy.
Popular attractions in Tampa