The Tampa Bay Speedboat Adventure is a thrilling adrenaline ride on the waterways of Tampa Bay, Florida.
Speedboat adventures in Tampa Bay involve a high-speed boat ride through the beautiful waters of Tampa Bay, offering participants a unique and thrilling perspective of the area.
The boats for these adventures are designed to provide an exciting and safe experience, with powerful engines and skilled captains at the helm.
This article shares everything you need to know before booking tickets for the Tampa Bay speedboat adventure – ticket prices, timings, directions, what to expect and more!
Top Tampa Bay Speedboat Adventure Tickets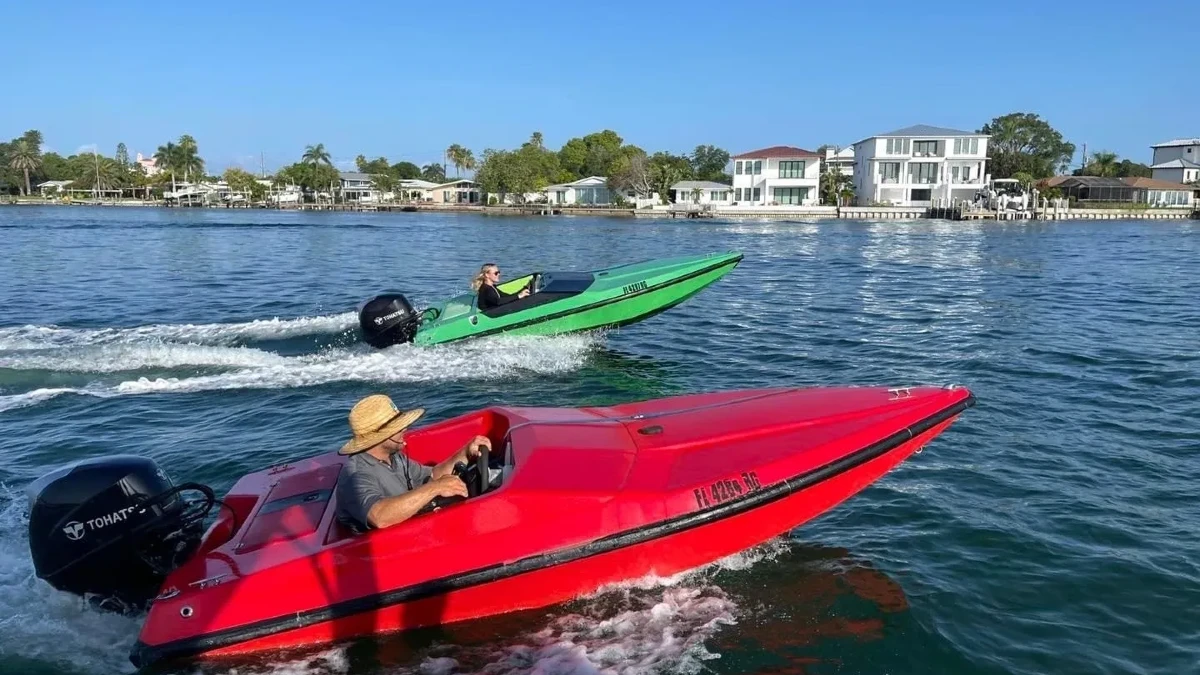 What to expect on Tampa Bay Speedboat Adventure
During the speedboat adventure, you can expect to zip across the water at high speeds, feeling the wind in your hair and enjoying the stunning coastal scenery.
The captain will take you to popular sights and landmarks, such as the National Wildlife Refuges, Fort de Soto Park, and the Gulf of Mexico, providing sightseeing and photo opportunities.
In addition to the exhilarating speed, you might experience maneuvers like sharp turns, twists, and jumps over waves, adding excitement to the adventure.
During the ride, a knowledgeable guide will help you navigate your way out of the serenity of Tampa Bay and let you take control of your craft for a heart-pounding journey.
Speedboat adventures are not suitable for children under three years. It's important to check with the tour operator for age or health restrictions.
Remember to follow the operators' safety guidelines and wear any necessary safety equipment, such as life jackets, to ensure a safe and enjoyable speedboat adventure.
---
---
Where to book tickets for Tampa Bay Speedboat Adventure
Tickets for Tampa Bay Speedboats are available online in advance or at the attraction.
To ensure a hassle-free experience, we suggest booking your tickets online in advance.
Online ticket prices tend to be cheaper than tickets at the venue.
When you buy online, you can avoid the long queues at the attraction's ticket counters.
Because some attractions sell a limited number of tickets, booking early helps avoid last-minute disappointment.
When you book early, you also get your preferred time slot.
How do online tickets work?
Go to the Tampa Bay Speedboat Adventure ticket booking page, and select your preferred date, time slot, and number of tickets to buy.
You will receive the ticket confirmation in your email after the booking.
Ticket printouts are not required.
You will get entry to the private speedboat by redeeming your smartphone ticket and passing a security check on the day of your visit.
Visit the venue 30 minutes before departure, as check-in will begin 30 minutes before departure.
Cost of Tampa Bay Speedboat Adventure tickets
Tickets for Tampa Bay speedboat adventures cost US$147 for single-passenger boats.
Double-passenger boats charge US$182 for all visitors, irrespective of age.
Tampa Bay Speedboat Adventure tickets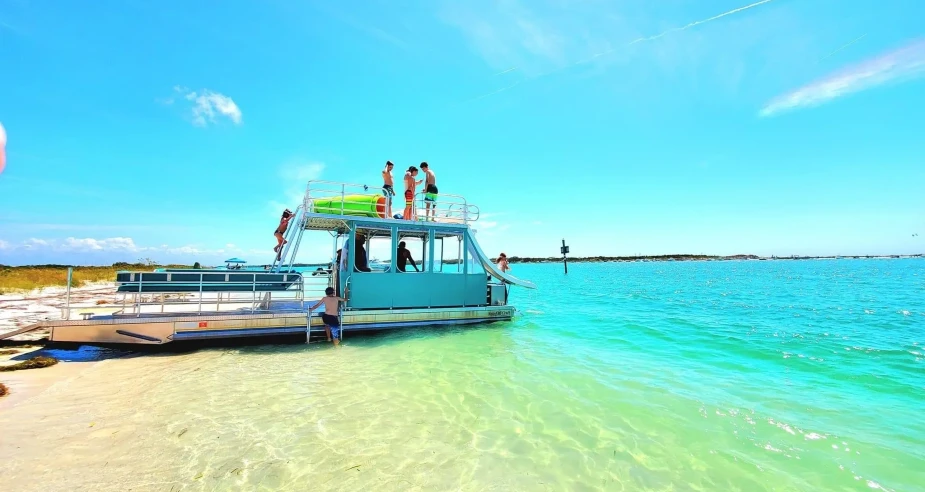 Experience the thrill of a lifetime on a two-hour private speedboat adventure in Tampa Bay.
Take control of your speedboat and cruise around Fort de Soto Park and the coastline of Tampa Bay to get a unique view of Florida's stunning scenery.
See dolphins, manatees, and other exotic animals, and feel the wind in your hair and the waves beneath your feet as you explore the Gulf of Mexico.
A guide will await you at the Tierra Verde Resort Marina.
The tour is not suitable for children under three years.
Check-in will be 30 minutes before your departure time.
Ticket Prices
Single Passenger Boat: US$147
Double Passenger Boat: US$182
Save time and money! Experience Tampa's must-see tourist attractions and save money with Tampa Bay CityPASS. See top attractions, including Busch Gardens ® Tampa Bay , ZooTampa, and more.
---
---
How to reach Tampa Bay Speedboat Adventure
Tampa Bay speedboat adventure is on the Pass A Grille Way opposite the St. Pete Beach Fire Department.
Address: 1901 Pass a Grille Way, St. Pete Beach, FL 33706, USA. Get Directions.
You can drive to the Tampa Bay speedboat adventure or take public transportation.
By Bus
The nearest bus stop is 34th Ave + Gulf Blvd with available bus number 90. Take a two-minute walk to reach the speedboat adventure office.
By Car
You can rent a cab or drive to the Tampa Bay speedboat adventure.
Launch Google Maps on your phone and get started.
There are numerous parking spots available around the speedboat adventure.
Timings
Two-hour Speedboat adventures at Tampa Bay begin three times daily – 11 am, 1 pm, and 3 pm.
You can book your preferred time slot in advance to avoid last-minute disappointment.
Best time to visit
The best time to visit the Tampa Bay speedboat adventure depends on your preferences.
If you prefer fewer crowds and lower prices, consider visiting Tampa Bay during the fall shoulder seasons (September to November) or spring (April and May).
You'll likely find shorter lines and less demand for speedboat tours.
Check the weather forecast and any local events during your preferred time frame to maximize your visit.
How long does the adventure take
The thrilling Tampa Bay speedboat adventure lasts about two hours.
Meet your guide 30 minutes before the departure at the designated meeting point.
FAQs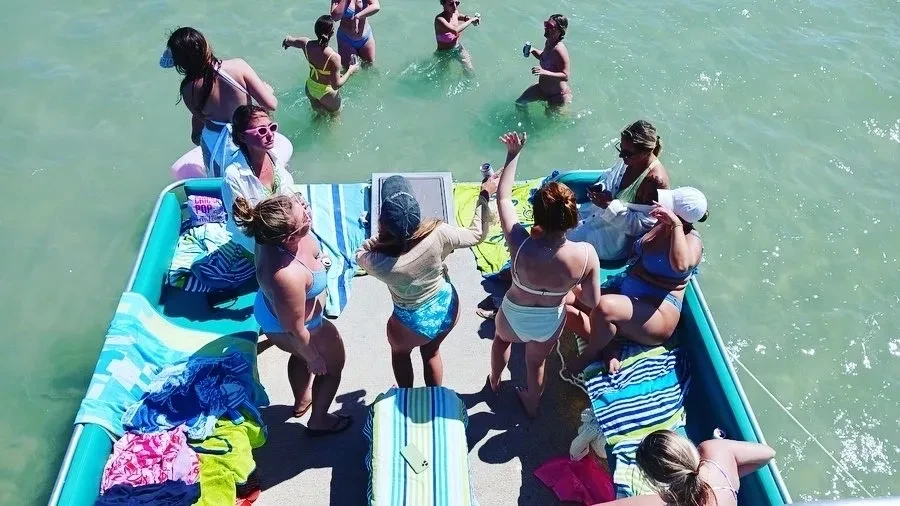 Here are some questions that visitors usually inquire about before visiting Tampa Bay speedboat adventure:
What are speedboat adventures in Tampa Bay?
A speedboat adventure in Tampa Bay typically involves a thrilling ride on a high-speed boat, allowing you to explore the bay's beautiful waterways, coastline, and nearby attractions. 

It's an exciting way to experience the area's natural beauty, wildlife, and scenic views.
How long do speedboat adventures in Tampa Bay last?
The duration of a speedboat adventure can vary depending on the specific tour you choose. The usual time taken is two hours. 

It's important to check with the tour operator or company to determine the duration of the adventure you are interested in.
Are there any age or weight restrictions for speedboat adventures?
Age and weight restrictions vary depending on the tour operator and the specific speedboat adventure. 

Some tours may have minimum age requirements, with a minimum age of around three or four years, due to safety considerations. 

Weight restrictions may also apply to ensure a safe and comfortable experience. 

Up to three people on one boat can be booked with 204 kgs (450 lbs) as the maximum weight limit.
What should I wear and bring for a speedboat adventure?
Wear comfortable and weather-appropriate clothing, such as shorts, t-shirts, and a light jacket or windbreaker. 

Consider bringing a hat, sunglasses, and sunscreen to protect yourself from the sun. 

Additionally, consider getting a waterproof bag for any personal belongings you want to keep dry, such as cameras or phones.
Is it necessary to make reservations for Tampa Bay speedboat adventure in advance?
Making reservations in advance is recommended, especially during peak tourist seasons or weekends when speedboat adventures can be in high demand. 

By booking ahead, you can secure your spot and ensure availability for your preferred date and time.
Do I need any prior experience to go on a speedboat adventure?
Previous experience is usually optional to go on Tampa Bay speedboat adventures. 

The tours are designed for all skill levels, and the captain will provide instructions and guidance on safely enjoying the ride. 

The tour company provides safety equipment, including life jackets.
Can I bring my camera or smartphone on the Tampa Bay speedboat adventure?
Bringing a camera or smartphone to capture your experience is usually allowed, but ensuring they are properly secured and protected from water is important. 

Carry waterproof bags to keep your belongings safe during the ride.
Sources
# Bayrockettampa.com
# Endlesssummerwatersport.com
# Tripadvisor.com

The travel specialists at TheBetterVacation.com use only high-quality sources while researching & writing their articles. We make every attempt to keep our content current, reliable and trustworthy.