Gellert Spa is one of the most popular Baths in the city of Budapest.
Its 12 thermal baths, three outdoor pools, Art Nouveau structure, and the beautiful tiles and mosaics surrounding the pools help thousands of visitors relax themselves every day.
Locally this collection of the finest Thermal Baths is referred to as Gellert Gyogyfurdo.
In this article, we tell you everything you must know before booking your session at Gellert Spa Baths.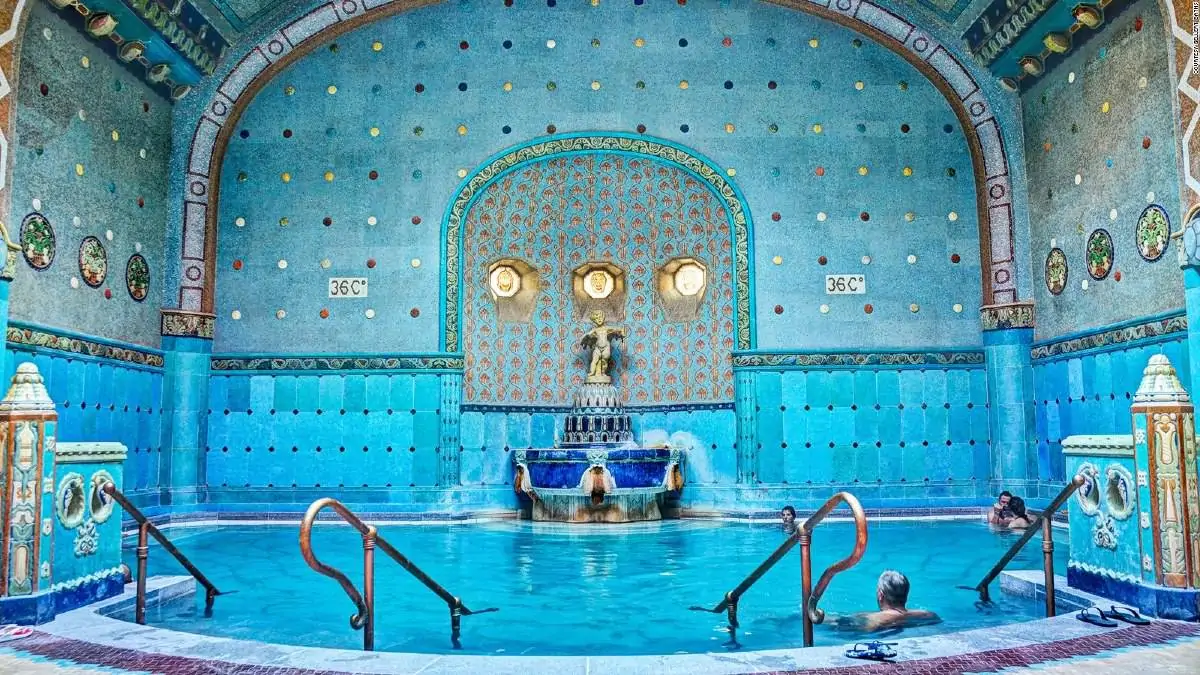 What to expect at Gellert Spa
Check out the video below to know what Gellert Spa Baths is all about –
How to reach Gellert Baths
Gellert Spa & Thermal Baths is on the Buda side of Budapest, just by the river Danube, at the foot of Gellert Hill.
If you prefer the Metro, board Line M4 train (Green Line) and get off at the station called Szent Gellert Ter.
From the Metro station, Gellert Spa's entrance is only 150 meters.
The other option is to take buses number 7, 7A, and 86, or tramways number 18, 19, 47, and 49 and get down close to Gellert Spa.
Gellert Spa tickets
It is best to buy Gellert Spa Bath tickets online because it ensures a hassle-free entry.
The tickets below are valid for all of the indoor and outdoor pools and other facilities, for a full day, including a private changing cabin or locker.
You can check-in anytime between 6 am and 6 pm.
With these Gellert Spa tickets, you can stay in the pools till 7.45 pm, after which all visitors must get out.
Same day tickets
Tickets to this Gellert Baths in Budapest can be bought in advance or on the same day.
Even if you buy tickets on the day of your visit, for the same price, you get access to all the facilities.
Gellert Spa ticket price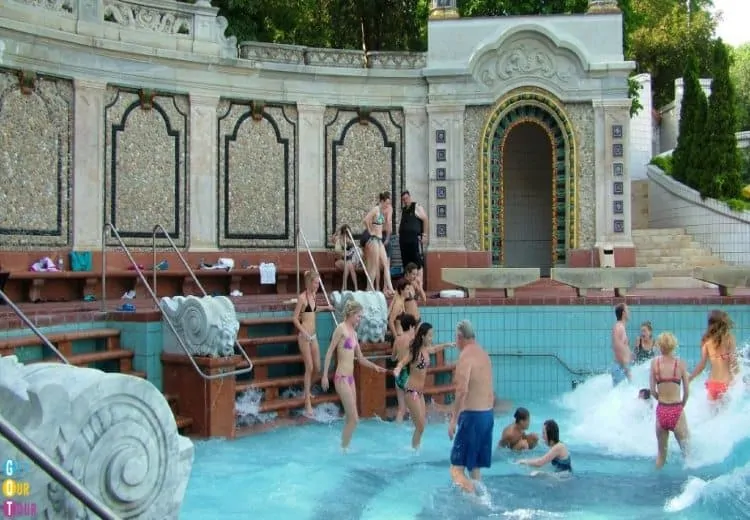 Gellert Spa's prices depend on the experience you prefer.
The cheapest Gellert Spa tickets cost 7530 Ft – that's the price you must pay if you visit the thermal pools on a weekday and opt for a locker.
If you plan to visit on the weekend, the same ticket will be 365 Ft costlier – that is 7880 Ft.
If you book a Gellert Spa cabin (instead of a locker), the ticket will cost 550 Ft extra per person.
The cabin charges remain the same on both weekdays and weekends.
The Gellert Spa VIP Experience tickets cost 16530 Ft. This ticket is also referred to as the 'I love Spa package.'
If you want to enjoy a 20-minute massage during your visit to Budapest's most popular attraction, you must buy the 'Fast Track + Massage' ticket.
This massage ticket is priced at 18620 Ft if you opt for the locker and 18990 Ft if you opt for the cabin.
Discounts at Gellert Spa
Kids under two years of age can enter Gellert Spa for free – that is, they get a 100% discount.
There is no other discount on Gellert Spa tickets.
All visitors above two years, all students and all seniors pay the same ticket price to enter the Thermal pools.
Note: Children who haven't been potty trained yet, can't enter the pools.
Wristband at Gellert Baths
Once your Spa tickets get validated at the entrance, you will get a Smart wristband, which you must wear at all times.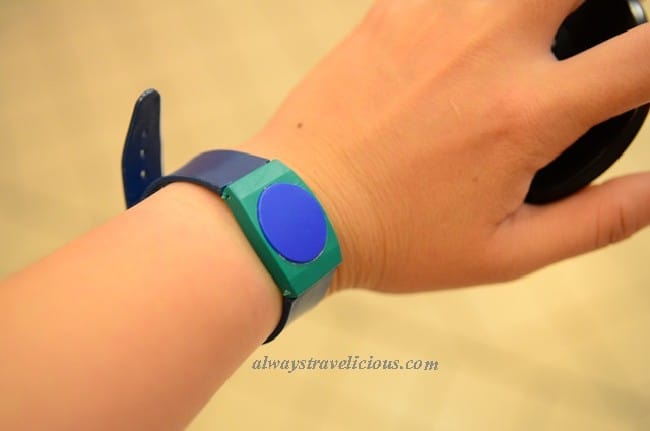 This Silicon wristband also helps you lock and unlock the lockers and Gellert Spa Cabins.
If you lose your wristband, you can get one by paying an additional fee.
Fast Track Gellert Spa tickets
Fast Track Gellert Spa tickets are the cheapest and the most popular way to get into Gellert Spa.
With this ticket, you get to experience wave machines, thermal pools, plunge pools, the swimming pool, sauna, steam room – in fact, all the facilities the Spa has to offer.
Inclusions
Entry to all pools
Cabin or locker (whichever you choose)
Use of the services until the Spa closes
Outdoor Fun Pool with jacuzzi and whirlpool
Cancellation: 24 hours before your visit date, for a full refund.
Weekday ticket prices
Entry ticket with Locker: 7485 Ft (€20.50)
Entry ticket with Cabin: 8035 Ft (€22)
Weekend ticket prices
Entry ticket with Locker: 7850 Ft (€21.50)
Entry ticket with Cabin: 8400 Ft (€23)
Gellert Spa's 'I Love Spa Package'
The I Love Spa package is a VIP ticket for a full day of fun at Europe's most luxurious spa bath.
With this ticket, you get a Gellert Spa Bath Kit, which includes a towel, flip-flops, shampoo, shower gel, shower cap, and a bottle of mineral water.
Inclusions
Access to the venue for the whole day
Private changing cabin, with locker
A branded Towel
Flip-flops
A bottle of mineral water
Shampoo and shower gel
Shower cap
Massages aren't part of this ticket, but you can book them onsite for an extra fee.
Cancellation: 24 hours before your visit date, for a full refund.
Ticket price: 16430 Ft (€45)
Gellert Spa ticket + Massage
Besides access to all the facilities, the Fast Track Gellert Spa Massage ticket also gets you an Aromatherapeutic Massage.
The objective of the 20-minute aromatherapy massage is to relax your body and mind.
You must check-in at least 1 hour before your scheduled massage session.
The minimum age requirement for a massage at Gellert Spa is 18 years.
Inclusions
Entry to all the Thermal Pools
20-minute aromatherapy massage
Cabin or a locker (depending on your choice)
Access to outdoor Fun Pool with jacuzzi and whirlpool
Cancellation: For a full refund, you can cancel it 24 hours before your visit date.
Ticket prices
Spa Entry + Massage + Locker: 18620 Ft (€51)
Spa Entry + Massage + Cabin: 18990 Ft (€52)
Visual Story: 15 must-know tips before visiting Gellert Spa
Visitors to Budapest wonder if they must visit Szechenyi Baths or Gellert Spa. Follow the link for a detailed comparison of the two attractions based on 11 parameters.
Gellert Spa's opening hours
Gellert Spa in Budapest is open from 6 am to 8 pm every day of the week.
Visitors with online tickets can enter the Baths till 6 pm.
If you reach the Gellert Spa Baths after 6 pm, you must buy tickets at the venue with cash.
All visitors must start exiting the pools by 7:45 pm.
Christmas hours
During Christmas times, Gellert Baths follow slightly altered timings.
On Dec 24, 25, 26 and Jan 1 this Budapest attraction is open from 12 noon to 6 pm.
Winter timings
The winter timings remain the same.
However, the outdoors Wave Pool gets closed from October to May.
The second outdoor thermal pool stays open until freezing time.
When the outside air goes below 0 degrees Celsius (32 degrees Fahrenheit), the outdoor thermal pool also gets closed.
All indoor pools continue to operate all through the year.
Best time to visit Gellert Spa
The best time to visit Budapest's Gellert Thermal Baths is 10 am when the local regulars have just left after their dip in the outdoor swimming pool, and the tourists are yet to arrive.
If you can't make it in the morning, the next best time to reach Gellert Spa is 1.30 pm – when the morning tourists have left for lunch, and the next batch is yet to arrive.
By late afternoon – that is by 3.30 pm, the pools get crowded again.
Weekends are more crowded than weekdays.
Visiting Gellert Spa with kids
Gellert Spa Baths is not advisable for kids below 14 years of age.
The cardiovascular system of kids younger than 14 years face increased stress when subjected to the 33 degrees Celsius (91.4 Fahrenheit) plus temperatures of the thermal pools.
The second reason why we feel it is not right for kids is that these Baths didn't get designed with kids in mind – there are no shallow sides, slides, or other colorful water attractions.
However, if parents want, they can get their kids to the Baths.
Note: Kids love the outdoors wave pool because it is a bit cooler than other pools and more family-friendly.
Infants at Gellert Spa
Babies who have not been potty trained yet are not allowed in the Gellert Spa pools, even if they wear a swimming nappy.
This rule usually applies to kids under three years of age.
However, parents can bring infants to the Baths as long as they don't get in the pool.
Note: Kids below two years of age needn't buy tickets.
Gellert Spa Cabin or Locker – which is better?
While buying a ticket for Gellert Spa in Budapest, you must decide if you want a Cabin or a Locker.
You can't opt-out of this choice because all Bath tickets either come with a Locker or a Cabin.
After all, you will need some space to store your belongings when you go for a dip in the pools.
Gellert Spa Lockers
Lockers are standard wardrobe type boxes one finds in swimming pools.
Each of these lockers come with a lock, to ensure the safety of items kept inside.
All lockers at this Budapest Spa are of the same size – 120x30x65 cm (1200 x 300 x 650 mm).
When you buy a Gellert Bath ticket with Lockers, you must change in the women-only / men-only public changing rooms.
If you prefer privacy, we suggest you opt for Gellert Baths cabin instead.
Gellert Spa Cabins
Cabins are small-sized changing rooms with enough storage facilities.
Since there is only enough space for one person to change at a time, couples or families are known to take turns changing.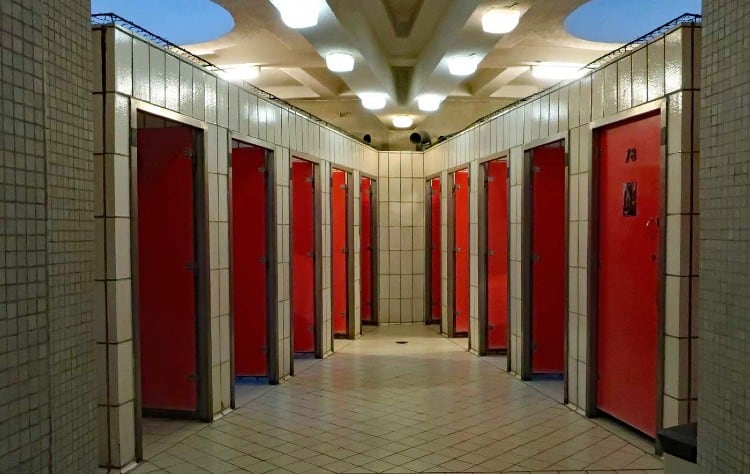 Gellert Spa's dress code
Many visitors to this luxurious Spa in the heart of Budapest have this doubt – "What can we wear at Gellert Spa?"
Nudity policy at Gellert Spa Baths
Gellert Spa has been an all-gender thermal spa since 2013, and nudity isn't encouraged.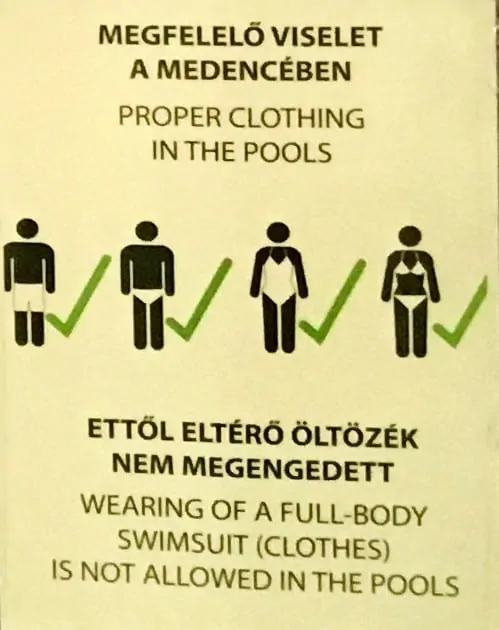 All visitors must wear clothes (read swimwear) when in the corridors, the pools, the baths, the saunas, steam rooms, etc.
There are three places in Gellert Baths where visitors can be naked – in the gender-separated change rooms at the lockers, the showers, and the private changing rooms (also referred to as the cabins).
Image: Szechenyispabaths.com
Women's Swimwear
All women visitors in Gellert Baths must wear swimwear – it can be a bikini, a tankini (a tank top and a bikini bottom), shorts (with a top), or a one-piece ladies swimsuit.
However, Burkini (the full-body swimsuit) is not allowed.
Men's Swimwear at Gellert Spa
Men can wear speedo style swimwear or a sporty pair of swim trunks or shorts with a top.
Most men wear only shorts, with no top and that is normal.
Dress code for kids
The Gellert Baths dress code for young girls is the same as it is for the women, and for young boys, it is the same as it is for the men.
*In some of the pools, a swim cap is mandatory for everyone.
Important: Flip flops or slippers are a must in all areas of the Gellert Thermal Baths. You can get your own, or buy a pair in the shop at the entrance.
What to bring to Gellert Spa Baths
Here is a list of things you must take along when you visit Gellert Spa Baths, the most luxurious thermal pools in Budapest.
Swimwear: Even though you can buy swimwear at the Store, we suggest you take them along. You will feel comfortable and won't spend an excessive amount of money purchasing one at a tourist spot. Check on the dress code
Towel: If you have booked the I Love Spa package, you don't need to bring along a towel. If you have booked some other Gellert Spa ticket, you have two options – bring along a towel yourself or rent one at the venue.
Getting your towel from home (or hotel) has two advantages – because it will be unique, it won't get mixed up with others' towels, and you won't have to wait in a line to rent one.
Flip flops / slippers: The Gellert Baths VIP Package ticket includes flip-flops as well.
If you haven't booked the VIP ticket, you can either bring your own or buy a pair from the shop near the entrance.
Soap and shampoo: The showers at this Spa don't have complimentary soap or shampoo dispensers.
Most visitors don't need soap or shampoo after a relaxing time here, but if you prefer you can get your own.
Waterproof wallets / purse: Since you will spend most of your time at this Budapest attraction in water, there is no harm in bringing along a waterproof wallet or purse.
Since your ticket will include a locker or a cabin, you also have the choice of leaving your valuables in them safely.
Swimming cap: The thermal pools don't need swimming caps. But if you plan to do laps in the cooler swimming pool, a cap is a must.
Essentials for Summer: If you are visiting the Gellert Spa between June to September – when the Sun gets hot – it is better to carry a light-colored baseball cap for the gents and a hat for the ladies.
What NOT to get to Gellert Spa
It is better not to wear any jewelry while getting into the pools at Gellert Spa.
Rings may slip off your fingers, and chains may unhook, etc.
It is better to even leave your wrist watches at home (or hotel).
Since visitors can't smoke at these Baths, it doesn't make sense to get cigarettes as well.
Map of Gellert Spa
Gellert Spa is one of the biggest natural spring water bath complexes in Central Eastern Europe.
It has 12 pools – two effervescent bath sections, three outdoor pools and eight thermal baths. And besides these, there are numerous saunas, steam rooms, massage rooms, changing facilities (cabins, lockers), restaurant, etc.
On their first visit, most visitors feel lost, and that is why knowing the floor plan of Gellert Spa much in advance helps.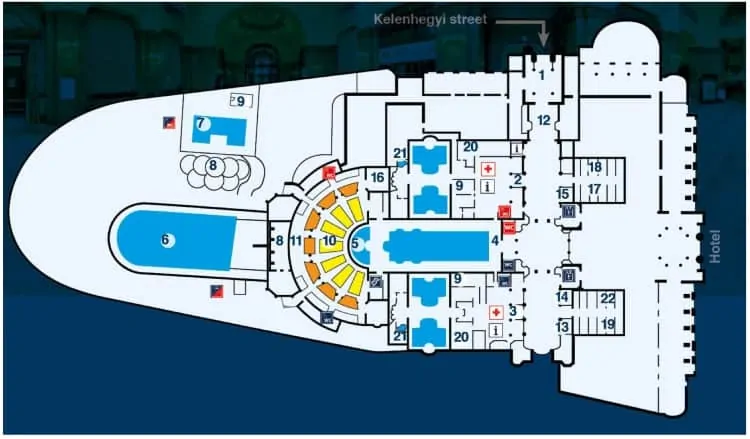 Entrance
Spa Entrance
Spa Entrance
Inside Swimming Pool
Thermal Pool
Outside Wave Pool (seasonal access)
Adventure Pool
Sun Terrace
Sauna
Changing Room (Cabins)
Locker (Upstairs)
Cash Desk
Hairdresser
Beauty Saloon
Snacks
Restaurant (upstairs)
Royal Therapies (upstairs)
Private Bath (upstairs)
Thai Massage (upstairs)
Massage Rooms
Steam Baths
Pedicure
History of Gellert Spa
Gellert Spa is part of the luxurious Hotel Gellért, built in the Art Nouveau style.
In the 13th century, Hungarian King Andrew II had a small hospital erected at the foot of Gellert Hill to capitalize on the healing properties of the water found there.
When the Turkish (Ottomans) arrived in the 16th century, they erected a Turkish bath in its place and called it Acik Iliye.
In the 17th century, these pools filled with mud and mineral water were also known as Muddy Pools (Sarosfurdo).
Between 1912 and 1918, the pools and buildings got re-built in the Art Nouveau style, and the Spa experience became a lot more civilized.
Around this time, the Baths got the name Gellert Spa – after St Gerhard, who had lent his name for the nearby Gellert Hill as well.
The Gellért Spa was open even during World War II.
In 1927, a massive wave pool got added, and in 1934 a bubble bath was added to the complex.
Gellért Bath underwent its first extensive renovation in 2008, and five years later, all the thermal pools became co-ed.
Sources

# Gellertspa.com
# Bathsbudapest.com
# Tripadvisor.com
# Wikipedia.org

The travel specialists at TheBetterVacation.com use only high-quality sources while researching & writing their articles. We make every attempt to keep our content current, reliable and trustworthy.
Popular attractions in Budapest