More than 15 million tourists visit Budapest every year, and most of them want to experience a Thermal Bath in the City of Spas.
The Hungarian capital is dotted with many Baths, such as Szechenyi Spa, St. Gellert Spa, Rudas Baths, Király Baths, Veli Bej Baths, Palatinus Baths, Dandár Baths, Lukács Baths etc.
Of these, Szechenyi Spa and Gellert Spa are the most popular thermal Baths.
And as a result, tourists must decide if they want to visit Gellert or Szechenyi.
In this article, we explain both these attractions and help you decide if you must buy Gellert or Szechenyi Baths tickets.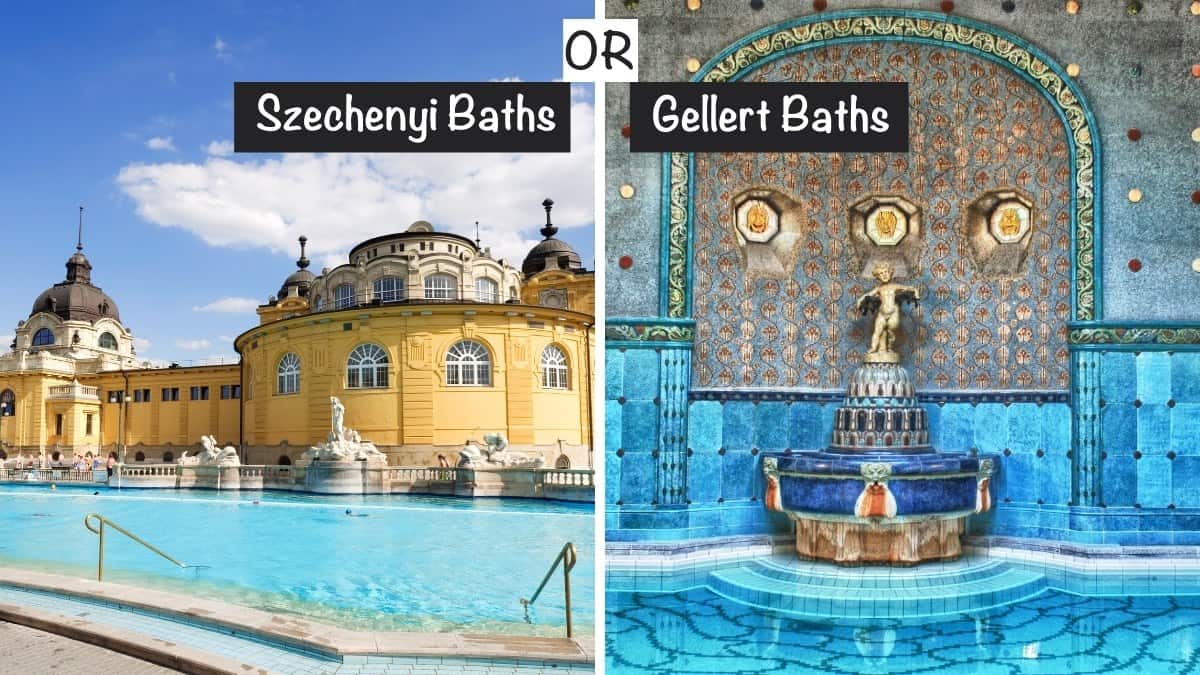 Why choose between Szechenyi and Gellert
There are three main reasons why visitors end up choosing between one of the two thermal Baths –
They are in Budapest for a limited time and can only include one visit to a Bath in their itinerary.
They are on a budget holiday and can only afford one
They think all Baths are the same – if you have seen one, you have seen them all
If you aren't on a budget vacation and have plenty of time in Budapest, we suggest you book your tickets for both Szechenyi Baths and Gellert Spa.
They are both very different Spa experiences.
Why visit Szechenyi Baths
Szechenyi is the largest thermal bath in Budapest and the most massive medical Bath in Europe.
Its 18 pools, saunas, steam room, spa facilities, and immersion pools make it one of the most popular destinations for both tourists and locals in Budapest.
Watch the Szechenyi Baths video to know what to expect –
>> Szechenyi Fast Track ticket
>> Fast Track ticket + Massage
Visual Story: 15 must-know tips before visiting Szechenyi Spa
Visual Story: 15 must-know tips before visiting Gellert Spa
Why visit Gellert Baths
Even though Gellert Baths are not as massive as Szechenyi Baths, they are equally popular with tourists and locals alike.
Gellert Baths also has a range of thermal pools, immersion pools, spa treatments, etc., but its biggest draw is the ambiance.
The beautiful tiles and mosaics surrounding the pools are known to help visitors relax.
Watch the Gellert Baths video to know what to expect –
>> Gellert Spa Fast Track ticket

Similarities between Szechenyi and Gellert
The architecture of both Szechenyi and Gellert is equally good
Both have baths at various temperatures ranging from 30 to 40 degrees Celsius (86 to 104 degrees Fahrenheit)
Both Szechenyi and Gellert have different-sized pools.
Both have a few cold plunge pools
Both Szechenyi and Gellert Baths have traditional swimming pools
Both of them have all-gender pools and baths
At both the thermal baths, you can opt between indoor and outdoor pools
Extensive spa treatment is available at St. Gellert and Szechenyi
You can buy towels and flip-flops at the location. Renting is not allowed post covid.
At both the Baths, you can get food and liquor.
Private cabins and public lockers are available at both Szechenyi and Gellert Spa.
Differences between Gellert and Szechenyi
Szechenyi Spa is all spread over one level, while Gellert Spa is on multiple levels. That means, while exploring Gellert, you will have to climb a lot of stairs.
With its periodic jets and whirlpool experience, the outdoor pool at Szechenyi Spa is a lot more fun than Gellert's outdoors.
As you would have noticed, at a glance, they both seem similar.
To know the uniqueness continue reading our detailed comparison of Szechenyi vs. Gellert. Or jump to our recommendation
Szechenyi Baths vs Gellert Baths
In this section, we compare Szechenyi Baths to Gellert Baths on 11 different parameters.
If you are in a hurry, here is the quick answer: Szechenyi Baths is a better option than Gellert Baths.
Location of the attraction
Both Szechenyi Bath and Gellert Bath are not in the city center but are pretty close.
While Szechenyi Bath is on the Pest side of Budapest, Gellert Bath is on the Buda side, along the river Danube.
If you prefer the Metro, board the Line M1 train (Yellow Line) and get off at Szechenyi Furdo station.
From the Metro station, the Bath is a two-minute walk away.
Szechenyi Baths are called Szechenyi Furdo in Hungarian.
To get to Gellert Baths, you must board the Line M4 train (Green Line) and get off at the station called Szent Gellert Ter.
From the Metro station, Gellert Spa's entrance is only 150 meters.
Szechenyi Baths and Gellert Spa are 5.4 km (3.3 Miles) apart, and a ten-minute taxi ride can help you bridge the distance.
Hours of operation
Gellert Spa in Budapest is open from 6 am to 8 pm every day of the week.
While Szechenyi Baths open at 6 am every day, its facilities close at different times.
Its steam rooms, saunas, indoor thermal baths, and indoor pools close at 7 pm, while the outdoor pools are open till 10 pm. 
If you want to visit in the evening, we recommend Szechenyi Baths.
Tripadvisor ratings
According to Tripadvisor users, Szechenyi Baths and Pool is ranked No. 1 in Spas & Wellness in Budapest and is rated 4 out of 5.
Meanwhile, Gellert Thermal Bath and Pool is rated only 3.5 out of 5 by the Tripadvisor users.
We don't think Gellert's low ratings reflect the high quality of the experience and recommend that you don't go by its Tripadvisor rating.
Szechenyi has three times more Tripadvisor reviews than St Gellert Spa, suggesting that it attracts thrice the number of visitors (well, almost!).
Type of visitors they attract
Szechenyi Bath is more popular and hence has more tourists per square foot than Gellert Bath.
Since St. Gellert Bath is part of Danubius Hotel Gellert, the hotel guests also use the Spa facilities.
Based on Tripadvisor reviews, we can safely say that both Baths attract similar types of travelers.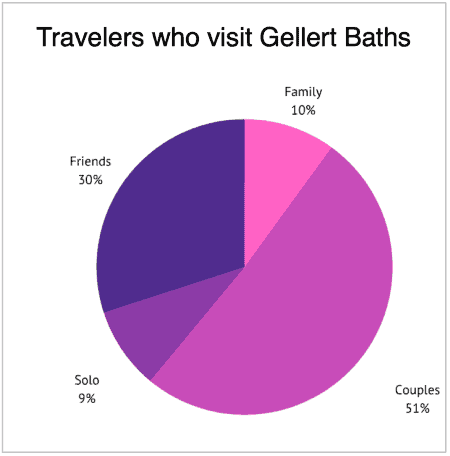 Couples and groups of friends make up around 80 percent of all visitors at both the Baths.
Mixed Baths or gender-specific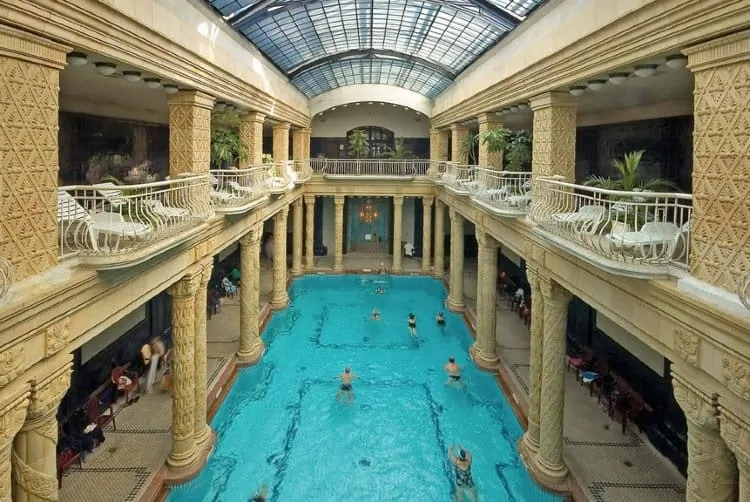 Earlier, Gellert Baths didn't allow men and women in the same pools and baths.
That's why mixed groups who wanted to take a dip together would prefer Szechenyi Baths.
However, in 2013, Gellert also became a mixed thermal bath, and all-gender access has stopped being a deciding factor.
However, the toilets, shower rooms, and public changing areas continue to be gender-specific.
Note: The rooftop sunbathing terrace at Szechenyi Baths is not mixed access.
Experiences offered at the Baths
Both Szechenyi Baths and Gellert Spa offer three types of experiences, which are very similar.
Fast Track tickets: These are the cheapest and the most popular way to enter these Baths. These tickets get you access to all the facilities of the Baths.
Fast Track ticket + Massage: Besides the entry to all the facilities of the Spa, this experience also gets you a 20-minute aromatherapy massage. 
These offerings are so similar that, based on the packages offered, you can't decide whether you want to visit Gellert Bath or Szechenyi.
Price of the tickets
It is cheapest if you visit either Szechenyi or Gellert Bath on a weekday and opt for a locker (and not a cabin).
The cheapest Szechenyi Baths tickets cost €36 Euros, while The cheapest Gellert Spa tickets cost €37.
If you visit the Baths at the weekend, the tickets will be 1 Euro more expensive.
At Szechenyi Baths, if you book a cabin (instead of a locker), the ticket will cost 2 Euros extra per person. At Gellert Spa, the cabin costs only 1.5 Euros extra.
Quality of thermal water in Baths
Every Spa in Budapest has two parts:
The Thermal Baths
These are the baths with naturally warm spring water and lots of minerals from the karst caves under Budapest.
Since this spring water is rich in Magnesium, Calcium, Sulphate-Chloride, Hydrogen-Carbonate, Fluoride Ions, Sodium, etc., it is ideal for soaking and healing.
Since the source of the water for the Thermal Pools is the same, the Baths can't be compared on the quality of water.
The Pools
These are the modern pools for swimming and just hanging around.
Since both the Baths are world-class tourist attractions, their Pools are always clean.
The layout of the Baths
The pools and thermal baths of Gellert Spa are spread over multiple levels, and some visitors find it complex to navigate.
This is what one of the visitors had to say…
We had to go up and downstairs a lot, which was difficult for my elderly mother. I have a great sense of direction and am an expert map reader, but even I couldn't make sense of the diagrams of the place and was never sure if we had hit all the pools or not.
In sharp contrast, Szechenyi is mostly on one level, with the indoor pools in adjacent rooms in a row.
The ambiance of the Baths
Szechenyi Baths looks like a Baroque Palace, with its marbled architecture and outdoor pools.
Walking into this Budapest attraction makes you feel like a King or a Queen.
Gellert Baths has a majestic location – on the Gellért Hill, overlooking the Danube.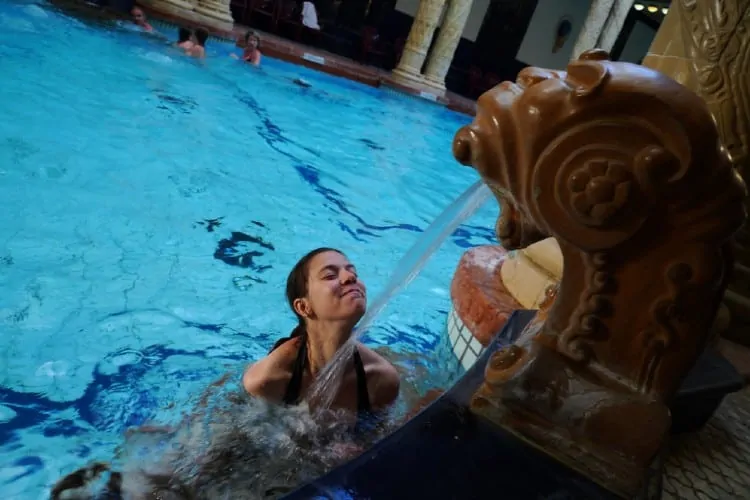 It is often referred to as the 'Palace of Baths' and is in an Art Nouveau-style building, which is part of Budapest's famous Hotel Gellért.
Once inside Gellert Thermal Baths, you are sure to be wowed by the Art-Nouveau style intricate mosaic floors, beautiful tiles, stained glasses, etc.
Kid-friendliness of the Baths
At both Szechenyi and Gellert Baths, children under three years can't get into the pool because they are usually not potty trained.
Even though the Baths allow it, kids between 4 and 14 years of age must not use thermal baths.
The bodies of kids aren't fully developed, and because of this, their cardiovascular system faces increased stress when subjected to the 33 degrees Celsius (91.4 Fahrenheit) plus temperatures of the thermal pools. 
At Szechenyi Baths, if parents are willing to take responsibility, they can take their kids under 14 years old to the three outdoor pools.
At Gellert Spa, the outdoor pools will be a better choice for kids as well.
The Wave Pool is the shallowest of the pools at Gellert Thermal Baths – 40 cm (15.7 inches) on one end and 275 cm (108 inches) on the other.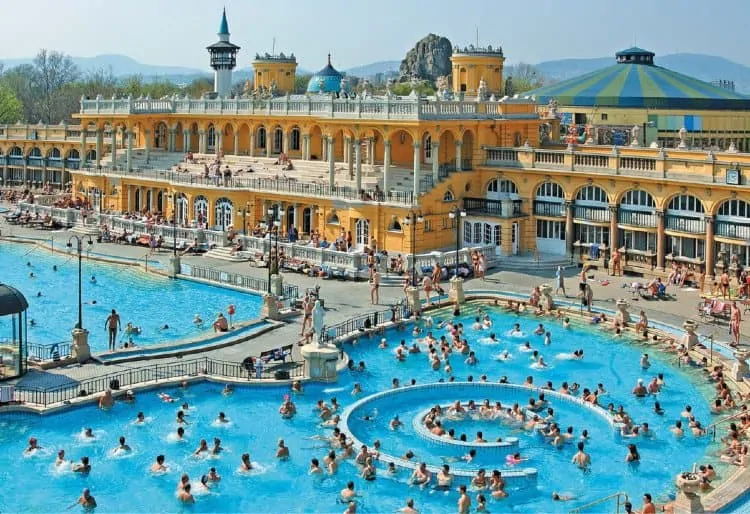 The regular artificial waves generated in the pool keep the kids excited.
If you are visiting Budapest with kids, we recommend Aquaworld Water Theme Park, one of the biggest indoor water theme parks in Europe. They have 15 different pools, 11 exciting slides, and 11 different saunas. Find out more
Szechenyi vs Gellert: The Winner
If you have time and money, we recommend you spend time at both the Budapest Baths.
If you visit them on weekdays and opt for the Fast Track entry tickets, you can experience both the Spas for less than 40 Euros per person.
You can start your holiday with a relaxing session at Szechenyi Baths and end it with yet another dip at Gellert Spa.
If you must choose between the two, we highly recommend Szechenyi Spa Baths.
Please find below links to book the experiences both Baths offer –
Popular attractions in Budapest
# Szechenyi Baths
# Gellert Spa
# Budapest Parliament
# Buda Castle
# Danube River Cruise
# Dohány Street Synagogue
# Hospital in the Rock
# House of Terror
# Pinball Museum
# St. Stephen's Basilica
# Matthias Church
# Hungarian Jewish Museum