Szechenyi Baths in Budapest is a collection of 18 pools with medicinal natural hot spring water.
Built in 1913, this 100-plus-year-old attraction is Europe's biggest and most famous thermal bath. It has attracted more than 100 million people till now.
Szechenyi Spa Baths are many things to many people – you can chill out, get to know the locals, fall in love, or close business deals.
This article covers everything you must know before booking tickets to the Szechenyi Baths in Budapest.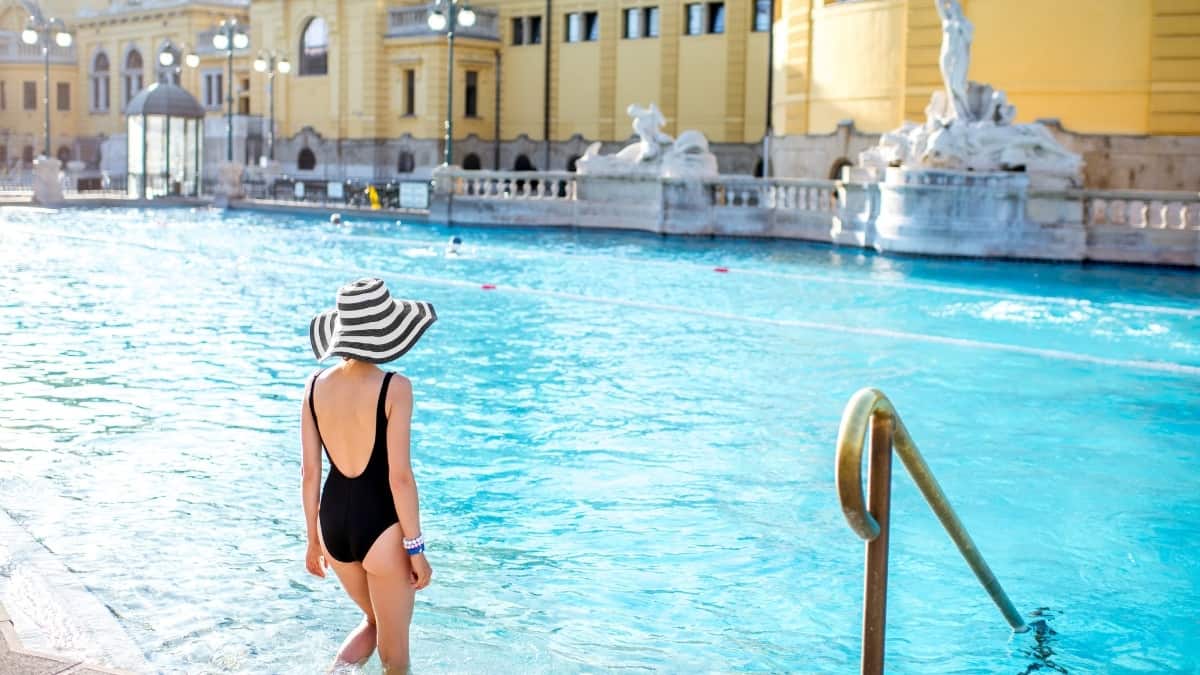 What to expect at Szechenyi Baths
With 15 indoor and three outdoor pools, there is a lot to experience at Szechenyi Baths.
These are all thermal baths of varying temperatures ranging between 30 to 40 degrees Celsius (86 degrees to 104 degrees Fahrenheit)
The other thermal spa facilities include saunas, steam rooms, aqua fitness, whirlpool, jets, sun decks, massage therapies, facial treatments, etc.
Video of Szechenyi Baths
Where to book tickets
Tickets for Szechenyi Baths are available online and at the attraction.
Online ticket prices tend to be cheaper than tickets at the attraction.
When you buy online, you can avoid the long queues at the ticket counters.
Because some attractions sell a limited number of tickets, booking early helps avoid last-minute disappointments.
How do online tickets work
Visit the booking page for Szechenyi Baths, select your travel date and the number of tickets and book.
Once you complete the booking process, the tickets will be mailed to you.
You do not need to carry printouts.
Show the e-ticket on your smartphone at the entrance and walk in. Carry a valid ID.
Szechenyi Spa Bath Tickets
For the Tickets for Széchenyi Spa + Palinka Museum, an entrance ticket for all ages costs HUF 13,955 (€37).
Infants under three years of age can enter for free.
For the Tickets for Széchenyi Spa: Massage + Private Cabin, an entrance ticket for all ages costs HUF 35,452 (€94).
Infants under three years of age can enter for free.
For the Budapest: Spraty – The Ultimate Late-Night Spa Party Ticket, an entrance ticket for all ages costs HUF 24,514 (€65)
This tour is not suitable for minors.
Szechenyi Baths tickets

The tickets below are valid for all 18 thermal pools and other facilities for a full day and provide options for a private changing cabin or locker.
You can check in anytime between 9 am and 6 pm because the Special Help Desk for online tickets closes at 6 pm.
Once inside, these Szechenyi Thermal Spa Bath tickets allow you to stay until 10 pm.
Szechenyi Spa's Fast Track tickets+ Palinka Museum
Distance between Szechenyi Spa and Palinka Museum: 4.5 km (2.79 miles)
Time Taken: 11 minutes by Car
Szechenyi Spa's Fast Track tickets are the cheapest and the most popular way to get into Szechenyi Spa Baths.
If you want to discover what the Hungarian baths are all about, this ticket is enough to gain some bliss and boost your health.
This ticket also gives you access to a guided tour of the Palinka Museum with an English-speaking guide.
Palinka is a traditional Hungarian Spirit.
You will also be given one 20ml palinka tasting sample or alcohol-free beverage in the Palinka Museum.
Inclusions
Entry to all pools
Cabin or locker (whichever you choose)
Use of the services until the spa closes
Outdoor Fun Pool with jacuzzi and whirlpool
Towels and flip-flops will be available to buy on-site for a fee if you fail to carry your own.
Food and Drinks at the Szechenyi Spa will not be provided.
Cancellation: 72 hours before your visit date for a full refund.
Ticket prices
Entry ticket with Locker: HUF 13,576 (€36)
Entry ticket with Cabin: HUF 14,331 (€38)
Infants under three are not charged anything.
Tickets for Széchenyi Spa: Massage + Private Cabin
Besides access to all Szechenyi Thermal Spa Baths facilities, this ticket also gets you a private cabin and a relaxing massage.
Swedish techniques are used to relax your body and soul during this highly popular massage session.
Guests can choose between a 20-minute, 45-minute, or 60-minute massage session.
You can also opt for a couple of massage sessions on the ticket booking page.
The minimum age requirement for a massage at Szechenyi Baths is 18 years.
This ticket is timed, and you must reach the venue one hour before your scheduled massage time.
Inclusions
Entry to all the Thermal Pools
Access to outdoor Fun Pool with jacuzzi and whirlpool
A relaxing massage session
Cancellation: This is a flexible ticket. For a full refund, you can cancel it 24 hours before your visit date.
Ticket prices
Private cabin + 20-min Aroma massage: HUF 35,447 (€94)
Private cabin + 45-min Aroma massage: HUF 46,389 (€123)
Private cabin + 60-min Luxury massage: HUF 59,966 (€159)
Private cabin + Couples massage: HUF 105,601 (€280)
The minimum age to participate in a spa package is 18.

Late-Night Spa Party at Szechenyi Bath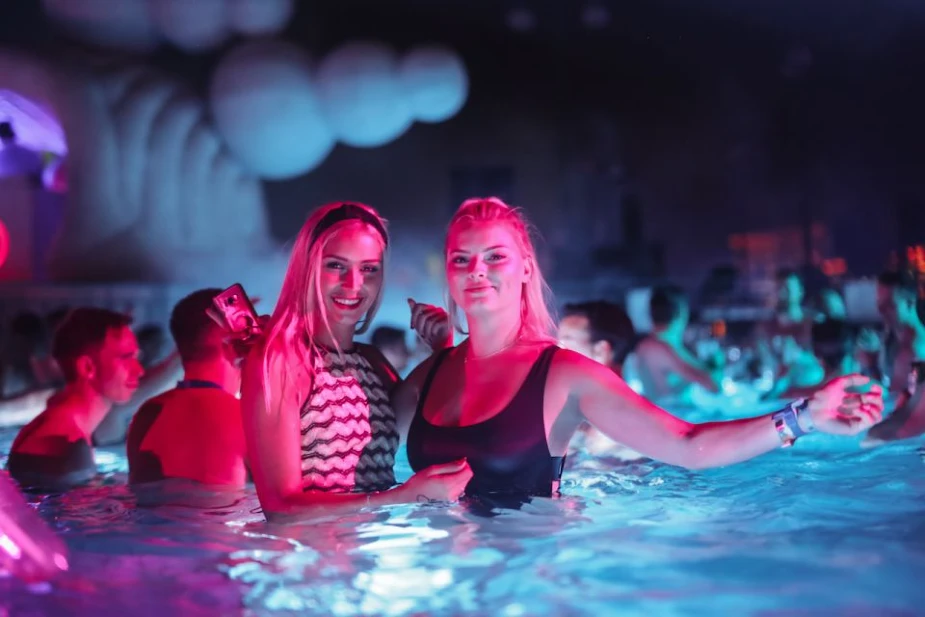 The spa party at the iconic Széchenyi Thermal Spa is one of the best ways to experience Budapest's unique spa culture.
This ticket gets you access to the party that starts at 9.30 pm and goes on till 2 pm in water temperatures of around 34-38 degrees Celsius.
Széchenyi spa party happens only on Saturday nights and is unsuitable for kids under 18 years old.
While booking your party ticket, you can choose between a Locker or a Cabin, etc.
Towels and flip-flops will be available to buy on-site for a fee if you fail to carry your own.
Ticket with locker: HUF 24,515 (€65)
Ticket + Locker + Drinks: HUF 28,286 (€75)

Wristband at Szechenyi Baths
Once your Bath tickets are validated at the entrance, you will get a Silicon wristband (sometimes called Smart WristBand).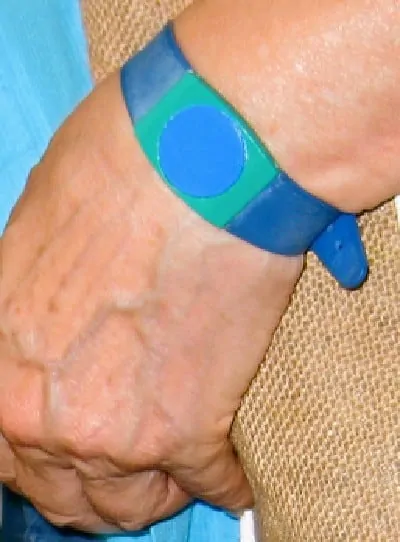 You must wear this band at all times.
This smart wristband also helps you use the lockers and the Szechenyi Baths cabins.
If you lose your wristband, you can get one by paying an additional fee.
Image: Szechenyispabaths.com
Visual Story: 15 must-know tips before visiting Szechenyi Spa
How to reach Szechenyi Baths
Szechenyi Baths are centrally located in the City Park, or Városliget, on the city's Pest side.
Address: Állatkerti krt. 9-11, 1146, Budapest, Hungary. Get Directions.
By Bus
Vágány Utca / Róbert Károly Körút is a two-minute walk away from the thermal bath.
Állatkert is a six-minute walk away from the baths.
Bethesda Utca bus station is a seven-minute walk away from the thermal bath.
Bus lines 20E, 30, 30 A, 230,32, 210,72 and 75 service the Szechenyi Thermal baths.
By Train
Board the Line M1 train (Yellow Line) and get off at the Szechenyi Furdo metro station, a two-minute walk away.
Vágány Utca / Róbert Károly Körút tram stop is also just a three-minute walk away.
Szechenyi Baths are called Szechenyi Furdo in Hungarian and pronounced as 'Say-chain-nee Fur-der'.
By Car
Put your starting point here to navigate to the Szechenyi Thermal Baths and Spa.
Several parking spots can be found in the vicinity.
Cars for rent and taxis for hire are easily available.
How long does the tour take
Szechenyi Baths Timings
Most of the facilities at Szechenyi Baths are open from 6 am to 7 pm every day of the week.
While all the facilities start at 6 am, some stay open longer.
Outdoor Pools: 6 am to 10 pm
Steam Rooms and Saunas: 6 am to 7 pm
Indoor Thermal Baths and Pools: 6 am – 7 pm
Visitors with online tickets can only enter the Baths till 6 pm. If you reach the Baths after 6 pm, you must buy tickets at the venue with cash.
All visitors must start exiting the Szechenyi Baths thermal pools by 9:45 pm.
During Christmas times, Szechenyi Baths follow slightly altered timings –
Dec 24: 6 am to 2 pm
Dec 25: 10 am to 6 pm
Dec 26: 6 am to 8 pm
On Dec 31, the Baths are open from 6 am to 6 pm, and on the New Year's, they are open from 11 am to 8 pm.
How long does the tour take
The Szechenyi Spa Baths experience takes around two hours to complete.
Staying for more than 20 minutes at a stretch in a hot bath is not recommended.
Your best strategy is to alternate between hot baths, break, hammam, inside pool, sauna, and the hot bath again.
Best time to visit Szechenyi Spa Baths
The best time to visit Budapest's Szechenyi Baths is 10 am, when the local regulars have just left after their laps in the outdoor swimming pool, and the tourists are yet to arrive.
If you can't make it in the morning, the next best time to reach Szechenyi Spa is 1.30 pm – when the morning visitors have left for lunch, and the next batch is yet to arrive.
By 3.30 pm, the pools start getting crowded again.
Weekends and holidays are more crowded than regular work days.
Kids at Szechenyi Baths
Kids below 14 years of age are not recommended to get into Szechenyi Baths.
Since their bodies aren't fully developed, the cardiovascular system of kids younger than 14 years faces increased stress when subjected to the 33 degrees Celsius (91.4 Fahrenheit) plus temperatures of the thermal pools.
Besides, the Szechenyi Baths are designed for adults – deep pools with no water attractions, etc.
However, parents can get their kids to the Baths if they want.
The children will be able to use only the three outdoor pools, and that too, under their parent's supervision.
Infants at Szechenyi Baths
Babies who have not been potty trained are not allowed in the pools, even if they wear a swimming nappy.
This rule usually applies to kids under three years of age.
However, parents can bring them to the Baths as long as they stay outside the pool area.
Note: Kids below two years of age needn't buy tickets.
Szechenyi Baths Cabin or Locker – which is better?
While buying a ticket for entry to Szechenyi Spa Baths, you must decide if you want a Cabin or a Locker.
You don't have a choice of not opting for them – all tickets either come with a Locker or a Cabin.
And it makes sense, too, for you need one of them to store your belongings while you step into the indoor and outdoor baths.
Szechenyi Baths Lockers
Lockers are standard wardrobe-type boxes one finds in swimming pools.
They have a lock to ensure your belongings remain safe.
All lockers are the same size – 120x30x65 cm (1200 x 300 x 650 mm).
The lockers are small, and if you have a big backpack or beach bag, there is a chance that they may not fit in.
When you buy a Bath ticket with Lockers, you must change in the women-only / men-only public changing rooms.
If you prefer privacy while changing into your swimwear, we recommend tickets with Szechenyi Baths Cabin.
Szechenyi Baths Cabins
Cabins are small-sized changing rooms with enough storage facilities.
Since the cabin is just right for one person, couples or families are known to take turns changing.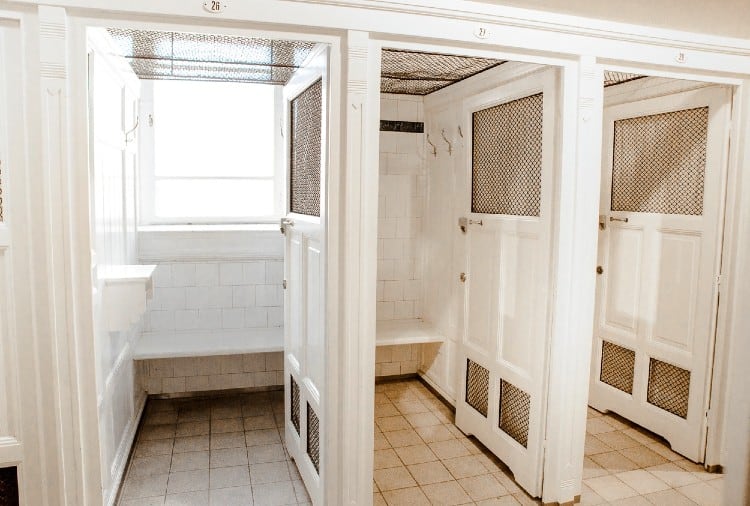 Dress code for Szechenyi Baths
One of the most often asked questions among visitors is, "What is the dress code of Szechenyi Baths?"
This confusion is natural because these Budapest Baths are a different kind of tourist attraction, and one doesn't visit such places often.
Nudity policy at Szechenyi Baths
Since Szechenyi Baths is a mixed thermal spa destination, nudity isn't allowed.
Visitors must be in their swimming attire in the corridors, the pools, the baths, the saunas, steam rooms, etc.
The only place where you are allowed to wear nothing is the gender-separated change rooms at the lockers, the showers, and the private changing rooms (also referred to as the cabins).
Footwear at Szechenyi Baths
Flip flops or slippers are a must in all areas of the Thermal baths.
You can get your own, or buy a pair in the shop at the entrance.
Women's Swimwear
All women must wear swimwear – a bikini, a tankini (a tank top and a bikini bottom), shorts (with a top), or a one-piece ladies' swimsuit.
Swimsuits covering the full body, for example, Burkini, are not allowed.
A swim cap is a must if you plan to get into the swimming pool. It is not a must for the other 17 thermal pools.
Men's Swimwear at Szechenyi Baths
Men can wear speedo-style swimwear or a sporty pair of swim trunks or shorts with a top.
Most men wear only shorts, with no tops, which is normal.
Even for the men, swim caps are mandatory in the swimming pool.
Note: The Szechenyi Baths dress code for young girls is the same as it is for the women, and for young boys, it is the same as it is for the men.
Additional Accessories
If you visit the Szechenyi Baths between June and September, we recommend getting a light-colored baseball cap for the gents and a hat for the ladies.
If you plan to spend a lot of time in the outdoor pools, the sun can get scorching.
A sun-tan cream also comes in handy because three baths are outdoors, with no shade.
What to take to Szechenyi Baths?
Here is a list of things you must take when you step out to dip in the best thermal pools in Budapest.
Swimwear: It is best to take along your swimsuit (or shorts) when you pack for your Szechenyi Baths visit. You can buy them at the attraction's store, but why pay exorbitant rates when you can plan better? Do check on the dress code
Towel: You have two options – bring a towel or rent one at the venue.
We recommend you get your own because they will be unique, and other visitors won't get confused and pick it up and leave.
When you get your towel, you can avoid standing in the long queues to rent them. These lines are longer in the summer months.
Flip flops/slippers: You can bring your own or buy a pair from the shop near the entrance.
All visitors must wear footwear in the whole area of the bath.
Soap and shampoo: The showers at these Baths don't have complimentary soap or shampoo dispensers.
Even though it is not a must, you can get your own.
Hairdryer: Standard hairdryers are available for everyone to use. However, if you prefer your own, you can bring them along.
Waterproof wallets/purses: Since most of your time at these Baths will be spent in the water, it is better to bring a waterproof wallet or purse.
Since your ticket will include a locker or a cabin, you can also leave your wallet or mobile in it safely.
Swimming cap: The thermal pools don't need swimming caps.
But a cap is a must if you plan to do laps in the refreshing swimming pool.
*During summer, you must take along a cap or a hat for use in the Thermal pools
Drinks and food: The Cafe at Szechenyi Spa is open from 10 am to 7 pm daily and offers quick eats and drinks.
Fast-food-style warm meals are also available at affordable prices.
What NOT to get to Szechenyi Baths
It is better not to wear any jewelry while visiting Budapest baths.
Rings may slip off your fingers, and chains may unhook, etc.
It is better even to leave your wristwatches at home (or hotel).
Since visitors can't smoke in Szechenyi Baths, it doesn't make sense to get cigarettes as well.
Map of Szechenyi Baths
Szechenyi Spa Baths is the biggest thermal spa in Europe, with 18 pools, sauna rooms, steam rooms, massage therapy rooms, etc.
On their first visit, most visitors feel lost, which is why knowing the floor plan of Szechenyi Baths much in advance helps.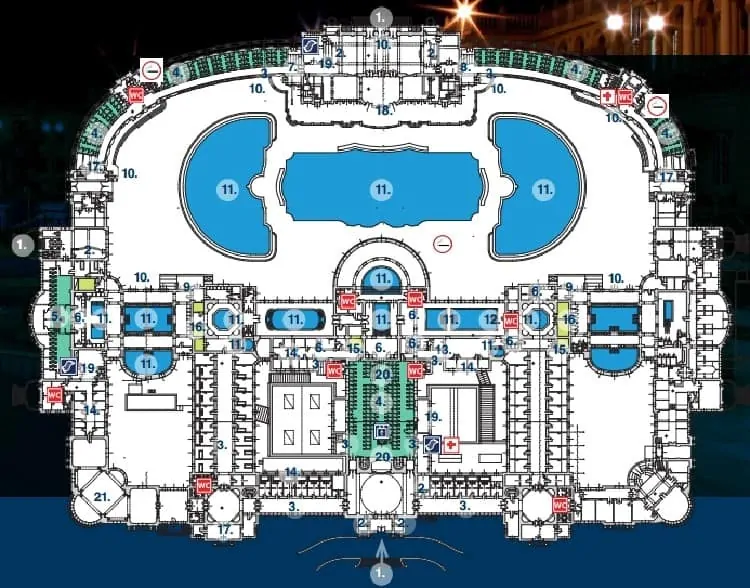 Entrance
Pay desk
Information terminals
Personal Cabins
Lockers
Showers
Entry to the men's changing room
Entry to the women's changing room
Passage among the swimming pool and the thermal pools
Exit to the outdoor pools
Pools
Aquafitness
VIP massage
Massage Rooms
Steam chambers
Sauna
Buffet
Cafe
Safety lockers
Stairs
Marble room
Check out a virtual tour of the Szechenyi Baths
Note: At the venue, there are lots of wallboards and notices providing direction. However, many visitors don't find them useful. That's why we recommend you either bookmark this page or print this map for later use.
Gellert or Szechenyi – which is better?
Many tourists have a tough choice to make: should they visit Gellert Baths or Szechenyi Baths?
There are three main reasons why visitors end up choosing between one of the two thermal Baths –
They are on a budget holiday and can only afford one
They are in Budapest for a limited time and can only include one visit to a Bath in their itinerary
All Baths are the same – you have seen one, you have seen them all
If you aren't on a budget vacation and have plenty of time in Budapest, we suggest you book your tickets for both Szechenyi Spa and Gellert Spa.
They are both very different Spa experiences.
Follow the link for a detailed comparison that can help you decide on Szechenyi Baths or Gellert Spa.
History of Szechenyi Spa Baths
Budapest has been the City of Baths (and Hungary has been the country of baths!) for many centuries now.
The tradition started with the visiting Romans who came and built the first baths.
The Ottoman Empire followed the Romans in the 16th century and continued the tradition. Most of the Turkish baths are on the Buda side of the city.
The practice continued in the 19th and 20th centuries; the focus shifted to natural medical trends, aqua therapies, etc.
The hot spring waters of Szechenyi Baths were discovered in the 1880s, and construction of the Szechenyi Bath Palace was initiated in 1909.
Gyozo Czigler completed the Neo-Baroque and Neo-Renaissance Palace in 1913, and tourists started visiting them the same year.
The Baths were initially named Artesian Baths, but by the time construction finished in 1913, they got a new name – Szechenyi Gyogyfurdo, after Count Szechenyi (the Greatest Hungarian). 
FAQs about Szechenyi Baths
Here are a few frequently asked questions about the Szechenyi Baths:
Is the Szechenyi Bath disability friendly?
Yes, the Bath has committed itself to be wheelchair accessible and provides sufficient modifications for people with mobility impairments.
Is the Szechenyi Bath gender segregated?
No, the Szechenyi Baths are a mixed, and the pools are not gender segregated.
What do I need to wear and carry at the Szechenyi Baths?
You must wear swimwear at all times in the spa since its a mixed gender facility. Some pools at the spa require you to wear a swim cap, too. You must carry a towel, flip flops, and skincare. Swim tops, shorts, tankinis, and bikinis are all permissible. However, Full-body swimwear such as the burkini is forbidden.
How many pools are there at the Szechenyi Baths?
The Szechenyi Baths are one of the largest and most pictureseque thermal baths in Europe with 15 indoor pools and three outdoor pools.
Can I visit the Szechenyi Baths with my kids?
Yes, you can visit the Gellert Spa with your kids. Thermal spas are not suitable for the cardiovascular systems of children under 14. However, they can enter the thermal pools if medically cleared. All other pools are accessible for children. Children under six must always be accompanied by a guardian in all pools.
Can I smoke at the Szechenyi Baths?
Yes, but only in the designated areas.
Can I bring food and drinks at the Szechenyi Baths?
Yes you can bring food and non-alcoholic beverages at the Szechenyi Baths.
Can I visit the Szechenyi Baths in winter time?
Yes you can. All the baths, including the 3 outdoor pools are filled with natural hot spring water, which comes from deep wells under the City Park natural water reservoir.
What are sparties at Szechenyi Baths?
Sparties are very unique pool parties at the Szechenyi Baths with DJ, laser shows, and fountains while you can chill in the pool.
Sources

# Szechenyibath.com
# Bathsbudapest.com
# Tripadvisor.com
# Wikipedia.org

The travel specialists at TheBetterVacation.com use only high-quality sources while researching & writing their articles. We make every attempt to keep our content current, reliable and trustworthy.
Popular attractions in Budapest