Gatorland Alligator Park in Orlando, Florida, is also known as the 'The Alligator Capital of the World.'
The center of Gatorland Orlando is the Breeding Marsh, a natural Cypress swamp, where most of the alligators live.
At this family attraction, visitors can see alligators and crocodiles of all sizes, from babies, also known as grunts, to the 14-foot monsters.
But Gatorland is more than just a zoo with lots of alligators – it also has a free-flight aviary, a petting zoo, animal shows, thrilling Screaming Gator Zip Line, and the new Stomping Gator Off-Road Adventure.
This article explains everything you must know before buying your Gatorland Orlando tickets.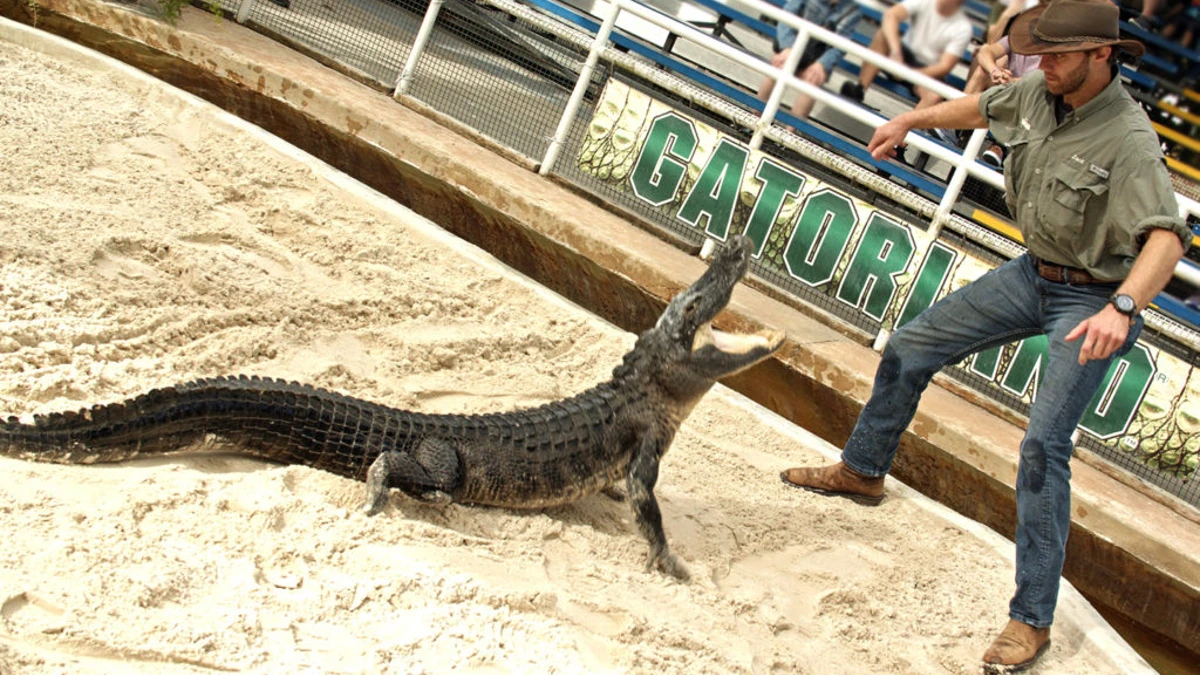 What to expect at Gatorland Orlando
---
---
Gatorland Orlando tickets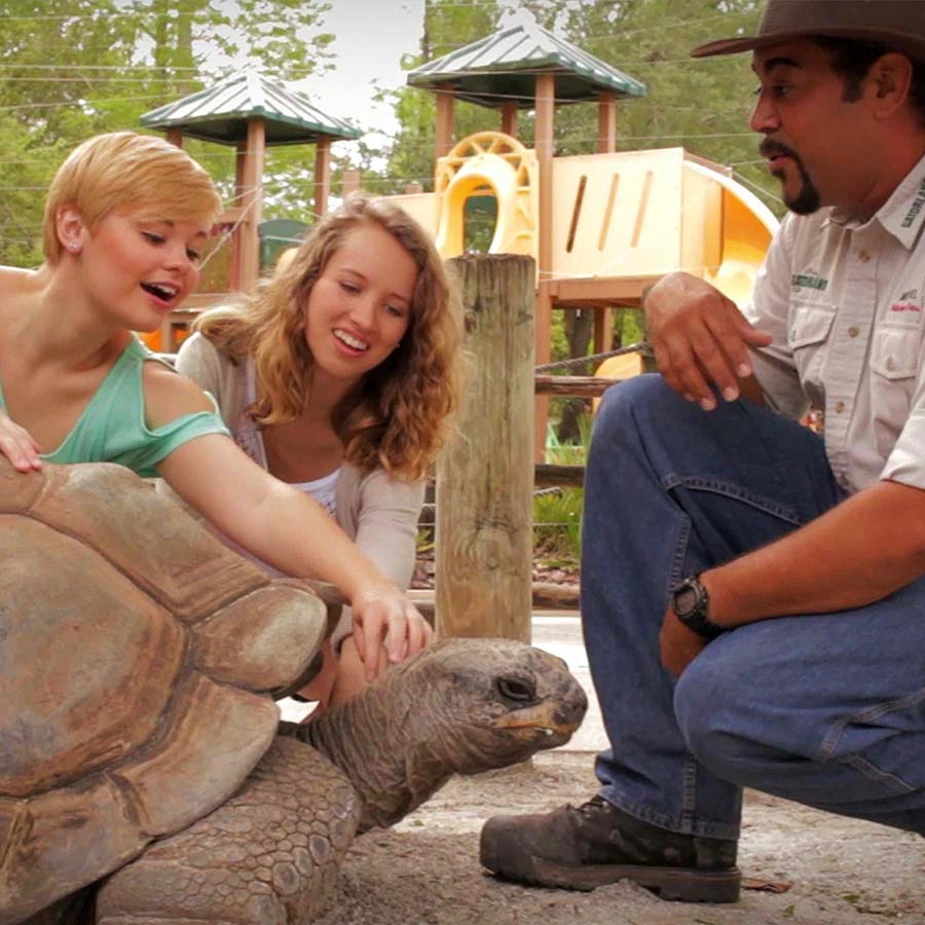 This Gatorland general admission ticket offers the ultimate alligator experience in Florida.
It gets you up close with hundreds of guzzling gators and crafty crocs and gets you a seat in three incredible live shows.
This ticket also gets you a free parking slot at the attraction.
As soon as you purchase, these Gatorland Orlando tickets get emailed to you.
On the day of your visit, you can walk past the ticket counter line and go directly to the turnstile to have your smartphone ticket scanned.
You can cancel this ticket up to 24 hours in advance to receive a full refund.
Prices for Gatorland Alligator Park
At the gates, Gatorland tickets are priced at $35 for visitors 13 years and above, and kids aged three to 12 years pay a discounted price of $25.
When you buy them online, you get a $3 discount for every visitor.
Kids under two years can enter this Alligator Park in Florida for free. They don't need tickets.
While booking your tickets, you can also purchase 'Gator Chow' and feed the alligators yourself. It is priced at $3.20 per feed.
Adult ticket (13+ years): $32
Child ticket (3 to 12 years): $22
---
---
Gatorland Orlando zipline ticket
The zip line at Gatorland Alligator Park is one of Orlando's most exciting outdoor adventures.
It was voted the "Best Zip Line in the USA" by AOL Travel.
On the thrilling Screamin' Gator Zip Line, you will fly at the height of 20 meters (65 feet) over a distance of 366 meters (1200 feet).
Jumping off from zip line towers standing over seven stories tall is an adrenalin rush that's hard to describe.
Visitors soar through the air over some of the Gatorland Zoo's top attractions, such as Cuban and Nile Crocodiles, before flying over the Alligator Breeding Marsh, complete with 130 giant alligators below.
When you book the Gatorland admission plus zipline ticket, besides the entry, you can also ride five different zip lines over the enclosures.
Highly trained guides and state-of-the-art ziplining equipment comes free with zipline tickets.
The Gatorland zipline adventure starts with a brief safety and orientation session and lasts around two hours.
Minimum height: 37″ (94 cm)
Maximum weight: 275 lbs (120 kg)
Note: Please wear closed-toe shoes. No skirts, dresses, or shorts
Cost of ticket: $74 per person
---
---
Gatorland Flashlight Tour at Night
The 90-minute Gatorland Flashlight Tour is also known as the Gator Night Shine adventure.
During this tour, visitors armed with only a flashlight and gator food will walk over the wooden walkways of Gatorland's Alligator Breeding Marsh.
The flashlight will help the visitors see hundreds of hungry, glowing, red eyes slowly getting closer because the alligators can smell their food.
The Gator Night Shine Tour is available on Tuesday, Wednesday, Friday, Saturday, and Sunday.
Since this guided after-dark tour begins at dusk, the starting time varies depending on the season.
Gatorland Night Tour timings
| Season | Start timing |
| --- | --- |
| 2 January to 10 March | 6.30 pm |
| 11 March to 1 April | 7.30 pm |
| 2 April to 31 August | 8.30 pm |
| 1 September to 4 November | 7.30 pm |
| 5 November to 1 January | 6.30 pm |
Guests must reach the far south end of the Gatorland parking lot at least 15 minutes before their tour's starting time.
Cost of ticket: $25 per person
Kids younger than two can join in for free.
---
---
Interactive Tour of Gatorland with Animal Trainer
During this tour of Gatorland Orlando with an animal trainer, you glimpse into what it takes to work with and be around dangerous animals.
Because of the nature of this interactive tour, participants must be at least 12 years of age.
The two-hour-long Gatorland Trainer for a Day tour starts at 8 am from the gator's mouth at the front of the park.
In the first part of the tour, you will meet the smallest members of the Gatorland family.
Holding a baby alligator in your hands is a feeling that isn't easy to describe.
In the second half, you will get close and personal with some of the largest alligators and crocodiles.
At last, you meet reptiles and creepy crawlers from the Up-close Encounters Show.
Cost of ticket (12+ years): $130 per person
Since Gatorland takes only three to four hours, some tourists also book a Boggy Creek Airboat Adventure, just 32 km (20 miles) from the Alligator Park. When you book the tickets together, you save some money. Find Out More
---
---
How to reach Gatorland
Gatorland is located in central Florida, just south of Orlando city.
Its address is 14501 S. Orange Blossom Trail, Orlando, FL 32837. Get Directions
Gatorland is located on Hwy 441 just north of the Orlando – Kissimmee line in South Orlando.
It is only 15 to 20 minutes away from Walt Disney World, Sea World, and the Orlando International Airport.
---
---
Gatorland Orlando hours
Gatorland opens at 10 am and closes at 5 pm, all through the week.
The wildlife attraction is open even on weekends and public holidays.
The petting farm is open from 11 am to 4.30 pm.
The free-flight Aviary is open daily for 30 minutes at 11 am, 12 pm, 1.30 pm, 2.45 pm & 3:45 pm.
Gatorland's show timings
| Time | Show |
| --- | --- |
| 10.45 am | Gator Jumparoo Show |
| 11.30 am | Up Close Encounters |
| 12.30 pm | Alligators: Legends of the Swamp |
| 2 pm | Up Close Encounters |
| 3.30 pm | Alligators: Legends of the Swamp |
| 4.30 pm | Gator Jumparoo Show |
*Show timings are subject to change
---
---
How long does Gatorland Park take?
The Alligator Park has three different shows, which usually last 15 minutes each.
If you watch all the shows and see all the animals on display at the Gatorland, you will need three to four hours.
If you opt for the Gatorland Zipline adventure, you need two hours extra.
Download Map of Gatorland (816 kb, Jpg)
Best time to visit Gatorland
The best time to visit Gatorland Alligator Park is as soon as they open at 10 am.
There are four advantages of starting early – the animals are most active early in the morning, the temperatures are still moderate, the crowd is yet to get in, and you have the whole day to explore.
Shows begin at 10.30 am and go until 5.30 pm, and if you start early, you can catch all the three performances by 1 pm.
---
---
Shows at Gatorland Orlando
Gatorland in Florida has three different shows daily, which are included in the Gatorland tickets.
The first show starts at 10.45 am, and the last show ends at 5 pm.
Note: It is better to confirm the timings on the day of your visit.
Gator Jumparoo Show
During the Gator Jumparoo Show, guests can feel the thrill as some of the largest alligators in the world jump four feet or more out of the water.
Even as the audience encourages the crocodiles to jump for the chicken appetizers, you will learn more about the animals and their extraordinary powers.
Three staff members host this show and make it a funny spectacle.
Jumparoo Show is a show the whole family loves, and it happens twice a day – at 10.45 am and 4.30 pm.
Alligators: Legends of the Swamp
A brave staff member takes the stage with a 6-8 foot alligator during the Legends of the Swamp show at Gatorland.
They demonstrate the legendary creature's unique survival features even as they try to stay alive.
This show is also known as the Gator Wrestling Show.
The Legends of the Swamp show happens twice daily – at 12.30 pm and 3.30 pm.
Up Close Encounters
The best part of the Up Close Encounters show at Gatorland is its surprise element.
You never know what kind of animal you might meet.
It is an opportunity to get to know fascinating creatures from around the globe, including some of the most dangerous snakes alive.
The Up Close Encounters show happens twice daily – at 11.30 am and 2 pm.
---
---
Stompin' Gator Off-Road Adventure
During the Stompin' Gator Off-Road, Adventure Gatorland guests can board a 12-foot-high custom-made, off-road monster vehicle for a 15-minute rugged and hilarious adventure.
In monster-style off-road vehicles, riders experience Florida's natural beauty as they venture through several different ecosystems.
You will go over hills, trudge through mud puddles, creep through an actual alligator graveyard, and splash through a pond full of hundreds of alligators.
This additional experience is not included in general park admission, but you can make reservations at the entrance.
---
---
Gatorland's park rules
Food is not allowed in the park, including animal feed
Guests can't bring coolers, picnic baskets, or similar items to carry food or beverages.
All luggage must be checked and secured at admissions or out of sight in your vehicle
All bags, purses, and strollers are subject to search
Smoking is permitted but only in designated areas
Gatorland does not allow weapons of any kind to be carried into the park
Popular attractions in Orlando
# Kennedy Space Center
# Legoland Florida
# Legoland Water Park
# Peppa Pig Theme Park
# Gatorland Orlando
# Sea Life Orlando
# Fun Spot America
# iFly Orlando
# Island H2O Water Park
# Tree Trek Adventure Park
# Titanic Exhibition
# Andretti Indoor Karting
# Chocolate Kingdom