Fun Spot America is one of Central Florida's finest theme parks, with 27 fantastic rides to entertain the whole family.
It is home to White Lightning, the only wooden coaster in Orlando.
For extreme thrill seekers, Fun Spot America in Orlando has one of the tallest SkyCoasters in the world.
The theme park also has Gator Spot – a joint venture between Gatorland and Fun Spot America, where guests can see more than 100 gators.
This article shares everything you must know before buying Fun Spot America Orlando tickets.
What to expect at Fun Spot America
---
---
Opening hours
Fun Spot America in Orlando opens at 10 am and closes at midnight on peak days.
On non-peak days, the Theme Park opens at 2 pm and closes at midnight.
When you book your tickets online, you know their timings for the day and avoid last-minute disappointment.
How to reach
Fun Spot America Orlando is just off International Drive.
It is just off Kirkman Road or Sandlake Rd I-4 exits.
The Central Florida Theme Park's address is 5700 Fun Spot Way, Orlando, FL 32819. Get Directions
Parking is free of charge and is available on a first-come, first-served basis.
---
---
Fun Spot America tickets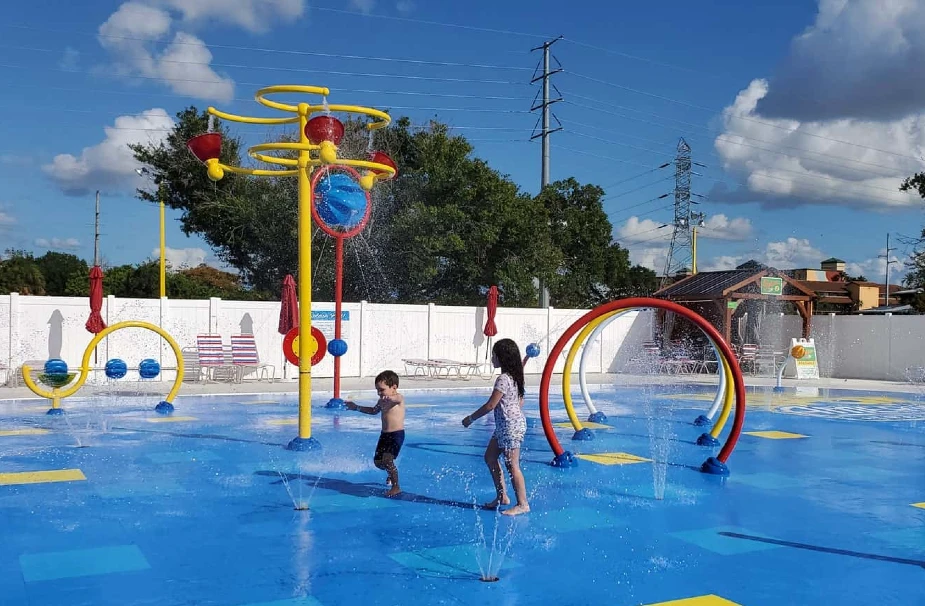 Admission to the Fun Spot America theme park in Orlando is free if you don't plan to go on any rides.
However, if you want to try the rides, you must purchase a ticket.
This Fun Spot America ticket is also known as Fun Spot Single Day Pass.
It gets you full-day, unlimited access to the go-kart tracks, roller coasters, thrill rides, Kid Spot rides, Gator Spot, etc.
In short, all the rides except – SkyCoaster (can be included onsite) and
Arcade games (this can be paid for only by Fun E-Card onsite).
How Fun Spot's online ticket works
Immediately after purchasing the ticket, a voucher gets emailed to you.
On the day of your visit, you will receive a wristband when you show your smartphone voucher at the ticket window.
This wristband gives you access to all rides and allows you to leave the park and re-enter on the same day.
You can use this Fun Spot America ticket at Orlando or Kissimmee.
Cost of Ticket (3+ years): $49 per person
Note: Rides are not recommended for guests two years and below, and you don't need to buy tickets for them.
Since Island H2O Water Park is only 20 minutes drive (6.5 miles, 10 km) from Orlando's Fun Spot America park, tourists try to visit both on the same day. To save 10%, buy the combo ticket.
---
---
Discounts at Fun Spot
The Florida theme park offers no discount for kids.
However, they offer ticket price reductions to senior citizens, Florida residents, and first responders.
Florida Residents get a price reduction of $5 off a Single Day Pass. They must provide proof with a valid Florida photo ID.
Senior citizens also get a $5 discount on the Single Day Pass with a valid ID.
Fun Spot America Orlando offers $11 off a Single Day Pass for First Responders, Law Enforcement Officers, Firefighters, and registered EMTs.
Unfortunately, guests can redeem all these discounts only at the gates.
If you want to avoid the crowd, we recommend buying Fun Spot America Orlando tickets online.
---
---
Best time to visit Fun Spot
The best time to visit Orlando's Fun Spot is when they open at 10 am.
The lines at the rides aren't long, and restaurants aren't crowded.
If you want to avoid the crowd, Tuesday, Wednesday or Thursday is the perfect day to visit. Avoid school holidays.
How long does it take
Fun Spot America in Orlando has 27 rides and attractions, and visitors usually take three to four hours to explore them all.
If you take a lunch break in between, you will need at least five hours at the theme park.
---
---
Rides at Fun Spot America Orlando
Fun Spot America in Orlando, Florida, has 27 rides, which can keep visitors of all age groups busy for the whole day.
Three roller coasters – Freedom Flyer, Sea Serpent, White Lightning – are the most popular rides among teens and adults.
Besides these, the park has six other thrill rides – Enterprise, Rip Curl, Skycoaster, Hot Seat, Headrush 360, and Sky Hawk.
The theme park has four go-karting tracks – Conquest, Commander, Quad Helix, and Thrasher.
Both Bumper Boats and the Splash Pad are water attractions.
---
---
Map of Orlando's Fun Spot America
It is better to spend time with a Map of Fun Spot America in Orlando and plan your time at the theme park before your visit.
You don't want to overstay at one attraction and get tired before trying out the other highlights.
Being aware of Fun Spot America's layout is even more necessary if you visit with kids.
Besides the rides and restaurants, a map of Fun Spot America will also help you identify washrooms, ATMs, Cabanas, Beer Gardens, etc.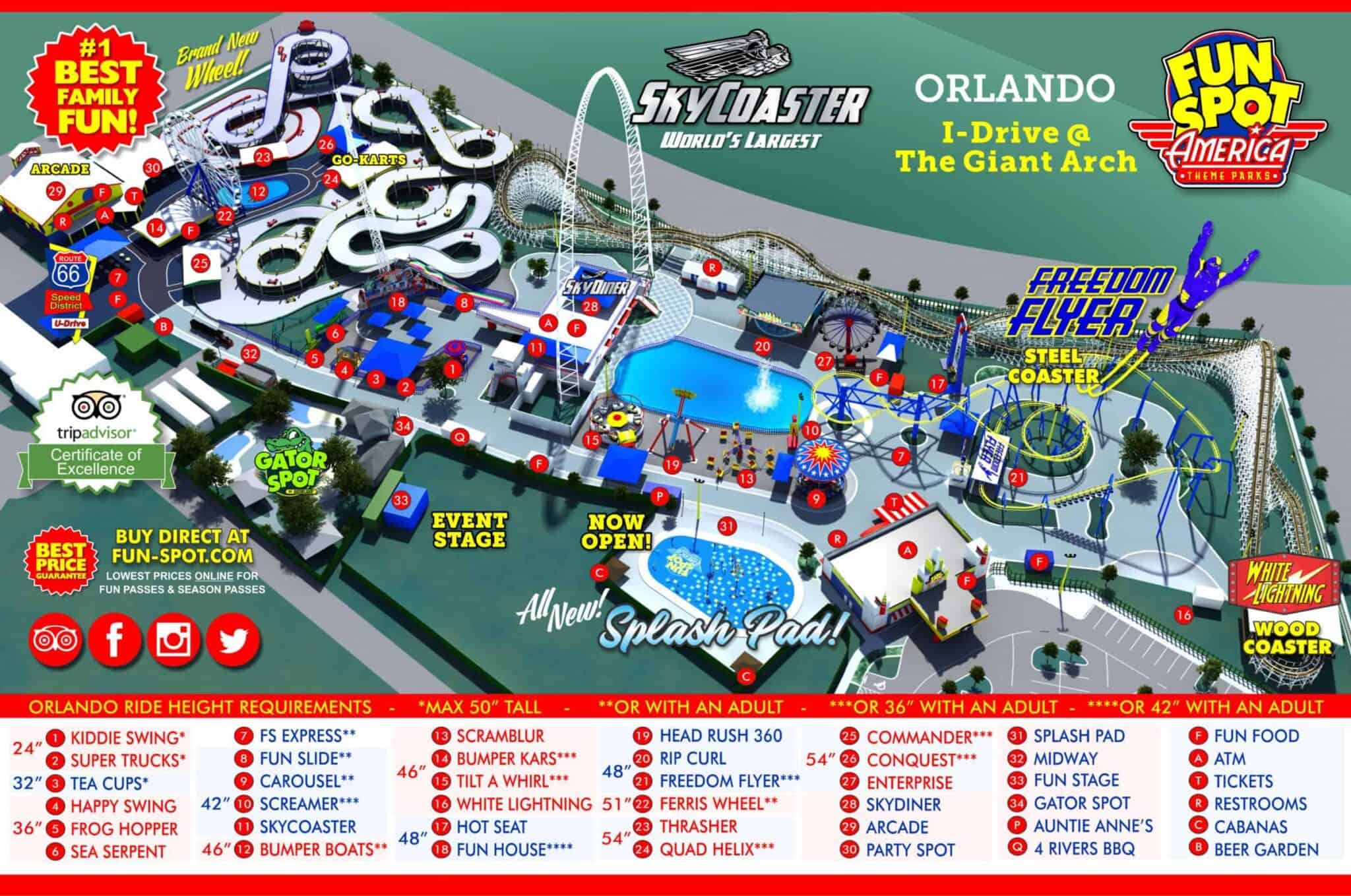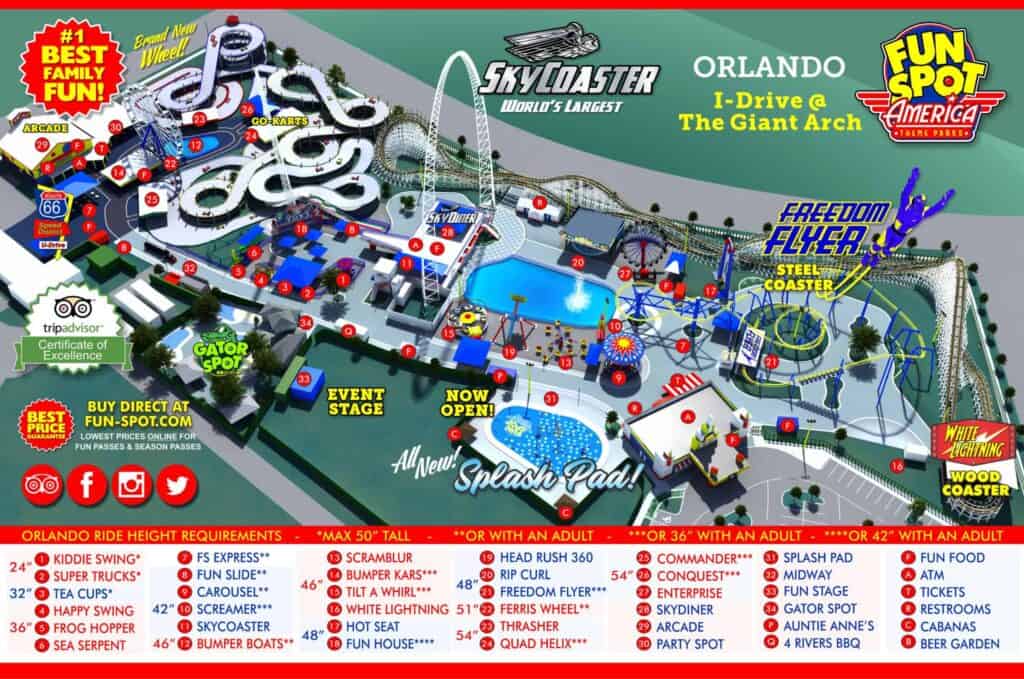 ---
---
Fun Spot Orlando or Kissimmee
Fun Spot Orlando is just 13 miles (21 km) from Fun Spot Kissimmee, so many tourists wonder which theme park is better.
Fun Spot Orlando is better than Fun Spot Kissimmee because of many reasons.
The Fun Spot in Orlando is better because it has four go-kart tracks than two at Kissimmee, smoother roller coasters, and more rides for kids.
Fun Spot Orlando's three massive parking areas make getting in a breeze during crowded days, while Kissimmee only has one small parking area.
Popular attractions in Orlando
# Kennedy Space Center
# Legoland Florida
# Legoland Water Park
# Peppa Pig Theme Park
# Gatorland Orlando
# Sea Life Orlando
# Fun Spot America
# iFly Orlando
# Island H2O Water Park
# Tree Trek Adventure Park
# Titanic Exhibition
# Andretti Indoor Karting
# Chocolate Kingdom