At Andretti Indoor Karting & Games, visitors can experience the adrenaline rush of racing electric go-kart races around hairpin turns, up and down elevation changes, and long straightaways.
Most visitors reach the 150,000 sq ft entertainment destination in Orlando for go-karting, but Andretti also offers 20+ arcade games, a ropes course, VR racing simulators, a two-level laser tag arena, and twelve bowling lanes.
Andretti Indoor Karting has three unique racing tracks and four races suitable for visitors of different ages.
Their indoor karting tracks are designed to simulate real racing conditions, and they offer different types of karts for different ages and skill levels.
This article shares everything you must know before booking your Andretti Indoor Karting tickets.
Top Andretti Indoor Karting Tickets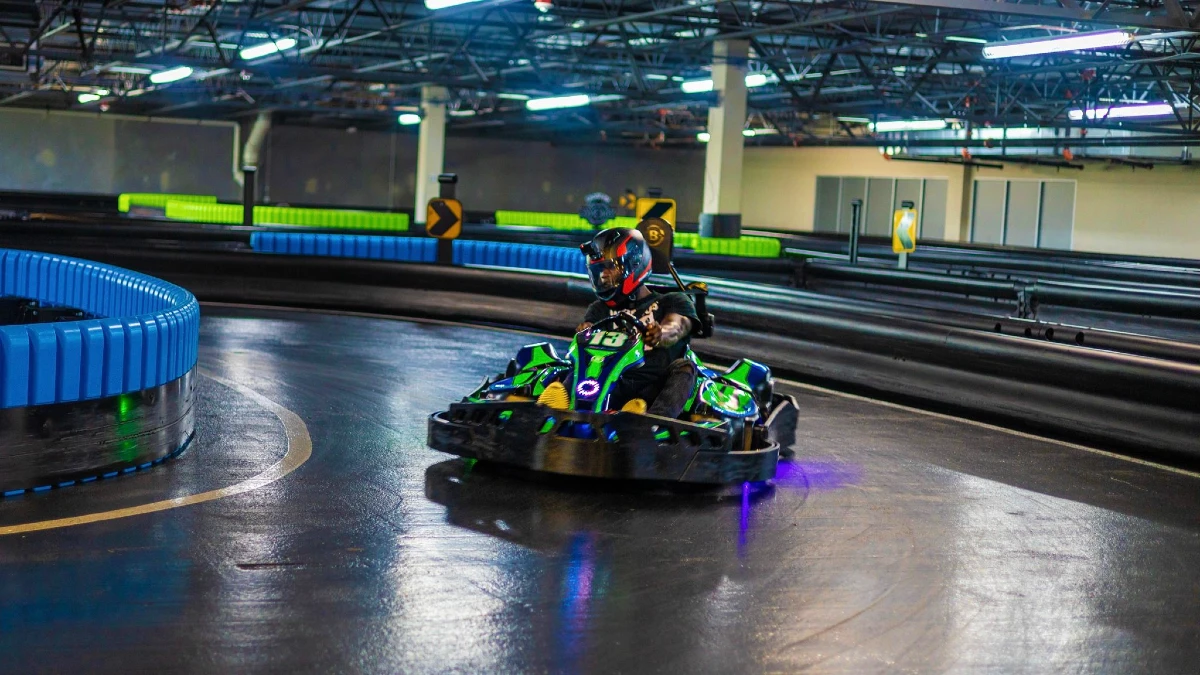 What to expect at Andretti Karting in Orlando
The junior karts at Andretti Orlando go up to 15 mph (24 kph), and the Adult karts go up to 35 mph (56 kph).
---
---
Andretti Indoor Karting tickets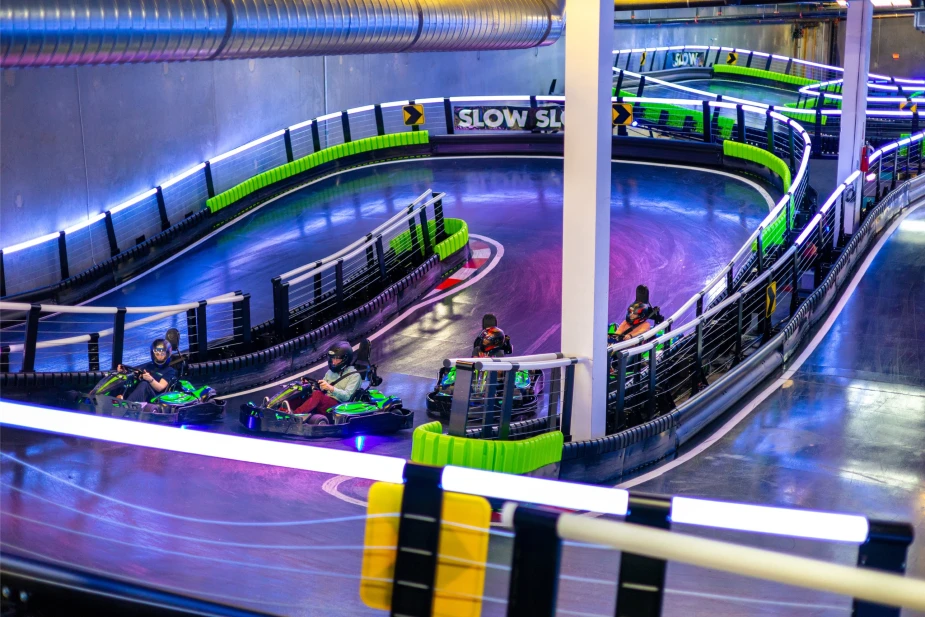 At Andretti go-karting, racing is Arrive and Drive, which means guests are scheduled on a first-come, first-served basis.
That's why booking your tickets for go-karting races at Andretti Orlando much in advance makes sense.
On the ticket booking page, you can opt for only the go-kart races or club it with other activities such as Arcade Games, Laser Tag, etc.
When you book this ticket, a voucher gets emailed to you.
On the day of your visit, you can skip the lines at the ticket counter and exchange your smartphone voucher for a paper ticket at the starting line.
Once you reach the track, the driver gets a 5-minute video detailing the proper use of the equipment, kart operation, and the essential rules and procedures.
And you are ready to race!
Important: Adult tickets are valid for guests 18+ or 15-17 with a state-issued driver's license/permit.
Cost of package 1 (go-karting only)
Adult ticket: $30
Child ticket: $18
Cost of package 2 (karting + arcade time)
Adult ticket: $40
Child ticket: $29
Cost of package 3 (karting + arcade time + 2 more experiences)
Adult ticket: $69
Child ticket: $57
---
---
Racing tracks at Andretti
Orlando's most famous indoor go-karting destination has three tracks that offer different challenges.
Visitors qualify for racing on the tracks depending on their age and height.
Track 1 is a road-course-style single-level track for Junior drivers.
Track 2 is a multi-level track with 25 feet of elevation changes and a scenic 'bumped-out' turn with a view of Universal Blvd.
Track 3 is a fast road course style track with elevation changes, six banked turns, and long straightaways.
Races at Andretti Karting Orlando
Andretti Go-Karting offers four kinds of races to its visitors.
Adult Race
The Adult Race is a seven-minute heat on Track 2 or Track 3.
Adult Races are for drivers at least 54" (137 cms) tall and either 18+ yrs old or 15+ yrs old with State-Issued Driver's License or Permit.
The racers must not exceed the weight restriction of 300 lbs (136 kg).
Intermediate Race
Andretti's Intermediate Race is a seven-minute heat that primarily takes place on Track 3.
Intermediate races are for drivers at least 54" (137 cm) tall and 12 years old.
The racers must not exceed the weight restriction of 300 lbs (136 kg).
Junior Race
The junior race is a six-minute heat that takes place on Track One.
Junior races are for drivers at least 48" (121 cm) tall and at seven years old.
Mini Mario Race
Mini Mario Race is a 5-minute heat that takes place on Track One.
Mini Mario Races are for drivers aged between four and six years and those at least 36″ (91 cm) tall.
The racers must not exceed 90 lbs (41 kg) weight restriction.
Meaning of flags at Andretti
| Color of Flag | Meaning |
| --- | --- |
| Green Flag | Go! |
| Yellow Flag | Caution, Slow Down |
| Red Flag | STOP! There could be an accident on the track |
| Blue Flag w/orange stripe | Move over & let faster drivers pass |
| Checkered Flag | Last Lap, slow down and proceed to Pit Lane |
---
---
Timings at Andretti Orlando
On weekdays Andretti Indoor Karting opens at 11 am and on weekends at 10 am.
From Monday to Thursday, it closes at 11 pm.
On Friday and Saturday, the go-karting destination closes at 1 am, while it closes by midnight on Sundays.
How to reach Andretti Racing
Andretti Indoor Karting and Games is at 9299 Universal Boulevard, Orlando, Florida 32819. Get Directions
If you are using public transport, take the Green Line bus. Get down at the nearest bus stop, G10 SpringHill Suites. Take a two-minute walk to reach Andretti Racing.
If you are travelling by your car, open google maps and you are set to go.
Click here to know about the nearby parking lots.
---
---
What to wear for Andretti Orlando
If you are visiting the racing tracks of Andretti in Orlando, it makes sense to dress up appropriately because certain restrictions apply to ensure the safety of the racers.
Flip-flops and sandals are prohibited on the tracks, and all drivers must wear flat, closed-toe shoes.
Skirts are not recommended, and guests must wear shorts or pants.
Long hair should be pulled back into a ponytail and tucked into your shirt.
Racers with loose or flowing clothing or scarves are not allowed on the tracks.
Personal helmets must be approved by the Department of Transportation (DOT) with a full face cover and visor.
Go Karts at Andretti Racing
At Andretti Indoor Karting and Games, racers get Biz Kart Ecovolt GP, the best model of electric kart available.
These karts are powerful, ergonomic, safe, and environmentally friendly.
They pack enough torque to offer an unprecedented adrenalin rush during your race.
Sources
# Andrettikarting.com
# Tripadvisor.com
# Crunchbase.com

The travel specialists at TheBetterVacation.com use only high-quality sources while researching & writing their articles. We make every attempt to keep our content current, reliable and trustworthy.
Popular attractions in Orlando
# Kennedy Space Center
# Legoland Florida
# Legoland Water Park
# Peppa Pig Theme Park
# Gatorland Orlando
# Sea Life Orlando
# Fun Spot America
# iFly Orlando
# Island H2O Water Park
# Tree Trek Adventure Park
# Titanic Exhibition
# Chocolate Kingdom