Island H2O is one of the most immersive and technologically advanced water parks globally.
Since it is themed around Social Media with rides such as Hashtag Heights, Profile Plunge, Follow Me Falls, Reply Racers, etc., it is an excellent option for families with tweens and teens.
Streaming and posting your experience is part of the fun at this water park, also known as Island H2O Live!
This article shares everything you must know about before buying Island H2O tickets.
Top Island H2O Water Park Tickets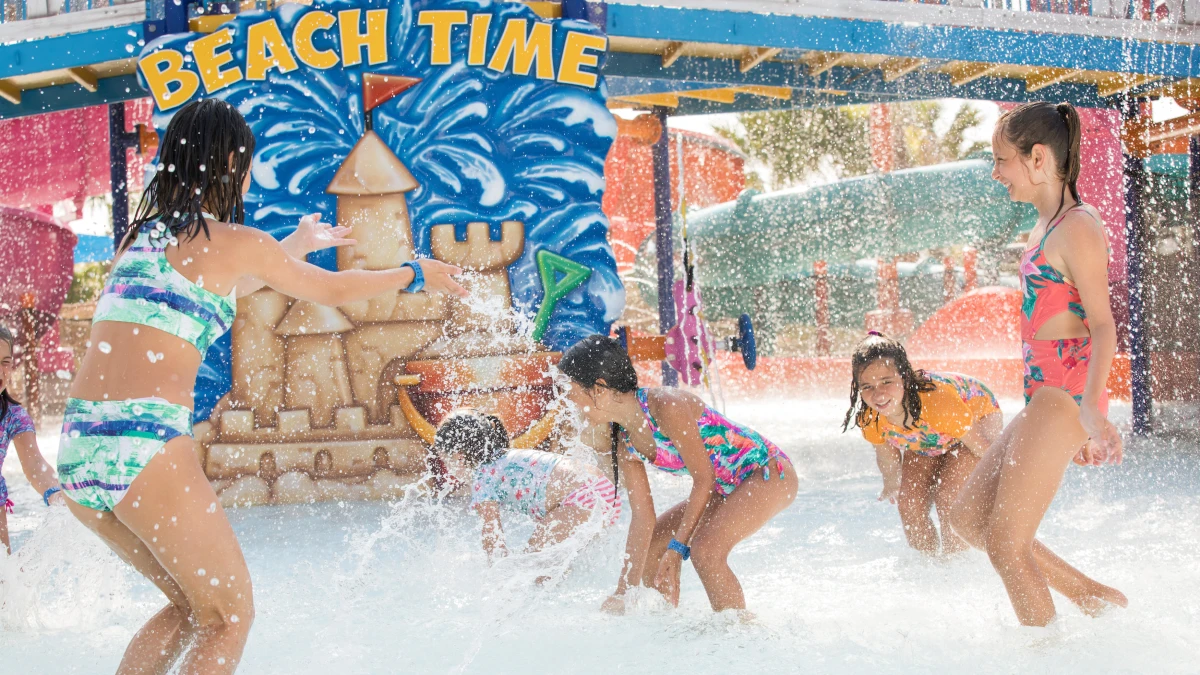 What to expect at Island H2O
Island H2O in Kissimmee is a brand-new state-of-the-art aquatic playground.
It has eight rides, three pools, one lazy river, one splash zone, and three food outlets.
Guests can sync their park wristbands with the official app and get creative with photos and videos to share with friends and family.
Orlando Bundle
The Orlando Bundle is a great way to save money if you are in Orlando on an extended holiday. It gets you fast-track access to Gatorland and eight attractions at Icon Park, such as The Wheel, Madame Tussauds, SEA LIFE Orlando, Museum of Illusions, etc., for just $99 per person.
---
---
Island H2O tickets
There is only one type of Island H2O water park ticket that visitors can buy, and it gets you access to all the rides and attractions.
Since this is a Skip The Line mobile ticket, you can avoid the lines at the ticket counters.
On the day of your visit, show the ticket on your mobile and walk in.
You can cancel this ticket up to 24 hours in advance to receive a full refund.
You can use this single-day admission to the Island H2O Water Park for re-entry if you exchange your wristband for the re-entry card before exiting.
When you visit the park, bring a valid ID and the card you used to purchase the tickets.
Island H2O ticket prices
Island H2O Water Park tickets cost $70 at the gates, but you pay only $55 per person when you purchase them online.
That's an online discount of almost $15 per ticket.
Kids under three can enter for free and don't need tickets.
---
---
Island H2O hours
From March to May, Island H2O opens at 10.30 am and closes at 5 pm.
From late May to August, the peak summer period, the water park has different timings for weekdays and weekends.
Island H2O Live opens daily at 10 am. From Monday to Thursday, it closes at 6 pm, and Friday, Saturday, and Sunday, it remains open till 9 pm.
In the shoulder months of September and October, the water attraction in Kissimmee opens only on Friday, Saturday, and Sunday, from 10.30 am to 5.30 pm.
From November onwards, it welcomes guests only on the weekends.
Since the timings vary so much, we recommend booking your Island h2o water park tickets online to avoid landing up there and finding it closed.
---
---
How to reach Island H2O
Island H2O Live! is within the resort property, which includes the Margaritaville Hotel and Sunset Walk entertainment district.
Its address is 3230 Inspiration Drive, Kissimmee, FL 34747. Get Directions
From I-4 West, take Exit 64 and merge onto 192 West. Turn Left onto Inspiration Drive.
From I-4 East to Four Corners, take Exit 6 from FL 429 North. Continue 192 East and turn Right onto Inspiration Drive.
From 429 South, take Exit 6, turn Left onto 192 East, and take a Right onto Inspiration Drive.
Click here to know about the nearby parking lots.
---
---
Best time to visit
The best time to visit Island H2O Live! Water Park is between 10.30 am and 1 pm.
The water park is at its peak capacity between 1 pm and 3 pm.
If you want to avoid the crowd, it is better to visit mid-week.
How long does Island H2O take
On average, visitors spend three to six hours enjoying the various tube slides, raft riding, splash zones, etc., at Island H2O Orlando.
When you purchase your Island H2O water park tickets much in advance, you save time at the ticket counters and head straight to the water.
---
---
Rides at Island H2O Orlando
Island H2O Live! has eight rides, one better than the other.
All of them are named after social media terms and are connected, which means you can publish all your activities online.
Some rides apply minimum height restrictions of 91.5 cm (36 inches) to 122 cm (48 inches).
Live Streaming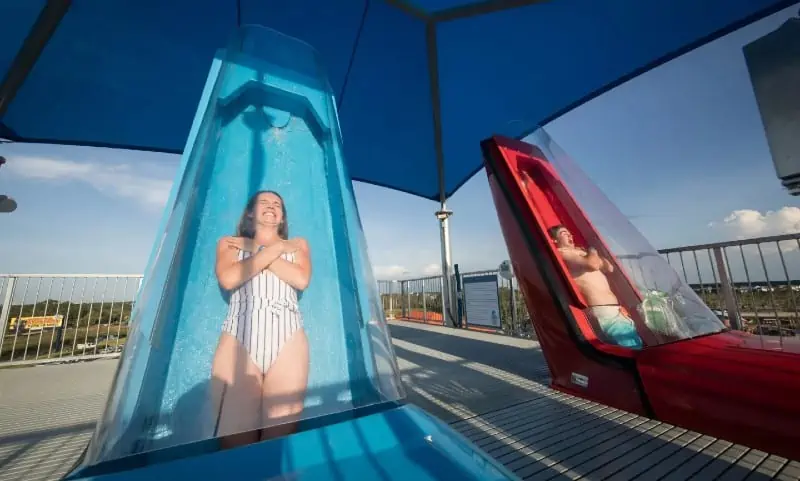 Live Streaming is the only genuinely looping, video-embedded waterslide in the world.
The slide's 360-degree loop provides a visual impact that will get you a lot of likes on social media.
Minimum Height: 122 cms (48 inches)
Maximum Weight: 136 kg (300 lbs)
Hashtag Heights
Guests soar to new heights on this high-flying boomerang ride called Hashtag Heights, featuring a steep drop and all the feels of being weightless for a moment.
Three to six riders can participate together, making it ideal for fun with family or friends.
Minimum Height: 107 cm (42 inches)
Maximum Weight: 454 kg (1000 lbs) for everyone together
Profile Plunge
High speeds and plunging drops at the Profile Plunge ride bring a new meaning to family fun.
Three to six riders can be together at a time.
Surprises lurk everywhere in this action-packed ride as families huddle together to conquer the wall sweeps, unexpected drops, and twisty turns.
Minimum Height: 107 cm (42 inches)
Maximum Weight: 454 kg (1000 lbs) for everyone together
Drop Down
At the Drop Down ride of Island H2O, visitors enjoy the view from the top and count down with anticipation while awaiting a breathtaking vertical drop.
Relive the adrenaline rush repeatedly as your moment can be seamlessly captured and shared.
Minimum Height: 122 cm (48 inches)
Maximum Weight: 136 kg (300 lbs)
Follow Me Falls
Follow Me Falls is for two riders at a time.
Guests fall fast and steep to immediately ascend upon a vertical wall, where they will experience a moment of weightlessness before they careen back down to earth.
Minimum Height: 122 cm (48 inches)
Maximum Weight: 181 kg (400 lbs)
The Downloader
The Downloader can seat either one rider or two, and you can even play your audio-visual playlist on this ride.
The rush and intensity of dropping into a sphere of centrifugal fun will have you spinning around for a while.
Minimum Height: 122 cm (48 inches)
Maximum Weight: 136 kg (300 lbs) for one person
If you are a group of friends or family members who want to take on each other in a game of speed, Reply Racers is the perfect ride.
When you win the race at Reply Racers, you will earn redeemable points for free food & merchandise in the park.
Minimum Height: 107 cm (42 inches)
Maximum Weight: 136 kg (300 lbs)
Reload Rapids
Tight corners and high-banking turns make Reload Rapids an unexpected ride of constant thrills.
Riders will rapidly zoom from one enclosed tube to the next as it disguises its next round of chilling twists and turns.
It can take one or two riders at a time.
Minimum Height: 122 cm (48 inches)
Maximum Weight: 136 kg (300 lbs) for one person
---
---
Essential Information
Visitors can't bring their own flotation devices into the park. Island H2O Live! Water Park provides lifejackets and inner tubes free of charge on a first-come, first-serve basis.
Guests may bring their own US Coast Guard-approved life jackets.
No outside food or drinks are allowed in the park unless for specific baby, allergy, or medical needs.
Guests are allowed one unopened plastic water bottle (20 oz or less) per person. Visitors can re-fill these bottles at several locations in the park.
Soft-sided coolers smaller than 21.6 cm (8.5 inches) wide x 15 cm (6 inches) high x 15 cm (6 inches) deep are permitted. All other coolers are prohibited.
Visitors should get their towels because Island H2O doesn't provide them for the guests. You can buy new towels from the MEMEntos retail shop as well.
Various-sized lockers are available near the restrooms; guests can rent them from the lockers station.
Sources
# Islandh2owaterpark.com
# Margaritavilleresorts.com
# Tripadvisor.com
# Experiencekissimmee.com

The travel specialists at TheBetterVacation.com use only high-quality sources while researching & writing their articles. We make every attempt to keep our content current, reliable and trustworthy.
Popular attractions in Orlando
# Kennedy Space Center
# Legoland Florida
# Legoland Water Park
# Peppa Pig Theme Park
# Gatorland Orlando
# Sea Life Orlando
# Fun Spot America
# iFly Orlando
# Island H2O Water Park
# Tree Trek Adventure Park
# Titanic Exhibition
# Andretti Indoor Karting
# Chocolate Kingdom