If you're seeking a magical marine experience, look no further than Charleston Dolphin Tours, designed to immerse you in the natural wonders of the Atlantic Ocean.
Dolphin Tours offer an exhilarating voyage that combines the beauty of the Lowcountry with the enchantment of encountering these intelligent and graceful marine creatures up close.
Led by a team of seasoned marine experts, each tour promises an unparalleled opportunity to witness pods of playful dolphins leaping through the waves, their sleek bodies cutting through the water with grace and agility.
With years of experience navigating the waters of Charleston, the tour guides possess an intimate understanding of the dolphins' behaviors, migration patterns, and habitat.
Every expedition is a treasure trove of insightful information and remarkable sightings.
Comfortable and safe boats provide the ideal vantage point for uninterrupted views of the dolphins in their natural habitat.
This article covers everything you must know before booking tickets for Charleston Dolphin tours.
What to expect at Charleston Dolphin Tours
On Charleston Dolphin Tours, you can expect a truly memorable and immersive experience that allows you to connect with the captivating world of dolphins and the beautiful marine environment off the coast of Charleston.
Throughout the tour, you will be accompanied by experienced tour guides who are knowledgeable marine naturalists passionate about the local marine life.
They'll share fascinating insights into dolphins' behavior, biology, and habitat, enriching your journey with valuable information.
These Dolphin tours are carefully designed to offer you up-close encounters with dolphins in their natural habitat.
As you cruise the waters, you can witness these majestic creatures swimming, playing, and leaping gracefully through the waves.
Depending on your preferences, you can choose from different tour options available.
Some tours may be shorter and ideal for families with young children, while others could be more extensive, providing a more in-depth exploration of the local marine life.
In addition to dolphins, the waters off Charleston are home to various other marine life.
During your tour, watch for sightings of seabirds, sea turtles, and other fascinating creatures.
Remember to capture stunning photographs and videos of the dolphins and the picturesque surroundings, preserving cherished memories of your adventure.
The encounters with dolphins and the marine environment will leave a lasting impression, making your experience unforgettable.
---
---
Where to book tickets
Tickets for the Charleston Dolphin Tours are available online in advance or offline.
To ensure a hassle-free experience, we suggest booking your tickets online.
Online ticket prices tend to be cheaper than tickets sold at the counters.
When you buy online, you can avoid the long queues at the ticket counters.
Because some tours sell a limited number of tickets, booking early helps avoid last-minute disappointment.
When you book early, you also get your preferred time slot.
How do online tickets work
Go to the Charleston Dolphin Tours ticket booking page, and select your preferred date, time, and number of tickets to buy.
You will receive the ticket confirmation in your email after the booking.
Ticket printouts are not required.
You can take the tour by showing your smartphone ticket and passing a security check on the day of your visit.
Cost of Charleston Dolphin Tours ticket
Tickets for Afternoon Schooner Sightseeing Dolphin Cruise on Charleston Harbor cost US$55 for all visitors above 12 years of age and visiting from Monday to Thursday.
Visitors above 12 years of age pay US$60 for the tour from Friday to Sunday.
Children up to 11 years get a discount of US$19 and pay US$36 for taking the Dolphin tour throughout the week.
Tickets for Folly Island: Guided Dolphin Boat Tour in Folly Beach cost US$50 for adults above 13 years.
Children aged two to 12 can get the tickets for US$40. Tickets for infants below two years cost US$20.
Afternoon Tickets for Schooner Sightseeing Dolphin Cruise on Charleston Harbor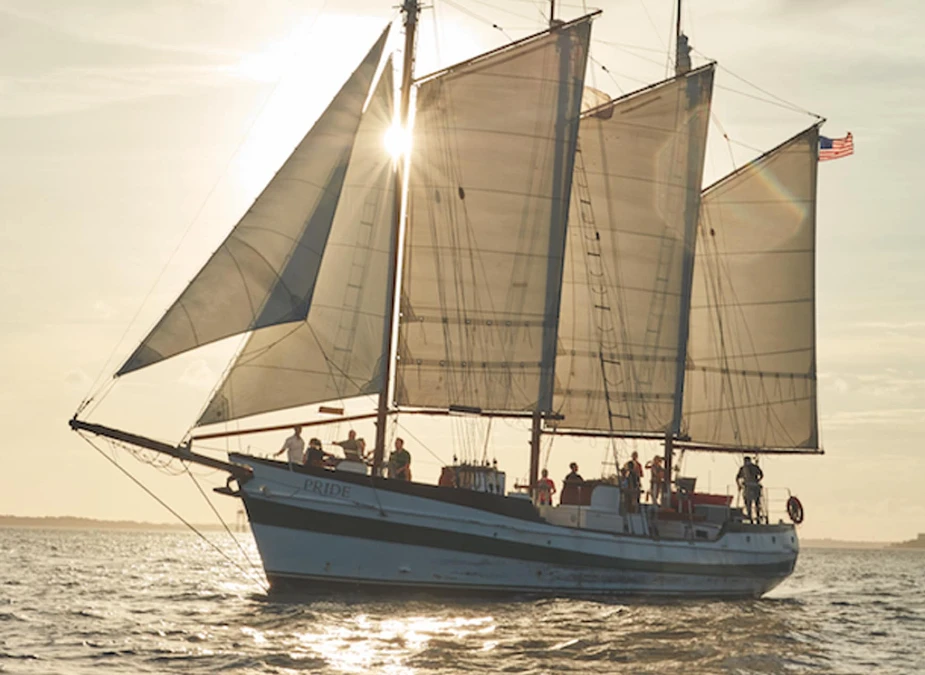 Pick a departure time when reserving for an afternoon Schooner Sightseeing Dolphin Cruise on Charleston Harbor.
During this 90 minutes (approx) tour, sail the waters of Charleston Harbor on a traditional tall ship that is 84 feet (25 meters) tall.
You will pass some of the city's ancient sites while the crew raises the schooner's sails, and you must watch for dolphins in the water.
This is a family-friendly tour; you can bring your snacks (if you wish), and drinks are available for purchase on board.
While on tour, watch playful Bottlenose Dolphins swimming around the harbor.
The tour is not wheelchair accessible, but the tour operator will do its best to accommodate disabled persons as there are five stairs and then a gangplank to cross to board.
Ticket Prices
Weekday Tickets
Adult Ticket (12+ years): US$55
Child Ticket (up to 11 years): US$36
Weekend Tickets
Adult Ticket (12+ years): US$60
Child Ticket (up to 11 years): US$36
Charleston Water Taxi Cruise Tickets with Dolphin Sighting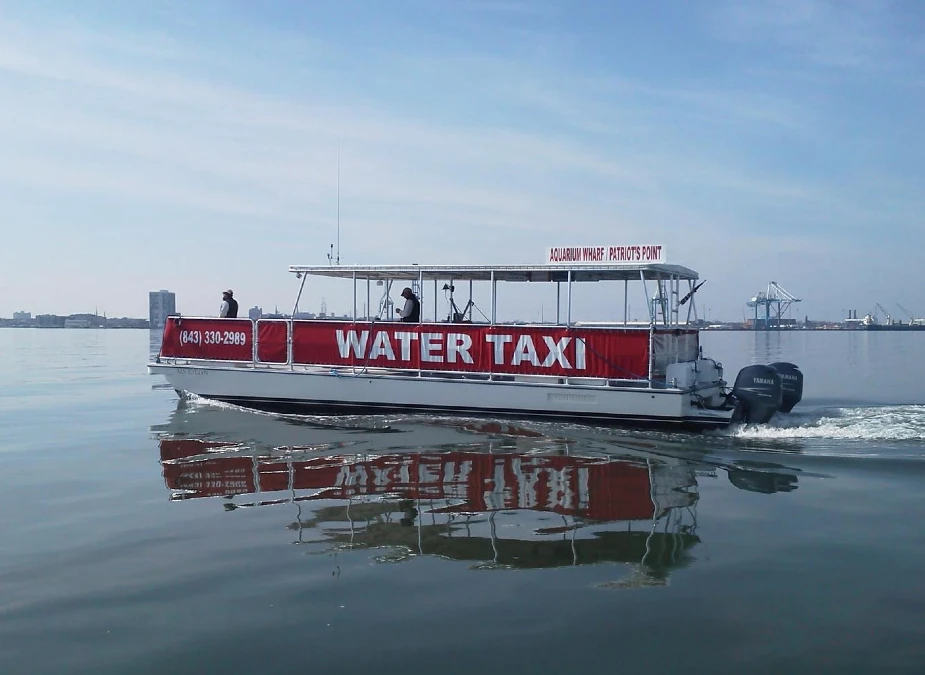 Explore Charleston by water taxi on this 1 to 2 hours easy harbor excursion.
Use this water-based transportation to visit prominent landmarks, including Patriots Point Naval, the Maritime Museum, and the Aquarium.
Visit places like the Charleston Harbor Marina and Joe Riley Waterfront Park at your convenience.
During the cruise, remember to keep a lookout for dolphins.
However, Dolphin sightings are only sometimes guaranteed.
The tour is not wheelchair accessible.
A maximum of 40 travelers can take part in the tour.
Ticket Prices
Adult Ticket (12 to 64 years): US$14
Youth Ticket (6 to 11 years): US$12
Senior Ticket (65+ years): US$12
Child Ticket (2 to 5 years): Free
Infant Ticket (up to 1 year): Free
Tickets for Guided Dolphin Boat Tour in Folly Beach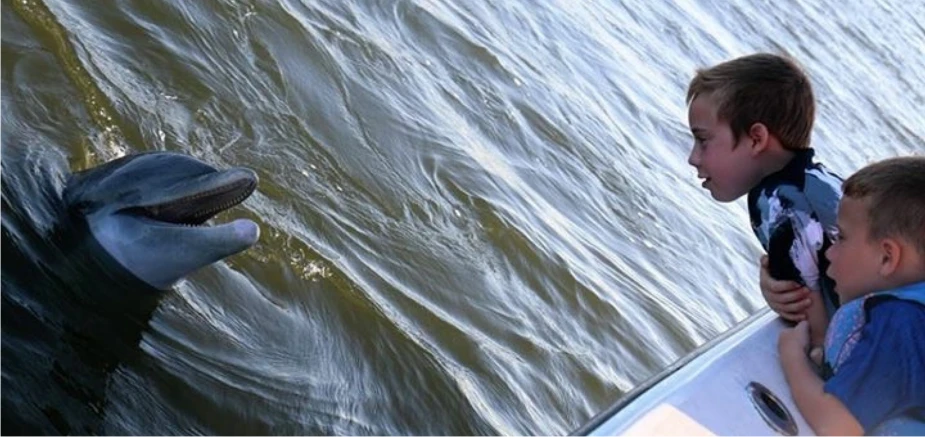 Explore the creeks and marshes behind Folly Beach on this guided boat tour.
In addition to looking for wild Atlantic bottlenose dolphins, your knowledgeable captain will also teach you about the region's remarkable ecosystem.
During this 2-hour tour, marvel at the coast of Folly Beach and see native wildlife in their natural habitat.
Remember to bring your sunglasses, sun hat, sunscreen, and water on the tour.
You can choose between the boat tour in the morning or the sunset boat cruise.
Hear about the famous dolphins by your captain as you safely cruise on your boat while respecting the wildlife.
Explore the backwaters and navigate to the historic Morris Island, where you can hunt for fossils, seashells, and sand dollars.
Ticket Prices
Adult Ticket (13+ years): US$50
Child Ticket (2 to 12 years): US$40
Infant Ticket (up to 1 year): US$20
Save up to 40% on retail ticket prices with this exclusive Charleston Pass that guarantees 100% full admission to 40+ attractions and historic sites. Use the mobile pass to make reservations, access maps, and find detailed information.
---
---
Departure point
For Charleston Dolphin Tours, the meeting point depends on the tour option you select, and remember, it is subject to change.
So, you should always check the booking page to know the exact meeting location before arriving.
Charleston Dolphin Tour timings
Dolphin tours in Charleston are operational from 10 am till 8 pm.
Different operators provide tours at different slots. The ticket booking page will have information on operational hours.
Best time to take Charleston Dolphin Tours
The best time to take the Charleston Dolphin tour is in the morning and the evening when dolphins are most active.
It is possible to spot Dolphins at dawn, between 10 am and noon, and from 2 pm till sunset.
We recommend not taking the tour at night and when it's cloudy or rainy.
Dolphins are less active when there is more water around.
How long does the tour take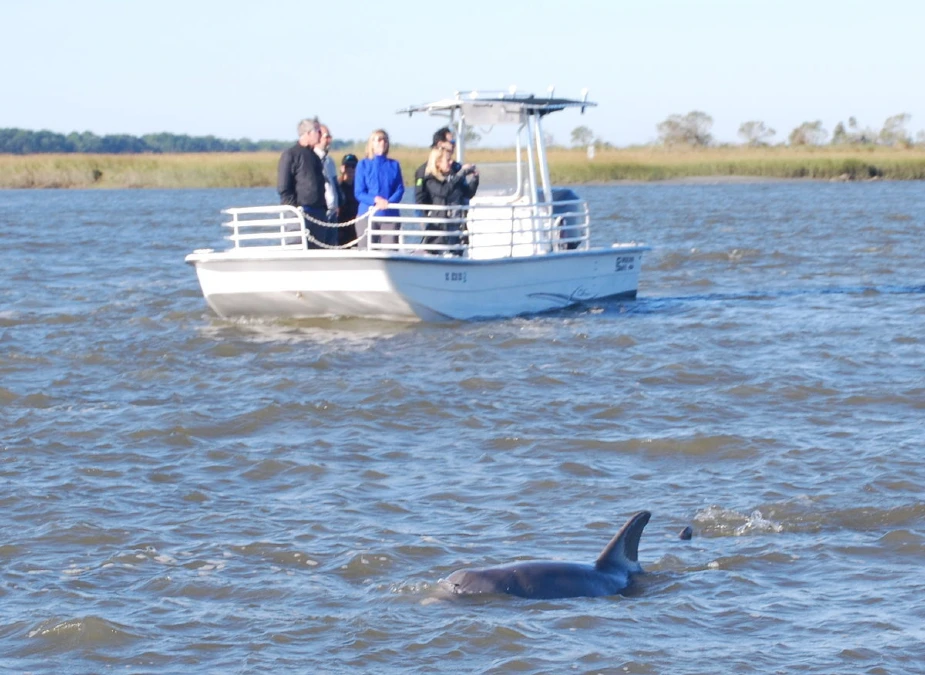 The duration of Dolphin Tours Charleston is approximately 90 minutes to 2 hours.
FAQs about Charleston Dolphin tours
Here are some questions travelers usually ask before going on Charleston Dolphin tours.
What can I expect on Charleston Dolphin tours? 
On Charleston Dolphin Tours, you will embark on a boat cruise with experienced guides to search for and observe wild dolphins in their natural habitat. The tour may also offer opportunities to spot other marine wildlife and enjoy the area's scenic beauty.
How long does the Charleston Dolphin tour last?
The duration of the dolphin tour can vary depending on the specific package you choose, but it typically lasts between 90 to 120 minutes.
Is it necessary to make a reservation in advance for Charleston Dolphin Tours? 
Reservations in advance are usually recommended to ensure availability, especially during peak tourist seasons. Walk-ins may be accommodated if there is space, but booking in advance is advisable to guarantee your spot. Book now.
What are the best times of day for dolphin sightings in Charleston? 
Dolphins are generally more active in the morning and late afternoon. Most dolphin tours are scheduled during these times to increase the chances of sightings.
Are the Charleston Dolphin Tours suitable for children? 
Yes, Charleston Dolphin Tours are family-friendly and suitable for children. However, age restrictions may apply for safety reasons, and it's always best to check with the tour company beforehand.
What should I bring on the Charleston Dolphin Tour?
Recommended items include sunscreen, a hat, sunglasses, a camera or binoculars for better wildlife viewing, and any personal items you might need.
Is it safe to get close to the dolphins? 
Charleston Dolphin Tours prioritizes the safety and well-being of the wildlife. Guides will ensure a safe distance from the dolphins to avoid disturbing them. It's important to follow their instructions during the tour.
Are the tours wheelchair accessible? 
Dolphin Tours in Charleston may have some boats equipped to accommodate wheelchairs, but it's essential to inquire in advance to ensure they can provide suitable arrangements.
Popular attractions in Charleston