Charleston is a beautiful city with a rich ecosystem, from the marshes and waterways of the Lowcountry to the mountains of the Upstate.
The Eco Tours of Charleston are a great way to experience the natural beauty of this place and learn about its unique ecology.
The tours are fun and educational for people of all ages. So if you're looking for a way to explore natural beauty, it is a great option.
This article covers everything you must know before booking tickets for Charleston Eco Tours.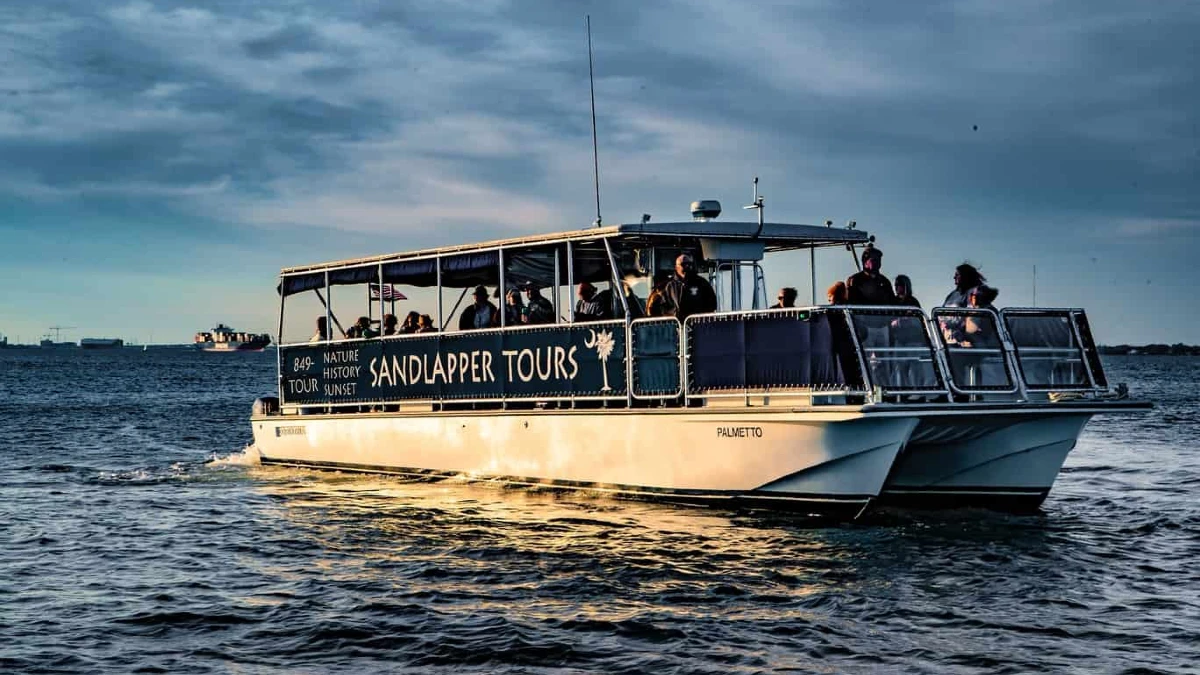 What to expect
Charleston Eco Tour lets you experience a captivating boat cruise through Lowcountry tidal creeks and marshes, leading to the flawless Morris Island.
Departing from Bowens Island, you can enjoy a scenic ride through a biodiverse estuary rich in wildlife.
Look out for bottlenose dolphins, sea turtles, and more as you cruise!
You can see the historic lighthouse, search for seashells, and spot birds and dolphins on Morris Island.
---
---
Where to book tickets
Charleston Marsh Eco Boat Cruise tickets are available online. We recommend buying tickets online as it has many benefits.
Online ticket prices tend to be cheaper than the ones sold at the ticket counters.
As Charleston Eco Boat Cruise is quite popular, tickets sell out quickly.
So booking in advance helps avoid last-minute disappointment.
Another major benefit of online booking is you don't have to stand in long queues for tickets.
How do online tickets work
Go to the Charleston Marsh Eco Boat Cruise ticket booking page, select the preferred date and number of tickets, and buy the tickets.
After the purchase, you will receive the tickets through your email.
There is no requirement to bring any printouts.
On the day of your visit, you can walk in and show the ticket on your smartphone to the operator and continue to cruise.
Cost of Charleston Eco Tours
Charleston Marsh Eco Boat Cruise ticket costs US$56 for those above 13 years, US$34 for children between three to 12 years, and US$12 for infants up to two years.
A Two-Hour Guided Kayak Eco Tour ticket costs US$54 for those above 13 years and US$34 for children up to 12 years.
Stand-Up Paddleboard Eco Tour ticket costs US$56 for those above 13 years. Children between eight to 12 years get the tickets for US$46.
Tickets for Dolphin and Eco Boat Tour Charleston cost US$196 per group of six people. There are no age restrictions.
Charleston Marsh Eco Boat Cruise tickets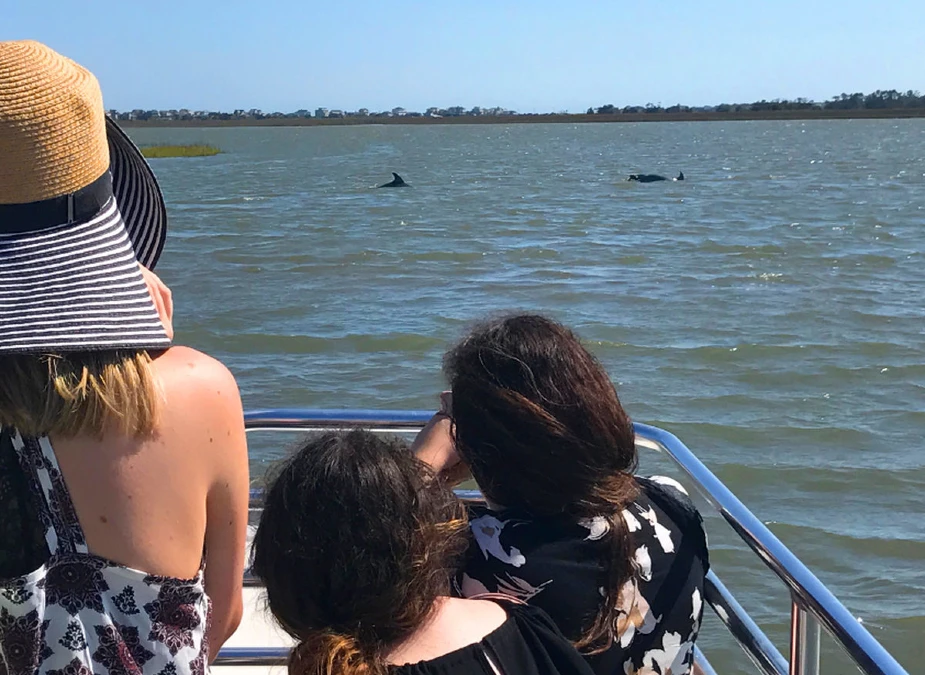 Experience the natural beauty of Charleston's marshes and Morris Island Lighthouse during this unique eco-boat cruise.
Prepare for a 2.5-hour journey through Lowcountry tidal creeks and wetlands, where you'll spot fascinating wildlife, including dolphins, sea turtles, and diverse bird species.
The 1-hour stop at Morris Island allows you to explore the historic lighthouse, comb for seashells, and admire the breathtaking surroundings.
Enjoy a small-group experience with live narration from your Naturalist Captain, ensuring an engaging and informative adventure.
Ticket Prices
Adult Ticket (13+ years): US$56
Child Ticket (3 to 12 years): US$34
Infant Ticket (up to 2 years): US$12
Charleston Two-Hour Guided Kayak Eco Tour Tickets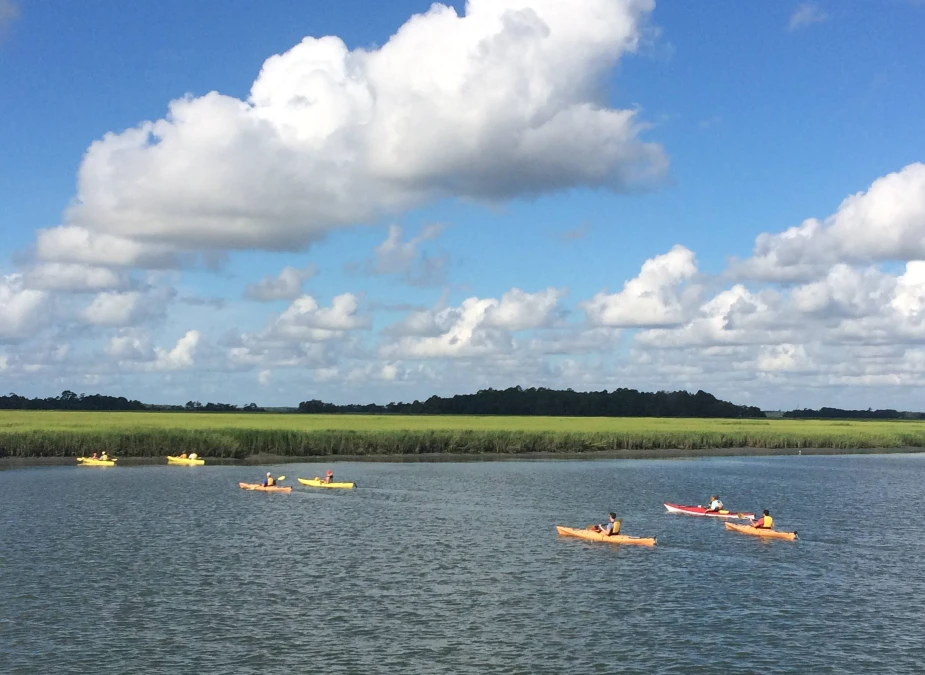 Paddle down Folly Creek and explore the tidal creeks around the Hammock Islands to discover the thriving Lowcountry biodiversity.
See the Loggerhead turtles, playful bottlenose dolphins, and other creatures in their natural habitat.
This leisurely-paced tour suits kids and adults, offering easy-to-intermediate kayaking routes.
Enjoy a personalized experience with a limited group of 12 participants, and a guide will share insights about the local ecosystem and conservation efforts.
Organizers will provide all the necessary kayaking equipment, so dress comfortably and prepare for a journey through the beauty and tranquility of Charleston's marshlands.
Ticket Prices
Adult Ticket (13+ years): US$54
Child Ticket (up to 12 years): US$34
Charleston Stand-Up Paddleboard Eco Tour Tickets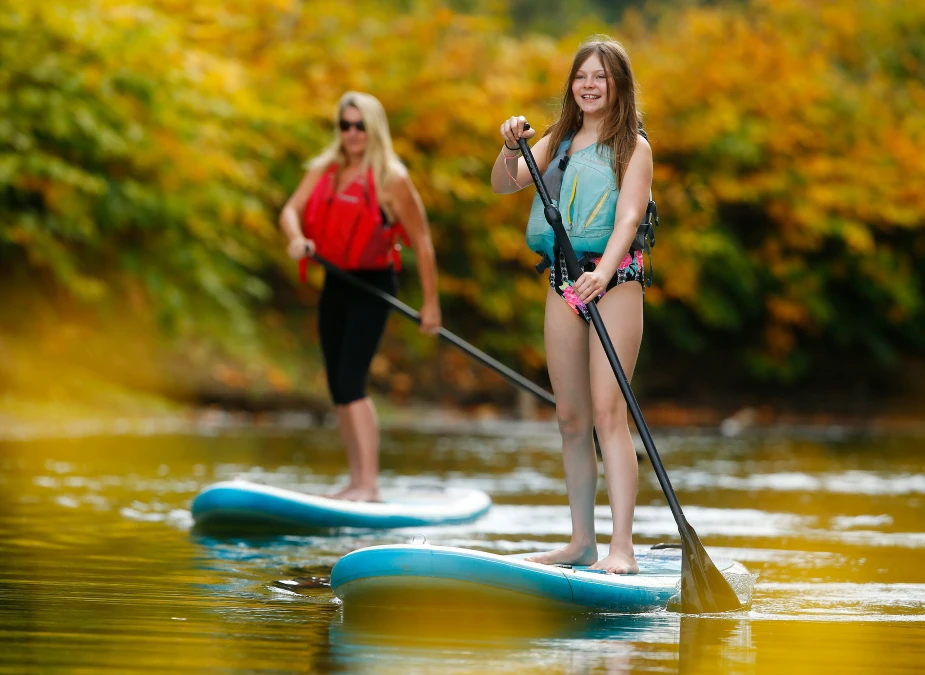 Experience the thrill of stand-up paddleboarding on the tranquil Folly River in Charleston.
Look out for playful bottlenose dolphins as you paddle along the calm waters.
Enjoy a refreshing swim at a private beach stop. The small-group setting ensures a personalized experience.
All equipment is provided for a fun-filled day on the water.
Don't worry; an expert will teach you the basics before embarking on the SUP tour.
Ticket Prices
Adult Ticket (13+ years): US$56
Child Ticket (8 to 12 years): US$46
Dolphin and Eco Boat Tour Tickets for Charleston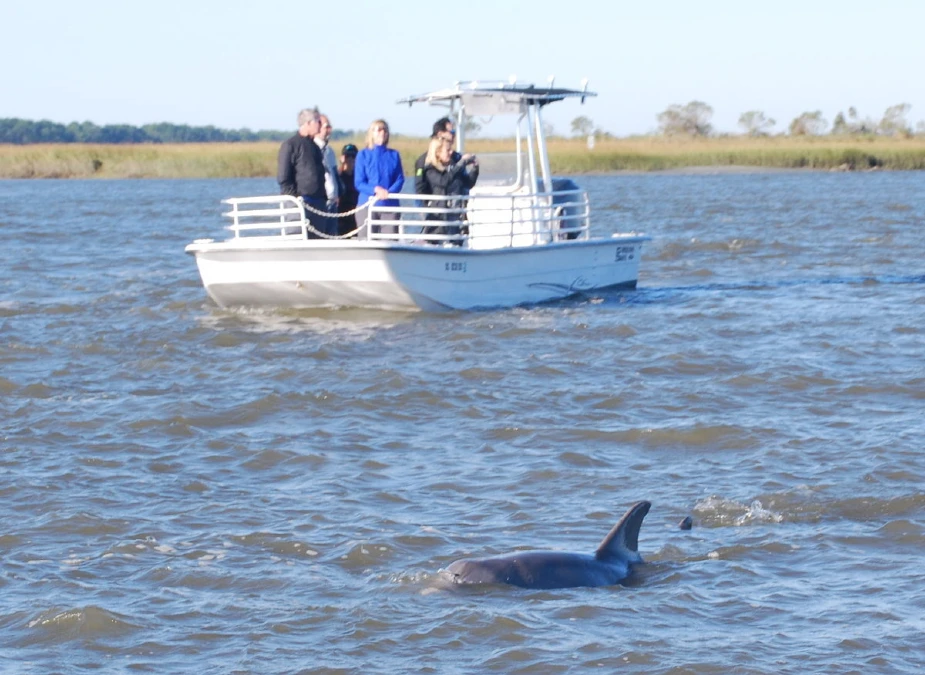 This tour is an exclusive 2-hour private boat tour designed to explore the calm waters behind Folly Beach in search of the local bottlenose dolphins.
You will witness the beautiful animals playing, sleeping, and hunting in their natural habitat as you Cruise through the creeks and inlets.
Observe the unique "strand feeding" hunting strategy, a fascinating behavior only seen in this part of the world.
Along the way, watch for other local wildlife, such as wading birds, bald eagles, osprey, pelicans, or maybe a sea turtle.
This private tour accommodates up to 6 people for one price, ensuring an intimate experience.
Ticket Price: US$196
Save up to 40% on retail ticket prices with this exclusive Charleston Pass that guarantees 100% full admission to 40+ attractions and historic sites. Use the mobile pass to make reservations, access maps, and find detailed information.
---
---
Meeting point
The departure point for Charleston Eco Tours depends on the tour option you select, and remember, it is subject to change.
So, you should always check the booking page to know the exact meeting location before arriving.
Timings
The Charleston Outdoor Adventures operates from 8 am to 8 pm.
Depending on the operator you select, you will have plenty of time slots to book your Eco Boat Cruise, starting at 8 am and ending at 6 pm.
Best time to go on Charleston eco tours
The best time to take the tour is the early morning slot at 8.
You can avoid the crowd and have a relaxed experience.
Planning your visit on weekdays is better as weekends attract more visitors.
How long does the tour take
Charleston Marsh Eco Boat Cruise lasts approximately 2.5 hours.
We advise you to be at the starting point 10 to 15 minutes earlier.
FAQs about Charleston Eco Tours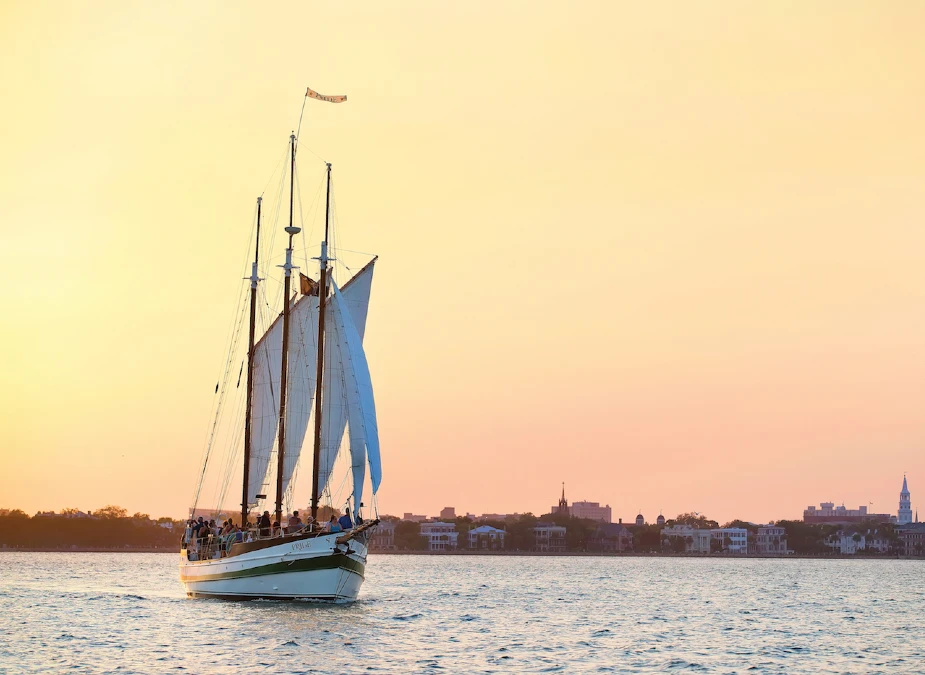 Here are some frequently asked questions about the Charleston Eco Tours.
What is included in the Charleston Eco Tours?
Charleston Eco Tours offers a variety of eco-friendly excursions, including boat cruises and kayak adventures. Each tour is led by knowledgeable guides who provide insightful information about the local ecosystem, wildlife, and history.
Are the tours suitable for all ages?
Charleston Eco Tours caters to all age groups, making them family-friendly and accessible. Whether traveling with kids or seniors, you can enjoy a memorable and educational experience.
Is it necessary to make a reservation in advance for Charleston Eco Tours?
Booking tickets in advance to secure your spot is highly recommended. Charleston Eco Tours are popular, so reserving your tickets ensures guaranteed entry.
What wildlife can I expect to see during the Charleston eco tours?
The tours provide excellent opportunities to observe diverse wildlife, including Atlantic bottlenose dolphins, wading birds, pelicans, sea turtles, and more. Depending on the season and location, you may spot other native species.
Do I need to have previous kayaking or boating experience?
Prior experience is optional for most tours. Charleston Eco Tours offers guided excursions suitable for beginners and experienced paddlers alike. Your knowledgeable guides will provide instructions and ensure a safe and enjoyable journey.
What should I bring for the tours?
Carry essentials such as water, sunscreen, sunglasses, a hat, and a camera to capture the natural beauty for a better experience. Depending on the tour, you may also want to bring binoculars, insect repellent, and appropriate footwear for walking or kayaking.
Is transportation provided to the departure point?
Charleston Eco Tours typically has a central meeting point for each tour. Transportation to the departure location is not included but is easily accessible.
Are outside food and beverages allowed on the tours?
You are welcome to bring your own snacks and non-alcoholic beverages on the tours. But please maintain a clean environment by avoiding single-use plastics and properly disposing of trash.
Are the tours environmentally friendly?
Absolutely! Charleston Eco Tours is committed to promoting eco-friendly practices and conservation efforts. 
What happens in case of bad weather?
In the event of adverse weather conditions that may affect the Charleston eco tour, organizers will do their best to reschedule your experience for a suitable date or provide a full refund.
Are the Charleston eco tours wheelchair accessible?
While some of our tours may be accessible to individuals with limited mobility, contacting the management in advance to discuss specific needs and accommodations is essential.
Can I cancel or modify my booking for Charleston eco tours?
Cancellation policies may vary depending on the tour type and the cancellation time. Please review the cancellation policy on the ticket booking website while purchasing.
Popular attractions in Charleston