Fort Sumter is a majestic sea fort on an island initially built to protect Charleston from enemies.
This is where the first gunshots were fired during the American Civil War in 1861.
The canons, mortar shells-embedded walls, a small museum storing war artifacts, and the flag once flown over the fort will lead you on a backward time travel.
So, plan a day trip to this historical monument and enjoy the tour from sea and land by booking tickets for the Fort Sumter Charleston tour.
This article covers everything you must know before booking tickets for the Fort Sumter Charleston.
Top Fort Sumter Charleston Tickets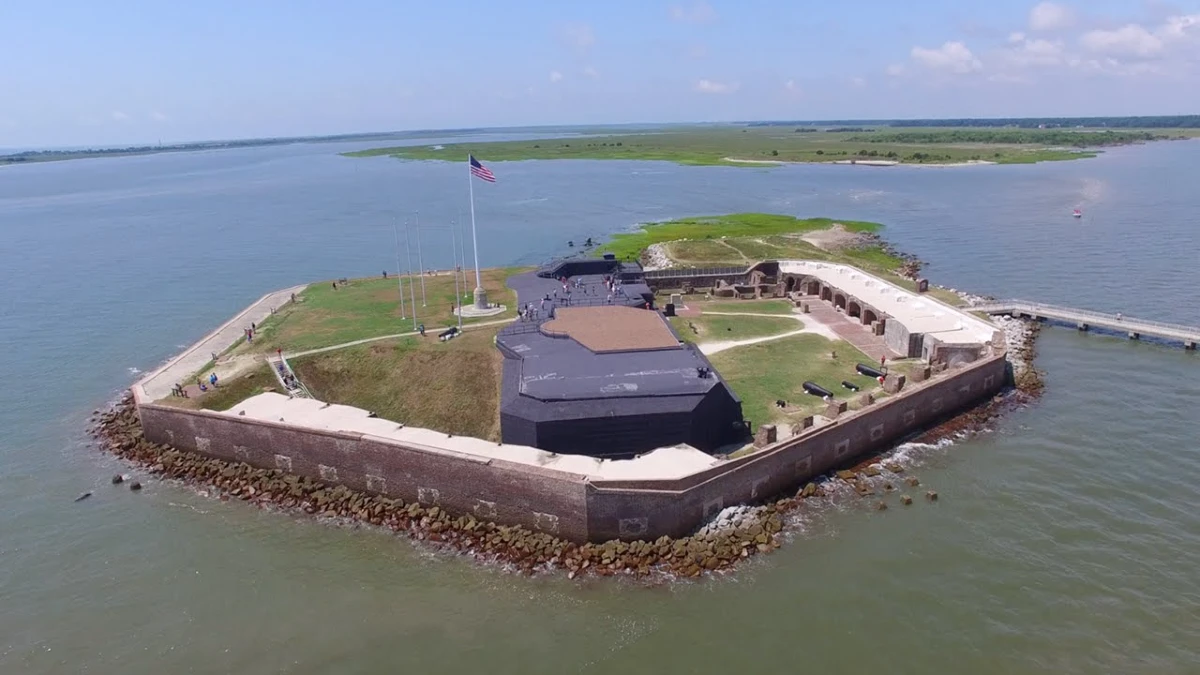 What to expect on the Fort Sumter Charleston tour
The Fort Sumter Tour in Charleston has two parts – a ferry ride and a self-guided tour of the monument.
First, you'll board your boats from Liberty Square in downtown Charleston or Patriot's Point in Mount Pleasant.
Each departure point takes a different sailing route but provides an almost similar view.
For instance, if you depart from Downtown, you will see the famous Aquarium Wharf, and if you are from Mt. Pleasant, you will get an up-close view of the USS Yorktown Aircraft Carrier.
But all the Fort Sumter Cruises pass through a few iconic locations such as Arthur Ravenel Jr. Bridge, Rainbow Row, and Battery Homes.
On your way to the Fort Sumter Monument, soak up the scenic beauty, let the wind brush your hair, and the tiny water splashes wash all your worries away.
Watch for dolphins; you never know if you may spot one!
Upon arrival at the Fort Sumter and Fort Moultrie National Historical Park, embark on a self-guided tour.
While discovering the ruins of the fort, learn the history of the war, important events, and the patriots who sacrificed their lives.
---
---
Where to book tickets
Fort Sumter Charleston tickets are available online or at the attraction.
Online ticket prices tend to be cheaper than tickets at the venue.
When you buy online, you can avoid the long queues at the attraction's ticket counters.
Because some attractions sell a limited number of tickets, booking early helps avoid last-minute disappointment.
When you book early, you also get your preferred time slot.
How do online tickets work
Go to the Fort Sumter Charleston booking page, select the number of tickets and date, and book.
Upon payment, the tickets will be emailed to you. You don't need to take any printouts
On the day of your visit, show your smartphone ticket at the entrance for admission.
Don't forget to bring your official IDs.
Fort Sumter Charleston ticket price
The tickets for Fort Sumter are priced at US$35 for all adults aged between 12 to 61 years.
Children in the age group of four to 11 years pay US$21.
Military tickets and senior tickets are available at US$31.
Toddlers below three years get free admission.
Discount tickets
Children, seniors, and military personnel can buy reduced tickets for the Fort Sumter cruise and walking tour.
Get a 10% to 40% discount on online purchases.
Tickets for Fort Sumter in Charleston
With this ticket, you get a ferry transportation service (to and fro journey) and admission to Fort Sumter and Fort Moultrie National Historical Park.
This historical tour allows you to witness Charleston City from a new vantage point, unveiling the dead remains of history.
Your cruise journey will be relaxing and refreshing, and there are high chances of spotting beautiful dolphins diving in and out of the water.
Upon arrival at the forts, the rangers will come to greet you and provide you with amazing historical facts.
While booking tickets, pick from two departure points- Patriot's Point Departure and Liberty Square Departure.
Ticket Prices
Patriot's Point Departure
Adult Ticket (12 to 61 years): US$35
Child Ticket (4 to 11 years): US$21
Senior Ticket (62+ years): US$31
Infant Ticket (up to 3 years): Free
Military Ticket: US$31
Liberty Square Departure
Adult Ticket (12 to 61 years): US$35
Child Ticket (4 to 11 years): US$21
Senior Ticket (62+ years): US$31
Infant Ticket (up to 3 years): Free
Military Ticket: US$31
Save up to 40% on retail ticket prices with this exclusive Charleston Pass that guarantees 100% full admission to 40+ attractions and historic sites. Use the mobile pass to make reservations, access maps, and find detailed information.
---
---
Meeting Point for Fort Sumter tour
Fort Sumter is on Sullivan's Island and is accessible only via commercial or private ferries.
The vessels for this historical monument in Charleston depart from Patriot's Point and Liberty Square.
When you book tickets, you must select the departure point and check for the meeting point at which you've to arrive on the day of your tour.
Timings
The timings of the Charleston Fort Sumter tour depend on the departure point you choose to go from.
From Patriot's Point, the first boat leaves the dock around 10.30 am, the second at 1 pm, and the last at 3.30 pm.
On the other hand, from Liberty Square, the boat leaves at 9.30 am, 12 pm, and 2.30 pm.
The tour times vary throughout the year, so please confirm the schedule online when purchasing tickets.
Best time to visit Fort Sumter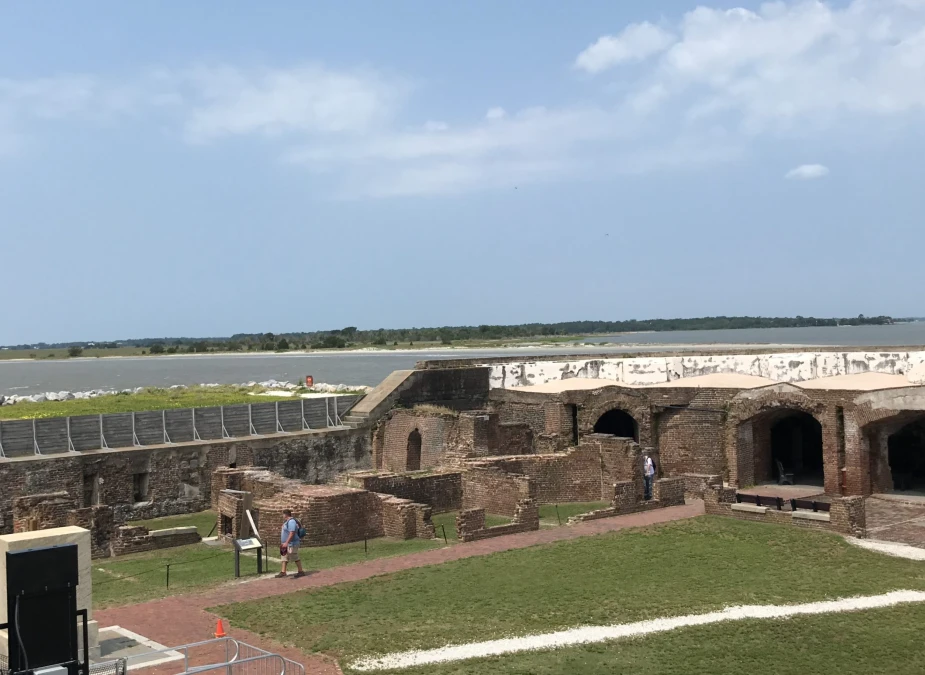 The best time to visit Fort Sumter of Charleston is in the mornings.
You can take the first ferry for a quieter experience.
Since the sun is not in full form to shine to its maximum potential, you should worry less about heat and breathe cool, fresh air.
Remember, you'll be cruising on waters in the open air, and Fort Sumter is tucked on an island.
So, weather or season plays a key role in determining the apt time to take a cruise and tour (both being outdoor activities).
March to May is the peak season offering pleasant weather conditions and hence considered an ideal time to sail on boats and explore the forts.
From June to September, the weather is hot and humid, with high chances of thunderstorms and rainfall, so avoid planning trips during this duration.
How long does the tour take
The entire Fort Sumter tour lasts for about 2.5 hours.
The cruise journey to the fort (one way) takes nearly 30 minutes, fort exploration takes 1 hour, and the return cruise trip takes 30 minutes again.
---
---
FAQs about Fort Sumter Charleston
Here are a few questions visitors generally ask before visiting Fort Sumter Charleston.
Where can I book tickets for Fort Sumter Charleston tickets?
You can book tickets online by clicking here.
What should I wear for the Fort Sumter Charleston tour?
Wear something casual and comfortable for the cruise and tour. Don't forget to bring your hats, sunglasses, and sunscreens. 
Are food and drinks included in Fort Sumter Charleston tickets?
Your tickets do not include any food and drink. However, you can only purchase them on the boat on the return trip. Guests cannot eat or drink anything at the Fort Sumter Museum. 
Is Fort Sumter Charleston wheelchair accessible?
The fort is not accessible for guests on wheelchairs. For instance, the upper half of the fort, including the museum, bookstore, and toilets, can be accessed only by stairs.
Will I get a tour guide at Fort Sumter?
Yes! As soon as you arrive at the location, the National Park Rangers will take you through the fort, sharing interesting facts about the war and the place. 
Is there any washroom at Fort Sumter?
Yes, there is a toilet facility at the fort for all guests. 
Popular attractions in Charleston