Atlantis Aquaventure is a thrilling water park in Dubai at Atlantis, The Palm.
Its exhilarating rides and attractions offer an unforgettable experience for visitors of all ages.
However, it is important to be aware of the height restrictions in place to ensure the safety of guests.
In this article, we will understand the height restrictions at Atlantis Aquaventure and provide you with the essential information to plan your visit accordingly.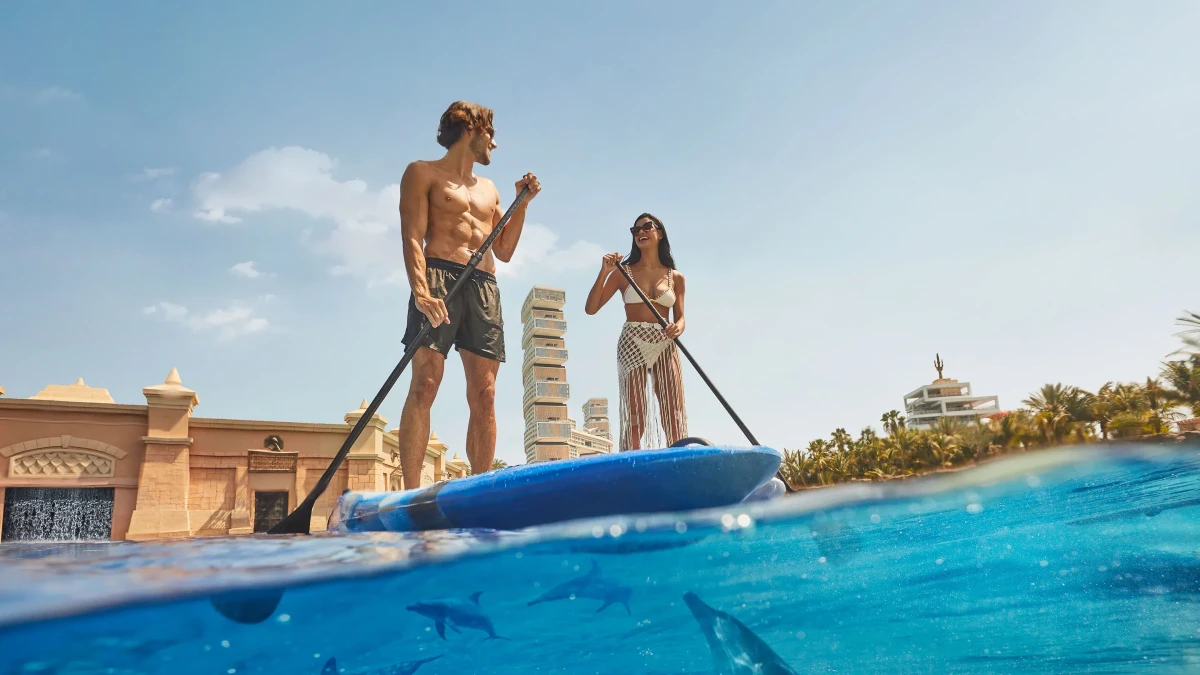 Why height restrictions matter
Safety is paramount at Atlantis Aquaventure, and height restrictions are crucial in maintaining a secure environment for all guests.
These restrictions are in place to prevent potential risks and ensure that riders meet the physical requirements necessary to enjoy each attraction safely.
---
---
Height restrictions by attraction
Let's delve into the specific height requirements for each attraction at Atlantis Aquaventure.
This breakdown will help you determine which rides are suitable for you or your family members based on height limitations.
Thrill rides and slides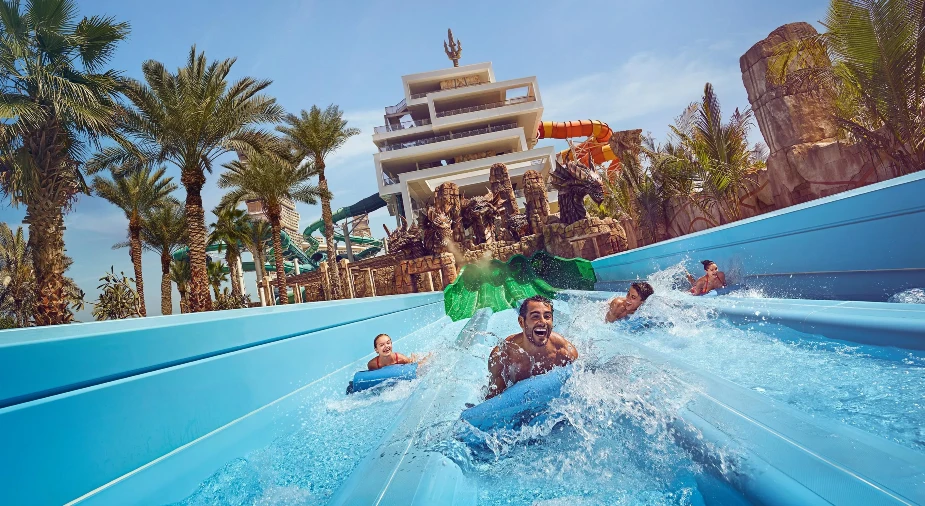 The park's thrilling water slides and rides often require minimum and maximum height.
These restrictions ensure that riders can safely navigate the slides and experience the intended excitement.
We will explore the height restrictions for popular thrill rides, such as "Leap of Faith," " Poseidon's Revenge," and "Zoomerango":
The Leap of Faith is a 27-meter tall slide that drops guests into a clear acrylic tunnel through a shark-filled lagoon.
Guests must be at least 1.2 meters tall to ride the Leap of Faith.
The Poseidon's Revenge slide also requires riders to be at least 1.2 meters (3.9 feet) tall.
The various slides in the Tower of Neptune, including Aquaconda, Zoomerango, and Slitherine, have a minimum height requirement of 1.07 meters (42 inches).
The Aquaconda is a water tunnel slide that is 156 meters long and drops guests from a height of 9 meters.
Children measuring between 1.07 meters (42 inches) and 1.2 meters (48 inches) in height must be accompanied by an adult.
The Trident Tower, Vortex, and Immortal Falls also have a minimum height requirement of 1.2 meters (48 inches) and are recommended only for experienced swimmers.
Water play areas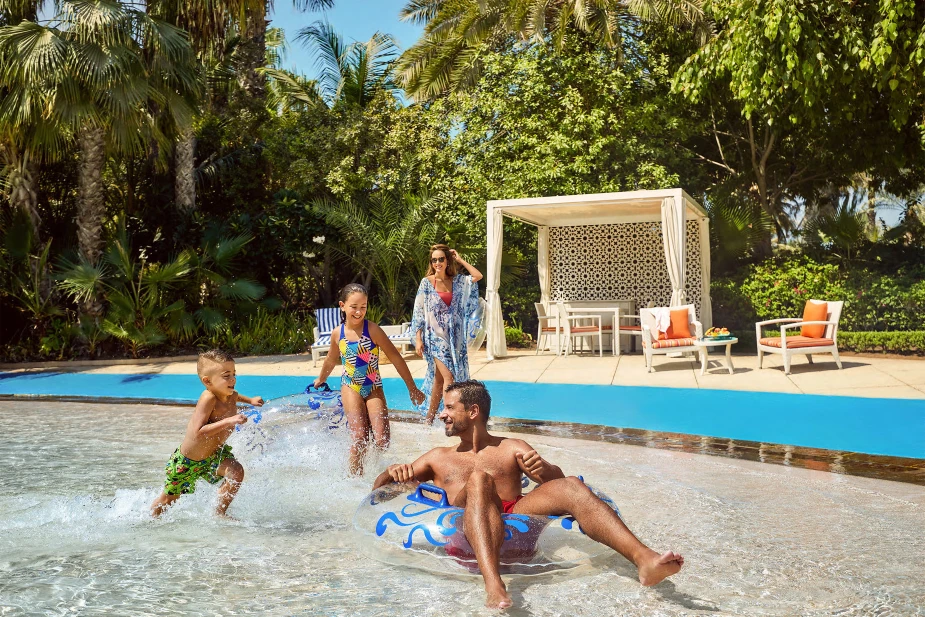 Atlantis Aquaventure also features water play areas designed specifically for younger guests.
These areas have their own height restrictions to ensure the safety and enjoyment of younger children.
We will discuss the height requirements for attractions like the Splashers Play Area and the Splasher's Island:
The Splashers Play Area is designed for younger children and typically has lower height requirements.
Like the Splashers Play Area, Splasher's Island is geared toward younger children.
Children at least 1 meter (3.3 feet) tall can enjoy most of the attractions in this play area.
Special rides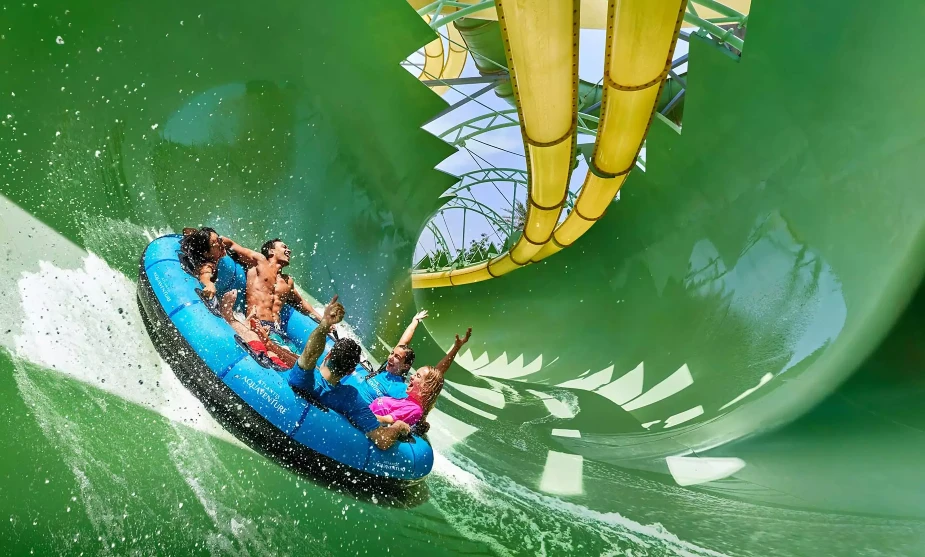 The Rapids is a river ride, and this attraction has no specific height restriction.
However, children under 1 meter (3.3 feet) must be accompanied by an adult.
---
---
Importance of measuring height accurately
Accurate height measurement is essential to determine whether a guest meets the height requirements for each attraction.
Height restrictions are in place to ensure the safety of all visitors.
Different attractions and slides have specific height requirements to ensure riders enjoy the experience safely.
By accurately measuring height, Atlantis Aquaventure can prevent individuals not meeting the minimum height requirement from participating in rides that may pose a safety risk.
Height restrictions are also in place to provide an optimal experience for riders.
Certain attractions have speed, water depth, or other features that require riders to meet a minimum height to enjoy the ride fully.
Water parks like Atlantis Aquaventure must adhere to strict safety regulations.
Accurately measuring height helps mitigate potential risks and ensures compliance with safety standards set by regulatory authorities.
It reduces the likelihood of accidents, injuries, or incidents from individuals not physically suited for specific attractions.
Where to buy tickets for Atlantis Aquaventure
Tickets for Atlantis Aquaventure Dubai can be purchased online or at the entrance of the attractions. 
If you land at the venue to buy tickets, you'll have to line up at the ticket counter.
During peak times, these lines can get long, and you will end up wasting your time.
Online tickets for Atlantis Aquaventure and Lost Chambers are cheaper than those sold at the venue.
Online tickets also help you avoid last-minute disappointments when tickets get sold out.
Atlantis Aquaventure Waterpark ticket price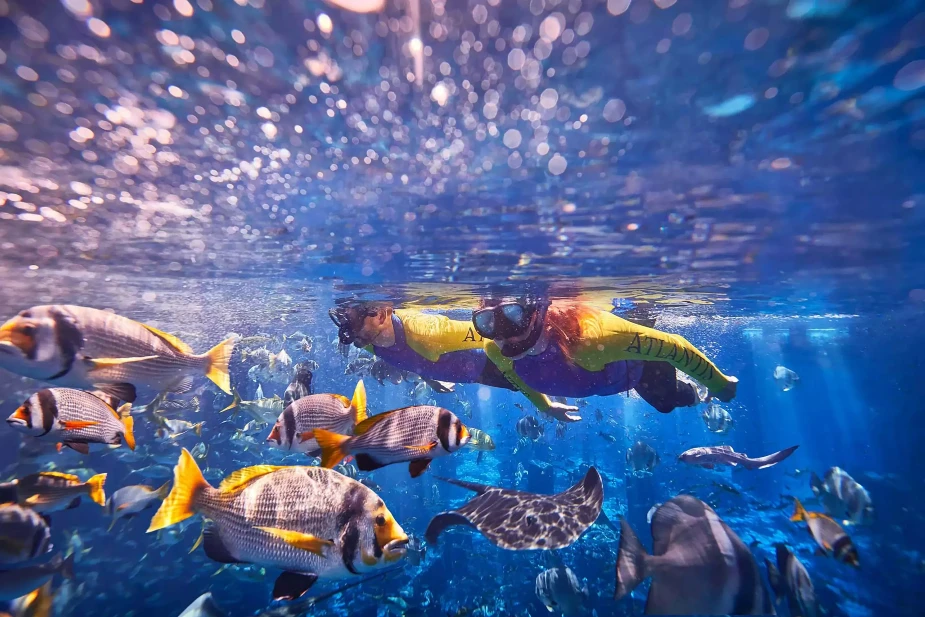 The tickets for Atlantis Aquaventure Dubai cost AED 315 (US$ 86) for all visitors above eight years.
Children between the age of three to seven get a discount of AED50 (US$13) and pay only AED 265 (US$72) for entry.
Infants below two years of age can enter the Atlantis Aquaventure for free.
---
---
Making the most of your Atlantis Aquaventure Waterpark visit
If you or a family member do not meet the height requirements for certain attractions, there are still plenty of other ways to enjoy your visit to Atlantis Aquaventure.
You can explore the lazy river, relax at the beach, and engage in interactive water play areas that do not have height restrictions.
Before your visit, familiarize yourself with the park layout, attractions, and any height or age restrictions.
Arriving early at the park allows you to beat the crowds and enjoy popular attractions with shorter wait times.
It also gives you more time to explore the park's various areas.
Don't forget to pack essentials such as sunscreen, towels, swimwear, and a change of clothes.
To secure your belongings while enjoying the attractions, take advantage of the locker facilities available at the park.
With all the excitement and physical activity, it's essential to stay hydrated.
Bring a refillable water bottle or take advantage of water stations.
Always adhere to safety instructions provided by the park and ride attendants.
Conclusion
Understanding and adhering to height restrictions at Atlantis Aquaventure is vital for the safety and enjoyment of all guests.
By familiarizing yourself with the specific requirements for each attraction and accurately measuring height, you can ensure a fantastic and safe experience at this thrilling water park.
Remember, your safety is a top priority, so embrace the adventure within the limits of the height restrictions.
To make the most of your visit to Atlantis Aquaventure, it is essential to plan and familiarize yourself with the height restrictions of each attraction.