You will like celebrating Valentine's Day 2024 in Orlando if you prefer a calm, beautiful, and friendly destination. 
The city is ideal for couples looking for top-notch activities, including excellent amusement parks, sporting activities, tasty cuisine, and some fantastic attractions to visit.
Even though it is known as the Theme Park Capital of the World, in here, you will find some of the most romantic places in the United States.
Young and old couples, visitors, and locals alike enjoy spending their Valentine's Day in Orlando.
If you adore your sweetheart (and we don't doubt it!), you will want to spoil them with all the romantic surprises Orlando has to offer.
Plan ahead of time, for many lovers will be flocking to this city to celebrate the most romantic day of the year – 14 February 2024.
Check out our pick for the most romantic Valentine's Day itinerary in Orlando, Florida.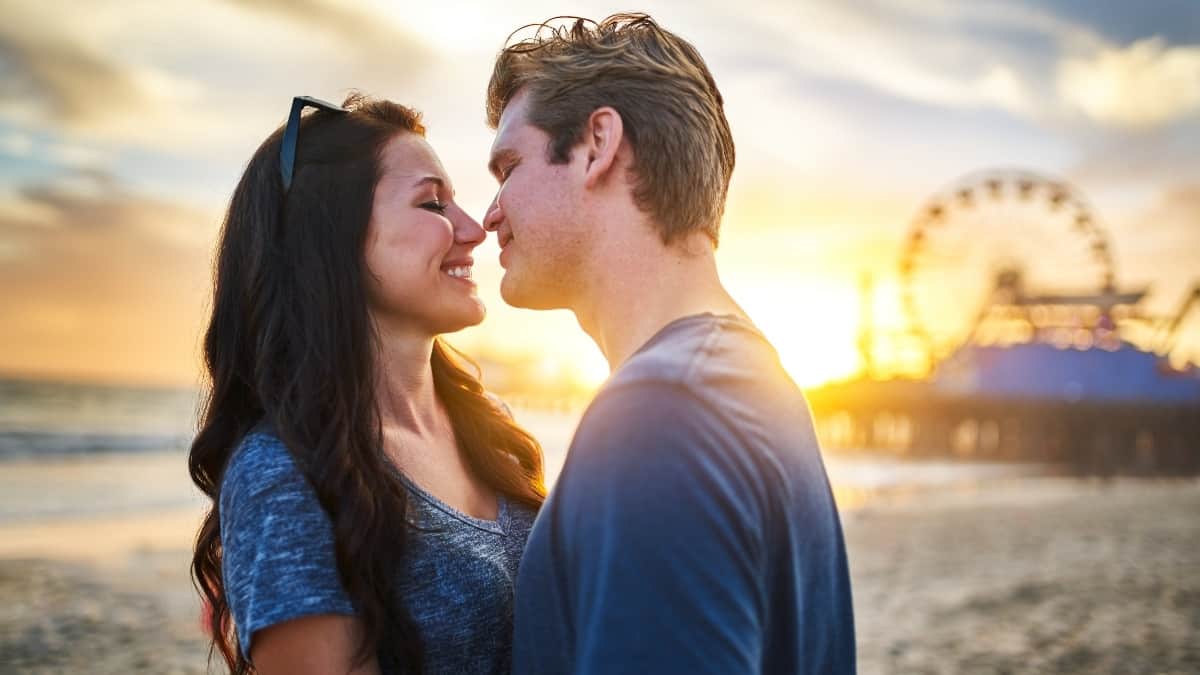 Things to do on Valentine's Day in Orlando
Here are our recommended 12 romantic things to do during your Valentine's Day week in Orlando.
You only need to bring your partner along.
Drive through a safari park
If on 14 February 2024, you want a light activity for the day and want to retain your privacy as well, we recommend the Drive-Thru Safari Park at Wild Florida.
During the two-hour-long drive, you will encounter exotic animal species and native wildlife of the Wild Florida Airboats and Gator Park.
Some of the free-roaming animals you will meet are – white-tailed deer, bison, cracker cows, zebras, watusi, and oryx.
Don't forget to feed the giraffes and meet Crusher, the largest alligator in the park.
If you want to keep it simple, check out the Central Florida Zoo, on the edge of Lake Monroe in Sanford, Florida. Buy Tickets
---
---
Everglades Airboat Ride
With a US Coast Guard Captain, you and your partner will have a fast and enjoyable trip through Florida's Everglades Headwaters.
The Everglades of Central Florida are natural beauties best experienced with the help of natives familiar with the area's backwaters.
The beautiful landscape and expert guidance of your captain will make this tour a trip that you will never forget.
In this natural wonderland, keep a lookout for alligators, turtles, and birds.
---
---
Titanic Artifact Exhibition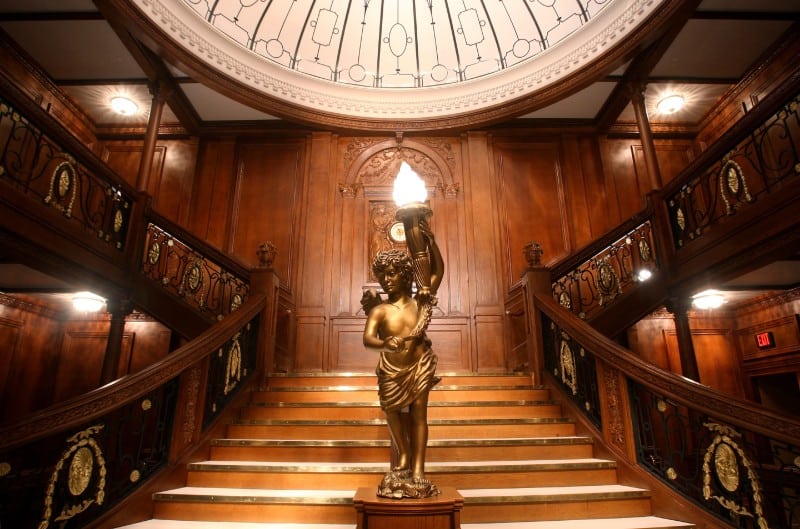 Remember the iconic love of Jack and Rose from the movie Titanic?
We do! And that's why we think visiting the Titanic Museum in Orlando is one of the best ways to celebrate Valentine's Day with your better half.
The Exhibition features 17 galleries in a 20,000 square foot interactive museum.
Visitors get to see many artifacts recovered from the wreck site of Titanic, a 3-ton section of the ship's hull, and full-scale recreations of her Grand Staircase, First Class Cabin, Verandah Café, and more.
Actors in period costumes portray the roles of prominent characters from the Titanic ship, and there is an Underwater Room as well.
---
---
Universal Orlando Resort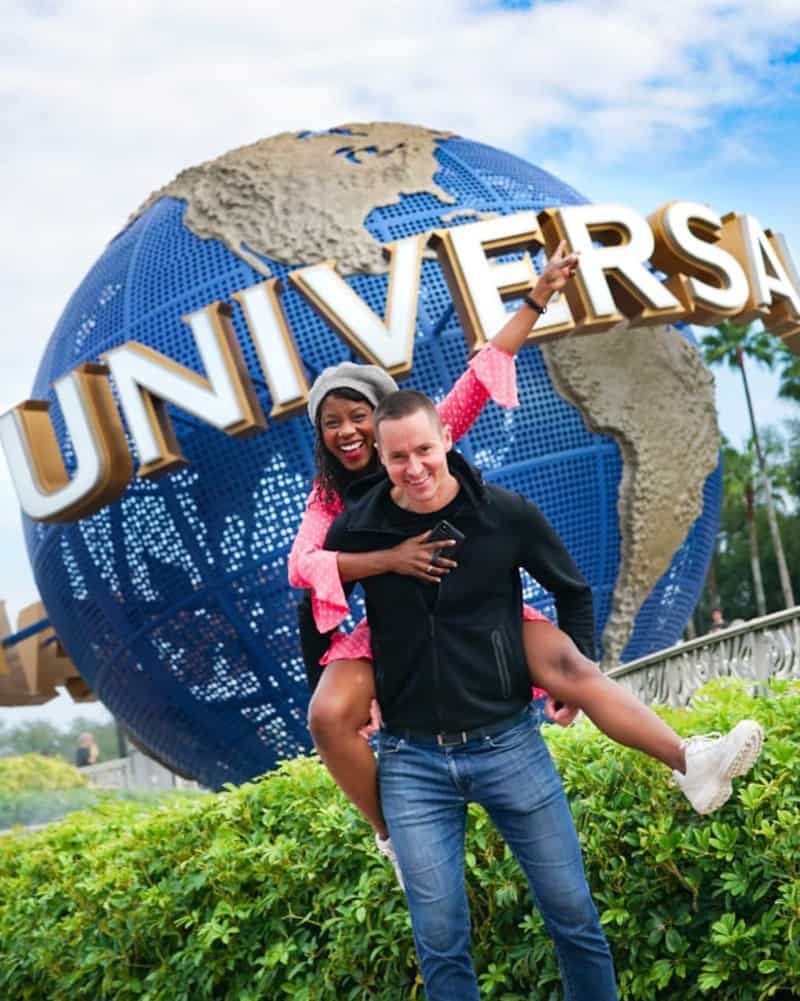 If you or your partner is a Harry Potter fan or loves adrenalin-pumping rides, the Universal resort is a must-visit on 14 February 2024. 
You must choose between two tickets – only the Universal Studios Florida or Universal's Islands of Adventure as well.
This resort is ideal for young couples because whichever ticket you choose, you are guaranteed a romantic day with your partner.
---
---
Kennedy Space Center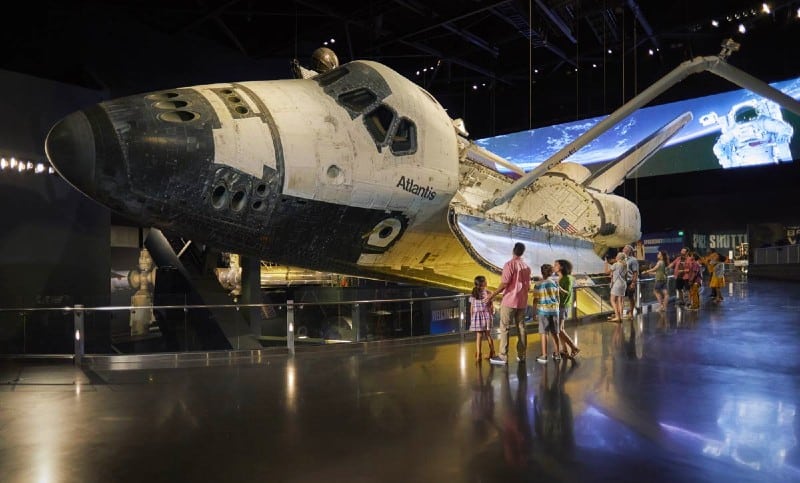 Kennedy Space Center isn't only for kids – if your Valentine is curious at heart, this Orlando attraction is perfect for making it a special day.
Enjoy a full day of unique experiences at NASA's Kennedy Space Center Visitor Complex, the world's most authentic space attraction.
At this center, visitors see numerous exhibits, shows, and attractions, including Space Shuttle Atlantis, Shuttle Launch Experience, Rocket Garden, and Heroes & Legends featuring the U.S. Astronaut Hall of Fame presented by Boeing.
Kennedy Space Center is 85 km (52 miles) from Orlando. If you have your transport, you can book the regular entry tickets and land up on your own.
Else, you can book the tour which includes both entry tickets and to-and-fro transport.
---
---
Gatorland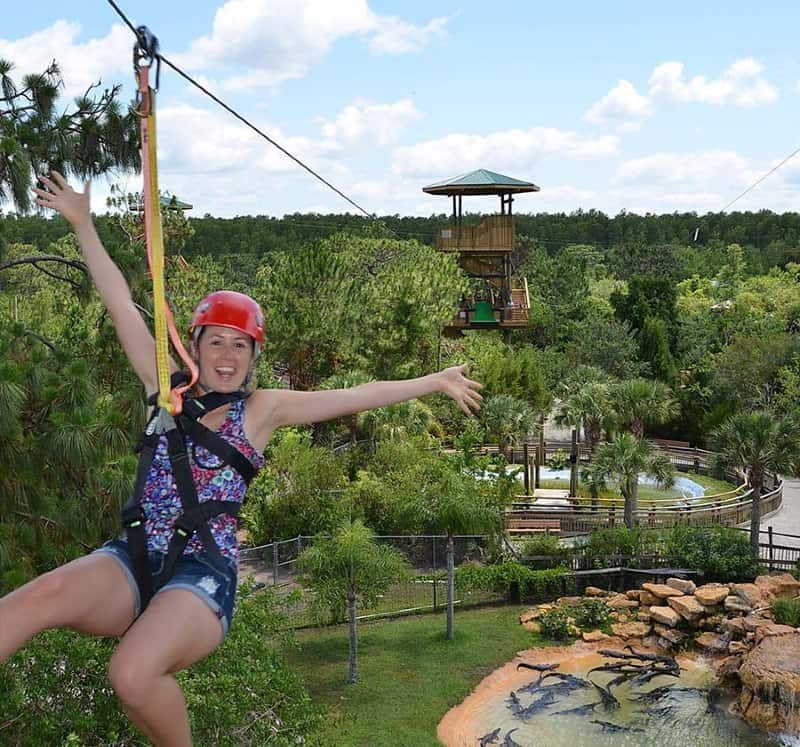 Gatorland is a haven for alligators, crocodiles, and other beautiful creatures rescued from captivity, where they can roam freely in extensive settings that mimic their native environments.
You will also see fantastic live exhibitions, from acrobatic gator feeding displays to alligator-handling safety demonstrations.
Visitors also see wildlife such as Cougars, bobcats, rattlesnakes, tarantulas, parrots, tortoises, and other native species.
If you are a wildlife-loving couple, look no further than the Gatorland to turn Valentine's Day 2024 into a memory worth revisiting. 
---
---
Island H2O Water Park
Island H2O Water Park is the world's first social media-themed water park, where posting is part of the fun.
Follow Me Falls, Hashtag Heights, Reply Racers, and many such interestingly named rides in the park help guests to experience the thrill of speed.
Couples enjoy idling along Chat Creek (a serene lazy river) or watching a movie on the massive screen in front of the Live Lagoon after the thrills of speed.
If you want to take over social media by storm this Valentine's Day, be at Island H2O with your boyfriend, girlfriend, or spouse!
---
---
The Wheel at Icon Park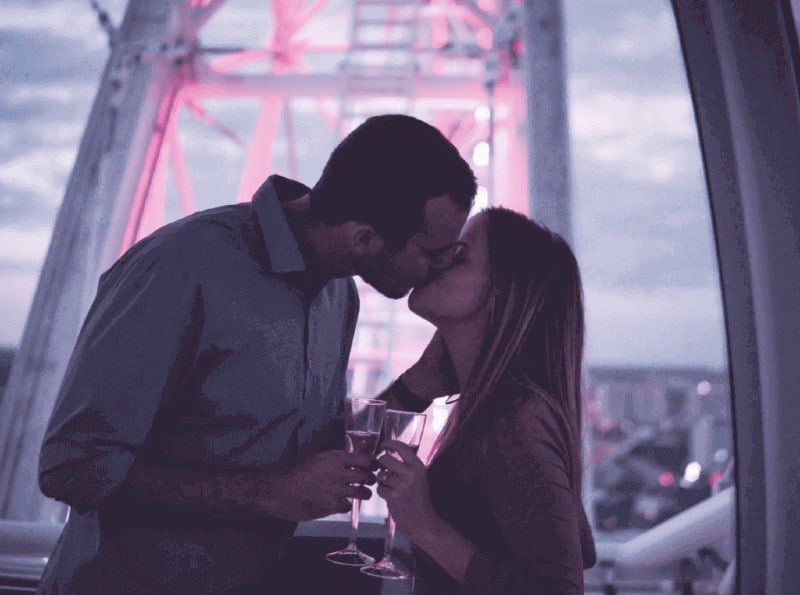 The Wheel at ICON Park, the East Coast's tallest observation wheel, offers panoramic views of Orlando and beyond.
In a clear capsule, soar 120 meters (400 feet) into the sky, taking in breathtaking vistas of the city and central Florida scenery, including lakes, theme parks, etc.
The Wheel is a fantastic experience for couples of all ages – young, middle-aged, and elderly!
---
---
Aquariums in Orlando
Orlando has two aquariums you can choose from – SeaWorld Orlando and Sea Life Orlando.
At both these attractions, the aquatic world comes to life like no place else.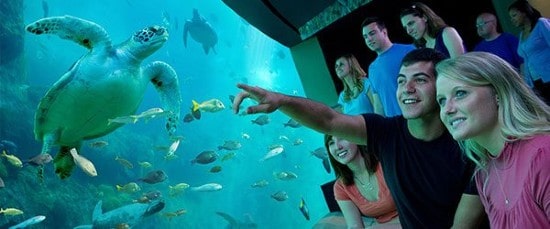 With SeaWorld Orlando, the additional advantage is that you can combine it with other attractions such as Aquatica Orlando, Busch Gardens Tampa, and Adventure Island, and make it a full day outing.
Image: Westgatecdn.com
If you want to make it a full-day Valentine's day celebration, we recommend SeaWorld Orlando.
---
---
Museum of Illusions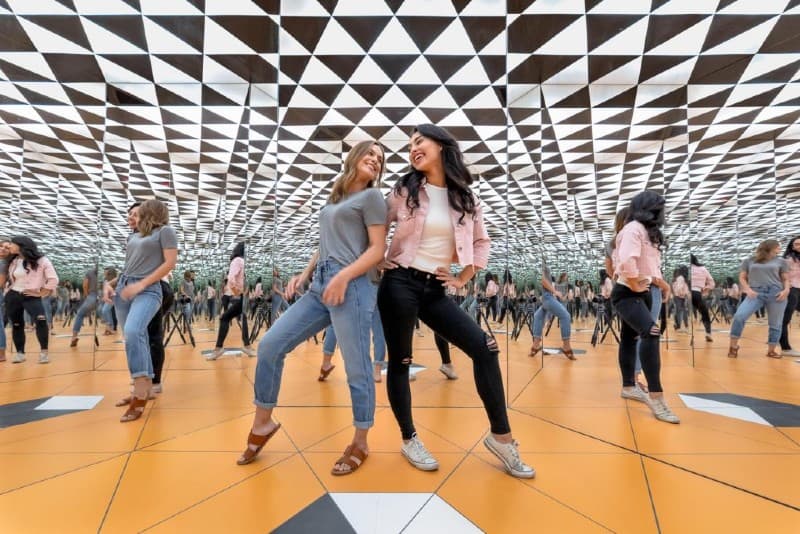 You will encounter the impossible at the Museum of Illusions.
This mind-bending indoor museum, located in the center of International Drive Orlando at ICON Park, helps discover the fascinating world of illusions.
The exhibits confuse your senses and call into question your own understanding of reality.
As you wander throughout the different rooms, you will learn about vision, perception, and science thanks to over 50 displays that will challenge your senses.
If your partner loves science, we guarantee you that this will be a romantic Valentine's Day outing.
---
---
Madame Tussauds Orlando
If you are a young couple, you are sure to love Madame Tussauds at Orlando.
At this museum of celebrity wax statues, visitors can take selfies with superstars from across fields, including superheroes.
---
---
Wonderworks Orlando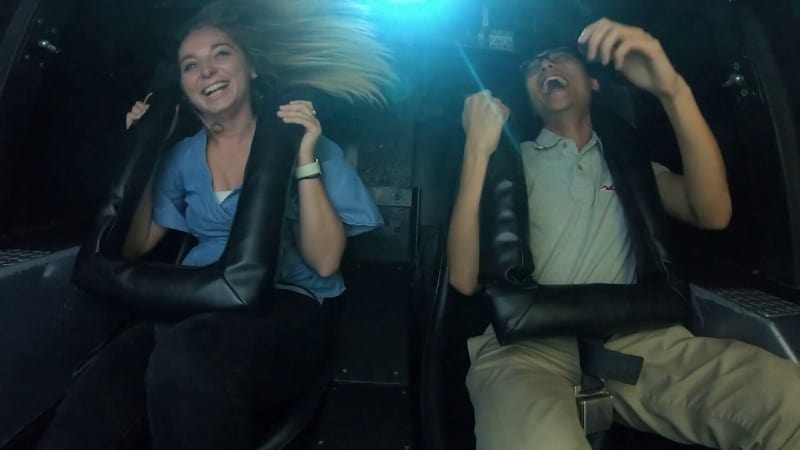 If you love stretching your mind and muscle, Wonderworks in Orlando is the perfect romantic outing for a loving couple.
Wonderworks is a world of wonderful weirdness, with six themed zones and more than 100 hands-on exhibits.
The six zones are – Natural Disasters, Physical Challenge, Light & Sound, Space Discovery, Imagination Lab, and Far Out Art Gallery.
---
---
Discount Pass for Orlando attractions
What can be more romantic than not worrying about the cost and roaming around Orlando freely?
The smarter romantic couples go for Discount Passes, which help them get more out of less during Valentine's Day week, making it that much more special.
These Discount Passes include free access to 25+ top city attractions and help save up to 50% in ticket costs.
You can get this discount pass for 2, 3, or 5 days or get it for 3, 4, or 5 Orlando attractions.
So how do you and your love plan to celebrate Valentine's Day 2024 in Orlando? 
Book ahead before your options run out – after all, it is yet another way of showing that you care.
Additional Reading
Valentine's Day in Paris
Valentine's Day in Venice
Best honeymoon places in the World
Romantic places to take your girlfriend or wife