Nestled in the heart of Nashville, the Ryman Auditorium is an iconic musical landmark that has left a lasting mark on the American music scene.
Ryman Auditorium has played a significant role in shaping the country music genre and has hosted various world-class performances and events.
Thomas G. Ryman was the mastermind behind the Ryman Auditorium, first built in 1892 as the Union Gospel Tabernacle.
He envisioned a house of worship that was turned from a religious entity to one of the world's most recognized music venues.
Legendary artists such as Hank Williams, Patsy Cline, Johnny Cash, and Bill Monroe graced Ryman Auditorium's stage, making it the birthplace of bluegrass and a mecca for country music enthusiasts.
With its distinctive red pews and exceptional acoustics, the auditorium offers a warm and intimate setting, providing an unparalleled musical experience for both performers and audiences.
The venue's rich cultural legacy has made it a cherished site for artists seeking to connect with their audiences on a deeply emotional level.
Today, the Ryman Auditorium welcomes visitors daily, offering guided tours that delve into the venue's storied past.
Tourists and music enthusiasts can walk in the footsteps of legends, stand on the revered stage, and experience the magic emanating from this iconic venue.
This article shares everything you need to know before booking tickets for Ryman Auditorium.
Top Ryman Auditorium Tickets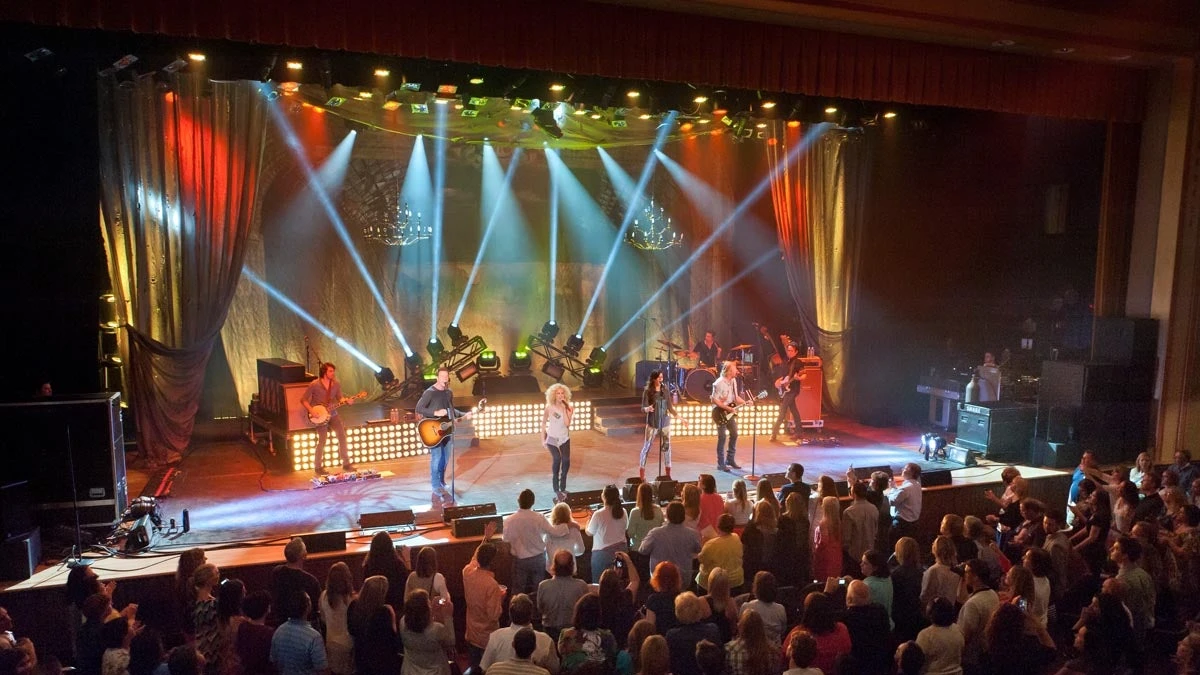 What to expect at Ryman Auditorium
On your visit to Ryman Auditorium, prepare to be impressed by Ryman's remarkable architecture.
The blend of Victorian and neoclassical styles creates a unique and aesthetically pleasing atmosphere that returns to a bygone era.
The first stop on the tour is the "Soul of Nashville," a state-of-the-art theater experience.
The theater uses special effects, holograms, and archival footage to introduce the Ryman Auditorium's 125-year history, with plenty of country stars along the way, including Darius Rucker, Sheryl Crow, The Fisk Jubilee Singers, and Vince Gill.
Following the presentation, continue through the Ryman Auditorium's exhibits; short films are hosted by Emmylou Harris, Marty Stuart, Nicole Kidman, Ricky Skaggs, Robin Roberts, and Trisha Yearwood.
The exhibits cover everything from the early days of country music performance to contemporary stars: visit Workin' on a Building, Showplace of the South, Mother Church of Country Music, Inspired: 125 Years of Performance, and Ryman Renaissance.
As you explore the auditorium, you will notice the exceptional acoustics that have made the Ryman famous.
You can catch a live performance at the Ryman, depending on your visit.
The auditorium continues to host concerts, shows, and special events, so check the schedule in advance to see if any performances align with your visit.
---
---
Where to book tickets
Tickets for the Ryman Auditorium are available online in advance or at the attraction.
To ensure a hassle-free experience, we suggest booking your tickets online.
Online ticket prices tend to be cheaper than tickets at the venue.
When you buy online, you can avoid the long queues at the attraction's ticket counters.
Because some attractions sell a limited number of tickets, booking early helps avoid last-minute disappointment.
How do online tickets work
Go to the Ryman Auditorium ticket booking page, and select your preferred date and number of tickets to buy.
You will receive a confirmation in your email at the time of booking.
Your tickets will be held at the theater box office for collection on the day of the self-guided tour.
You can present the voucher and a photo ID in exchange for your tickets.
Cost of Ryman Auditorium ticket
Tickets for Ryman Auditorium cost US$36 for all visitors.
You can book tickets for up to 15 people at one time.
Ryman Auditorium tickets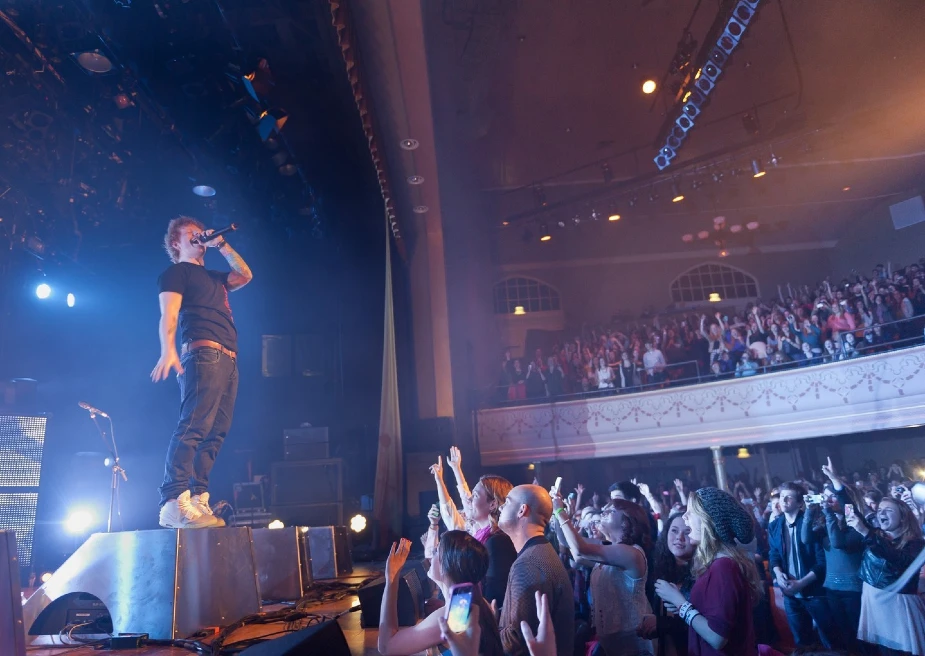 Take a self-guided tour of Nashville's Ryman Auditorium, known as 'The Mother Church of Country Music.'
Discover five new exhibits about the musical heritage of the Ryman Auditorium, each of which is introduced by a celebrity host in the video.
This self-guided Ryman Auditorium tour allows you to enjoy Nashville country music independently, with flexible start times throughout the day.
Visitors to the auditorium get souvenir photo opportunities on the stage.
You can enjoy the "Soul of Nashville" intro movie, browse through the Hatch Show Print gallery, and enjoy the many artifacts from your favorite artists.
The auditorium is wheelchair and stroller accessible.
Only service animals are allowed.
Ticket Price: US$36
Save up to 40% on 30+ Nashville attractions and tours with the Nashville Sightseeing Day Pass. Enjoy up to 58% off admission prices at numerous exciting family attractions.
---
---
How to reach Ryman Auditorium Nashville
Ryman Auditorium is opposite Tootsies Orchid Lounge.
Address: 116 Rep. John Lewis Way North, Nashville, TN 37219. Get Directions.
The live music venue can be reached by car or public transportation.
By Bus
The nearest bus stop is 5th Ave N & Commerce St NB, with bus number 64 available. Take a 3-minute walk to reach the music venue.
4th Ave N & Commerce St SB is only 2 minutes from the Ryman Auditorium. Take bus numbers 6 and 64 to reach the bus stop.
By Train
Riverfront is the nearest train station. Board train number 90, get off at Riverfront, and walk for 5 minutes to reach the Ryman Auditorium.
By Car
You can rent a cab or drive to Ryman Auditorium Nashville.
Launch Google Maps and get started!
Self-parking for all Ryman events is available directly across the street at Fifth + Broadway, 179 Rep. John Lewis Way N, Nashville, Tennessee 37219.
Numerous parking lots are also available near the auditorium.
Timings
Ryman Auditorium is open daily from 9 am to 4 pm.
You can visit the auditorium any time during opening hours, irrespective of any specific show timings.
Best time to visit Ryman in Nashville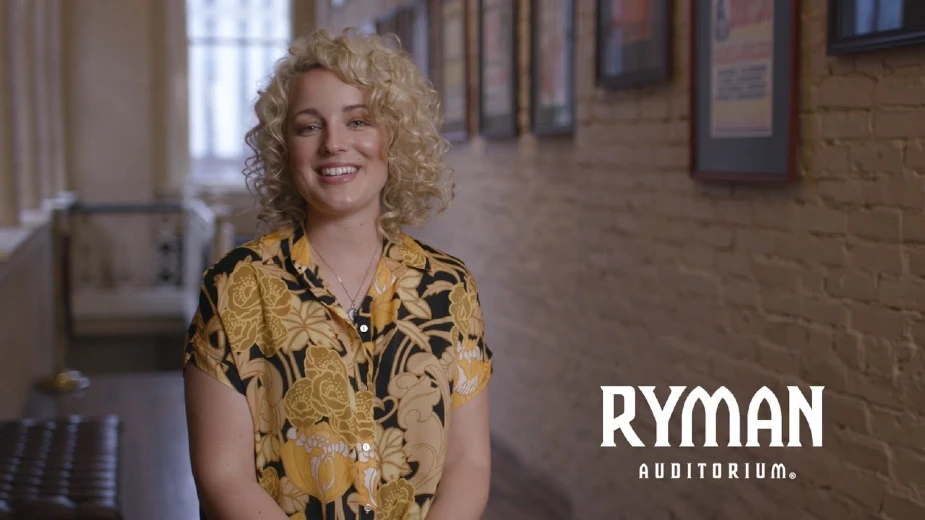 The best time to visit Ryman Auditorium is when they open for the day at 9 am.
The crowd is less, and you can take the tour at your own pace.
Weekends are usually busy; if you prefer fewer crowds, consider visiting the auditorium during the weekdays.
The venue hosts concerts and events throughout the year featuring various musical genres.
If your primary goal is to attend a live performance at the Ryman, booking tickets well in advance is advisable.
How long does the tour take
The duration of the tour of Ryman Auditorium is around 1 to 2 hours.
During your tour, stroll through the historic venue, learn the captivating stories about its past, the legendary artists who performed there, and the pivotal role the Ryman has played in American music history.
---
---
FAQs about Ryman Auditorium
Here are some questions visitors usually ask before visiting the Ryman Auditorium.
What is the significance of the Ryman Auditorium in country music history?
The Ryman Auditorium is often called the "Mother Church of Country Music" and is regarded as the birthplace of bluegrass music. 

It gained fame as the home of the Grand Ole Opry. This renowned radio show played a significant role in popularizing country music and introducing many legendary artists to the world.
Can I explore the Ryman Auditorium without taking a tour?
While a guided tour is the most comprehensive way to explore the Ryman Auditorium, you can attend live performances, concerts, and events without a tour.
Are there any special exhibits or interactive displays at the Ryman Auditorium?
The Ryman Auditorium occasionally hosts special exhibits showcasing music memorabilia, photographs, and artifacts of its rich musical heritage.

The venue has also implemented interactive displays and technology to enhance the visitor experience.
Can I attend concerts or live shows at the Ryman Auditorium?
The Ryman Auditorium regularly hosts concerts, live shows, and special events featuring diverse musical genres. 

You can experience performances by both emerging artists and world-renowned musicians.
Are pets allowed in Ryman Auditorium?
Only service animals are allowed in Ryman Auditorium.
Can I bring my handbag inside the Ryman Auditorium?
Regular bags are allowed. However, oversized bags are not allowed.
Can I bring my camera to Ryman Auditorium?
Cameras are allowed only during self-guided tours of the Ryman Auditorium. Cameras, however, are not permitted during the backstage tour.
Is there a list of items that are not allowed inside Ryman Auditorium?
Items that are not allowed inside Ryman Auditorium include weapons, oversized bags, backpacks, outside food and beverage, cans, bottles, alcohol, drugs, laser pens, masks, laptops, musical instruments, video cameras, monopods, tripods, audio recording devices (unless special permission is granted or "taper" tickets are offered to the ticket buyer) and cameras with telephoto or zoom lenses.
Is smoking allowed inside Ryman Auditorium?
Smoking is prohibited in all areas of the Ryman Auditorium. 
You can smoke outside the building in designated smoking areas.
Is the Ryman Auditorium wheelchair and stroller accessible?
Yes, Ryman Auditorium is wheelchair and stroller accessible.

Ryman Auditorium provides complimentary wheelchair escorts to guests with special needs when requested during shows.

Popular attractions in Nashville
Sources
# Ryman.com
# Wikipedia.org
# Tripadvisor.com

The travel specialists at TheBetterVacation.com use only high-quality sources while researching & writing their articles. We make every attempt to keep our content current, reliable and trustworthy.