Nashville has long been christened the "Music City," or the land of the honky-tonk.
This lively city on the banks of the Cumberland River is famous for its eclectic party scene and country music bars.
The Nashville Pontoon Party Cruise brings you the best of both worlds: an unforgettable party floating away from the bustling cityscape with a captain, a DJ, and deckhands, briefed
exclusively on the significant matter of showing you a grand time.
Cruise the river on a 50-foot (15 m) pontoon and wave to the lush views of the city with music, drinks, and some fine company.
This article shares everything you should know before booking tickets for the Pontoon Party Cruise Nashville.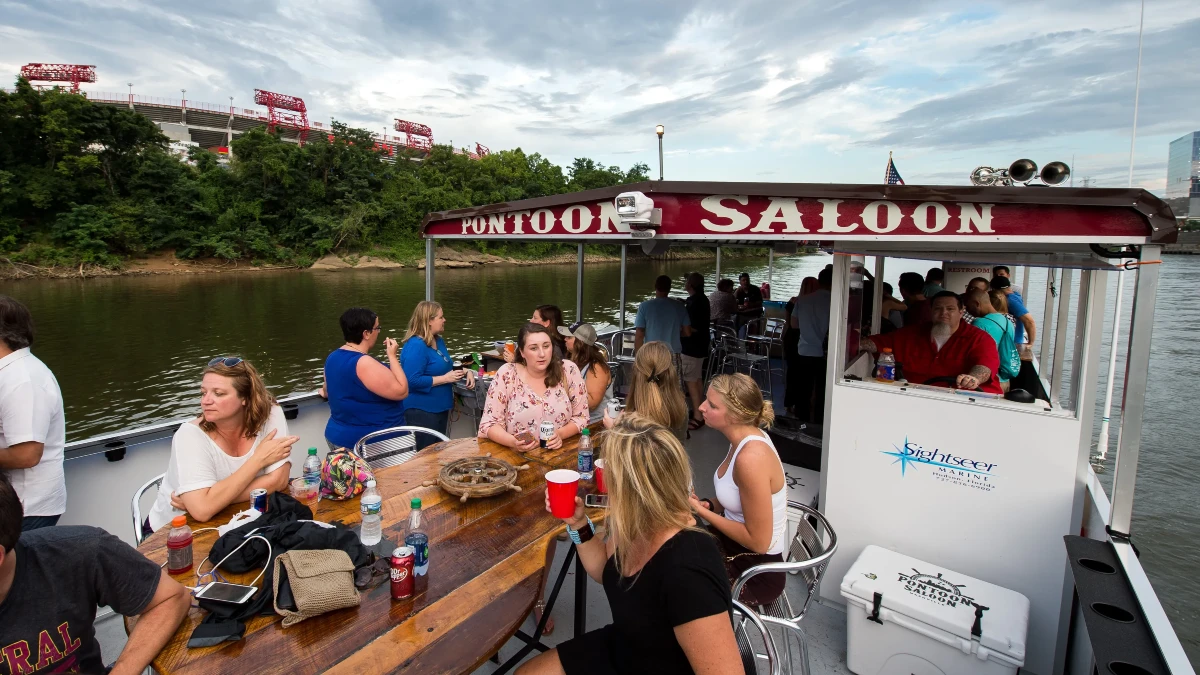 What to expect
Hop on this floating honky tonk with your friends and feel the breeze in your hair as you enjoy some of Nashville's best views.
Bring your own drinks and beverages, have a US Coast Guard certified captain greet you onboard, and ice down your drinks in coolers.
Mingle in a traditional guided party experience with an expert crew looking to multiply your fun by manifolds.
Groove to the hit tunes and entertaining games chaperoned by your Deckhand.
Relax on board under your licensed Captain's supervision while enjoying snacks, drinks, dancing, and music in a lively party atmosphere.
Enjoy two hours of socializing, dancing, drinking, and taking in sights only accessible from the Pontoon River Cruise in a secure and enjoyable bar-style setting.
Mixers such as Sprites and Cokes are available on the deck. You can bring canned beer, seltzers, wine, and champagne.
If you want to smoke, remember only e-cigarettes are allowed!
---
---
Where to book tickets
Tickets for Pontoon Party Cruise in Nashville are available online.
Make sure you book your tickets well in advance, or the limited slots can run out and leave you disappointed.
Online ticket prices tend to be cheaper, helping you save some money.
When you book early, you also get your preferred time slot.
How do online tickets work
Go to the Pontoon Party Cruise Nashville booking page, pick a date for your visit, a time slot, and the number of tickets you want.
After you finish booking, tickets will be mailed to you.
You do not need to carry printouts. Show the e-ticket at the entry gate.
Cost of Pontoon Party Cruise tickets
The Pontoon Party Cruise Nashville is only for ages 21 and above and the admission price is the same for everybody.
An adult ticket will cost you US$65.
Pontoon Party Cruise Nashville tickets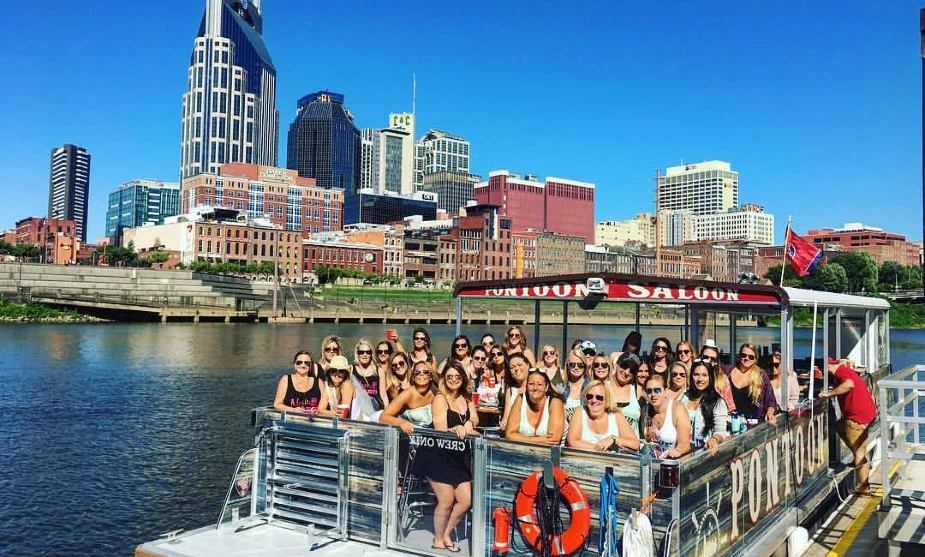 When it comes to unforgettable experiences in Nashville, the Pontoon Party Cruise with a captain reigns supreme.
A perfect blend of relaxation, entertainment, and breathtaking views, these cruises provide an unparalleled way to explore the city's waterways.
With an expert captain guiding the boat and a vibrant party atmosphere, it's no wonder this experience has become a favorite among locals and visitors alike.
Remember to bring your sunglasses and sunscreen!
Ticket Price: US$65
Save time and money! At just US$81, you can buy a Nashville sightseeing Day Pass, valid for 4 consecutive days, that allows you access to a customized itinerary of attractions in Nashville. Enjoy up to 58% off admission at numerous exciting attractions, including the Johnny Cash Museum and the renowned Country Music Hall of Fame.
---
---
Departure point
The meeting point for Nashville's Pontoon Party Cruise is at the dock on the river.
Address: 2 Victory Ave, Nashville, TN 37213, USA. Get Directions.
The dock is well-connected with public transportation.
By Bus
Broadway Ave & 3rd Ave Wb bus stop is only a 4-minute walk.
4th Ave N & Church St Sb is only a 5-minute walk.
Union St & 2nd Ave and Riverfront Station are a 7-minute walk away.
By Car
Put your starting point here to navigate to the meeting point.
Rideshare options such as Uber and Lyft are easily available.
Here is a list of parking spots near the meeting point.
Timings
The Pontoon Party Cruise Nashville operates everyday except Friday and Saturday.
There are 3 slots available in a day for patrons to book.
The afternoon slot begins at 1.40 pm, while the evening slots are set for 4 pm and 6.20 pm.
Best time to go on the cruise
The best time to go on Pontoon Party Cruise in Nashville is the 6.20 pm slot during the summer and the 4 pm slot during winter.
That way, you can begin the cruise during daylight hours and then transition to twinkling city lights after sunset.
Since the Pontoon Party Cruise in Nashville is an experience on a water body, and you will spend a considerable time out on the deck as well, the weather should be taken into account.
Spring (March to May) and Autumn (September to November) are great times to visit Nashville when the weather is lovely and the rush is low.
The summers are warm and humid, but the city attracts the most tourists during this time.
How long does the cruise take
The cruise takes around 2 hours from start to finish.
---
---
FAQs about Nashville Pontoon Party Cruise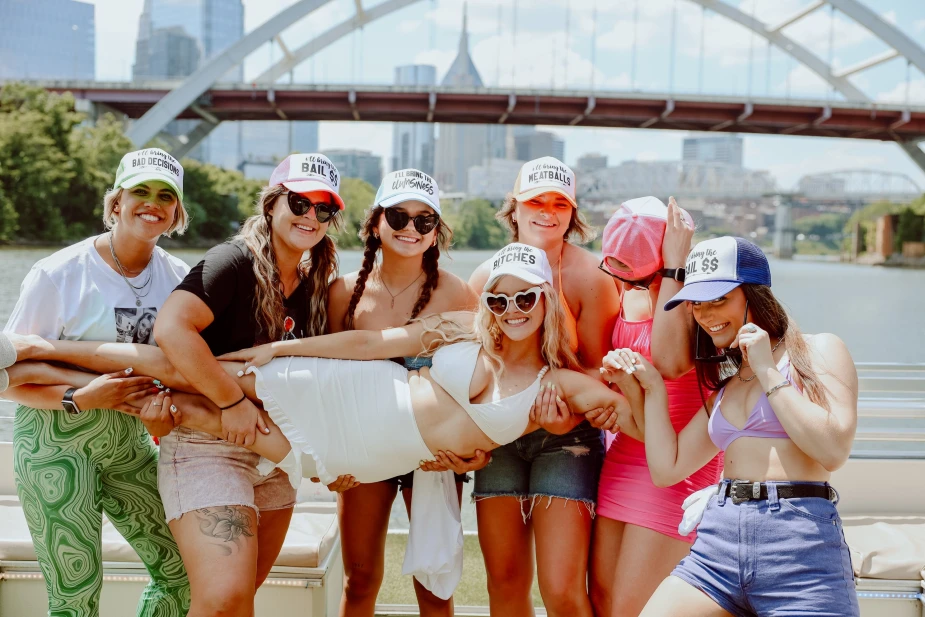 Here is a list of Frequently asked questions about the Nashville Pontoon Party Cruise.
Is alcohol served on the Pontoon Party Cruise Nashville?
Alcohol is allowed, but you have to bring your own drinks. 

You can get canned beer, seltzers, wine, and champagne. 

Glass bottle beers are not allowed.
Is the trip suitable for all ages?
The Pontoon Party Cruise Nashville is not suitable for ages under 21.
Where can I book tickets to Nashville's Pontoon Party Cruise?
You can book your tickets here.
Can I smoke on the Pontoon Party Cruise Nashville?
Only e-cigarettes are allowed on the cruise.
Is the staff qualified to handle a ship?
The Captain on the ship is US Coast Guard certified, and the rest of the staff are experts in the ways of cruise travel.

Your safety will be of the utmost importance.
Is there a dress code for the Pontoon Party Cruise?
There is no dress code. Wear anything you feel comfortable in. Just make sure you carry sunscreen and sunglasses.
Will I be allowed to swim in the river?
No, swimming while on the cruise is not allowed.

Popular attractions in Nashville
Sources
# Pontoonsaloontn.com
# Hightiderides.net
# Tripadvisor.com

The travel specialists at TheBetterVacation.com use only high-quality sources while researching & writing their articles. We make every attempt to keep our content current, reliable and trustworthy.