Nashville is a thriving urban landscape with world-class music, historical significance, and a beautiful riverfront.
While there are numerous ways to experience the city's magic, one of the most unique and enjoyable methods is through Nashville Tractor Tours.
With the Nashville Tractor Tours, you get to leave the same old open bus city tours behind.
Board a bright red barn-shaped wagon or a party wagon equipped with a DJ & drinks and set off through the streets of Nashville with a tractor pulling your wagon!
Due to their distinctive, endearing appeal, these tractor tours have experienced tremendous growth in popularity.
This article shares everything you should know before booking tickets for the Nashville Tractor Tours.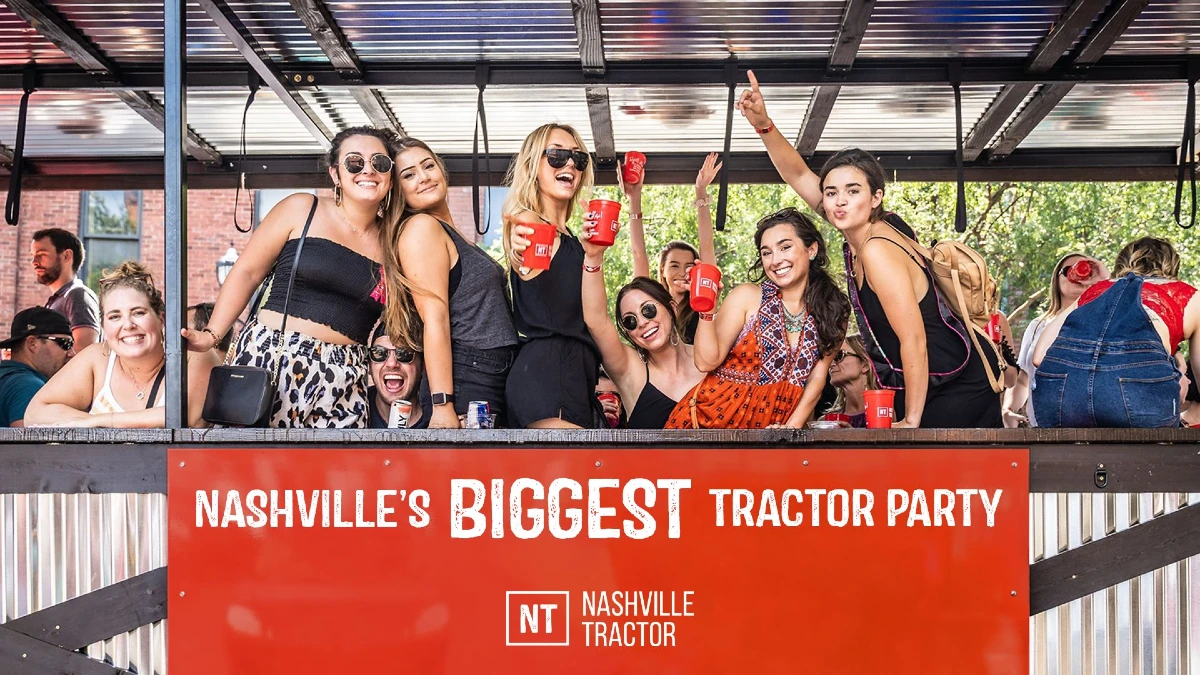 What to expect
Put on your dancing cowboy boots and hop on the wildest party wagon as the farm comes to downtown Nashville to party.
Groove on the light-up dance floor as the onboard DJ plays the biggest hits in the City of Music.
Roll through the city of Nashville for over 90 minutes while partying and dancing non-stop on monster wagons that have been featured in music videos, reality shows, and news stories!
There is no need to drag your booze around as the party wagon is packed with ice-cold beers and other drinks for you to dunk in.
Feel the country delight settle in the ambiance as you stroll through the sites of Nashville, vibing to country music on horse saddle seats in the wagon.
Step into a beautiful red barn-shaped wagon that reinforces the classical Southern atmosphere as you hop on a separate tour that covers 35-40 major attractions of Nashville.
Have a narrator on board guide you through the significance of the attractions passing you by and inform you of the local food hot spots and hidden gems.
You will pass by historical and musical landmarks alike, passing by the Country Music Hall Of Fame, Broadway, State Capitol Building, Bicentennial State Park, Marathon Village, the Gulch, Midtown, Music Row, and so much more!
Opt for a private tour and have the whole wagon for you and your friends as you listen to the stories and delightful songs of the onboard entertainer with the sites of Nashville gliding by you.
---
---
Where to book tickets
Tickets for Nashville Tractor Tours are available online.
You can also visit the touring agency's office and buy the tickets.
However, we strongly recommend booking tickets online as they are much more convenient.
Moreover, the tickets sell out quickly and leave you disappointed if you don't book your tickets in advance.
Online tickets come with various offers and discounts that can help you make your tickets more cost-effective.
With online tickets, you only need to show up on the day and time of the tour, while in-person booking will involve traveling to agency offices separately.
How do online tickets work
Go to the Nashville Tractor Tours page, select the number of tickets and preferred date, and buy the tickets immediately.
After the purchase, you will receive the tickets through your email.
There is no requirement to bring any printouts. Those days are long gone!
On the day of your visit, you can walk in and show the ticket on your smartphone to the guide or staff involved.
Cost of Nashville Tractor Tours
Nashville Tractor Tour tickets are priced differently for different age groups.
The 2-Hour Narrated Sightseeing Tractor Tour of Nashville tickets for people over eight are priced at US$58.
Children eight years old or lower can gain access at US$25.
The Nashville's Biggest and Wildest Party Tractor Tour (Ages 21+) tickets are available for adults above 21 at US$45.
People below 21 years are not allowed on the tour.
The tickets for Private Downtown Nashville Party Tractor Tour 21+ Only! will cost you US$795 for a group of 15 people.
Discount tickets
The 2-Hour Narrated Sightseeing Tractor Tour of Nashville provides a discount for kids under nine years of age.
They can get access at a discounted price of US$25.
Nashville Tractor Tour tickets
The tickets to Nashville Tractor Tour get you access to this one-of-a-kind journey's unique charm, musical allure, and welcoming spirits.
It's time to amp up your Nashville experience and start singing along to the city's heartbeats and the symphony of the tractor's engine.
Nashville's Biggest and Wildest Party Tractor Tour (Ages 21+) tickets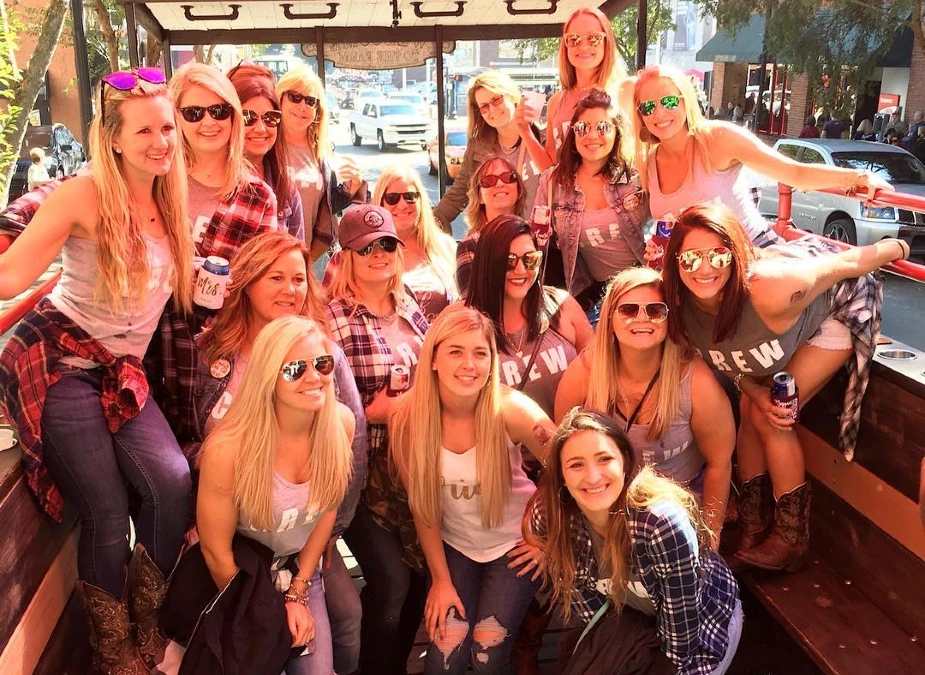 Get tickets to Nashville's wildest party wagon with a DJ, dance lights, and loads of beer!
Experience a unique party experience as the farm comes down to Broadway and glides across the streets of Downtown Nashville!
Alcoholic beverages will be available for purchase.
The meeting point for this tour is 747 Fesslers Ln, Nashville, TN 37210, USA. Get Directions.
Ticket Cost: US$45
Tickets: 2-Hour Narrated Sightseeing Tractor Tour of Nashville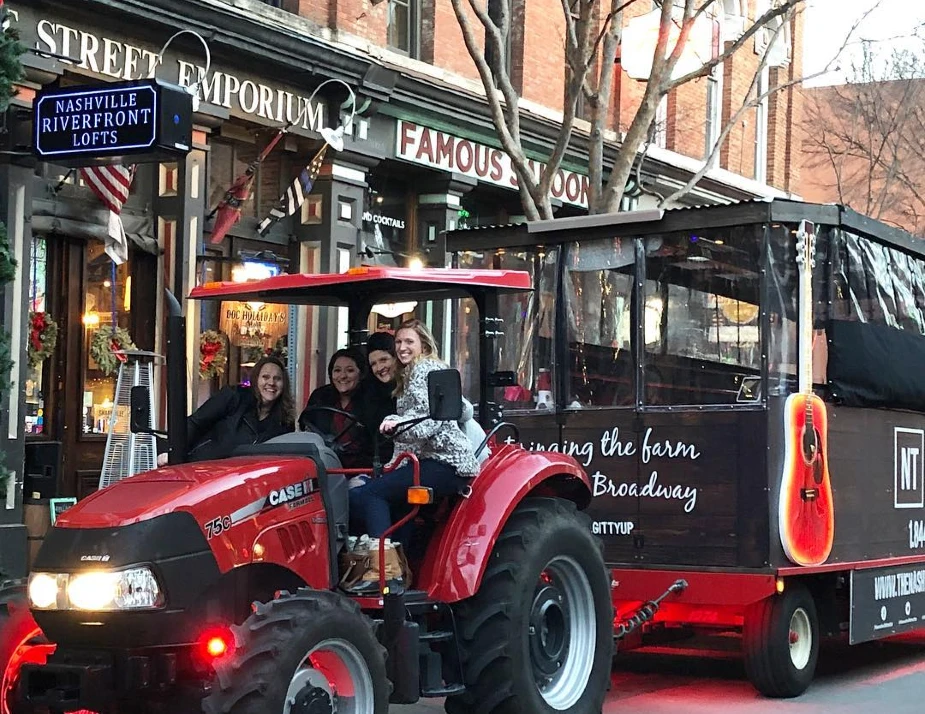 With this tour, step into a classic Southern red barn being pulled by a tractor across the city of Nashville as the tour takes you on a passing visit of more than 40 Nashville attractions, with an expert narrator on board.
The meeting point for this tour is 833 9th Ave S, Nashville, TN 37203, USA. Get Directions.
Ticket Prices
Adult Ticket (9+ years): US$58
Child Ticket (up to 8 years): US$25
Private Downtown Nashville Party Tractor Tour 21+ Only tickets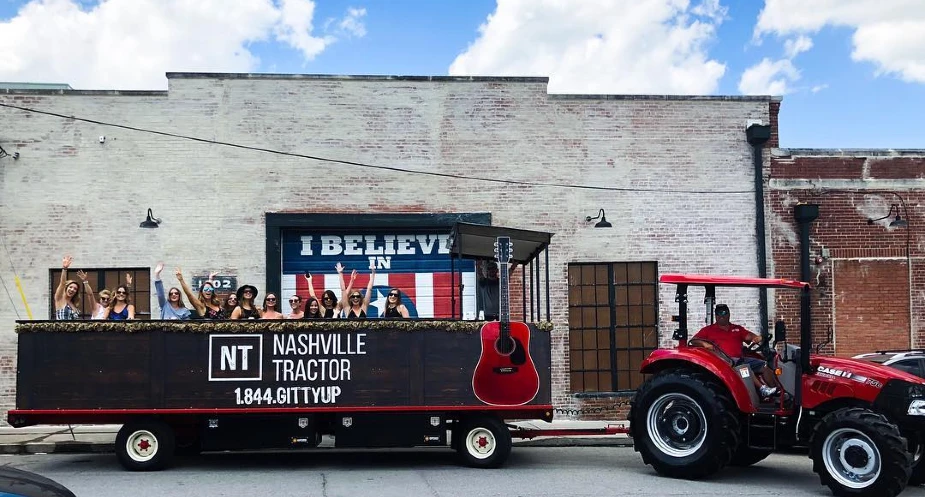 Dive into a farm party on the streets of Nashville with a good old Tractor lugging your barn as you jive to beer and music with your friends.
Sing along with karaoke and learn two steps as you move through the music city.
The on-board will add delight to the evening by performing a few songs.
Ticket Price: US$795
Save time and money! At just US$81, you can buy a Nashville sightseeing Day Pass, valid for 4 consecutive days, that allows you access to a customized itinerary of attractions in Nashville. Enjoy up to 58% off admission at numerous exciting attractions, including the Johnny Cash Museum and the renowned Country Music Hall of Fame.
---
---
Meeting point
The meeting point for Nashville Tractor Tours depends on the tour option you select, and remember, it is subject to change.
So, you should always check the booking page to know the exact meeting location before arriving.
Timings
The Nashville's Biggest and Wildest Party Tractor Tour (Ages 21+) provides a tour from 9.30 am to 9.30 pm on all days except Mondays and Tuesdays.
The trips are divided across multiple time slots you can pick while making your booking at the booking page.
The 2-Hour Narrated Sightseeing Tractor Tour of Nashville provides two daily tours, one starting in the morning at 10 am and the other in the afternoon at 1 pm.
The 2-hour tours are available all across the week.
The Private tours start from 12.30 pm and are provided in a limited capacity throughout the month. You can check the availability at the private tour booking portal.
Best time to go on the tour
The best time to go on a Nashville Tractor Tour is during the sunset and evening time slots, as you can catch the city transitioning from light to dark while grooving to music and beers.
However, morning slots are also recommended if the weather is pleasant.
How long does the tour take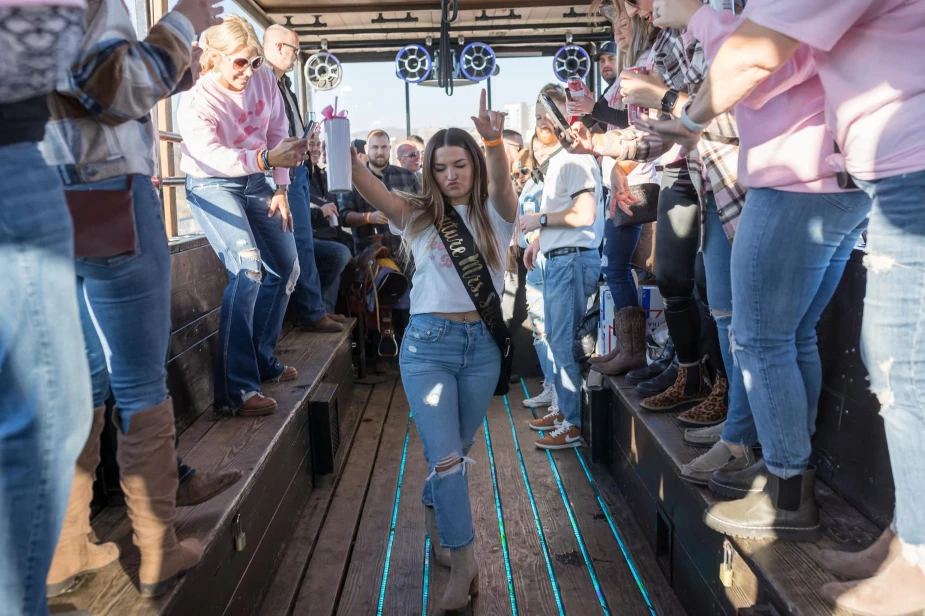 The Nashville Tractor Tours take 90 to 120 minutes to complete.
FAQs about Nashville Tractor Tours
Here are some frequently asked questions about Nashville Tractor Tours.
What happens if the tour is canceled due to inclement weather or insufficient party members?
If the tour is canceled, you will be offered a different day for your trip, or you can opt for a full refund.
Is the tour disability friendly?
No, wheelchair access is unfortunately not present for people with mobility issues.
Are pets allowed?
Yes, you can bring your friend along.
Am I guaranteed the time that I booked online?
In general, yes. However, in some circumstances, your time might be changed. You will be informed well in advance

Popular attractions in Nashville
Sources
# Thenashvilletractor.com
# Visitacity.com
# Biggreentractortours.com
# Tripadvisor.com

The travel specialists at TheBetterVacation.com use only high-quality sources while researching & writing their articles. We make every attempt to keep our content current, reliable and trustworthy.