Nestled amid the picturesque landscapes of Sofia, Bulgaria lies a natural wonder that beckons adventurers and nature enthusiasts alike – the captivating Prohodna Cave.
As you venture into the heart of Prohodna Cave, you will find yourself awe-struck by the sheer grandeur of the massive arches formed over millennia.
The sunlight filtering through the two imposing openings, also known as Eyes of God, creates a surreal visual spectacle, as if nature is watching over visitors with its celestial gaze.
Whether you are a seasoned spelunker or a curious traveler, Prohodna Cave offers an amazing experience.
This article covers everything you must know before booking tickets for the Prohodna Cave Bulgaria.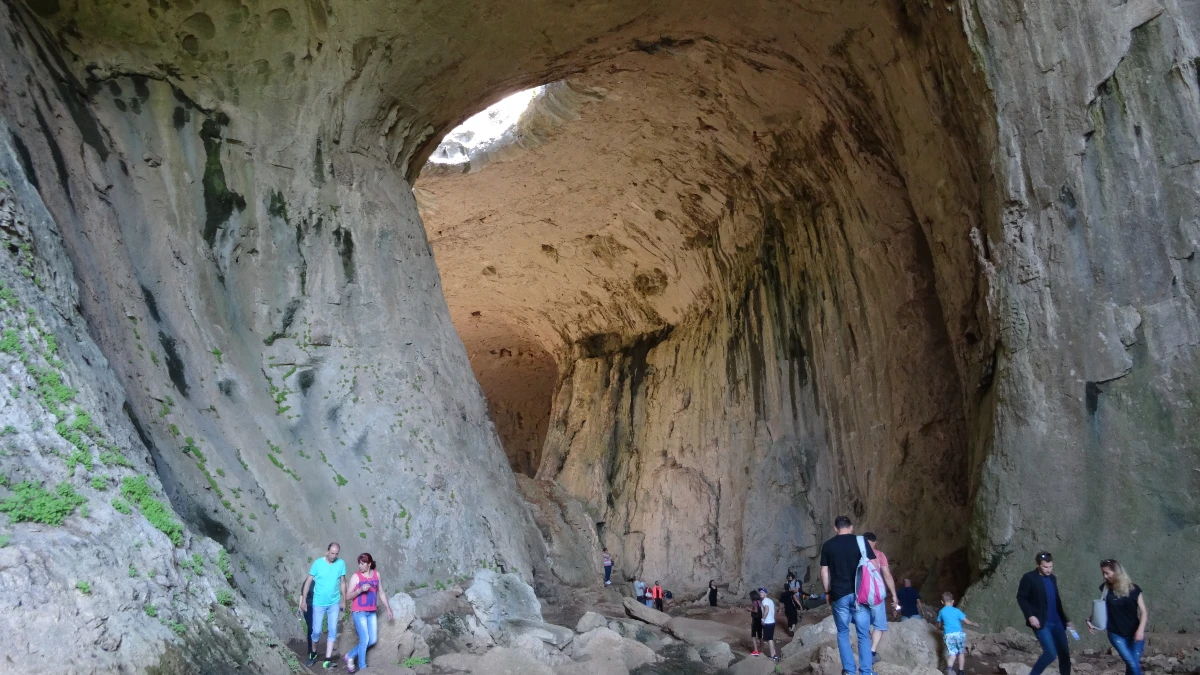 What to expect at Prohodna Caves
A visit to Prohodna Cave promises an unforgettable experience, combining natural beauty, geological wonders, and a touch of mystique.
This captivating cave boasts unique features that make it a must-see destination for adventurers, nature enthusiasts, and curious travelers.
Prohodna is most notable for the two equal-sized holes in the ceiling of its middle chamber, popularly known as Eyes of God.
The Eyes of God create a stunning visual spectacle and provide natural illumination inside the cave.
Throughout the cave, you will encounter an array of stalactites and stalagmites that have formed over thousands of years.
These natural formations add to the cave's allure and create excellent photo opportunities.
Get ready to witness nature's timeless artistry and immerse yourself in the enchanting depths of Prohodna Cave.
Pack your sense of wonder and adventure, and embark on a thrilling exploration of Prohodna Cave, Sofia's extraordinary natural marvel in the heart of Bulgaria.
---
---
Where to book tickets
The Prohodna Cave tickets are available online in advance.
To ensure a hassle-free experience, we suggest booking your tickets online.
Online ticket prices tend to be cheaper than tickets at the venue.
When you buy online, you can avoid the long queues at the attraction's ticket counters.
Because some attractions sell a limited number of tickets, booking early helps avoid last-minute disappointment.
How do online tickets work
Go to the Prohodna Caves ticket booking page, and select your preferred date and number of tickets to buy.
You will receive the ticket confirmation in your email after the booking.
There's no need to take printouts. Show your smartphone ticket at the entrance and start the tour.
Prohodna Caves ticket prices
Prohodna Caves Sofia tickets are priced at €144 for all adults aged 12 years and above.
Children between three to 12 pay €45.
Infants up to two years old can enter for free.
Prohodna Caves tickets
You can select from the following options while planning a visit to Prohodna Caves.
Sofia: Saeva Dupka, Devetashka and Prohodna Cave Day Tour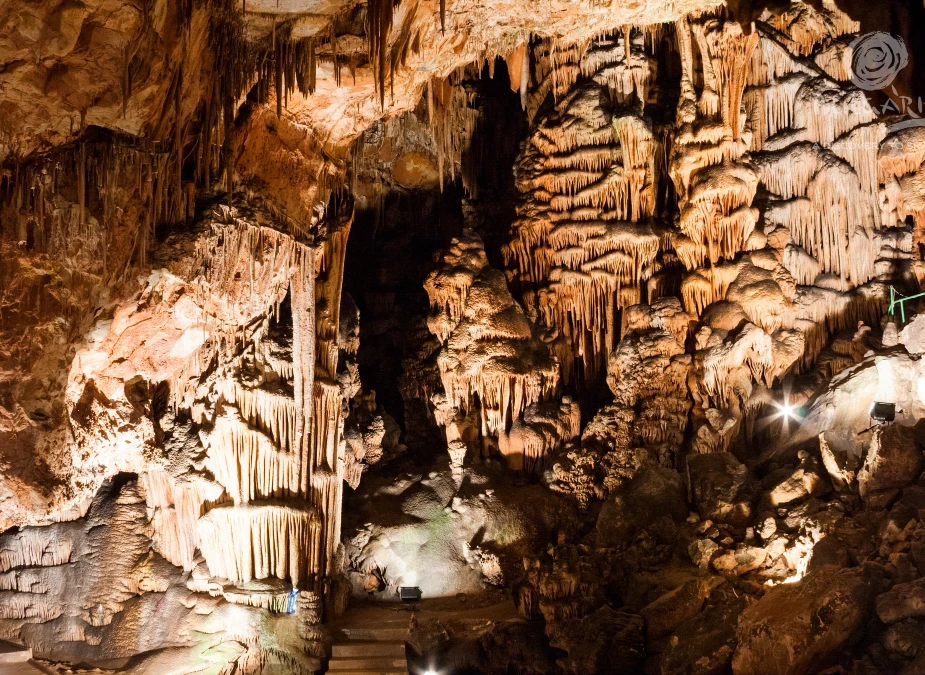 Explore Saeva Dupka, Prohodna Cave, and Devetaki Cave, three of Bulgaria's most well-known and fascinating underground pearls, on a cave trip.
Explore the stunning locations concealed in a magnificent underworld on your one-day excursion to the top three caves in Bulgaria.
You will be picked up in an air-conditioned vehicle around 8 am from your accommodation in Sofia.
At Saeva Dupka, explore the Harmana gallery's acoustic stalactites, stalagmites, sinter lakes, draperies, and the largest stone column in Bulgaria.
At Prohodna Cave, one of the most famous caves in Bulgaria, see how it is naturally illuminated by two huge openings in the ceiling, inspiring the cave's local name, Eyes of God Cave.
Explore the entrances at Prohodna Caves, including a 45-meter (148 feet) entrance, the largest in Bulgaria.
Visit one of the most beautiful caves in Bulgaria, Devetaki Caves, which is 2442 meters (8012 feet) long and 60 meters (197 feet) high.
Remember to carry your passport or ID card with you.
Ticket Prices
Adult Ticket (12+ years): €144
Child Ticket (3 to 11 years): €45
Infant Ticket (up to 2 years): Free
Prohodna, Saeva Dupka Cave and Glozhene Tour from Sofia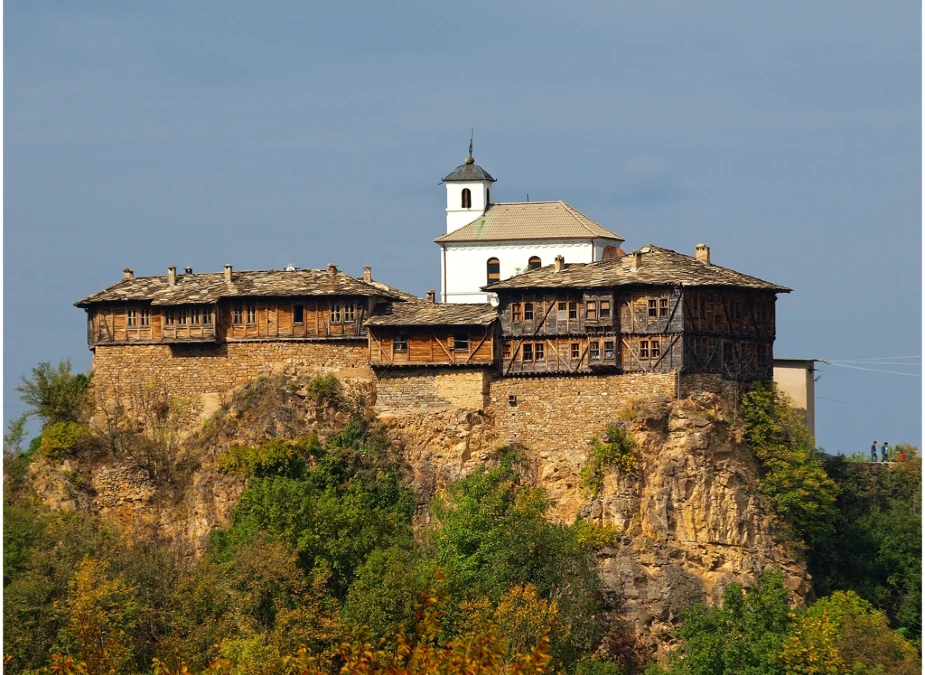 On a day trip from Sofia, explore nature once more and some of Bulgaria's most incredible caves.
Visit the 13th-century Glozhene Monastery on Stara Planina mountain, go through the Prohodna Cave, and explore the chambers of the Saeva Dupka Cave.
This tour ticket lets you skip the line through a separate entrance.
You will be picked up from your accommodation in Sofia in a new car or van and then taken on a scenic drive through the Balkan Mountains to arrive at the Iskar Gorge near the village of Karlukovo.
On your 90-minute nature hike, learn why the locals call Prohodna Caves "Eyes of God."
Continue to the Saeva Dupka cave, where five halls and 400 meters (1312 feet) of corridors reveal some of Bulgaria's most beautiful stalagmite formations.
In the afternoon, continue with a visit to the 13th-century Glozhene Monastery, perched like a bird's nest on the northern slopes of the Stara Planina mountain.
Get dropped off at your accommodation in Sofia in the late afternoon.
Remember to wear comfortable shoes.
Ticket Cost: €190
Explore the attractions of Sofia, one of Europe's oldest cities, on a full-day sightseeing tour to the historical center and outskirts. Visit Lake Pancharevo, admire the onion-domed churches and communist memorials, and more.
---
---
How to reach Prohodna Cave Bulgaria
Prohodna Caves are near Monastère Sainte Marina.
Address: 53GF+2H, N/A, 5782 Карлуково, Bulgaria. Get Directions.
You can reach the caves by car or by public transport.
However, tour operators provide pick-and-drop facilities when you book your tickets online.
By Train
The nearest train station is Karlukovo, ПВ 20134, КПВ 20233, БВ 2655, КПВ 20230, ПВ 20133, ПВ 20170, ПВ 20135, ПВ 20130, ПВ 20132, ПВ 20137, and ПВ 20171 are some of the trains that operate here.
Take a 5-minute walk to reach the caves from the train station.
By Car
You can rent a cab or drive your car to reach the Prohodna Caves Sofia.
Launch Google Maps and get started.
Prohodna Caves have a free parking lot.
Timings
Prohodna Caves in Bulgaria are open to the public 24 hours a day, all through the year.
Although you are welcome to visit the caves whenever you like, we suggest going on a guided tour to learn more about the history and explore the caves.
Best time to visit Prohodna Caves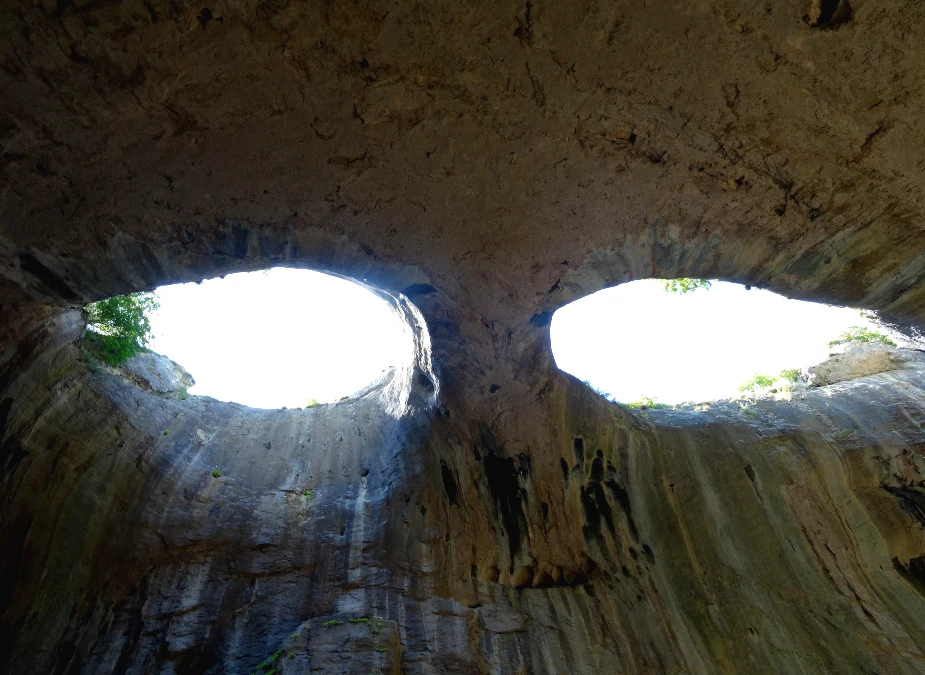 The best time to visit Prohodna Caves is in the early mornings when the crowd is less and the weather is pleasant.
May to November months are good for visiting–the weather is mild and perfect for exploring the underground caves and wonders.
When you travel in summer, you can relish the pleasant aesthetics of nature, greenery, and mild temperatures, a perfect amalgamation of adventure and bliss.
During the chilly winter months, visitors should be aware of the massive icicles on the ceiling surrounding the cave apertures and the slick surface.
How long does the tour take
A full-day trip to the top three caves in Bulgaria will take approximately 10 hours.
We recommend packing water, lunch, and snacks as the tour operator does not include meals in the ticket.
Reviews
Here are some reviews of the Prohodna Caves to make your trip easier.
Eyes of God
Prohodna a.k.a. Eyes of God, is a magnificent Cave. It's a huge and not typical cave – a huge tunnel that goes straight through a hill. The eyes on its top in the middle of it are mysterious. If you want, you can climb on the walls.
Worth a detour
Larger than expected, yet also easy to reach, with parking within 100 meters of the cave entrance and an easy walk into the cave.
We were the only non-Bulgarians, yet local tourists were rather busy. There is no issue, though, even in this pandemic, as the cave is massive and people spread easily.
Worth a small detour when traveling between Veliko Tărnovo and Sofia.
Worth the visit
I rented a car to go sightseeing, which was well worth a visit. Plenty of parking and an easy five-minute walk to get to the entrance.
Harrison-F-Carter, Tripadvisor
---
---
FAQs about Prohodna Caves
Here are frequently asked questions about the Prohodna Cave Bulgaria.
Where is Prohodna Cave located in Bulgaria? 
Prohodna Cave is situated in the northern part of Bulgaria, near the village of Karlukovo, approximately 2 hours drive from Sofia, the capital city of Bulgaria. Get Directions.
How big is Prohodna Cave?
Prohodna is 262 meters (860 feet) long, which makes it the longest cave passage in Bulgaria. The cave has two entrances opposite one another, the Small Entrance and the Big Entrance.
Is the Prohodna Cave accessible to all visitors? 
Yes, the Prohodna Cave is generally accessible to most visitors. 

However, remember that the cave's terrain can be uneven and slippery, so wearing sturdy footwear is advisable. 

Also, some cave parts may require crawling or climbing, making them less suitable for those with reduced mobility.
Are there any guided tours available for Prohodna Caves? 
Yes, guided tours are often available for visitors. Local and knowledgeable guides can provide valuable information about the cave's geology, history, and unique formations.
Is photography allowed inside the Prohodna Cave? 
Yes, photography is allowed inside the Prohodna Cave. The unique rock formations and the iconic "Eyes of God" make it a popular spot for photography enthusiasts.
Is there any entry fee for visiting the Prohodna Cave?
Yes, visitors must book their tickets online to visit the Prohodna Caves. You can book your tour online to see the top three caves in Bulgaria.
Can I visit Prohodna Caves with my dog?
Yes, you can visit the caves with your dog.
Source
# Viator.com
# Klook.com
# Tripadvisor.com

The travel specialists at TheBetterVacation.com use only high-quality sources while researching & writing their articles. We make every attempt to keep our content current, reliable and trustworthy.