The Krushuna Waterfalls are a natural wonder in northern Bulgaria, near the Krushuna Village in the Lovech region.
The Krushuna River forms the waterfalls as it flows through the land-based limestone formations near the river.
Visitors can explore the falls up close thanks to a network of pathways and bridges, offering several opportunities for photography and intimate experiences with nature.
Whether you're looking for a peaceful visit to nature or an exciting outdoor adventure, Krushuna Waterfalls promises an unforgettable experience.
This article covers everything you should know before booking tickets for Krushuna Waterfalls.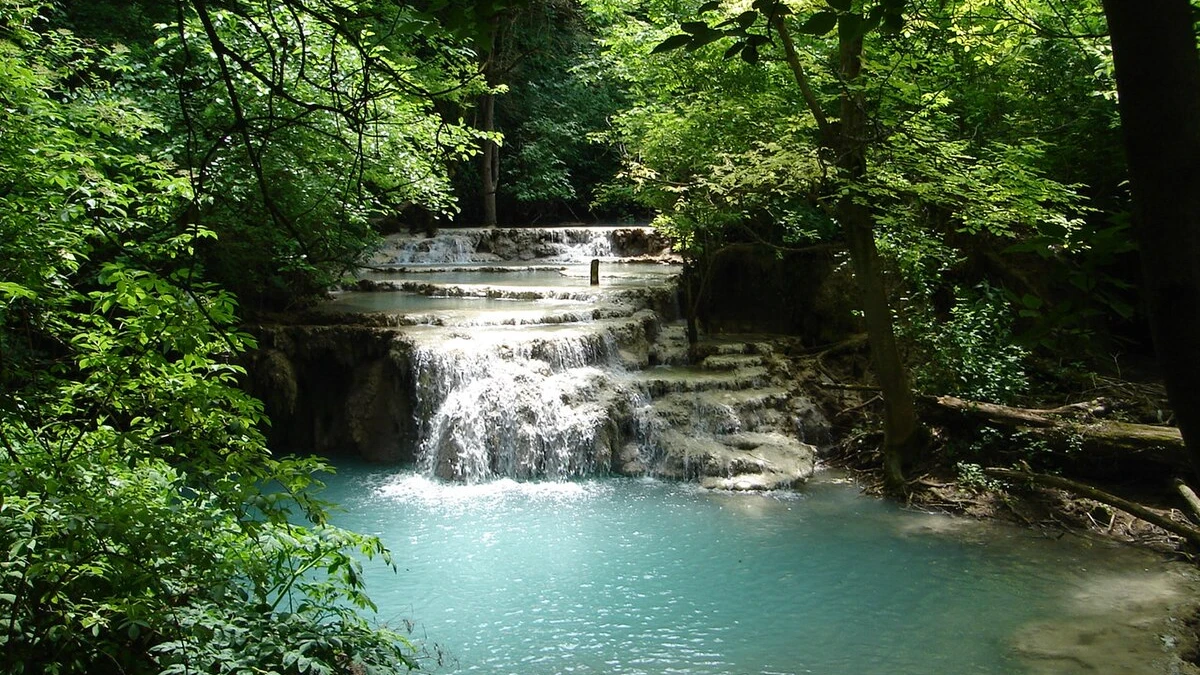 What to expect
Krushuna Waterfalls offer an exciting experience – the crashing falls, limestone terraces, and blue pools create a beautiful and peaceful atmosphere. The natural beauty is a treat for the eyes.
The highest waterfall is 20 meters (66 ft) tall, and the total height of all the waterfalls is 130 meters (427 ft). The water is a bright blue-green color due to the dissolved travertine inside.
For visitors to explore the waterfalls and the surrounding environment, there are well-marked hiking trails which makes it easy for people to walk around.
The sound of rushing water, the cool mist in the air, and the greenery around the waterfalls create a refreshing and relaxing atmosphere.
In addition to the waterfalls, the area is filled with several caves, such as Devetashka Cave and the Cave of Wishes. These caves add a sense of mystery and exploration to your visit.
The region surrounding Krushuna Waterfalls is rich in plant and animal life. You may come across various bird species, butterflies, and wildflowers, which can enhance your visit.
For visitors to cool off and enjoy the crystal clear waters, there are designated swimming areas in some parts of the Krushuna River, as swimming is not allowed in the waterfalls,
---
---
Where to book tickets
Krushuna waterfall tickets can be purchased online or at the tour operator's ticket counters.
To ensure a hassle-free experience, we suggest booking your tickets online.
Online ticket prices tend to be cheaper than tickets at the counters.
When you buy online, you can avoid the long queues at the ticket counters.
Because some tours sell a limited number of tickets, booking early helps avoid last-minute disappointment.
When you book early, you also get your preferred time slot.
How do online tickets work
Visit the Krushuna Waterfalls ticket booking page, select your preferred date, time slot, and number of tickets, and buy the tickets right away.
After the purchase, the tickets will be sent to your email.
There is no requirement to bring a printout.
You can join the tour by showing the ticket on your smartphone to the tour guide.
Krushuna Waterfalls ticket price
The tickets for Krushuna Waterfalls are priced at €135 for all adults aged 12 years and above.
For children between three and 11 years, the tickets cost €50 for entry.
Infants up to two years old get free admission.
Krushuna Waterfalls tickets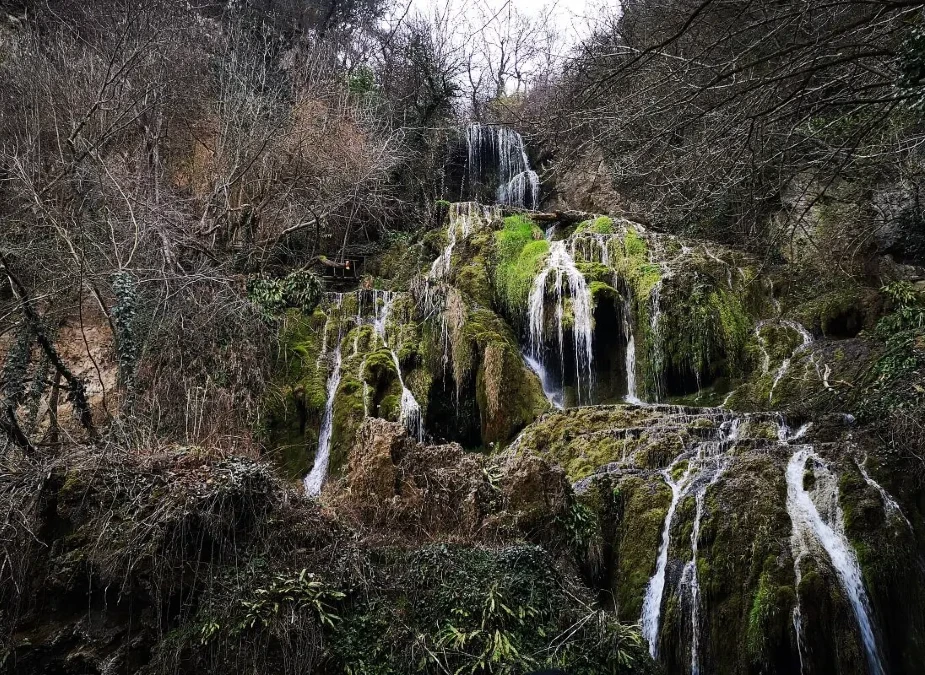 Experience a peaceful retreat from the colorful city of Sofia by taking a guided day tour to Lovech, Devetàshka cave, and Krushuna Falls with a small-group tour and a hassle-free experience in an air-conditioned vehicle.
Your tour will begin with pick up from your hotel in Sofia, followed by a scenic 2-hour drive to Lovech. You'll explore the cobbled streets and admire the XIX-century houses, including the famous Covered Bridge built by Master Kolio Ficheto.
You'll also visit the Vassil Levski Museum and The Hisarya Fortress, constructed during the First Bulgarian Empire. A walk in the Varosha Quarter will take you back to the 19th century, and you'll enjoy a delicious lunch at a traditional Bulgarian restaurant.
Next, you'll head to Devetashka Cave, a beautiful cave that has sheltered people since the late Paleolithic era. You'll have some time to walk around this protected landmark of national and international significance, declared a monument of culture.
Finally, you'll arrive at Krushuna Waterfalls, a unique natural wonder where you can walk through a beautiful forest and witness a stunning cascade of blue waterfalls.
Ticket Prices
Adult Ticket (12+ years): €135|
Child Ticket (3 to 11 years): €50
Infant Ticket (up to 2 years): Free
Explore the attractions of Sofia on a full-day sightseeing tour with transport to the historical center and outskirts. Visit Lake Pancharevo, admire the communist monuments, churches' onion domes, and more.
---
---
How to reach
The Krushuna Waterfalls is near the village of Krushuna, 21 miles (34 km) from the city of Lovech.
Address: ул. Крушунски водопад 25, 5561 Krushuna, Bulgaria. Get Directions.
You can reach the attraction by public or private transportation.
By Train
The Krushuna Waterfalls is only 12 minutes from the train station Aleksandrovo.
(Train No: 24220, 24221, 24222)
By Car
If you're traveling by car, turn on Google Maps and begin your journey.
Click here to learn more about the parking spots.
Timings
From April through October, the Krushuna waterfalls remain open for visitors from 8 am to 8 pm.
From November through March, the operating hours are from 9 am to 5 pm.
Best time to visit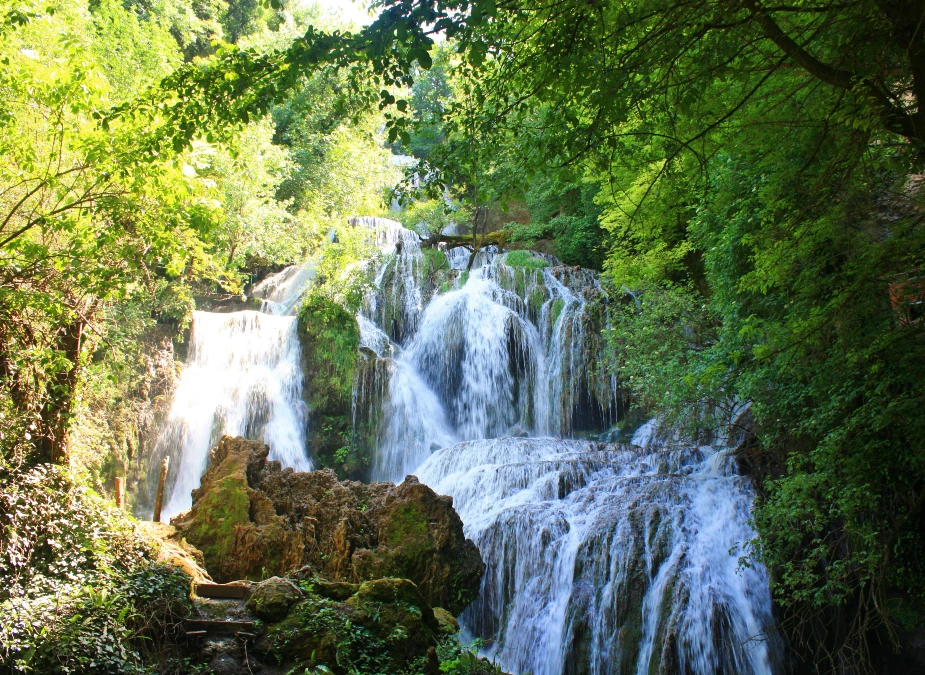 The best time to visit Krushuna Waterfalls is at 8 am as soon as it's open for visitors.
Mornings usually offer cooler temperatures, making it more comfortable for hiking and exploring the trails around the waterfalls. It's also less crowded in the early mornings.
If you prefer a quieter and less crowded experience, avoid holidays.
Avoid visiting the waterfalls during peak tourist season during the summer months, from June to August.
How long does the visit take
The tour of Krushuna Waterfalls can take 2 to 3 hours. In this time, you can explore the waterfalls, walk along the wooden walkways and bridges, and relax.
If you prefer to visit nearby caves like Devetashka Cave or the Cave of Wishes, you'll need to allocate 1-2 hours for exploration.
---
---
FAQs about Krushuna Waterfalls, Bulgaria
Here are some frequently asked questions about Krushuna Waterfalls, Bulgaria.
Where are Krushuna Waterfalls located?
Krushuna Waterfalls are located in northern Bulgaria, near the village of Krushuna, in the region of Lovech. 
Is swimming allowed at Krushuna Waterfalls?
Swimming is generally not allowed in the main waterfalls area for safety and conservation reasons.

However, there are designated swimming areas along the Krushuna River, away from the waterfalls, where visitors can cool off during their visit.
Are there hiking trails around the waterfalls?
Well-marked hiking trails and wooden walkways allow visitors to explore the waterfalls and the surrounding natural beauty. The trails are quite simple to navigate and suitable for visitors of various fitness levels.
Can I visit Krushuna Waterfalls year-round?
Krushuna Waterfalls Sofia can be visited throughout the year. Each season provides a unique perspective of the waterfalls and the surrounding landscape. 
Are there facilities available at Krushuna Waterfalls?
Basic facilities are usually available at Krushuna Waterfalls, including restrooms, picnic areas, and small cafes or food vendors. However, bringing some essentials is good if you plan to explore the area more.
Are there any other attractions near Krushuna Waterfalls?
Other attractions near Krushuna Waterfalls include nearby caves like Devetashka Cave and the Cave of Wishes. Additionally, the village of Krushuna and the town of Lovech offer opportunities to experience Bulgarian culture and history.
What should I wear and bring when visiting Krushuna Waterfalls?
It's recommended to wear comfortable clothing and sturdy footwear suitable for walking on uneven terrain. Bring a hat, sunscreen, and insect repellent for protection during your visit. 

It's also a good idea to carry a water bottle with you to stay hydrated during your exploration.
Can I have a picnic at Krushuna Waterfalls?
The Krushuna Waterfalls is an ideal location for picnics. There are usually designated picnic areas where You can kick back and have a meal in the middle of nature.