Melbourne Zoo is an opportunity to see fascinating wildlife in the heart of Melbourne city.
Besides the 320 species of animals, Melbourne Zoo is also home to 70,000 species of plants from around the World.
The zoo is also renowned for its breeding programs for several endangered species, including the Tasmanian devil, the orange-bellied parrot, and the eastern barred bandicoot.
It is also known as The Royal Melbourne Zoological Gardens.
There are also several cafes and restaurants throughout the zoo and picnic areas for visitors to enjoy.
This article explains everything you must know before buying your Melbourne Zoo ticket.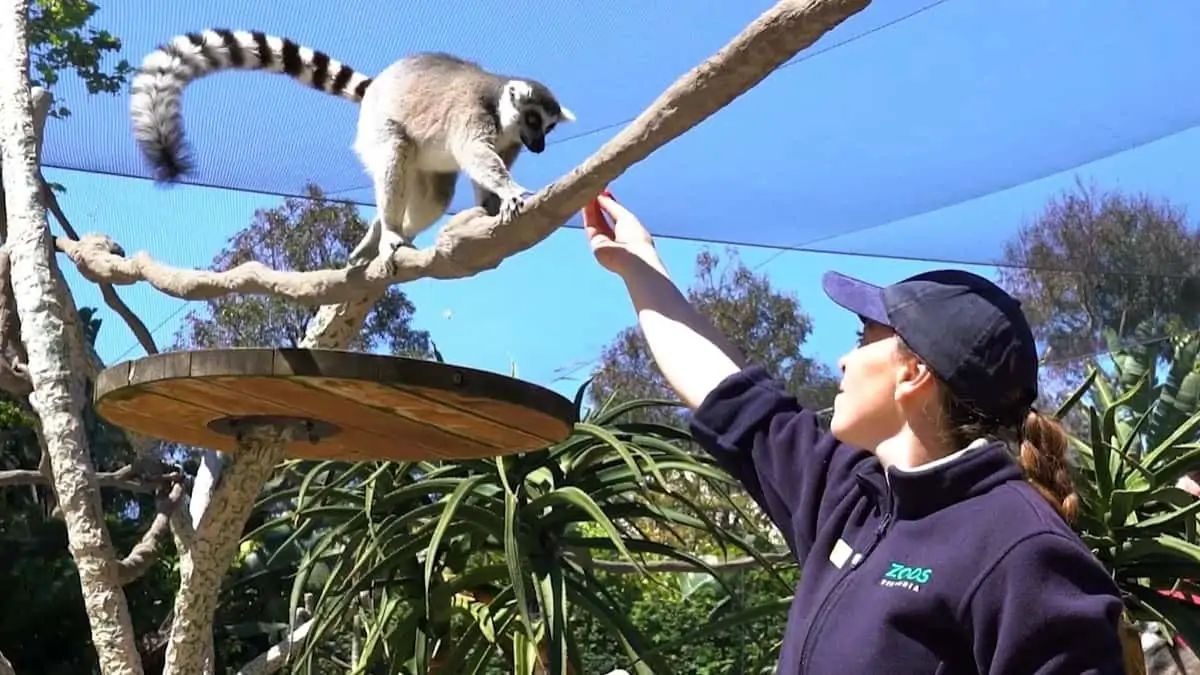 Melbourne Zoo ticket prices
A regular Melbourne Zoo adult ticket (16+ years) costs A$ 42.
If you visit with kids aged 3 years and younger, Melbourne Zoo prices are lower because kids get the biggest discounts.
Melbourne Zoo discount
Kids three years and below get a 100% discount at Melbourne Zoo – they enter for free.
The best discount, however, is reserved for kids aged 4 to 15 years.
On weekdays, they get a 50% discount on the adult ticket price; thus, kids' ticket is priced at A$ 21.
And on weekends, Victorian Public Holidays, and Victorian Government school holidays, kids can enter the Melbourne Zoo for free.
---
---
Melbourne Zoo tickets
Melbourne Zoo is now open, but everyone must book their tickets online before visiting. Ticket counters at the venue are closed.

To ensure social distancing, the Zoo restricts 2,500 visitors daily, so you must book tickets much in advance.
The zoo offers three kinds of experiences:
– Regular Zoo Entry
– Zoo entry + Kangaroo encounter
– VIP entry, early in the morning
Regular Melbourne Zoo tickets
This ticket is the cheapest and the most popular Melbourne Zoo entry ticket.
It is also known as the one-day general admission ticket, and more than 90% of visitors go for this option.
You can see all the animals worldwide at your own pace and attend the ZooKeeper talks and presentations.
Ticket prices
Adult ticket (16+ years): A$ 42
Child ticket (4 to 15 years): A$ 21*
*This price is applicable on weekdays. The kids enter for free on weekends, public holidays, and school holidays.
VIP early morning tour of Melbourne Zoo
This 45-minute VIP tour gives exclusive early morning access to the Melbourne Zoo before its gates open to the general public.
This experience is also known as the Australian Wildlife Tour at Melbourne Zoo.
During this small group tour led by a Zoo Ranger, you also get a chance to feed the Kangaroos and listen to their passionate keepers.
After the 45 minutes VIP tour, you can explore the zoo alone.
Per person ticket price: A$ 45
Melbourne Zoo entrance + Kangaroo encounter
This experience is temporarily suspended because of Covid-19.
Besides the regular Melbourne Zoo admission, this ticket gets you an up-close encounter with a mob of kangaroos.
During the 15-minute encounter with the Kangaroos, you learn about these social animals from their keepers.
These tickets are in demand, so booking your encounter online well before your visit is best.
Ticket prices
Adult ticket (16+ years): A$ 70
Child ticket (1 to 15 years): A$ 51
Spend a day engaging with Australian wildlife by booking Penguin Parade and Koalas Tour.
---
---
Melbourne Zoo opening hours
Melbourne Zoo opens at 9 am and closes at 5 pm every day of the year.
As per Victoria State's policy, the Zoo remains open even on Christmas Day and other public holidays.
All animal areas close at 4.30 pm.
---
---
Best time to visit Melbourne Zoo
The best time to visit Melbourne Zoo is when they open at 9 am.
There are four advantages of starting early – the animals are most active early in the morning, the temperatures are still moderate, the crowd is yet to get in, and you have the whole day to explore.
We recommend weekdays for a peaceful visit because it gets crowded on weekends and school holidays.
If you reach the Melbourne Zoo during peak times, you will see the same people in line to buy entry tickets at the animal exhibits, keeper talk sessions, and restaurants.
Best Months: From a weather perspective, it is best to visit the Melbourne Zoo from May to August.
Important: When you buy Melbourne Zoo tickets online, you can skip the long lines and walk in.
---
---
How to reach Melbourne Zoo
Melbourne Zoo is in Royal Park, only 10 minutes North of the City Centre.
From the Melbourne Airport, the Zoo is 18 km (11 Miles) away, and a quick 20 minutes drive can help you reach there.
Melbourne Zoo's Address: Elliot Ave, Parkville VIC 3052, Melbourne, Australia. Get Directions
By Tram
If you prefer taking the Tram to reach the Melbourne Zoo, you must board Tram #58, which runs the route from Toorak to West Coburg.
You can get onto the Tram from William Street in the City Centre and get down at Stop 26, right in front of the Melbourne Zoo.
The travel time is 18 minutes.
Train to Melbourne Zoo
Depending on where you are starting from, you need to take different trains to reach the Melbourne Zoo.
From within Melbourne
Royal Park Station on the Upfield railway line is the closest train station to Melbourne Zoo.
If you prefer a train ride to get to Melbourne Zoo from within the city, board a train from Flinders Street station, which is also on Upfield line, and get to Royal Park Station.
Traveling from Regional Victoria
V/Line trains are regional public transport trains for Victoria state.
You can catch a V/Line train from all of Victoria's big cities and towns..
Find the nearest V/Line station and take a train to Southern Cross Station.
From the Southern Cross Station, you must get on to another train going towards Upfield.
Four stations and 10 minutes later, you will reach Royal Park Station.
A quick 100 meters walk can get you to the Melbourne Zoo.
By Bus
Board Route 505 bus to reach the Melbourne Zoo.
The bus covers the route from Moonee Ponds to Melbourne University.
Melbourne Zoo parking
If you plan to drive to the Melbourne Zoo, we recommend you start early or choose a non-peak period for your visit.
There is limited parking space during school and public holidays. Click here to know more about the nearby parking lots.
A five-hour parking ticket will cost you A$ 2.
Make sure you display the ticket correctly on your dashboard because Melbourne city's parking officers regularly patrol the area.
By Hop-On-Hop-Off Sightseeing Bus
If you have booked a Hop-on-Hop-off Sightseeing bus in Melbourne, you can also use that to reach the Zoo.
Since the HOHO bus makes ten trips per day, you also have flexibility on your visit timing.
You can get onto the bus at multiple locations throughout the city, including Federation Square and Carlton.
Once you explore the Melbourne Zoo, you can catch the Hop-on-Hop-off bus from the Zoo's main entrance on Elliott Avenue to get back.
Book a combo of SEA LIFE Melbourne + Melbourne Zoo and get 10% discount. Book once and enhance your experience.
---
---
How long does Melbourne Zoo take
If you and your kids love to participate in Zoo activities, keeper talks, etc., your tour of Melbourne Zoo can last four to six hours.
A quick stroll across the 3 Kms (1.9 Miles) of the exploratory area of Melbourne Zoo takes approximately 45 minutes.
We present below three routes you can follow depending on your time.
Express Route
If you are in a hurry, this is the perfect map to follow because you will be able to finish your exploration in an hour.
Discovery Route
This is the perfect Melbourne Zoo itinerary if you have at least two hours.
If you follow this route, you will see the trail of elephants, rainforest animals, and the Wild Sea in the two hours needed.
Complete Route
If you are visiting the Melbourne Zoo with your kids or have all the time in the World, we recommend you follow this path.
You get to see every exhibit there is in this Australian Zoo.
---
---
Melbourne Zoo animals
The Melbourne Zoo has more than 300 species of animals, and some of them are more popular than the others.
Melbourne Zoo Gorilla
The Western Lowland Gorillas are one of the most famous exhibits at the Melbourne Zoo.
At this Australian Zoo, you can see four of them – three females named Yuska, Kanzi, and Kimya and one male Gorilla named Otana.
If you want intimate details about these Gorillas, attend the Daily Keeper Talk at 10.45 am.
Melbourne Zoo Elephants
Don't miss out on seeing the Asian Elephants at the Melbourne Zoo.
These elephants can roam around and forage on the award-winning Trail of the Elephants, which allows them to walk between 6.21 km to 15 km in a day.
Keep aside some time for the Elephant-keeper talk at 11 am.
Melbourne Zoo Koala
Koalas are one of the most adorable Australian species at the Melbourne Zoo.
The Koala Keeper show scheduled at 11 am daily, is one of the most popular Keeper talks.
Melbourne Zoo Kangaroo
You can't be visiting an Australian Zoo and not see the country's most iconic animal, i.e., the Kangaroo.
The Kangaroo Island Mob (Kangaroos live in mobs with a dominant male as their leader) at the Melbourne Zoo attracts many visitors.
If you prefer a close-up encounter with the Kangaroo, book much in advance for the limited slots, and fill up fast.
Melbourne Zoo Tiger
Melbourne Zoo is one of the many Zoos worldwide trying their best to bring the Tigers to their past glory.
Kids especially love this endangered species.
Tiger Keeper talks are organized at 3.30 pm every day.
Melbourne Zoo Tortoise
Aldabra Giant Tortoises are classified as vulnerable and are the only remaining giant tortoise species still surviving in the wild.
They can grow to over 1 meter (3.2 feet) in length and weigh up to 250 Kgs (550 pounds). Females weigh less at 150 Kgs (330 Pounds).
These tortoises are quite popular with kids, so the 1.30 pm keeper talk gets crowded.
Melbourne Zoo Lion
Lions in the Melbourne Zoo are a sight to behold.
If you want to know more about these fantastic creatures and their daily activities, do not miss the Lion Keeper talk at 12.30 pm.
---
---
Keeper Talks at Melbourne Zoo
Some species of animals in the Melbourne Zoo are cared for by their respective keepers.
These keepers are responsible for feeding them and providing them with any additional care as and when required.
Every day, these Zoo keepers share their knowledge and experience at a pre-determined time, also known as Keeper Talks.
Watch at least a few of these Keeper talks during your visit for a more immersing experience.
The talks are hosted daily and are completely free.
Penguin Keeper Talk
Aldabra Giant Tortoise Keeper Talk
Elephant Keeper Talk
Snow Leopard Keeper Talk
Baboon Keeper Talk
Gorilla Keeper Talk
Tiger Keeper Talk
Seal Keeper Talk
Melbourne Zoo Keeper talk timings
| | |
| --- | --- |
| Animal | Timings |
| Koalas | 11 am |
| Giant Tortoises | 1.30 pm |
| Baboons | 10.40 am |
| Elephants | 11 am |
| Giraffe | 11.30 am |
| Seals | 11.30 am |
| Orangutans | 12 pm |
| Gorillas | 10.45 am |
| Lions | 12.30 pm |
| Meerkats | 1.15 pm |
| Elephants | 2 pm |
| Tigers | 3.30 pm |
| Penguins | 3.45 pm |
Most popular: Penguin keeper's talk at 3:45 pm and Koala keeper's speech at 11 am get crowded.
Keeper Kids Playspace
If your kid loves being around animals, Keeper Kids Playspace is a unique opportunity to get closer to nature.
The Playspace offers a range of fun activities that help the kids connect with the natural world through imagination and games.
In a few hours, kids learn what it takes to work at the Zoo, what the different animals eat, and even prepare mock meals for their favorite animals.
---
---
Melbourne Zoo map
Having a copy of the Melbourne Zoo map with you is best for easily navigating the various exhibits and other interactive sessions the zoo offers.
Besides the animal enclosures, a map helps you identify visitor services such as restaurants, restrooms, souvenir shops, etc.
Carrying the Melbourne Zoo's layout is even more necessary if you are traveling with kids because you won't waste your time finding the various exhibits, and in the process get exhausted.
---
---
Food at Melbourne Zoo
Melbourne Zoo has several good quality and hygienic food options.
However, they are expensive.
On peak days, these restaurants also witness long queues.
It is best to get your snacks and drinks to avoid the rush at these restaurants and make your trip cost-effective.
You can also bring a blanket and enjoy an excellent picnic with your family and friends wherever and whenever it suits you.
Restaurants at Melbourne Zoo
This Australian Zoo has eight different restaurants and cafes.
Lakeside Cafe: Enjoy amazing a la carte dining in the Lakeside Cafe with various vegan dishes alongside mouthwatering chefs specials.
Giraffe Lookout Cafe: Get to taste some of the best hot wraps and spicy BBQ Kransky while gazing at the giraffes from the Giraffe Lookout Cafe.
Elephant Kiosk: Take advantage of the opportunity to explore South Asian-inspired cuisine at the famous Elephant Kiosk.
Zoo Bakery: If you are in the mood for some fresh hot pastries and sweet bakery treats, go no further than the Zoo Bakery in the Zoo.
Meerkat Manor Cafe: If you enjoy light snacks with the family, stop at the Meerkat Manor Cafe for some sandwiches and coffee.
Macaw Takeaway: Here, you get some of the best burgers, fish, and hot chips.
Macaw Pizza: Mouthwatering Pizza served with a scoop of ice cream is perfect for the kids.
Wild Dogs: The Wild Dogs serves the best Sandwiches and snacks with coffee while you rest and rejuvenate.
---
---
Melbourne Zoo high tea
Melbourne Zoo hosts a delicious high tea on one Sunday each month and fortnightly during winter.
The package includes a selection of sweet and savory items, Tea and coffee, and one hour of free access to the Zoo before the start of High Tea at 1.30 pm.
The High Tea happens at the famous Rainforest Room of the Melbourne Zoo.
If you are a Member of the Zoo, you pay less for the High Tea experience.
---
---
Roar and Snore at Melbourne Zoo
Roar and Snore is a unique camping opportunity where one spends the night at the Melbourne Zoo.
After a tour of the Zoo to see the nocturnal creatures, you wine and dine, listening to your camp host's animal stories.
After the night's activities, you retire for a good night's sleep in your tent and wake up to have up-close interactions with the keepers.
After the keeper and animal sessions, you explore the Zoo again the next day.
Melbourne Zoo FAQs
Tourists planning a visit to the Melbourne Zoo have a lot of questions about the tickets, entry passes, and memberships.
We answer them here –
---
How much does the Melbourne Zoo family pass cost?

The price of the Family Pass depends on the opted combination.
 
Two adults and two children: A$ 93
Two adults and three children: A$ 102.50
Two adults and four children: A$ 112
Two adults and five children: A$ 121.50
 
Family passes are available only on weekdays except for Victorian Public holidays and Victorian Government school holidays.
Is Melbourne Zoo free for kids?

Kids three years and below can enter the Melbourne Zoo for free all through the year.
 
The Melbourne Zoo allows free entry to kids from 4 to 15 years on weekends, Victorian Public Holidays and Victorian Government School Holidays.
 
If you have availed the Zoo membership, then the entry for kids aged  4 to 15 years is free all year through. Buy your tickets now!
What is Melbourne Zoo membership and how much does it cost?

Melbourne Zoo membership includes unlimited entry to three Zoos – the Melbourne Zoo, Werribee Zoo, and Healesville Sanctuary.

Express entry at each zoo to skip the queues.
 
Kids register for the membership for free. Yes, that's right – only the adults have to pay.
 
Adults Membership: A$ 126
Seniors Membership: A$ 114
Concession Membership: A$ 96*

*This rate applies to Australian pensioners, full-time student, disabled individuals, etc.
Sources
# Wikipedia.org
# Visitvictoria.com
# Tripadvisor.com

The travel specialists at TheBetterVacation.com use only high-quality sources while researching & writing their articles. We make every attempt to keep our content current, reliable and trustworthy.
Popular attractions in Melbourne
# Puffing Billy
# Melbourne Aquarium
# Werribee Zoo
# Eureka Skydeck