Werribee Open Range Zoo is an African themed zoo in Werribee, about 30 Kms (19 Miles) south-west of Melbourne.
With a variety of wildlife on display in natural settings, it is a hugely popular Zoo in Victoria, Australia.
In this article, we explain everything you need to know before buying Werribee Zoo tickets.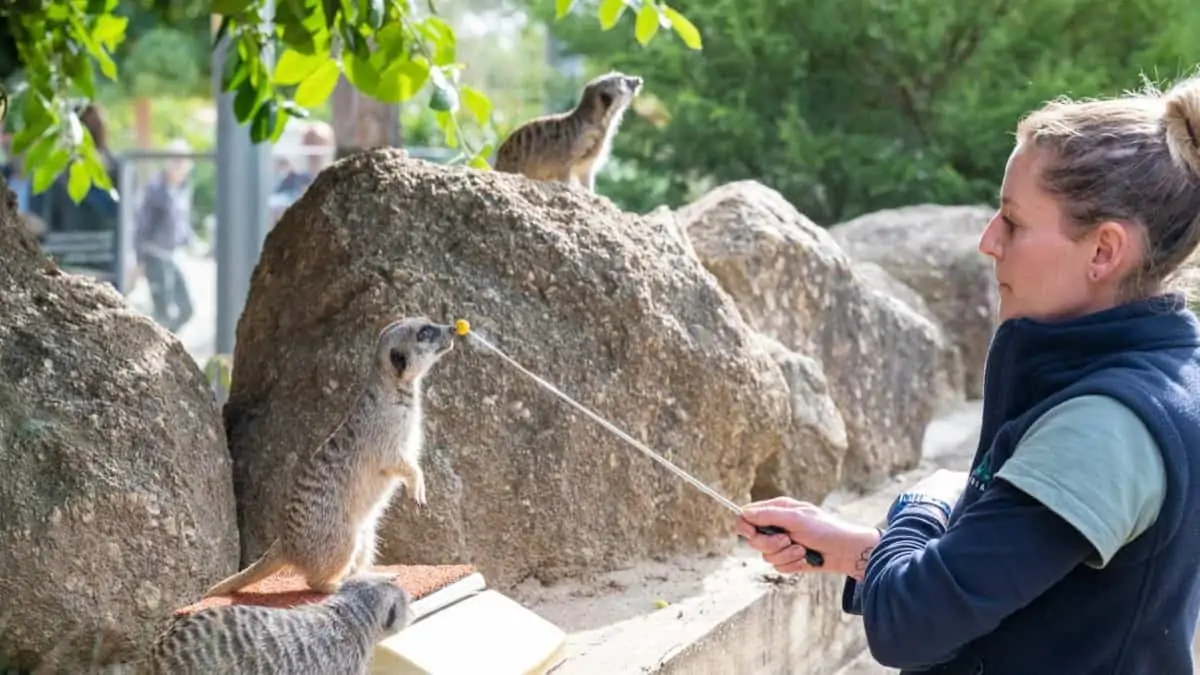 What to expect at Werribee Zoo
---
---
Werribee Zoo tickets
There are three different tickets available at the Werribee Zoo –
Regular tickets
Regular Werribee Zoo entry tickets are the cheapest and the most popular way to enter the wildlife attraction.
You get to see and explore everything the Zoo has on display, and there is no time limit on your stay.
A complimentary guided safari across open-range Savannah is part of this ticket.
Werribee Zoo prices
Adult ticket (16+ years): 38 AUD
Students ticket (with ID): 29 AUD
Child ticket (4 to 15 years): 19 AUD
Entry is free for kids three years and less.
Off-Road safari ticket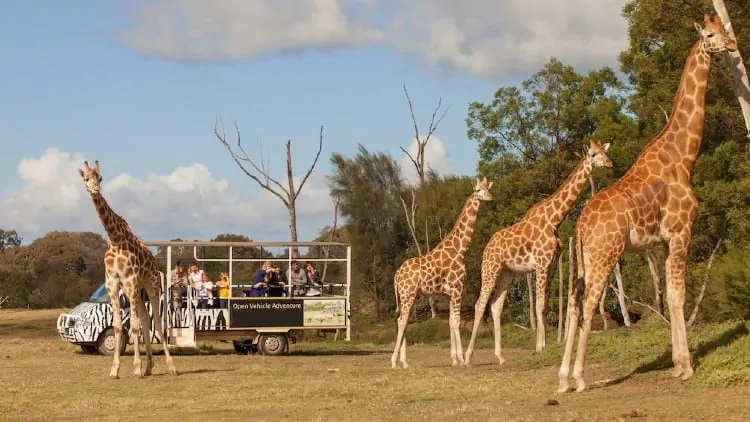 With the Off-Road Werribee Zoo Safari ticket, besides the Zoo entry, you also get 75 minutes of off-road safari across the jungle.
As part of the safari, a professional guide drives you around in an open jeep.
Werribee Zoo Safari prices
Adults ticket (16+ years): 88 AUD
Child ticket (1 to 15 years): 69 AUD
Werribee Zoo Sleepover
The Werribee Zoo Sleepover ticket is the perfect opportunity for all the animal lovers to get a taste of African wildlife.
The overnight slumber safari experience includes the following:
– Animal encounters
– Guided off-road safari tour
– Drinks at sunset
– Dinner, supper, and buffet breakfast the next day
– Night tours
– Evening campfire
Thanks to the luxury tents with in-built washrooms, your comfort doesn't get compromised during the Werribee Zoo overnight stay.
Werribee Zoo Sleepover ticket price
Adult ticket (16+): 390.29 AUD
Child ticket (1-15): 251.26 AUD
---
---
How to reach Werribee Zoo
Werribee Open Range Zoo is on the Princess Freeway – 35 KMs (22 Miles) West of Melbourne's city center.
It is a short 30-minute drive over the Westgate Bridge or from the Geelong Road.
The Zoo is also en route the Great Ocean Road.
Public transport is the best way to reach Werribee Open Range Zoo from Melbourne or Geelong.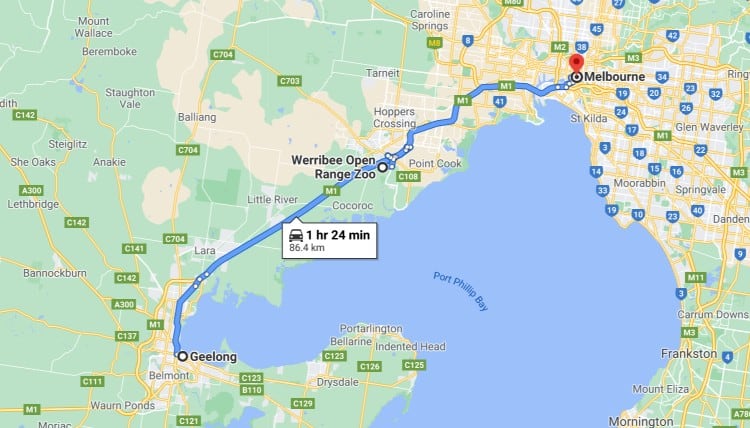 From Melbourne to Werribee Zoo
You must board a train from Melbourne CBD (Flinders Street Station) to Werribee station, on the Werribee Line.
There is a train every 20 minutes.
The train travels approximately 40 Kms (25 Miles) in 40 minutes.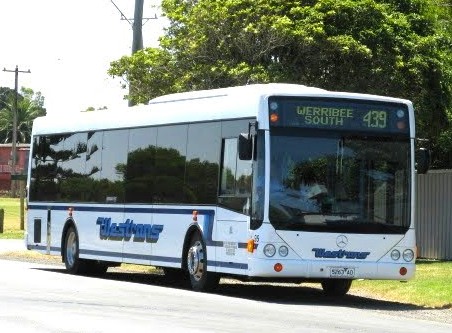 Once you get down at Werribee station, from just outside the station catch 'Bus 439 Werribee South' to the Zoo.

Image: MelbourneOnTransit
A bus leaves the stop every half hour.
The Werribee Zoo is 5 Kms (3 Miles) from the station and the travel time is approximately 12 minutes.
From Geelong to Werribee Zoo
If you are in Geelong, board a train from Geelong Station to the Wyndham Vale Station.
This train traveling in the direction of Melbourne will cover the distance of 45 Kms (28 Miles) in 25 minutes.
Once you get down at Wyndham Vale Station, from just outside board 'Bus 190 Werribee Station' to get to the Werribee station.
This bus journey will take approximately 15 minutes.
From just outside Werribee station catch 'Bus 439 Werribee South' to the Werribee Zoo.
Car parking at Werribee Zoo
Werribee Open Range Zoo has two main car parks, both of which are free for visitors.
On weekends, and school holidays the car parks fill up pretty quickly.
On busy days traffic wardens assist vehicles entering and exiting the Zoo.
However, be ready for long queues while entering.
There are accessible parking bays near the main entrance of the Werribee Open Range Zoo.
---
---
Werribee Zoo opening hours
The Werribee Zoo opens at 9 am and closes at 5 pm, every day of the year.
Entry closes at 3.30 pm, which is why it is essential to reach the Zoo early.
---
---
Best time to visit Werribee Zoo
The best time to visit Werribee Zoo is as soon as they open at 9 am.
There are four advantages of starting early – the animals are most active, the temperatures are still moderate, the crowd is yet to get in and you have the whole day to explore.
If you are driving to the Werribee Zoo, you also benefit by getting a car parking spot closer to the entrance.
It is best to be at Werribee Zoo early in the morning because you can then also see the lion cubs, which are available for viewing only till noon.
The last safari bus tour of the Zoo leaves at 3.30 pm – yet another reason why it is best to start your tour of Werribee Zoo early.
---
---
How long does Werribee Zoo take
If you are a group of adults in a hurry, you can finish exploring Werribee Zoo in two hours.
Groups with kids need around four to five hours to explore Werribee Open Range Zoo fully.
Of these five hours, one hour is spent on the standard Safari bus tour, which is free with the Zoo's entry tickets.
And then there are keeper talks to attend, feeding sessions to participate in and lots of animal exhibits to see.
If you choose to upgrade to an Off-Road Safari experience, you will need 90 minutes extra.
---
---
Meet the Keepers
At Werribee Zoo, Melbourne visitors get an intimate experience with both the animals and the zookeepers.
The keepers know everything about the animals inhabiting the Zoo and are more than happy to share stories during the keeper talks.
During the week, the keeper talks start at 10 am.
The talks continue all through the day, one animal at a time.
Starting from Meerkat at 10 am, you can listen to 'Crazy about Cats' at 11 am, Lions at 11.30 am, Hippos at 1.10 pm and Gorillas at 1.45 pm.
During weekends and school holidays, an additional keeper talk is scheduled at 1.30 – about the Eastern Barred Bandicoots.
Tip: While visiting the Zoo, keep an ear out for PA announcements which announce additional talks.
---
---
Kids activities at Werribee Zoo
The Werribee Zoo offers terrific activities for children.
Here are some adventures your kid can participate in –
Junior Safari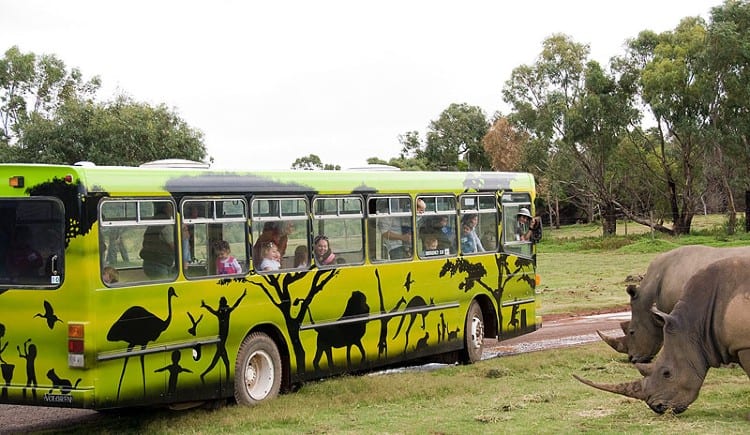 Junior Safari at Werribee Open Range Zoo is a fun-filled 35-minutes safari bus tour for kids and their families.
It includes a lot of music and animal sighting.
You don't need to buy any tickets for this kids Safari – it is part of the general admission ticket.
However, since this is in high demand, you need to reach the Zoo early to ensure a seat on the safari bus.
Junior Safaris start at 10 am, from Monday to Friday. On Weekends and school holidays, they stand canceled.
Ranger Kids

Another fantastic activity for kids at the Werribee zoo is the indoor play area called 'Ranger Kids.'
Here, the kids get an opportunity to dress and enact as wildlife rangers, vets, and various animals and get a real taste of the jungle life.
There are three play areas at the Ranger Kids:
– The African village
– The Savannah
– A field hospital
Your general admission ticket gets you access to this kids section as well.
The attraction is open every day of the week – 12.30 pm to 2.30 pm on weekdays and 10.30 am to 2.30 pm on weekends.
Village Dance party
The Village dance party is the Zoo's interactive musical dance theatre that indulges children with songs created by Melbourne musician Lamine Sonco.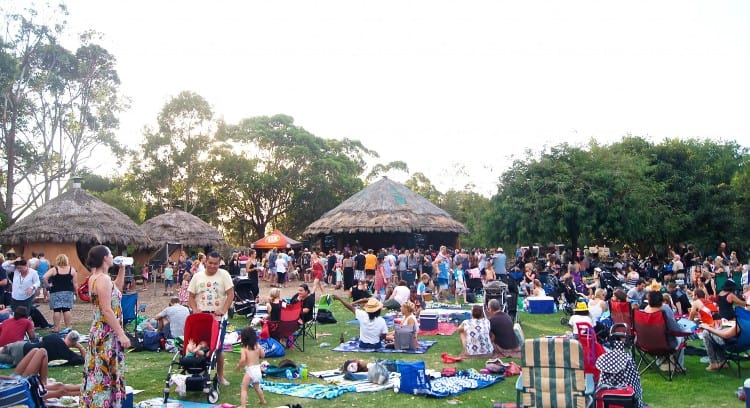 The general admission ticket gets you to access the Dance Party as well.
The Village Dance Party is open from 10 am to 2 pm, from Monday to Friday.
Mini ZooKeeper
On Tuesdays, Thursdays, and Saturdays, from 9.15 am onwards, children can get an out of the box experience by pretending to be real-life Zookeepers.
This activity is an excellent opportunity for your five years, or younger kid to experience how the Zoo works.
This kid activity is NOT part of the general admission ticket of Werribee Zoo.
You must pay an additional fee of 36 AUD per child.
Outdoor play spaces
The Melbourne Open Range Zoo is full of activities, and play areas all around the Zoo.
Even if you don't want to commit to any specific activity, you can still give your child a fun experience with these small play spaces.
Monkey Rope Play is our personal favorite for one can swing from tree to tree.
Or the children can act like little adventurers and dig up fossils in the sandy dig pit.
Summer is full of water activities in the Hippo Water Play.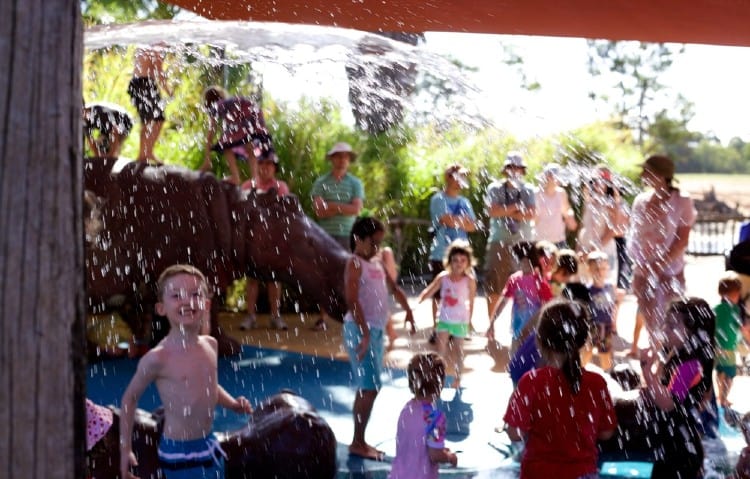 Splash and have fun in the water for hours and make the best of the hot summer day.
Don't forget to bring a change of clothes.
Another fantastic play area is the Meerkat-themed play space, located near the Meerkat Bistro.
While the parents relax at the Meerkat Bistro, the children can enjoy the play area.
---
---
Walking trails at Werribee Zoo
The Werribee Open Range Zoo has beautiful trails that give an inside peep into the African wildlife.
African River Trail
This 1000-meter-long trail takes approximately 60 minutes to cover.
On this walking trail, you get a glimpse of the African village created by the Zoo and beautiful animals, such as lions, hippos, cheetahs, monkeys, gorillas, etc.
Australian Trail
If you want a short and to-the-point trip to the Zoo, then the Australian trail is perfect for you.
In 20 minutes, you can cover this 500-meter long trail and see Kangaroos, Brolgas and Emus in the grassland, Koalas on the trees and Bandicoots in their hideout.
This walking trail at Werribee Zoo closes at 4.30 pm.
Werribee Yaluk (River) Trail
Another beautiful path is the 1000 meters long WirribiYaluk trail, which takes about 35 minutes.
You get to see the historic Chirnside Woolshed and the lively Werribee River.
This pathway also closes at 4.30 pm.
---
---
Werribee Zoo animals

The Werribee Open Range Zoo offers the whole range of African Wildlife for its visitors.
The general admission ticket gets you to access all animals at the Werribee Zoo.
There are many ways you can touch base with the animals in Werribee Zoo – through Safaris, trail walks, animal exhibits, keeper talks, play areas, etc.
Different parts of the Werribee Zoo expose you to different animals.
Animals along African River trail
When on this trail you get to see some of the best animals the Zoo has.
On the African River trail, visitors can see animals such as lions, hippos, cheetahs, monkeys, gorillas, African Wild Dog, Serval, Vervet Monkey, Leopard Tortoise, Meerkat, etc.
Animals along Australian trail
While on the Outback you can spot animals such as the Eastern Grey Kangaroos, Southern Koalas, Emus, Brolgas, Eastern Barred Bandicoot, Orange-bellied Parrot, etc.

Another opportunity is to walk along the banks of the Werribee River and learn about its unique ecosystem involving birds, reptiles, and mammals.
Animals spotted on the Safari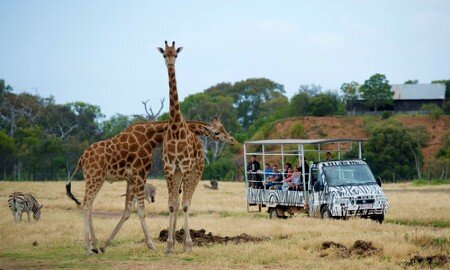 The Safari drive through the Savannah helps you see unique animals such as Camel, American Bison, Southern White Rhinoceros, Plains Zebra, Przewalski's Horses, Giraffe, Ostrich, Scimitar-horned Oryx, Blackbuck, Eland, Nyala, Addax, etc. Image: Zoo.org.au
On the WirribiYaluk River trail, you can spot birds such as Emus, Brolgas etc.
---
---
Werribee Zoo map
Since it is so massive, it is best to keep the Werribee Zoo map handy during your visit.
The Werribee Zoo's map can help you plan your route and also ensure you don't miss out any animal exhibit.
It will also be useful to rush from one Keeper Talk to another because they always happen in the respective animal enclosures.
Besides the animal exhibits, the Zoo's map also points out visitor services such as restaurants, washrooms, ATMs, picnic areas, free WiFIs, etc.
We recommend you bookmark this page or keep a printed copy of the map while exploring the Zoo.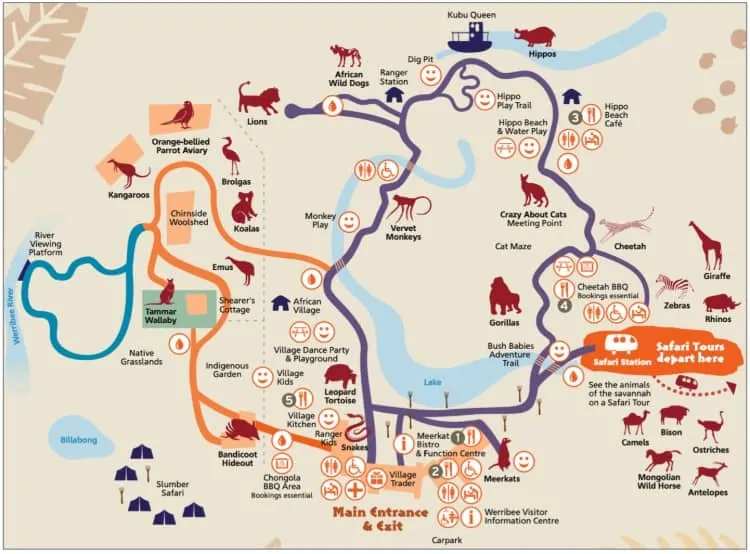 ---
---
Food at Werribee Zoo
There is no shortage of delicacies at Werribee Zoo near Melbourne.
The various food stops have a wide range of food options, including vegetarian and gluten-free dishes.
Meerkat Bistro
The Meerkat Bistro opens at 9 am to provide vegetarian and gluten-free breakfast and lunch for the visitors.
The bistro offers a seasonal menu with the addition of house-made bakery goods, hot and cold beverages, and a vast range of ice-creams.
Tribal Beats Kiosk
The Tribal Beats Kiosk is famous for its Rotisserie chicken and pulled pork wraps.
It also has vegetarian and gluten-free options.
You can also get freshly made bakery goodies, beverages, sandwiches, salads, chips, and every snack under the sun.
They also have kid packs.
Hippo Beach Café
The next brilliant option for a snack break is the Hippo Beach Cafe.
With loads of vegetarian and gluten-free options, you can choose from freshly made pies and baked delicacies, beverages, sandwiches, salads, and ice creams.
Cheetah Lawn BBQ
If you are craving rich flavors and some BBQ, then the Cheetah Lawn BBQ is your best bet.
Sources

# Zoo.org.au
# Wikipedia.org
# Tripadvisor.com

The travel specialists at TheBetterVacation.com use only high-quality sources while researching & writing their articles. We make every attempt to keep our content current, reliable and trustworthy.
Popular attractions in Melbourne
# Puffing Billy
# Melbourne Zoo
# Melbourne Aquarium
# Eureka Skydeck