Melbourne Aquarium is a must-visit attraction if you are holidaying in the city, especially if you visit with kids.
Also known as Sea Life Melbourne, it is one of the largest and richest collections of marine life in the Southern hemisphere.
In this article, we explain everything you need to know before buying your Melbourne Aquarium ticket.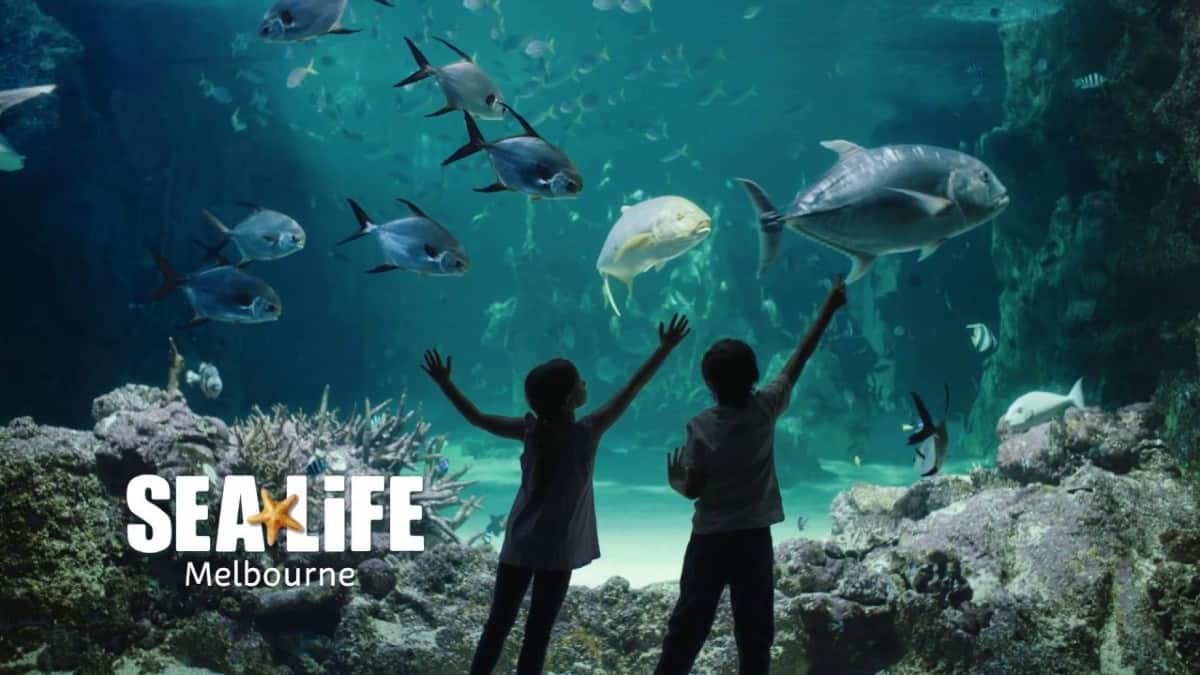 How to reach Melbourne Aquarium
Sea Life Melbourne Aquarium is on the corner of Flinders Street and King Street, Melbourne.
It is right opposite Crown Entertainment Complex, on the Yarra River.
Address: King St, Melbourne VIC 3000, Australia. Get Directions
Public Transport
The city of Melbourne has excellent public transport, which you can use to get to the Aquarium.
By Train
If you prefer a train, reach either Flinders Station or the Southern Cross train station.
Flinders Station is 800 meters (half a mile) from the Aquarium, and a quick 10-minute walk can get you there.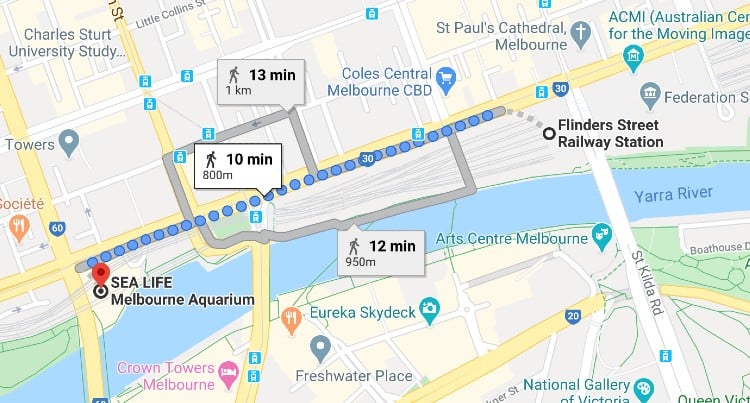 Southern Cross train station is an eight-minute walk from the Melbourne Aquarium.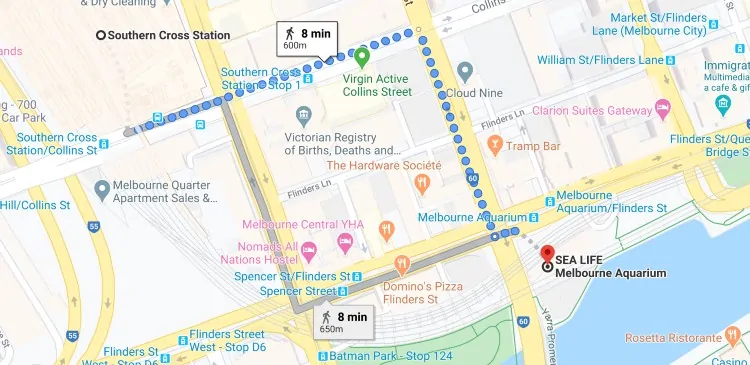 By Tram
Sea Life Melbourne's tram stop is on Flinders Street, right in front of the tourist attraction.
You can opt for routes 70 or 75 or hop onto the free City Circle Tram.
Melbourne Aquarium parking
SEA LIFE Melbourne Aquarium doesn't have its parking, but two prominent public car parking facilities are available just 250 meters (820 feet) away.
Both the recommended parking facilities offer discounts for Melbourne Aquarium visitors.
All you must do is park your car at the below-mentioned recommended car parks, show your parking ticket at the Aquarium's Admissions Desk and get a 'discount ticket.'
While taking your car out of the car park, enter this 'discount ticket' into the Car Park payment machine after the original ticket.
Wilson Parking
It is at 474, Flinders Street. They charge 22 Australian Dollars from Monday to Friday and 10 Australian Dollars on weekends & public holidays. Directions
Secure Parking
It is at 522, Flinders lane. They charge 18 Australian Dollars from Monday to Friday and 10 Australian Dollars on weekends & public holidays. Directions
---
---
Melbourne Aquarium tickets
There are three kinds of tickets you can buy to explore the Melbourne Aquarium.
Both Penguin Passport and Shark Dive tickets include access to Melbourne Aquarium.
You can cancel these tickets with a full refund, up to 24 hours before your date of visit.
Where to buy tickets
You can get your Melbourne Aquarium entry tickets at the venue or buy them online, much in advance.
If you plan to get them at the attraction, you must get in the ticketing window queue.
Depending on the time of the day (and month), you may have to wait in the ticket counter line for 10 to 20 minutes to buy your ticket.
The second and better option is to book tickets to Melbourne Aquarium online.
When you buy them in advance, you save yourself a lot of waiting time by skipping the ticket counter queue.
IMPORTANT UPDATE: As a safety precaution, ticket counters are closed, and pre-booking online is mandatory. Since the Aquarium has significantly reduced its capacity (social distancing), only a limited number of tickets are available daily. As a result, tickets are selling much in advance.
How online tickets work
When you buy Melbourne Aquarium tickets, you select your preferred time of visit.
Immediately after purchase, your tickets get emailed to you.
You don't need to take any printouts.
Now all you must do is, reach the attraction 10 minutes before the time mentioned on your ticket.
Since you have a ticket and are on time, you can show it on your smartphone and walk into the aquarium.
Melbourne Aquarium ticket prices
Melbourne Aquarium has two-tier pricing – weekend tickets are costlier than weekday tickets.
Melbourne Aquarium's weekend tickets cost A$ 46 for visitors 16 years and above and A$ 32 for kids between three to 15 years.
The aquarium's weekday tickets are priced at A$ 36.80 for visitors 16 years and above and A$ 25.60 for kids.
Melbourne Aquarium discount
Many visitors don't know that the best discount you get on Sea Life Melbourne tickets is what you get by booking them online.
Depending on the day of your visit (non-peak day or peak day), you get a discount of either 10% or 20% when you book tickets online.
This is because when you buy your tickets at the Melbourne Aquarium, you pay what's known as 'ticketing window surcharge,' the cost of maintaining a ticketing window and a person managing it.
Besides this, kids up to 16 years get a 30% discount on the adult ticket price.
Skip the Line tickets
These are the most popular tickets and give you access to all exhibits in the Aquarium, including the keeper talks and feeding sessions.
It also helps you skip the lines, which comes in handy during peak days such as weekends and school holidays.
Weekend prices
Adult ticket (16+ years): A$ 46
Child ticket (3 to 15 years): A$ 32
Infant ticket (0 to 2 years): Free Entry
Weekday prices
Adult ticket (16+ years): A$ 36.80
Child ticket (3 to 15 years): A$ 25.60
Infant ticket (0 to 2 years): Free Entry
Penguin Passport at Melbourne Aquarium
If you are visiting with slightly older kids, Melbourne Aquarium's Penguin Passport can be a perfect surprise for them.
Besides regular access to the Aquarium, the Penguin Passport allows you to put on Antarctic snow gear and spend 45 minutes with the King and Gentoo Penguins of the Aquarium.
This ticket also gets you access to the Penguin Parade, which is held daily at 1.30 pm.
The minimum age requirement for this experience is 14+ years.
Penguin Passport prices: A$149 per person
On the ticket booking page, select the 'Penguin Passport' ticket.
Shark Dive at Melbourne Aquarium

With this ticket, you can swim with sharks at Melbourne Aquarium.
Don't believe us? Check out the video below –
You will wear a wet suit and a Scuba mask and enter the Oceanarium to share the space with nurse sharks, sea turtles, and other fantastic fish.
You will swim among sharks, stingrays, and other magnificent marine creatures.
Melbourne Aquarium shark dive is 30 minutes long, and no prior SCUBA experience is necessary.
You will get all the equipment required, and you will also undergo a 1-hour briefing period. An expert guide will be with you all through.
The best part – your friends and family can watch you from the viewing area.
You can select one of the two Shark Dive times – 8.45 am or 12.45 pm on the ticket booking page. Most tourists prefer the afternoon slot.
---
---
Melbourne Aquarium hours
From Monday to Friday, Melbourne Aquarium opens at 10 am and closes at 5.30 pm.
On weekends, local school holidays, and public holidays the aquarium opens early at 9.30 am, and to accommodate the crowd closes only at 6 pm.
The last entry into Melbourne Aquarium is always one hour before closing.
Melbourne Aquarium is open all through the year.
---
---
Best time to visit Melbourne Aquarium
The best time to visit the Sea Life Melbourne Aquarium is at 10 am, as soon as it opens.
When you start early, you avoid the long lines that begin in the middle of the day, especially if you visit in summer or during the school holidays.
You have a better hands-on experience in the Touch Pools – as more and more people dip their hands, the sea creatures get tired.
Since most of the interactive sessions happen before 2 pm, you don't miss them.
If your objective is only to avoid the crowd, the 3 to 4 pm slot is also an excellent time to visit Melbourne Aquarium.
The Melbourne CBD Pass is a super saver and includes tickets to Sea Life Melbourne Aquarium, Eureka Skydeck, and Melbourne Star observation wheel. You also get a 10% discount code, which you can use (five times!) to get discounts on future purchases.
---
---
How long does Melbourne Aquarium take
Most tourists take around two hours to explore Melbourne Aquarium.
If you visit with kids who spend more time with the exhibits and attend keeper talks, you may need around three hours to explore the aquarium.
If you want, you can also turn it into a full-day outing because Melbourne Aquarium entry tickets don't have a time limit.
Pandemic restriction: To ensure social distancing within the aquarium, visitors can be inside only for two hours. At the end of your ticket's session time, you must exit the building.
---
---
Keeper talk & feeding times
Two of the highlights of the Sea Life Melbourne Aquarium are the excellent keeper talks and feeding sessions.
Kids love these sessions, so it makes sense to plan your visit around these activities.
Bay of Rays Talk
Bay of Rays Talk happens once during the day at Bay of Rays.
The locals love this 11.30 am session because it is about Melbourne's iconic Port Phillip Bay.
Penguin Talk
Everybody loves penguins, and that's why this session attracts a lot of crowds.
Penguin Talk happens twice daily – at 1.30 pm and 3.30 pm at the Penguin Playground.
Crocodile Talk
Crocodile Talk happens in the Croc Lair three times a day – 11 am, 2 pm, and 4 pm.
You come to face to face with Australia's most giant saltwater crocodiles.
Turtle Feed
If you would love to feed turtles, make sure you are at the Rainforest Adventure at 2.30 pm.
The aquarium keepers feed the turtles and share exciting stories.
Ocean Predators
The Ocean Predators session happens at 11 am, 12 pm, 1 pm, and 2 pm daily at the Shipwreck Explorer.
You get to see what happens deep down in the oceans.
Coral Atoll Talk
Coral Atoll Talk also happens at the Bay of Rays.
If you miss the noon session, you can always line up for the next one at 1.30 pm.
Rockpool Talk
Rockpools are where you can get your hands wet and touch the sea creatures inside.
Line up for this once-a-day session at 2.30 pm, early because it gets crowded.
Seahorse Talk
The Seahorse Pier houses the stunning seahorse and sea dragon species, which is a hit among kids and adults alike.
You must line up for the Seahorse Talk at 3 pm.
Rainforest Talk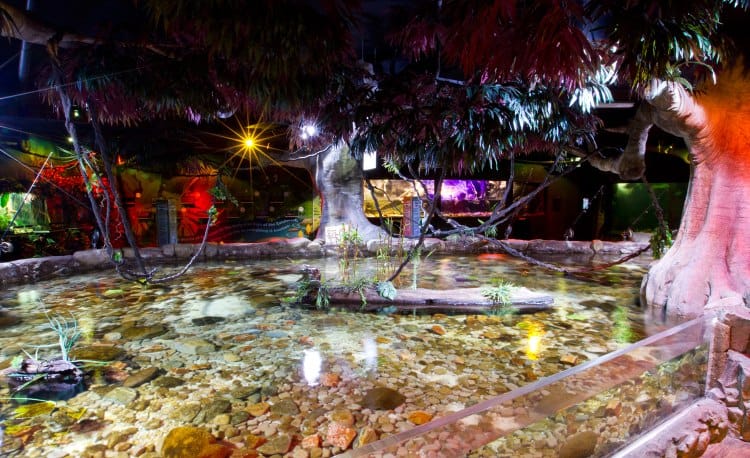 If you love forests and want to know more, this is one session you must not miss. It begins at 3 pm, at the Rainforest Adventure exhibit.
---
---
What to see at Melbourne Aquarium
There is a lot to see and do at the Melbourne Aquarium. We list them below –
Penguin Playground
In this section, you get to see Melbourne Aquarium's penguins.
It houses two types – the majestic King Penguins and the cheeky Gentoo Penguins.
Penguin Playground is popular with kids and adults because the penguins always slip and slide in the snow or splash in the pool.
Coral Caves
Coral Caves is a vibrant, colorful section that houses some extraordinary sea creatures.
Don't miss the Clownfish, made famous by 'Finding Nemo.'
Bay of Rays
This is an amazing peek into the underwater world of Port Phillip Bay.
You get to see Fiddler rays, Port Jackson sharks, and other marine creatures we usually don't know because they are always underwater.
Mangroves and Rockpools
Kids love this part of Melbourne Aquarium, which is also known as Discovery Rockpools and touch pools.
Visitors can get their hands wet and touch Sea stars, Shark eggs, etc.
This section also has a Mangrove Nursery.
Crocodile Lair
At Crocodile Lair, you get to see Melbourne Aquarium's crocodile.
Pinjarra is Australia's largest saltwater crocodile, and you can view them from two different levels and all angles.
Mermaid Garden
Mermaid Garden is the name given to Melbourne Aquarium's 2.2 million liter Oceanarium.
You walk underneath it and get a panoramic view of the sea with giant stingrays, massive sharks, and thousands of multi-colored marine creatures swimming by.
Coral Atoll
Coral Atoll is a colorful underwater world teeming with life. Remember the forgetful 'Dory' from 'Finding Nemo'? You can spot her here.
This exhibit hosts a variety of exotic animals and hundreds of multi-colored fish.
Interactive Wonder Wall
The Interactive Wonder Wall at the Melbourne Aquarium is a digital installation.
You can move, dance or sway and see how the creatures inside this wall react.
When here, do try and touch the Pufferfish and see what happens.
Seahorse Pier
As the name suggests, this section hosts the seahorse and sea dragon species.
You will get to see some weird and yet beautiful creatures in Seahorse Pier. When you are here, don't miss the Giant Cuttlefish.
Rainforest Adventure
The Rainforest Adventure section is a deviation from the rest of the Aquarium.
Here, you experience the lush greenery and humid temperatures of the tropical North and see unique Australian animals such as Lungfish, turtles, snakes, frogs, lizards, etc.
---
---
Melbourne Aquarium food
You can bring your food to Sea Life Melbourne and use the Cafe seating to eat and drink.
However, during crowded times preference is given to visitors who buy from the Aquarium's cafe.
There are two cafes in Melbourne Aquarium – Adventurer's Cafe and The Croc Cafe.
Adventurer's Cafe is the bigger one and serves hot and cold drinks and hearty meals. Their Menu also has a kid's section.
The Croc Cafe is a smaller outlet and operates out of the Rainforest area.
It is perfect for a quick break before continuing with the Aquarium exploration.
---
---
Melbourne Aquarium map
To experience and explore and save your precious time while visiting Sea Life Melbourne, you must know the space and the location of the exhibits.
A map of the Aquarium will help you find the exhibits and all the other visitor services like washrooms, café, elevators, etc.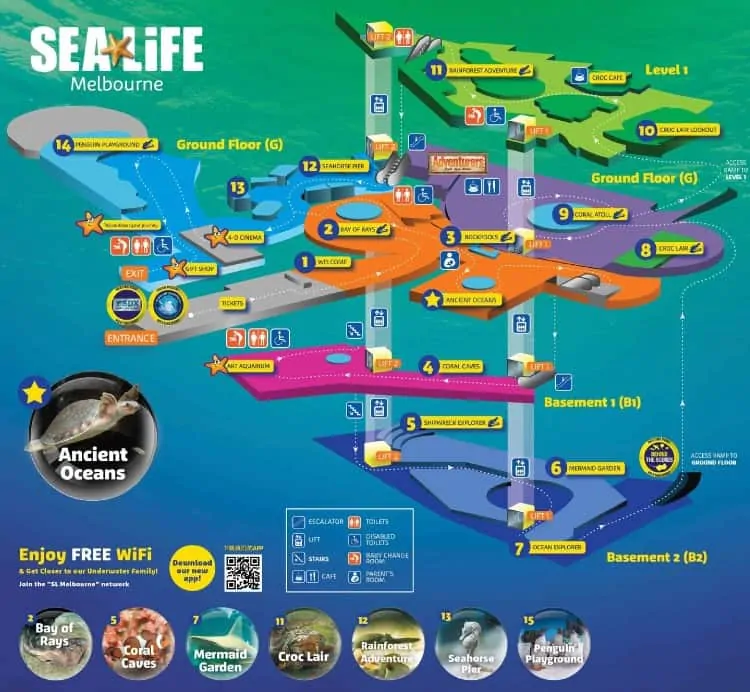 We recommend you bookmark this page or print out the map for later use.
Sources

# Visitsealife.com
# Wikipedia.org
# Tripadvisor.com
# whatson.melbourne.vic.gov.au

The travel specialists at TheBetterVacation.com use only high-quality sources while researching & writing their articles. We make every attempt to keep our content current, reliable and trustworthy.
Popular attractions in Melbourne
# Puffing Billy
# Melbourne Zoo
# Werribee Zoo
# Eureka Skydeck