On the 88th floor of Eureka Tower, Melbourne Skydeck offers spectacular floor-to-ceiling, 360-degree views of Melbourne Skyline.
The Melbourne Skydeck is also known as the Eureka Skydeck.
At almost 300 meters (985 feet), it is the tallest observation deck in the Southern Hemisphere.
Melbourne Skydeck or Eureka Skydeck is a must-visit attraction for anyone visiting Melbourne who wants to experience the city from a unique and unforgettable perspective.
This article explains everything you must know before buying Melbourne Skydeck tickets.
Top Melbourne Skydeck Tickets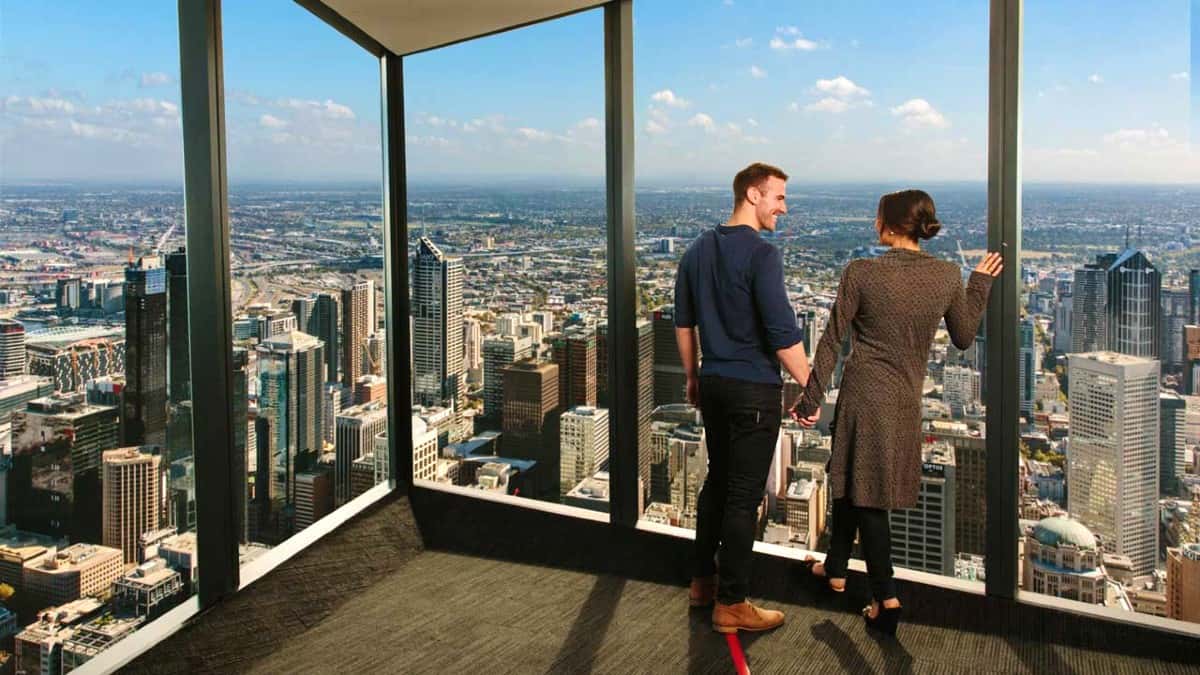 Melbourne Skydeck tickets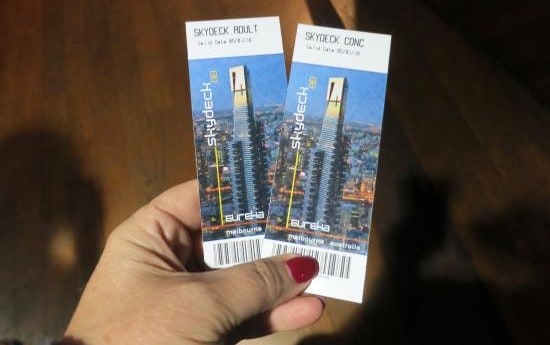 There are two ways to experience Melbourne Skydeck –
1. You can buy regular Melbourne Skydeck tickets
(or)
2. You can buy Melbourne Skydeck tickets with 'The Edge' experience
These are smartphone tickets.
Immediately after purchase, the tickets get emailed to you and on the day of your visit you can show the ticket on your mobile and walk in.
Melbourne Skydeck Ticket price
With 'The Edge' Experience
Adult ticket (17+ years): A$ 40
Child ticket (4 to 16 years): A$ 27
Infant ticket (3 years and less): Free Entry
Without 'The Edge' Experience
Adult ticket (17+ years): A$ 30
Child ticket (4 to 16 years): A$ 20
Infant ticket (3 years and less): Free Entry
Our recommendation: At just A$ 10 for an adult and A$ 7 per child, we feel the thrill of 'The Edge' is totally worth it.
On the ticket booking page, you can choose the experience you want to book.
---
---
How to reach Melbourne Skydeck
To get to Eureka Skydeck Melbourne, you can opt for either public transport or your private car.
Melbourne Skydeck's location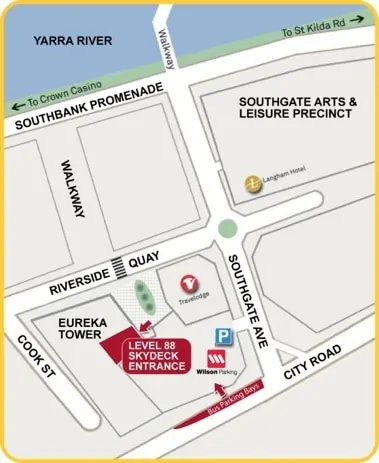 Melbourne Skydeck is on the 88th floor of Eureka Tower, which is perched on Riverside Quay in Southbank by Melbourne's Yarra River.

It is located near CBD, Flinders Station, Federation Square, Crown Casino, etc.

Image: Eurekaskydeck.com.au
Address
88th Floor, Eureka Tower, Riverside Quay, Southbank, Melbourne 3006. Get Directions.
Public transport
Since Eureka Tower is in the middle of Melbourne, there are numerous public transport options available.
If you prefer trains, reach the Flinders Street Train Station and a six minutes' walk over the bridge to the other side of the Yarra River will get you to Melbourne Skydeck.
You can also get on one of the City Circle trams and get down at one of the Flinders Street Tram stops (on river's Northern side).
A quick 10 minutes' walk can get you to the Skydeck building.
By walk
If you are exploring Melbourne's city center, you can most likely walk to Melbourne Skydeck.
Some distances and walking time to Melbourne Skydeck –
| | | |
| --- | --- | --- |
| From | Distance | Time |
| CBD | 1.1 Kms (0.7 Miles) | 15 mins |
| Flinders St Station | 450 meters (490 yards) | 6 mins |
| Federation Square | 550 meters (600 yards) | 7 mins |
| Crown Casino | 450 meters (490 yards) | 6 mins |
Car parking
Since the Eureka Tower is easily accessible by car, most of the locals prefer to drive down.
Wilson Parking "Eureka Car Park" is located beneath the Eureka Tower and entrance to this parking facility is from Southgate Avenue.
Monday to Friday
Entry before 4 pm: 13 Australian Dollars
Entry after 4 pm: 6 Australian Dollars if entry is after 4 pm
Weekends
Whole day: 11 Australian Dollars
Visitors to Eureka Skydeck pay a discounted flat rate for parking their cars.
They must show their Wilson Eureka Parking ticket to the Eureka Skydeck attendant to receive the discount.
---
---
Melbourne Skydeck opening hours
The opening hours of Melbourne Skydeck, October 2023, are from 12 pm to 9 pm, Sunday to Thursday, and from 12 pm to 10 pm, Friday and Saturday.
From October to April 2024, Melbourne Skydeck will open daily from 12 pm to 10 pm.
The last entry into Melbourne Skydeck 88 is 30 minutes before closing.
The Melbourne attraction is closed on Christmas Day, and the timings are from 12 pm to 5 pm on New Year's Eve.
---
---
Best time to visit Melbourne Skydeck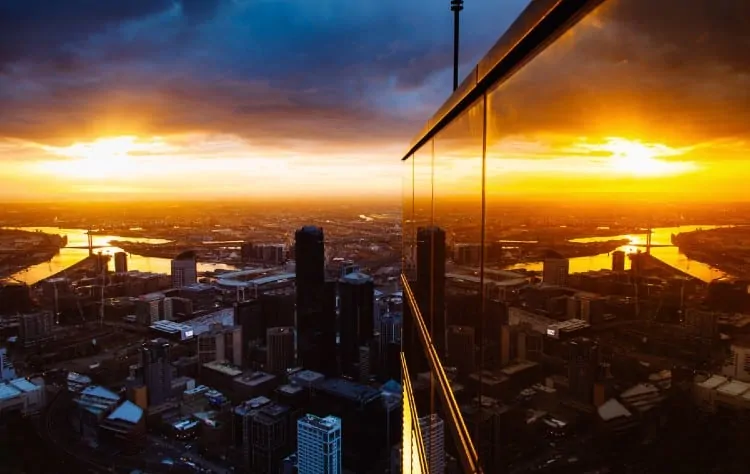 The best time to reach Melbourne Skydeck is an hour before sunset.
It will be crowded during sunset, but you can see the Melbourne skyline in three different flavors: daylight, twilight, and nighttime.
The sunset views become even more dramatic and spectacular if the weather is pleasant.
Melbourne Skydeck at night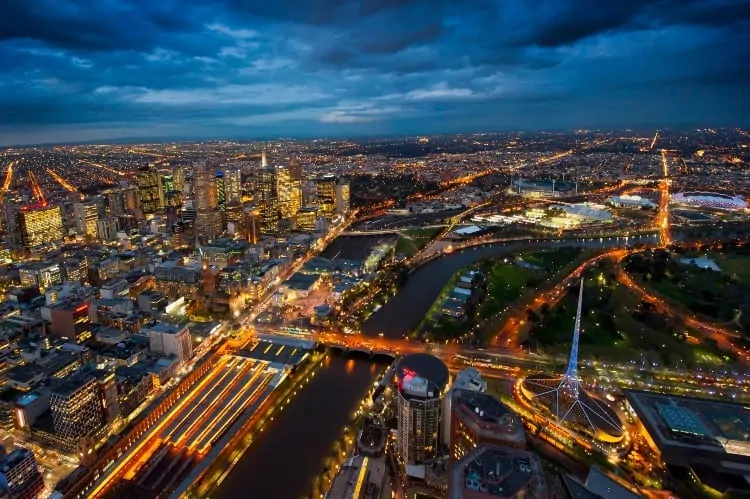 Some tourists prefer to take advantage of Melbourne Skydeck's 10 am to 10 pm timing and reach there at night.
If you visit Eureka Tower Skydeck after dark, you can see Melbourne's skyline lit up.
To add to the fun, you can choose from a selection of wines, beers, and champagne from the Kiosk.
Since Melbourne Skydeck is a popular Melbourne attraction, it is better to buy the tickets in advance to avoid the long lines at the venue. The best time and day to visit any observatory is when the skies are clear.
---
---
How long does Melbourne Skydeck take
You don't need more than an hour and a half to enjoy your time at Eureka Skydeck's observatory.
Some visitors are known to wind up their visit in just 60 minutes.
However, you can extend your tour of Eureka Tower's Skydeck by sitting at the Kiosk for a drink.
Or exploring the 30 viewfinders positioned around Eureka Tower Skydeck to help discover places of interest across Melbourne.
If you want to minimize the time taken at Melbourne Skydeck, buy Skydeck tickets in advance and visit early in the morning or late at night.
The Melbourne CBD Pass is a super saver and includes tickets to Sea Life Melbourne Aquarium, Eureka Skydeck, and Melbourne Star observation wheel. You also get a 10% discount code, which you can use (five times!) to get discounts on future purchases.
---
---
What to see at Eureka Tower?
There are three key experiences to try at Melbourne Skydeck.
Skydeck Experience
Eureka Skydeck Melbourne is an observational deck at 285 meters (935 feet) on the 88th floor of Eureka Towers.
This deck lets you enjoy spectacular floor-to-ceiling, 360-degree views of Melbourne's skyline and beyond.
It is the highest observational deck in the Southern Hemisphere.
The Edge
The Edge is the world's first thrill generated at an observatory.
The Edge is a glass cube that projects from the 88th floor of the Eureka Tower and suspends visitors high up in the air.
You can upgrade to The Edge at the venue or book your Melbourne Skydeck ticket with Edge access beforehand. Book Upgraded Experience
Vertigo
Melbourne Skydeck Vertigo is the attraction's latest green screen installation where you can take memorable photographs – as if you were falling from the 88th floor of Eureka Tower.
You can decide whether you want this experience once you are at the venue. It will cost you 15 Australian dollars/per photograph.
VR Experience
The Skydeck Plank is the latest adventure at Melbourne Skydeck.
It is an exciting Virtual Reality experience where you must balance yourself on a plank 285 meters above Melbourne City.
VR simulates a treacherous balancing act even as you avoid strong winds, high-flying birds, and even a helicopter.
This experience can only be booked for 10 Australian dollars/person at the venue.
---
---
Eureka Skydeck discount
Kids 3 years and below get a 100% concession on the ticket price – and thus can walk in for free.
The next best discount at Eureka Skydeck is reserved for kids aged 4 to 16 – they get a 30% discount on the adult ticket price.
However, many visitors don't know that the best discount you get on Eureka Skydeck tickets is what you get by booking them online.
On an adult ticket, you get a discount of A$ 2 if you book online. Yes, that's right – buying the tickets at the venue is costlier.
If booked online, a child's ticket (4 to 16 years old) is cheaper by A$ 2.5.
This is because when you buy your tickets at the venue, you pay what's known as the 'ticketing window surcharge,' the cost of maintaining a ticketing window and a person managing it.
It is smarter to buy your tickets in advance. Book your tickets now
---
---
Melbourne Skydeck sun and stars
Some tourists prefer to see the Melbourne skyline during the day and at night.
For such tourists, Melbourne Skydeck 88 has the Sun and Stars offer – an option to upgrade your one-visit ticket to a two-visit ticket at the venue.
You can thus visit again at night or the next day.
This 'Sun and Star' upgrade costs 5.50 Australian Dollars per person. Or if you are a family, it will cost you 16 Australian Dollars in total.
This upgrade can also be done at the venue while entering or leaving.
---
---
Restaurant in Eureka Tower
Melbourne Skydeck has a kiosk, which serves snack food.
Besides quick bites, they also serve ice creams, hot and cold drinks and a boutique selection of beer and wine.
It is perfect for a quick recharge, but if you are looking for a proper Melbourne Skydeck dinner, you won't get it at this Kiosk.
Instead, we recommend Eureka 89, a restaurant one floor above Eureka Skydeck.
Besides brilliant locally sourced delicacies, Eureka 89 also offers stunning views of the city.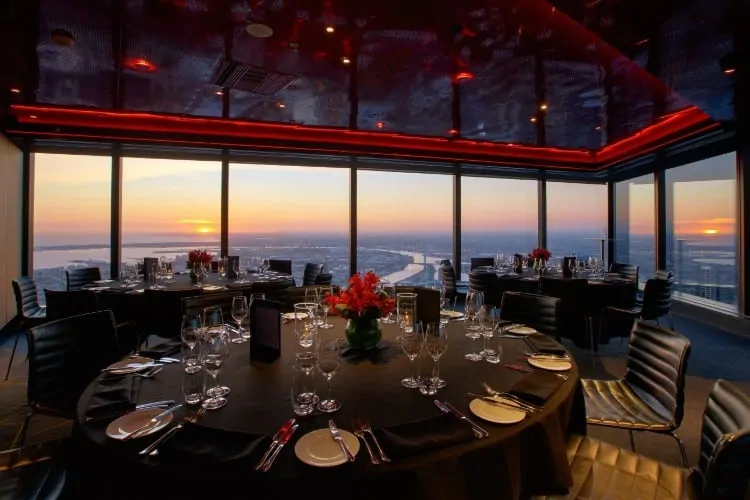 Reservations are essential and pre-payment is a must.
---
---
Melbourne Skydeck FAQs
Here are some questions asked often wrt Melbourne Skydeck.
What is Melbourne Skydeck's height?


At 300 meters (984.3 feet) Eureka Skydeck 88 is the highest observatory in the Southern Hemisphere.

Eureka Tower is one of the top 100 tallest buildings in the World – at 96th position.

How fast are Melbourne Skydeck lifts?


Tall towers usually have high-speed lifts, and Eureka Tower is no different.

At nine meters per second, Melbourne Skydeck's elevators are the fastest in the southern hemisphere.

So much so, it can take you from the ground floor to the 88th floor – where Skydeck Eureka is located – in just 38 seconds.

How long is Melbourne Skydeck stair climb?


Eureka Tower has 3,680 stairs.

Australia's biggest vertical race called 'Eureka Climb' is conducted on these stairs every year.

However, Melbourne Skydeck's visitors aren't allowed to use these stairs.
Popular attractions in Melbourne
# Puffing Billy
# Melbourne Zoo
# Melbourne Aquarium
# Werribee Zoo