Going on holiday during Christmas is the perfect gift you can give your kids and rest of the family.
Traveling with the family means introducing your kids to new cultures, new food, and new languages – the kind of education schools don't impart.
While choosing a spot for your Christmas holiday with family you can opt for a summer destination or a winter destination.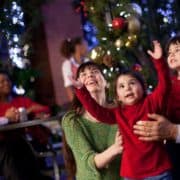 Best places for Christmas holidays with family
If you haven't yet decided on where you want to go for your Christmas vacation, we have our list of the 17 best places for Christmas holidays with family.
1. Rovaniemi, Lapland, Finland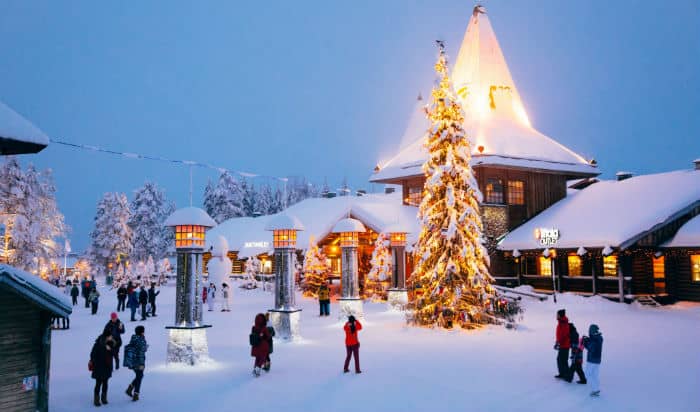 The Finns and the rest of the World believe that Rovaniemi in Lapland, Finland is Santa Claus' home – in short the Christmas headquarters.
If you plan your family Christmas holiday here, your kids can take cookie making classes, calligraphy classes so they can write their Christmas wishes in the olden style etc.
Definitely worth trying is the sled-led reindeer safari at the Sirmakko reindeer farm and the Arktikum, so your kids and rest of the family gets exposed to Northern Lights.
Another must try attraction is Hotel Arctic Snow, which is made of only ice and snow and it provides the best Christmas feel.
If you have time, also try the town called Napapiiri where you get to visit Santa Claus Village and Santa Park.
2. Bath, England
Bath is the only city in United Kingdom which has been completely designated as a UNESCO World Heritage Site.
Now, imagine celebrating your family Christmas holiday in such an old city, keeping up with the tradition.
You can kick-start your Christmas celebrations by the musical celebration at The Theatre Royal and follow it up with mince pies and mulled wine.
The theatre will continue with more dramas, musicals, and concerts so you can decide to stay indoors.
The theatre is good but best is if you also take your celebrations outside, to visit the 18-day Bath Christmas Market, which sells only British handmade crafts.
3. Santa Claus, Indiana
Don't go by the population in this town – 3000. Here in Santa Claus, Christmas is a yearlong obsession for it receives thousands of letters form kids every year.
This town didn't want so many kids to get upset so in 1930 they set up a group of volunteers called Santa's Elves who reply to every letter diligently.
The best thing to try when you are here on your family Christmas holiday, is the Land of Lights display – a 1.2 mile drive full of lights.
No wonder this town is dubbed "America's Christmas Hometown."
4. New York, USA
Christmas in New York is steeped in tradition – the Rockefeller Center has been at the center of all Christmas celebrations since memory, the ice rink for 75+ years and the big, decorated Christmas tree right in the center has been a tradition for more than 80 years.
Don't miss out the annual Christmas Spectacular hosted by Radio City, and the market in the Columbus circle.
We are sure your family and kids will love the best of New York hospitality.
Watch the video below to figure out what all you can do in New York during Christmas –
5. Malta
If you have kids, we strongly recommend Malta as the place where you should have your family Christmas holiday.
Around 200 actors create a scene from 2000 years back in a field as big as 0.2 square kilometers.
People can just walk around and see individuals and sometimes whole families living like in the olden days – even with cattle grazing etc.
Best thing about this open setup is that your kids can also learn the ancient traditions, if they want to.
If you want to listen to some of the best carols, try the St. John's Cathedral during advent and for a display of amazing Christmas display lights, try the Republic Street.
If you are with kids, don't miss the Museum of Toys, a private museum with toys from the late 18th century.
6. Amsterdam, Netherlands
It was the Dutch who gave us Santa Claus – Sinterklaas is the Dutch version of St. Nicholas who gives gifts to kids on December 5 (on Saint Nicholas' Eve).
So if you take a family holiday in Amsterdam, you may end up having two Christmases. Between both these celebrations the city keeps celebrating what with lights, trees, parties and gifts everywhere.
If your family holiday is long enough it is best to also try Christmas in the small Dutch town called Valkenburg.
Valkenburg's Velvet Cave is transformed into a Christmas Market, and the Christmas spirit is to be experienced to believe.
To see what you and your kids can expect in Amsterdam during Christmas, check out this video below –
7. Quebec City, Canada
Quebec offers its own version of environmentally friendly Christmas – don't be surprised if the tree in front of you is made of recycled materials.
That's just the way the Quebec folks are. During Christmas there is a plethora of outdoor activities of all kinds you and your family can indulge in.
If you prefer nativity scenes, then you won't be in short supply.
In short, the lights, decorations and snow create a truly enchanting setting like no other. Do try the outdoor New Year's Eve festivities on Grande Allée.
It isn't without a reason that CNN ranked Québec City among the world's top 10 Christmas destinations.
8. Barcelona, Spain
The longest Christmas celebration happens in Barcelona – it gets extended till January 5.
The Kings men arrive for the King's day on January 4 evening – in their own ship called Santa Eulalia.
The canons are fired and in their full, colorful splendor the King's Men parade through the streets in a magnificent display of dazzling costumes and animals such as elephants and camels.
Your whole family and children will love it. It is one of the best Christmas holiday options for families with kids.
9. Nuremberg, Germany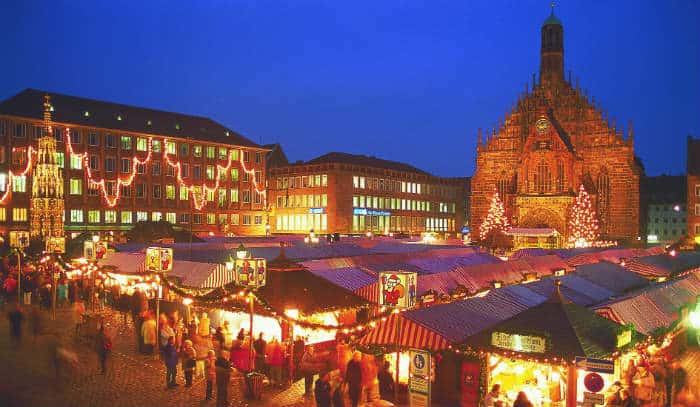 It is unbelievable but it is definitely true – Nurnberger Christkindlesmarkt (Nuremberg Christmas market) gets more than 2 million visitors for each Christmas.
Once there, do try the giant carved wooden Ferris wheel and the steam train.
The reason for this market's popularity is because they focus on Christmas alone – so you only get handmade toys and holiday goods.
Do try the mulled wine, if you are adult enough to drink. As for the kids, send them to the Toy Museum – the best possible entertainment for kids.
Once you are in Germany for your Christmas, it doesn't make sense to miss out on Cologne, which boasts of eight different Christmas markets on both sides of the Rhine.
10. Reykjavik, Iceland
Imagine standing in a city already decorated with Christmas lights, and white natural snow and suddenly nature decides to do one better and comes up with the northern lights display.
It is a perfect family Christmas holiday destination.
The "Yuletide Lads" bring gifts to children who have been good for 13 nights leading up to Christmas – the best thing to keep the kids engaged.
When you land up here for your Christmas holiday, do check out the Yule Town Christmas market on Ingolfstorg.
Recommended Reading: Best New Year's Eve parties for family
12. Paris, France
How can a city known as city of lights fall behind for a festival which involves lights?
Paris was anyway place for a great family holiday, and their classy Christmas celebration is just another reason.
All shopping streets are strewn with white lights, the shops are decorated with Christmas displays to attract the shoppers. The whole atmosphere is eclectic.
On the Christmas night, a temporary ice skating rink is created just below the Eiffel Tower and the romance quotient goes up.
It looks best under the lights of the Tower.
This is why Paris is also a great Christmas holiday place for couples.
Check out a video of Paris during Christmas time, surely a family's dream tour.
13. San Miguel de Allende, Mexico
Few cities celebrate as this city in Mexico celebrates it – the folks are divided into those who celebrate it and those for whom it is a reflective moment.
Many dress up like Mary and Joseph and re-enact the journey to Bethlehem and seek shelter.
Your kids will love it for sure.
What makes Christmas celebration in this town is the fact that it is filled with grand churches, scintillating architecture and grand Zocalos.
No wonder then, that this town is a UNESCO World Heritage site.
Honorable mentions, which couldn't make it to the ultimate list of best places for family Christmas holidays.
14. Boston, Massachusetts, USA
This is an old city and if you want your family Christmas celebrations to be steeped in tradition with the right old-world ambience Boston is your place.
15. Rome, Italy
If you want a subdued, but religious Christmas holiday for your family, Rome is your best bet. Rome's celebrations are centered around faith and tradition which makes it unique.
16. Aspen, Colorado, USA
If you are looking for a white Christmas for your family with a lot of snow around, Aspen is your best holiday spot. We are sure Colorado's most famous mountain town won't disappoint your family and kids.
17. Strasbourg, France
If visiting themed Christmas villages is your idea of a family Christmas holiday, Strasbourg is your best option. There will be a lot of cultural events and concerts to choose from as well.
Tips for a hassle-free travel during Christmas
If you are traveling during Christmas for a vacation with your family, here are some handy tips you need to keep in mind.
These tips will ensure you don't spend your Christmas on the road or at the airport, but reach your holiday destination on time.
# If you are flying abroad, book your flight tickets on Christmas Day, Boxing Day, New Year's Eve or New Year's Day – you will end up saving a lot of money
# With everybody trying to reach their destination on time, the Christmas rush is bound to choke the roads. Allow extra time for getting to the airport and elsewhere.
# Double check if all things you take for granted on other days are operating on the day of your travel (most operations close during Christmas)
# If you are carrying Christmas presents for your kids and others, leave them unwrapped. Sometimes the airport security prefers to do a manual check of your bags
# If you would want to gift-wrap your Christmas presents at the holiday destination, take along everything you need
# If you are carrying expensive gifts, carry them in your hand luggage. Ensure your travel insurance covers what you are carrying
Recommended Reading
1. Cheap family holidays in Asia
2. Family friendly cruise holidays
3. Most unusual hotels of the World