No all hotels are created equal. Some are luxurious, some are minimal. Some are run-of-the-mill and some are unusual.
Yes, there are unusual hotels. Unusual because of the way they are designed, the way they are built…and in some cases, unusual because of where they are built.
Here is our list of the world's most unusual hotels – 10 in all. They make for perfect family holidays, so try them out for your next holiday.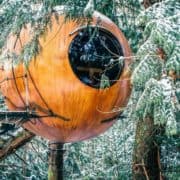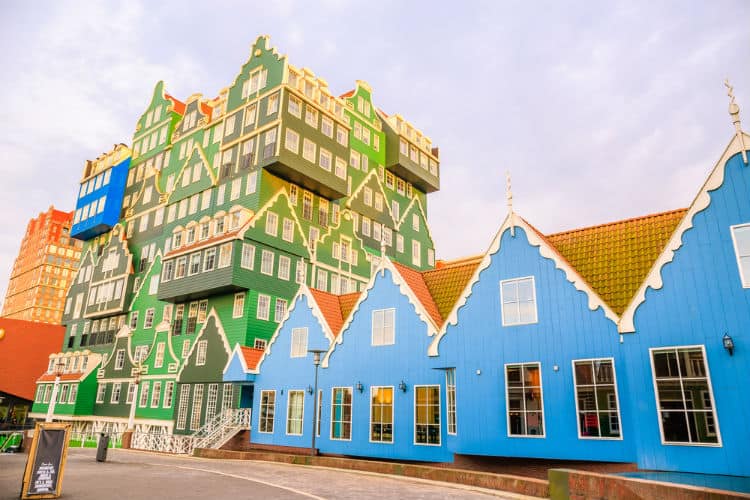 What is unusual: This four star hotel has a story-like exterior and an equally appealing interior where every room has a story-theme. The structure of the hotel is based on the various examples of the traditional houses found in Zaan region of Netherlands and is very colorful.
Inntel Hotel Amsterdam is centrally located – 12 minutes by train to Amsterdam.
Address: Provincialeweg 102, 1506 MD Zaandam, The Netherlands
Most suitable for: Couples
What is unusual: Faralda Crane Hotel is on a restored crane and provides a 360 degree view of the whole of Amsterdam. When it is windy, the crane moves thus giving you a different view from you window every time you look out.
The three suits in Faralda Crane Hotel are among the most expensive suites in the Netherlands. Yes, there are only three suites in this unusual hotel so hurry up.
Address: NDSM-Plein 78, 1033 WB Amsterdam, The Netherlands
Most suitable for: Couples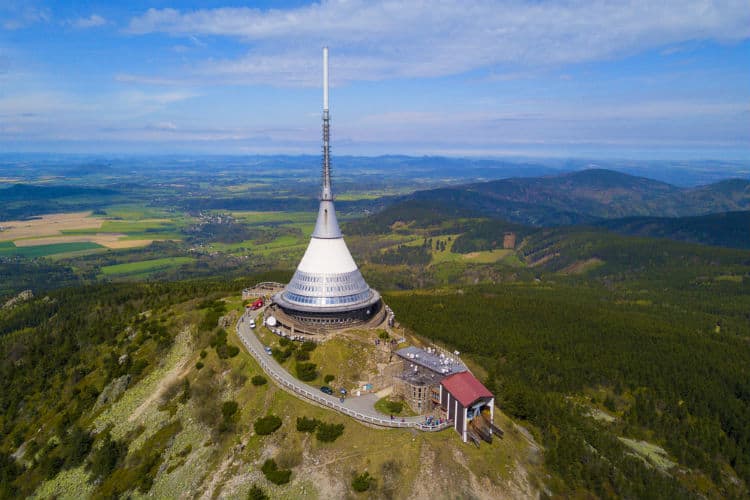 What is unusual: It's an old radio tower on top of a ski resort which gives this hotel a 1970s sci-fi movie look. This hotel was built in the second half of 1960s and has 12 rooms.
Architect Karel Hubáček decided to place a television transmitter, restaurant and hotel in one tower. The hotel can also be reached by the cableway.
Because of its uniqueness Hotel Jested has become a national cultural monument and the country's building of the century.
Address: Horni Hanychov 153, Liberec 46008, Czech Republic
Most suitable for: Couples and families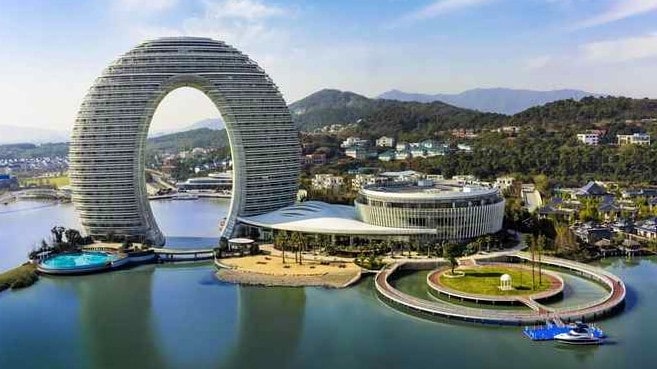 What is unusual: Because of its shape this hotel is also known as 'Horseshoe Hotel' and "Doughnut Hotel." There is an underwater tunnel that connects the two parts of the horseshoe. This architecture of this hotel is so different that every traveler is bound to click his or her photograph in the foreground of the hotel.
Sheraton Huzhou Hot Spring Resort is a 27-storey structure and lies on lake Tai between Nanjing and Shanghai.
Address: No.5858 Taihu Road, Huzhou 313000, China
Most suitable for: Families and couples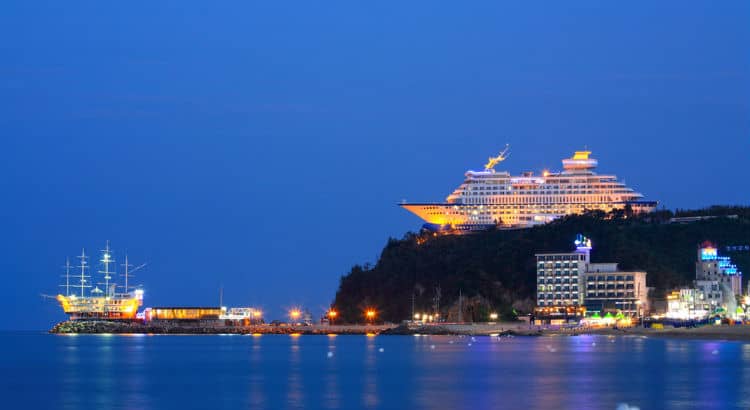 What is unusual: This hotel is built like a cruise ship standing on a rock and makes for a great outing for families with kids.
The architect used the Royal Caribbean International Sovereign Class cruise ships as a model and built this 165 metres (541 ft) long and 45 metres (148 ft) tall unsual hotel.
Because of its unique architecture, the Sun Cruise Resort is one of the most popular attractions in South Korea.
Address: 950-39, Heonhwa-ro, Gangdong-myeon, Donghae, Gangwon-do, South Korea
Most suitable for: Families and couples
What is unusual: Free Spirit Spheres are round tree houses for adults which sway in the wind and provide ample amount of nature's sounds. These spheres are hand crafted and hung from tall trees in the wilderness of Vancouver Island, Canada.
Free Spirit Spheres is located deep in Canada's rain forests and makes for a peaceful break from city life. If interested hurry, for there are only three pods right now. They are aptly named – Eve, Eyrn and Melody.
Address: Horne Lake Road, Qualicum Beach, British Columbia V9K 1Z7, Canada
Most suitable for: Couples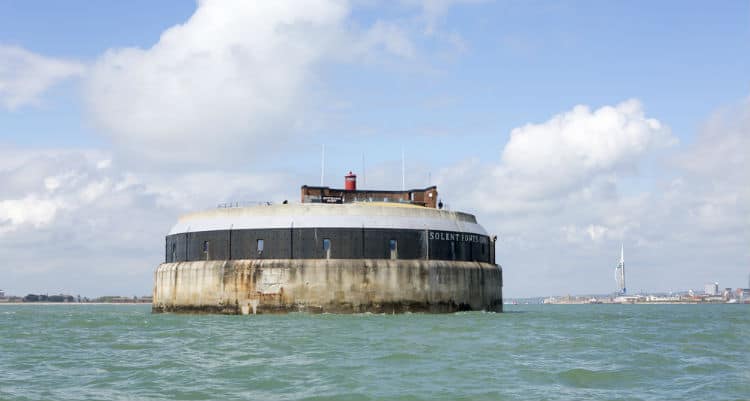 What is unusual: Spitbank Fort was built in the Victorian era to protect Britain against French invasion and it is one mile into the sea. This 135-year-old fort had heavy cannons to repeal any French attack but today the hotel is far more welcoming.
Spitbank Fort has 50 rooms, its own dance hall and a restaurant. Sometimes it is also rented out for private functions and parties with limited attendees.
Address: Gunwharf Quays, Portsmouth PO1 3FH, England
Most suitable for: Couples
What is unusual: This hotel is made from authentic Alaska Railroad coaches renovated with modern amenities.
This Alaskan Bed & Breakfast overlooks greater Fairbanks, the Tanana Valley and the Alaska mountain range thus providing amazing view.
The initial plan was to convert these vintage carriages into a museum but the Wilson family turned them into a B&B and named it The Aurora Express.
Address: 1550 Chena Ridge Road, P.O. Box 80128, Fairbanks, AK 99708
Most suitable for: Couples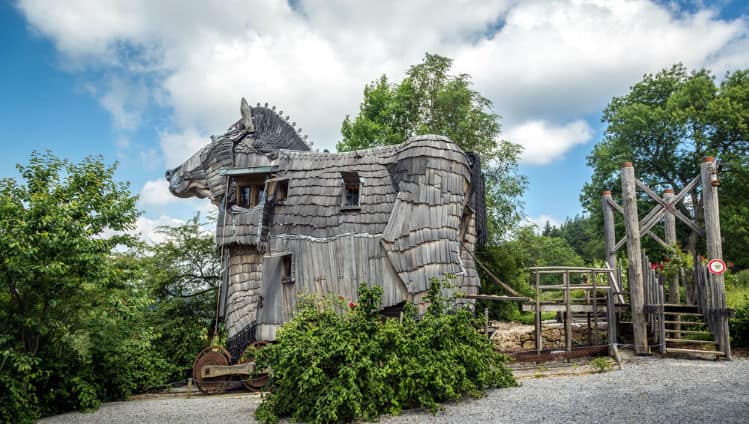 What is unusual: This hotel in Belgium has amazing fairytale rooms and a Trojan Horse suite. If there is a fairy tale, this hotel has it interpreted as a room.
There are 10 rooms in this hotel and each of them is caters to your imagination. Interestingly this hotel was built by its owner himself – architect Mr Noel.
Just in case you were wondering La Balade des Gnomes translates to "the walk of the Gnomes".
Address: 20, Rue de Romeleu, Heyd, Durbuy, Belgium
Most suitable for: Couples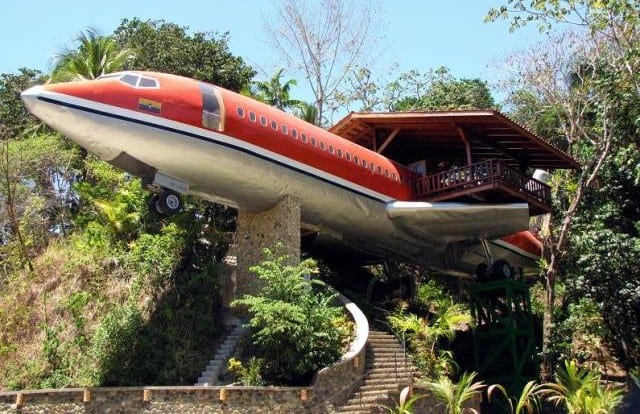 What is unusual: This hotel is a refurbished a vintage 1965 Boeing 727 airplane, which before it found its resting place was shuttling people on South Africa Air. Dismantled and brought in five huge trucks now this hotel juts out from the jungle canopy making you feel as if you are mid-flight.
Hotel Costa Verde overlooks the Pacific Ocean just a few minutes from the entrance of the Manuel Antonio National Park in Costa Rica.
Address: Manuel Antonio Road, Manuel Antonio National Park, Costa Rica
Most suitable for: Couples and families
Sources

# Uniqhotels.com
# Theluxurytravelexpert.com
# Nationalgeographic.com
# Telegraph.co.uk

The travel specialists at TheBetterVacation.com use only high-quality sources while researching & writing their articles. We make every attempt to keep our content current, reliable and trustworthy.
Recommended Reading
1. Best beer drinking festivals of Germany
2. Most beautiful rivers of the World
3. Tips to pack extra for a family holiday