Valentine's Day 2018 in Venice can be the best vacation in so many ways. Just imagine kissing your Valentine this year at the Bridge of Sighs, on February 14, 2018! So, what are you waiting for? It's the right time to plan your trip for Valentine's Day 2018 in Venice. All hail to Venice on this Valentine's day to do all the the romantic things one can with their partner. After all, Venice is one of the most most romantic cities in the world.
In 2018, Valentine's Day is falling on Sunday so the only logical thing to do is plan a trip for three days so that you can cherish your romance as well as the city. Venice is all about romance and even if you are not a very romantic kind of person, you will become one when you land here.
In Venice, the chances of falling in love are also high. So it doesn't matter if you are just friends…just bring your partner to the city of possibilities. To know what all you can plan for Valentine's day 2018, check out our list below:
Things to do in Venice on Valentine's Day:
Valentine's Day Agenda #1 Gondola Ride:
Whenever we listen or read the word "Venice" what comes to mind is the ever popular and ever romantic 'Gondola Ride'. Your romantic trip to Venice on Valentine's Day would be considered incomplete without experiencing a Gondola ride with your valentine. We strongly recommend a walk around the city of Venice to check out the interesting things around and tire yourself. Once you can't walk anymore, hop onto one of classic gondola boats and enjoy a 35-minute ride through the big and small canals. Don't miss the churches on the banks.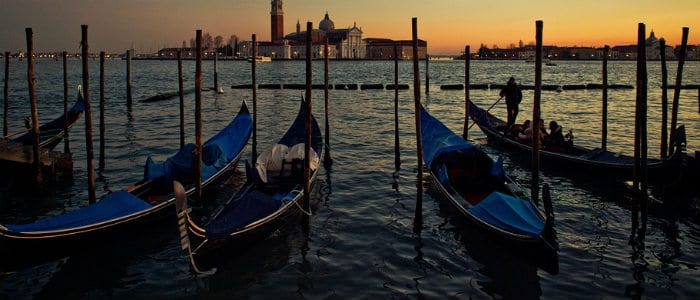 Valentine's Day Agenda #2 Walk over the Bridges of Sighs: Bridges of Sighs is one of the most famous and beautiful sights in Venice. It was used to lead the prisoners from the examining rooms to their cells or execution chamber and they would sigh as the got to see the last glimpses of Venice through the windows that's how this bridge got its name: Bridges of Sighs. But now this bridge has become one of the most romantic sights in Venice. Go for a stroll at bridges of sighs on Valentine's Day and I can assure that you guys will be mesmerized by its romantic ambiance.
Valentine's Day Agenda #3 Eat Seafood: Venice is heaven for sea food lovers and you should definitely try Venetian dishes. To have the best seafood in Venice, avoid tourist-trap restaurants and go to the well-known alleys where you will get the really good Venetian dishes including roasted eel, creamed and dried cod and many more. If you are not a fish lover then you can still have some mouth-watering dishes of meat and rice.
Valentine's Day Agenda #4 Visit an Island:
If you want to do something really romantic on Valentine's Day 2018, I'd suggest you visit another island in the Venice lagoon. Try out islands Murano, Torcello or Burano. Murano is the nearest and the most famous island as well so be ready to see a lot of visitors. It can be fun if you have never seen glass being blown before. Burano is little further than Murano and less crowded as well…filled with colorful houses and lace-making boutiques, Burano can be an awesome destination for a romantic day-trip on Valentine's Day 2018. If you want to spend some alone time with your spouse or partner, head a bit further to Torcello which is the furthest island from the Venice city. You will not get much of a crowd here and this is the perfect place for a romantic stroll as most of the land is nature reserve.
Valentine's Day Agenda #5 Dance in St. Mark's Square:
For me, dancing together is the best way to express love. You too can enhance your love by dancing with your Valentine at St. Mark's Square. When the night approaches take the hand of your Valentine and have a dance under the moon at St. Mark's. Know any better way to end the Valentine's day?
Most Romantic Hotels in Venice:
In 2018, Valentine's Day is falling on Sunday it means your trip will last at least for three days: Friday, Saturday and Sunday. This means you need a nice place to stay as your explore the beauty and romance of Venice. To get the best deals we strongly recommend booking in advance since a lot of couples like you will be heading out to the city of love. Here are some of the most romantic hotels in Venice:
Romantic Hotel #1 Hotel Palazzo Stern, Venice: This is one of the top rated romantic hotels of Venice. Its magnificent building and location are the major factor, which attract a lot of visitors every day.
Address: Dorsoduro 2792-2794/A-2792/B, 30123 Venice, Italy
Rating: 4.5
Romantic Hotel #2 Hotel Moresco, Venice: Hotel Moresco is famous for its great location and excellent standards. If you want to make your Valentine's Day 2018 a memorable experience go ahead and book. Visitors who have stayed here have called this hotel "Treasure of Venice".
Address: Sestiere Dorsoduro 3499, 30123 Venice, Italy
Rating: 5
Romantic Hotel #3 Al Ponte Antico Hotel, Venice: Situated on the Grand Canal, this hotel is the best place money can buy. Excellent locality and breathtaking views from the hotel make it one of the most romantic hotels of Venice.
Address: Cannaregio 5768, 30131 Venice, Italy
Rating: 5
Romantic Hotel # 4 The Gritti Palace, Venice: To have a truly luxurious and royalty-like experience on your Valentine's Day you should consider the Gritti Palace. Best thing about this romantic hotel is its attentive staff which is epitome of perfection.
Address: Campo Santa Maria del Giglio 2467, 30124 Venice, Italy
Rating: 5
Romantic Hotel #5 CimaRosa, Venice: In this romantic hotel of Venice you will find everything on the high end…perfect location, stunning building and wonderful staff who are ready to make every single moment of stay memorable and every single penny spent worth it.
Address: 1958 Santa Croce, 30123 Venice, Italy
Rating: 5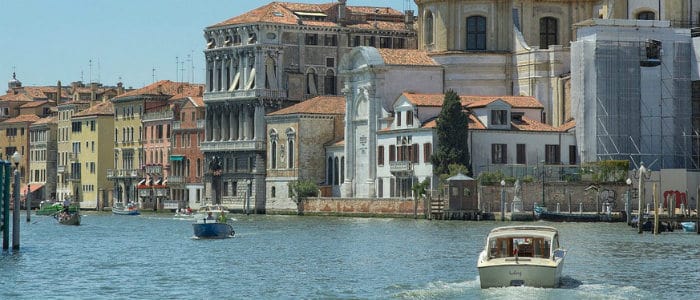 Romantic Hotel #6 Ca' Maria Adele, Venice: Located right across San Marco, this hotel is one of the best hotels for couples. With world-class amenities and wonderful staff, hotel Ca' Maria Adele gives its guests a truly romantic and welcoming ambiance.
Address: Dorsoduro 111, Rio Terra dei Catecumeni, 30123 Venice, Italy
Rating: 5
Romantic Hotel #7 Corte Di Gabriela, Venice: A great mixture of classic and modern interior, hotel Corte Di Gabriela is a small but excellent hotel of Venice and could be a lovely place to stay during a Valentine's Day trip.
Address: Calle Avvocati 3836 S. Marco, 30124 Venice, Italy
Rating: 4
Romantic Hotel #8 Hotel Ai Cavalieri di Venezia, Venice: You fall in love with this hotel as soon as you enter. Its home like ambience makes it one of the best choices of most of couples.
Address: Calle Borgolocco 6108, Castello, 30122 Venice, Italy
Rating: 4.5
Romantic Hotel #9 Hotel Antiche Figure, Venice: People who have been to this hotel leave with the desire of coming back again and again. That's the charm of this beautiful little hotel. Excellent service and interior is the key of success of hotel Antiche Figure.
Address: Santa Croce, 687, Fondamenta S. Simeon Piccolo, 30135 Venice, Italy
Rating: 3
Romantic Hotel #10 Hotel Canal Grande, Venice: Very beautiful hotel which can make you feel like you have just stepped into a fairyland. Its warm and cozy interior looks so welcoming that you never feel like a guest here.
Address: Santa Croce, 932, Campo San Simeone Grande, 30135 Venice, Italy
Rating: 4
Most romantic places to eat in Venice:
In Venice, they really know how to make its visitors fall in love with their culinary skills. Here is the list of some romantic places where you should eat in order to make your stay in Venice more romantic.
Romantic Restaurant #1 Ai Tre Spiedi, Venice: Located on Salizzada San Cazian, this place is ideal for seafood.
Romantic Restaurant #2 Taverna San Trovaso, Venice: Located on Fondamenta Priuli, this place is famous for its grilled fish.
Romantic Restaurant #3 Fiaschetteria Toscana, Venice: Very close to Rialto Bridge, this is a great place for authentic Venetian dishes.
Romantic Restaurant #4 Al Covo, Venice: Famous for its relaxed and cozy ambiance, Al Cove is a very nice choice for fantastic food and desserts.
Romantic Restaurant #5 Vino Vino, Venice: Vino Vino is historic restaurant which is quite intimate. You will get some very delicious Venetian dishes and homemade desserts here.
Most Romantic place to propose in Venice:
Venice is full of romantic places and sights so it won't be tough for you to find a place to propose to your valentine. You can propose on a Gondola ride on one of many canals or you can go on top of one of many beautiful bridges of Venice and pop up the big question. Last but not least, you can propose your sweetie in the Piazza San Marco.
Most romantic place in Venice to kiss:
Bridges of Sighs wins hands down when we talk about the best place in Venice to kiss. So, grab her hands and walk to the bridges of sighs to give her the most beautiful memories for lifetime.
Other romantic activities:
You will never run short of romantic activities in Venice. Here are some of the other romance-inducing activities you can indulge in during Valentine's Day 2018 –
Take a tour of St. Mark's Square and admire its lively beauty
Don't miss opera in the Theatre La Fenice
Savor Bellinis at classic Harry Bar on Calle Vallaresso San Marco
Buy a Murano glass and venetian mask
Venice is different, Venice is unique, more than anything else Venice is sheer magic and there is no other place like Venice. Historic Churches, classy museums, breathtaking outdoors, secret passageways and so many things make Venice so very desirable. Have fun. Have a great Valentine's Day in 2018!