If you love fairy tale romance and believe in it, you will love celebrating Valentine's Day 2023 in New Orleans.
Hometown of jazz and home to some of the most romantic places in the USA, New Orleans is one of the most romantic cities globally.
No wonder folks like you want to spend February 14, 2023, in the city known for a local saying, "Every day is Valentine's Day in New Orleans."
If you love your partner (and we don't doubt that at all!), you will love to give them all the surprises New Orleans has for young romantic couples.
Check out our suggestion for the most romantic itinerary in New Orleans for Valentine's Day.
Plan ahead because many couples in love will be heading to New Orleans for their Valentine's day celebration.
Romantic things to do in New Orleans
New Orleans wears the proud title of "One of the most romantic cities of world" so there are plenty of romantic things to do for young couples.
All you must do is bring your partner along.
Hold hands at the City Park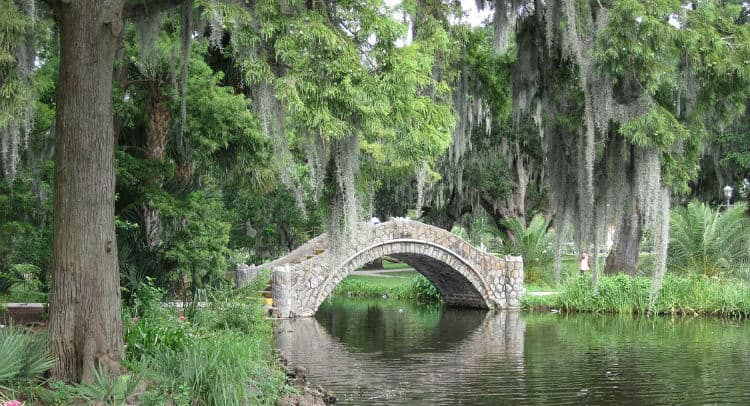 Three miles long and one mile wide, City Park is one of the New Orleans' green diamonds.
It is larger than Central Park in New York.
Line after line of oaks, planned waterways, bridges, lush green lawns, and museums make it one of the must-visit places in New Orleans.
If you and your partner are interested in art and nature, you will love a stroll in City Park on 22 February 2023.
---
---
Get romantic at Jackson Square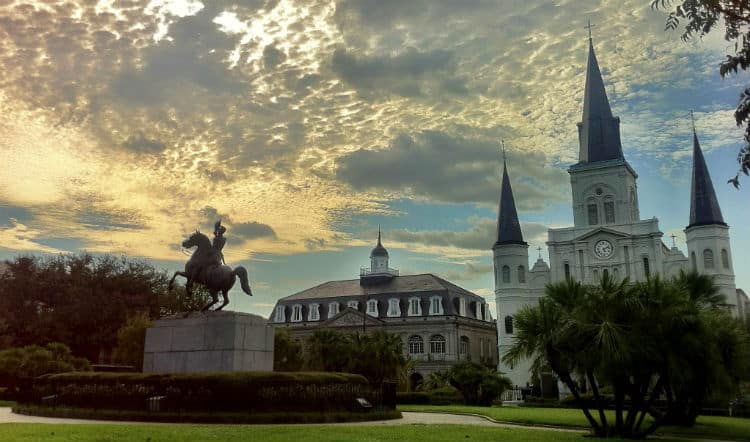 Heart of the French Quarter, Jackson Square is a must-see place in New Orleans.
Free music, fortune tellers, and many more activities make it a lively place for celebrations of all kinds.
You will see many sketch artists at the Square, and it's pretty romantic to have a sketch of you two together in one frame.
---
---
Take cooking classes together
During a fun and educational New Orleans cooking demonstration class, get the entire Louisiana eating experience.
Take a seat in a renovated 19th-century molasses warehouse with fellow foodies and prepare to learn and consume.
Learn the fundamentals of making famous Creole foods like gumbo, jambalaya, and pralines from a dynamic local cook.
Then tuck into delectable samples accompanied with a local beer or a refreshing ice tea.
If you prefer the Chef to focus more on you while teaching you New Orleanian cuisine, check out the small-group, 3-hour cooking class.
---
---
Stroll around in French Quarter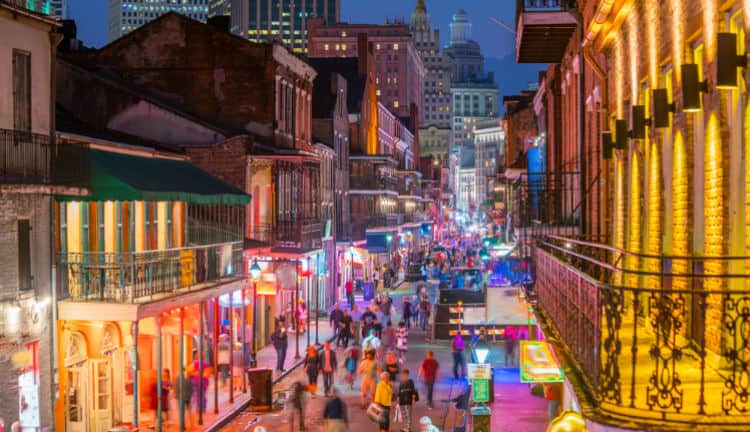 French Quarter is one of the most prominent landmarks of New Orleans.
This picturesque place is full of art galleries, restaurants, nightclubs, bars, shops, and museums.
You can go here with your partner for shopping, dining, or just a stroll – you are sure to find it charming all through the day.
The French Quarter is such a fantastic place that you won't mind spending your whole Valentine's Day here.
No wonder "A Streetcar Named Desire," written by Tennessee Williams, is set in the French Quarter of New Orleans.
---
---
Hop onto a Streetcar in New Orleans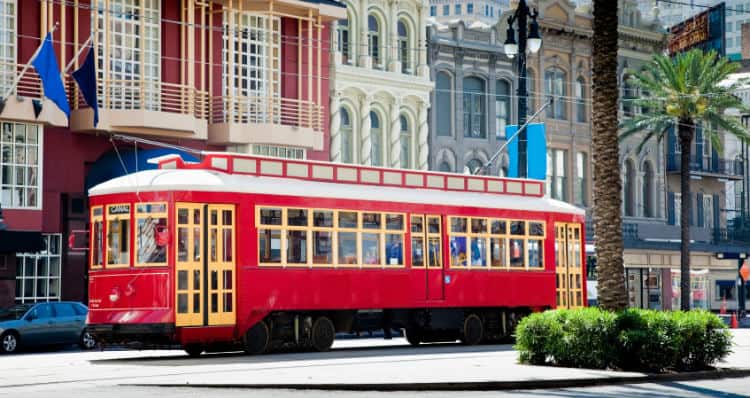 Buy a ticket in less than two dollars, and you can get into the world's oldest street railway system.
For decades lovers have held hands and sat together in these colorful streetcars to explore the most romantic city in the world.
And if you are lucky, the streetcar operator will act as an informal tour guide, pointing out important landmarks.
---
---
Book a cruise on Mississippi
Steamboat Natchez cruise is one of the most romantic things to do on Valentine's Day 2023 in New Orleans.
This cruise departs from French Quarter and is sure to charm you and your lover with its romantic atmosphere.
To savor the romance while cruising along the Mississippi River, you can choose from many cruise options. We recommend the one with live jazz and buffet dinner.
---
---
Roam around aimlessly with your love

Take a hop-on hop-off bus tour of New Orleans that highlights over centuries years of history.
Depending on how long you want to stretch your Valentine's Day week, you can choose from 1 or 3-day tickets.
This tour is an ideal way to spend time with your loved one because of the flexibility – you decide when you board and when to get off.
Here are three more ways to explore the city –
---
---
Go on an Airboat swamp adventure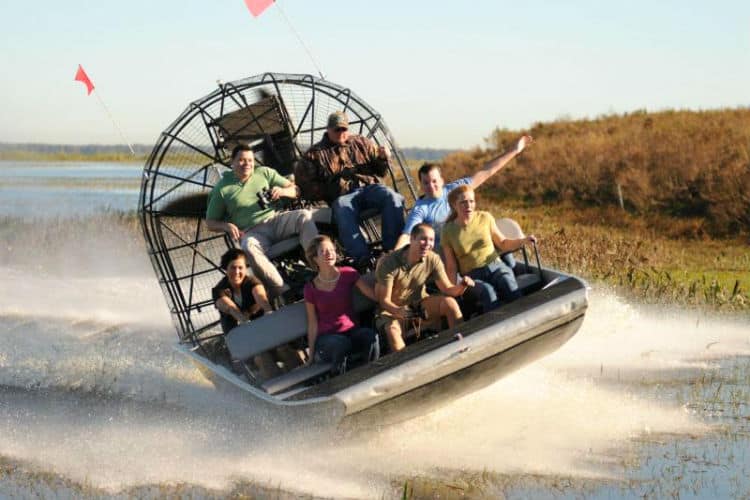 Nothing compares to spending time with the person you love on this 4-hour adventure trip on an airboat.
As you glide past protected swamps, marshes, and rivers outside of New Orleans, you will also get many selfie opportunities.
Besides seeing many gators, birds, and critters, you will also see the albino alligator during your Airboat adventure.
A visit to the fishing community of 19th-century French pirate Jean Lafitte is also included in this trip.
---
---
Most romantic restaurants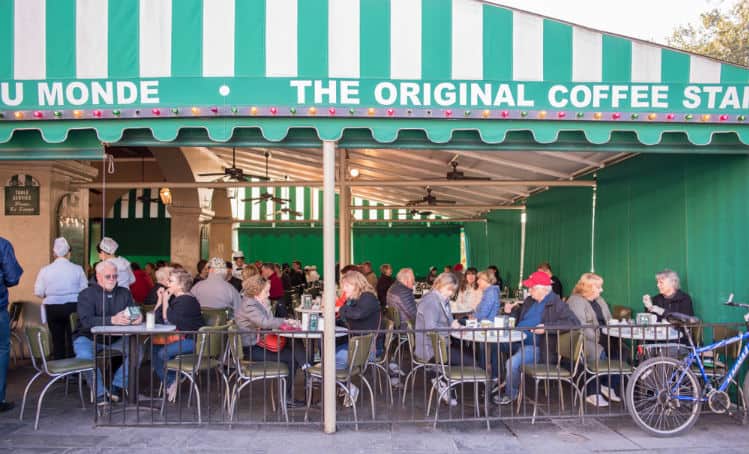 Valentine's Day 2023 in New Orleans will be incomplete without savoring the fantastic food in one of the city's most romantic restaurants.
Visit any of these romantic restaurants and spice up your love.
Commander's Palace
Since 1880, Commander's Palace has been New Orleans' proud landmark.
Its exotic food has won many awards over the centuries.
Situated at 1403 Washington Avenue in the Garden District, Commander's Palace is a great place to start or end your romantic adventure on Valentine's Day 2023 in New Orleans.
Café Amelie
Located at 912 Royal Street in French Quarter, Café Amelie is set up in 150-year-old Princess of Monaco Courtyard.
There is something very romantic about sitting in a century-old building with your Valentine and experiencing delicious food.
There is no better way to dine on Valentine's Day.
---
---
Romantic hotels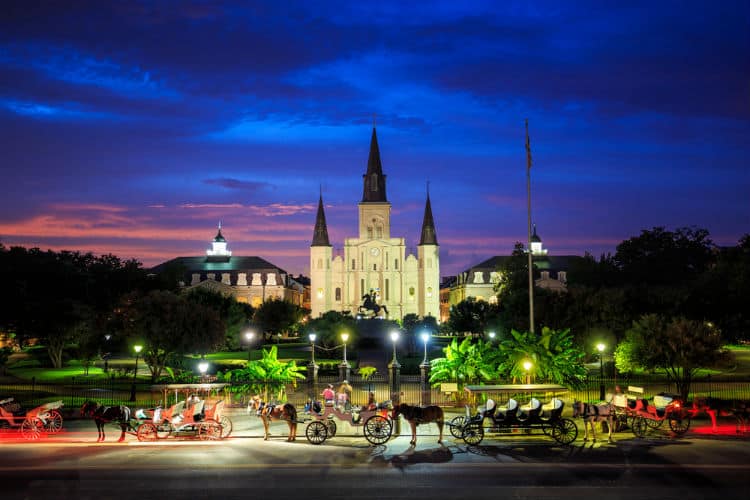 Only roaming around is not enough one must need a place to stay, and it must be romantic enough for Valentine's Day celebration.
Here is a list of few romantic hotels for couples who love to celebrate Valentine's Day in style.
Hotel Le Marais
Situated at 717 Conti Street, New Orleans, Hotel Le Maris is one of the most romantic hotels of New Orleans with all the world-class amenities.
The hotel's quiet and comfortable ambiance makes it one of the best stay choices in New Orleans on Valentine's Day.
Hotel Monteleone
Situated just one block away from Bourbon Street, Hotel Monteleone is an exquisite and classy hotel.
This romantic hotel can be one of the excellent places to stay with your Valentine in New Orleans on Valentine's Day.
Hotel Grenoble House
Situated at 323 Dauphine Street, New Orleans, Grenoble House is a cozy hotel with helpful and welcoming staff.
Food is also delicious here, and you will love spending your Valentine's Day here, if not the week.
Hotel Mazarin
Hotel Mazarin is a lovely hotel with a gorgeous interior. Once you are here, you will never want to leave this place. That's how excellent this place is.
It is also known as one of the best hotels in the French Quarter.
Mazarin's warm and cozy ambiance makes it one of the most romantic hotels in New Orleans.
Hotel Q&C
Hotel Q&C is a beautiful hotel in New Orleans and is just outside the French Quarter.
People who have been there remembered this hotel for its helpful and excellent staff and classy interior.
Hotel Q&C is a superb choice for Valentine's Day stay in New Orleans.
---
---
Romantic pubs
Food and pub culture is quite hip in New Orleans.
People here don't drink to get drunk. They drink because it's their culture.
Check out some of the most romantic pubs in the city and become a fan of New Orleans' drinking culture.
If you are into pub crawling, check out this haunted pub crawl.
French 75 Bar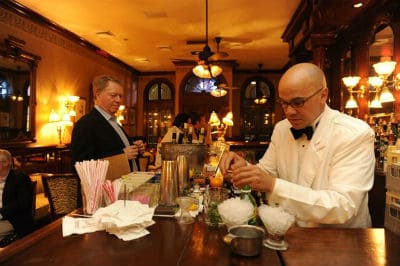 French 75 bar is a fantastic place to get dressed in your best and savor a drink or two with your husband or wife (or boyfriend or girlfriend!).
Don't forget to try their cocktails. French 75 is one of the oldest bars in New Orleans – it was first custom-built in the late 1800s.
The Bombay Club
A very classy and elegant place, Bombay Club is the hotel bar for the Prince Conti Hotel.
Make sure you look good before stepping into this pub with your Valentine.
Bar Tonique
Located at the relatively quiet end of the French Quarter, Bar Tonquie is one of the best places to savor the best drinks.
The variety of cocktails is quite impressive.
The Chart Room
If you are the kind of couple who love crowds and noise and fun, then The Chart Room is the perfect place for you.
Erin Rose
Erin Rose will not burn a hole in your pocket while you are celebrating Valentine's Day in New Orleans.
If you visit Erin Rose, do try out their Irish coffee.
So how do you and your love plan to celebrate Valentine's Day 2023 in New Orleans?
Plan ahead before your options run out – after all, it is yet another way of showing that you care.
Additional Reading
Valentine's Day in Paris
Valentine's Day in Venice
Best honeymoon places in the World
Romantic places to take your girlfriend or wife