World Balloon with Perfect View, which takes off from the center of Berlin, is a fantastic way to get a different perspective about the city.
Berlin's World Balloon is one of the world's most enormous helium balloons and offers a unique experience.
Thousands of locals and tourists take the World Baloon with Perfect View each day and ascend to a height of around 150 meters (500 feet).
From this vantage point, one has an excellent view of Berlin in all directions.
Top World Balloon with Perfect View Tickets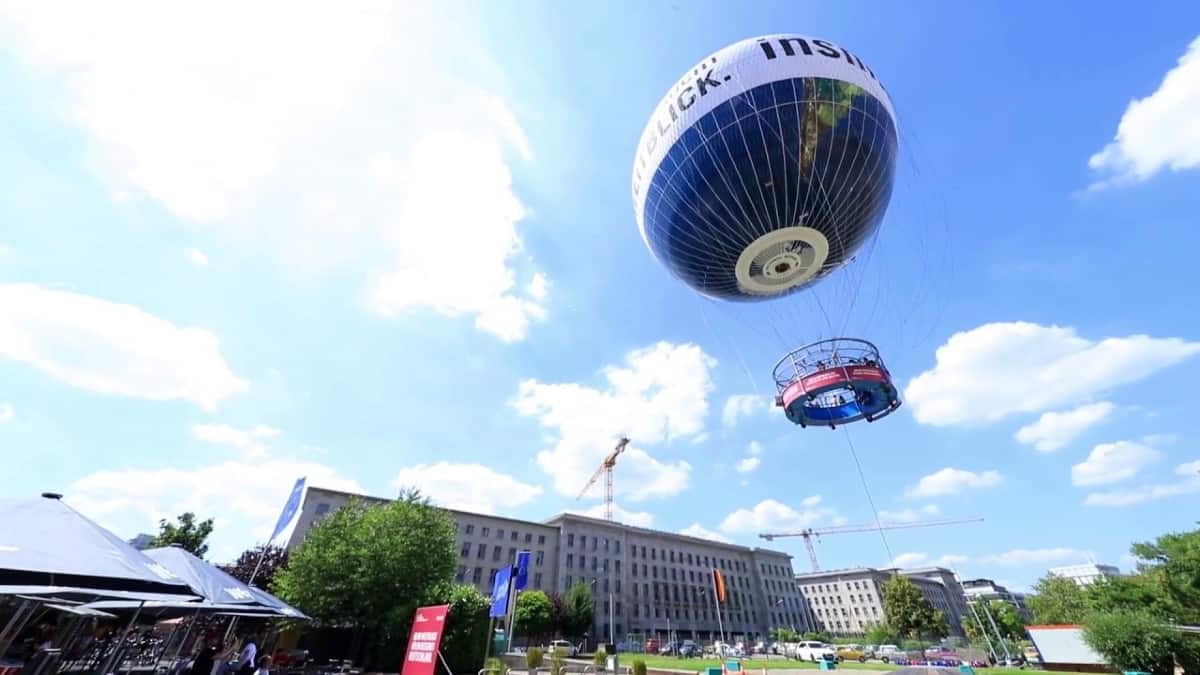 What to expect from World Balloon
The WELT-Balloon towers over every building in the capital, giving you a unique perspective on the German capital.
The World Balloon floats above Checkpoint Charlie, the buildings around the Axel Springer building, the Sony Center, and the Brandenburg Gate in the heart of Berlin.
Strong steel rope attached to the basket makes sure you are safe the whole time.
Each trip in the air lasts 15 minutes, after which the balloon comes down.
World Balloon with Perfect View tickets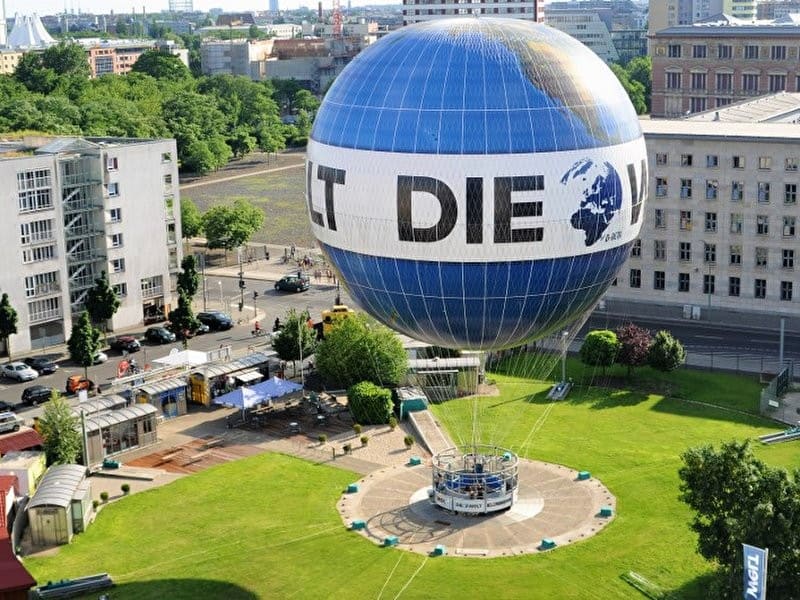 This ticket for World Balloon with Perfect View in Berlin is valid for one ascent (15 minutes) at any time for the day you have booked your visit.
Since this is a Skip the Line ticket, you can avoid the lines at the ticket counter.
On the day of your visit, you can show the World Balloon tickets on your mobile and wait your turn to get on the balloon.
You can cancel this ticket up to 24 hours in advance to receive a full refund.
Kids younger than two years can walk in for free.
Cost of tickets
Adult ticket (18+ years): €36
Youth ticket (11 to 17 years): €20
Student ticket (11 to 28 years, with ID): €20
Children ticket (3 to 10 years): €10
Infant ticket (up to 2 years): Free entry
Essential information
Wind conditions determine the maximum number of guests per ascent.
If severe weather prevents your ascent from taking place at the time of your choice, you can use your tickets at a later date and time. Or you can request a refund.
Every flight has airtime of around 15 minutes, during which you can walk around the balloon's basket and enjoy the views of Berlin city.
There is almost no waiting time since the balloon goes up in the air every 15 minutes.
During crowded times, a maximum of 25 guests can go up on the balloon at a time.
How to reach
Berlin's World Balloon with Perfect View is at Air Service Berlin, Zimmerstraße 95-100 / corner of Wilhelmstraße, 10117 Berlin. Get Directions
Opening hours
World Balloon with Perfect View is open from 10 am to 4 pm on weekdays and weekends.
Popular attractions in Berlin
Sources

# Thrillophilia.com
# Welcome-to-berlin.com
# Air-service-berlin.de

The travel specialists at TheBetterVacation.com use only high-quality sources while researching & writing their articles. We make every attempt to keep our content current, reliable and trustworthy.