Brandenburg Gate symbolizes Berlin's division into East and West – and, since the fall of the Berlin Wall, it stands for a reunited Germany.
Brandenburg Gate is a must-visit for every tourist in Berlin and attracts 12 million visitors annually.
Locals refer to it as Brandenburger Tor.
In this article, we share everything you must know before booking a tour of Brandenburg Gate.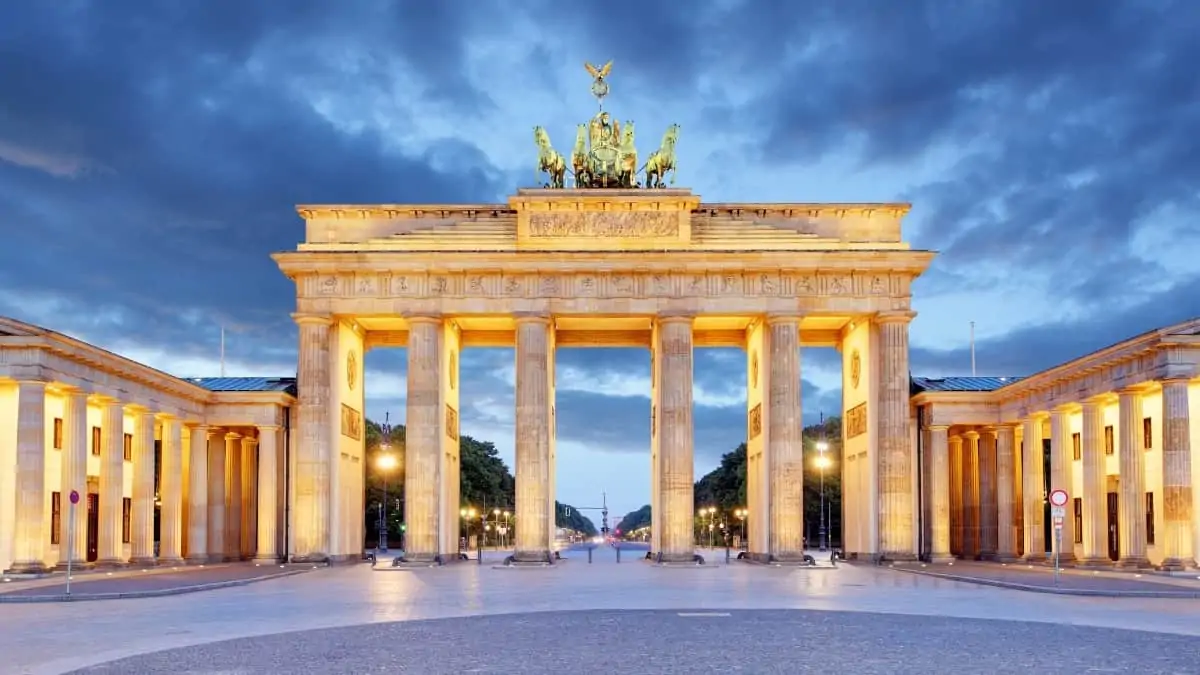 Where is Brandenburg Gate
Address: Pariser Platz, 10117 Berlin, Germany. Get Directions
Brandenburg Gate is at the end of Unter den Linden boulevard, between Platz des 18. März and the Pariser Platz.
It was initially constructed to serve as the city's main entrance before it became part of the Berlin Wall.
Reichstag, the Parliament building is 500 meters (1600 feet) North of the Gate.
Brandenburg Gate's map
Now it is perhaps the only part of the ruins of Berlin Wall that still stands strong.
How to reach Brandenburg Gate
It is best to take public transport to get to Brandenburg Gate.
The same tickets are valid for trips on buses, S-Bahn, trams, U-Bahn (Underground), etc.
By Train (S-Bahn)
On weekdays, the S-Bahn starts at 4.30 am and continues till 1.30 am.
Depending on the time of day, the S-Bahn trains run in 5, 10 or 20-minute intervals.
You can board trains S1, S2, S25 or S26 and get down at Berlin Brandenburger Tor station.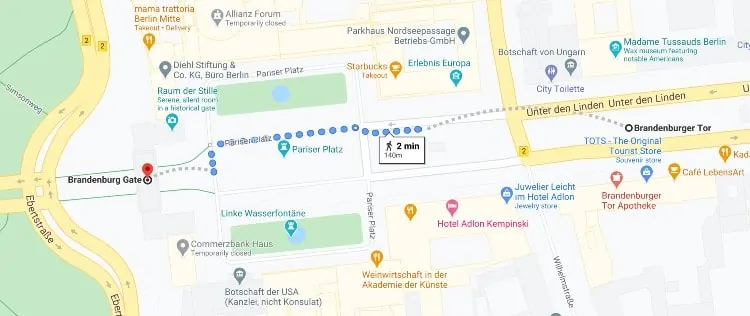 Gate Brandenburg is 150 meters (500 feet) from the station, and you can walk the distance in two minutes.
By Underground (U-Bahn)
Most U-Bahn lines run from 4 am till 1 am.
During the day, the Underground travels in 5-minute intervals, at night in 10-minute intervals.
Subway line U55 stops at Berlin Brandenburger Tor, the closest station to the Brandenburg Gate Berlin.
If you are in the mood for a longer walk, you can get down at the previous station U Bundestag and walk 750 meters (half of a mile) to the Gate.
Bus to Brandenburg Gate
Tourists tend to prefer a bus to Brandenburg Gate because it also allows them to see the city.
Bus route No. 100 brings together East and West Berlin.
After all, it was the first bus route created to connect all the landmarks, after Germany's reunification.
Bus 100 starts from Zoologischer Garten train station in the heart of the former West Berlin.
To get to Brandenburg Gate, you must get down at 'Unter den Linden' bus stop.
Bus Number 100 in Berlin is so frequent that you won't have to consult the schedule in advance.
Note: Berlin Welcome Card can be used to travel in the city's buses free of cost. It also gets you free entry to numerous Berlin attractions, including the TV Tower.
Reichstag to Brandenburg Gate
Many visitors combine their visit to Brandenburg Gate with a tour of Reichstag Building and its dome.
Reichstag is 500 meters (one-third of a mile) from Brandenburg Gate, and most visitors can walk the distance in six to eight minutes.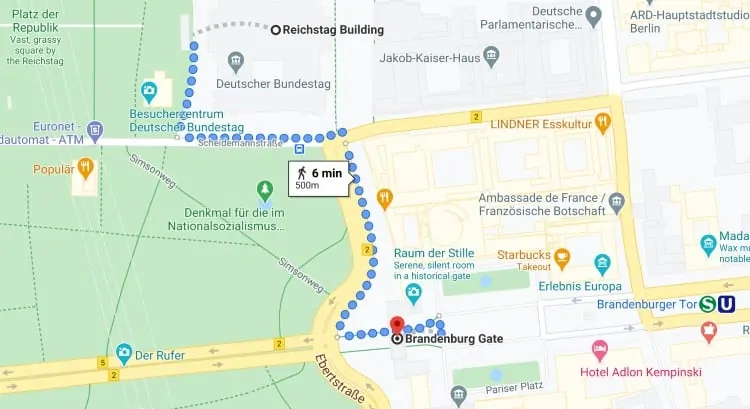 You can either visit the Berlin gate or Reichstag first and then walk to the next attraction.
Brandenburg Gate opening hours
From April to October, Brandenburg Gate opens at 10 am and closes at 7 pm.
From November to March, it remains open for one hour less – starts at 10 am and closes at 6 pm.
However, if you want to see the grand Berlin gate from outside, you can visit it anytime.
Best time to visit Brandenburg Gate
During the peak summer months of April to October, it is best to visit Brandenburg Gate before 10 am.
If you don't mind the crowd, any time of the day is an excellent time to visit.
Best time for photos
Visitors get brilliant photographs of Brandenburg Gate Berlin during sunset.
When you look through the Gate from the Unter den Linden end towards Tiergarten, you are looking West – which means you can see the sun setting right across.
Brandenburg Gate Berlin also looks stunning after dark because of the yellow floodlights.
Brandenburg Gate tickets
There is no entrance fee for Brandenburg Gate. It is free for all visitors.
However, there are many guided tours, which also include a visit to Brandenburg Gate.
Because of its central location, some of these guided tours of Berlin and the Berlin Wall start at the historic gate.
We list the best Brandenburg Gate tickets/tours you can book –
Third Reich and Cold War Walking Tour
This is a two-hour tour to discover Berlin's unique story, starting from Brandenburg Gate and including a long, long stretch of the Berlin Wall.
Some of the landmarks you will visit during this tour are German House of Parliament, Soviet War Memorial, Memorial to the Murdered Jews of Europe, Hitler's Bunker, Hermann Göring's enormous Ministry of Aviation building, SS and the Gestapo's headquarters, and Checkpoint Charlie.
Tour price
Adult ticket (26 to 65 years): 19 Euros
Seniors ticket (66+ years): 17 Euros
Youth ticket (less than 25 years): 17 Euros
Discover Berlin Walking Tour
Despite being the cheapest tour of Berlin, where you also get to explore Brandenburg Gate, it is highly rated.
You get to see all the city's major sights, from the Brandenburg Gate to Museum Island and hear stories from the local expert.
This tour is available in 2-hour or 4-hour options.
Tour price (two-hour tour)
Adult ticket (12 to 64 years): 10 Euros
Seniors ticket (65+ years): 10 Euros
Children ticket (up to 11 years): Free
Hop-on Hop-off Bus Tour of Berlin
This bus tour is a convenient way to explore Berlin's 22 top sights, including Brandenburg Gate, in about two hours.
If you want to spend extra time at any attraction, just get off, and get on again when the next HOHO bus arrives.
You get both live commentary and audio guides to help understand the monuments better.
Tour price
Adult ticket (18 to 64 years): 25 Euros
Seniors ticket (65+ years): 22 Euros
Youth ticket (13 to 17 years): 22 Euros
Children ticket (6 to 12 years): 19 Euros
Infant ticket (less than 5 years): Free entry
If you want a free Spree river cruise with your Hop On Hop Off Bus tour, check out this exciting option.
Berlin Sights and Highlights Bike Tour
Enjoy an exciting 3.5 hours journey through the history of Berlin by bike.
This tour starts at Kulturbrauerei, an impressive old brewery complex in the trendy Prenzlauer Berg district.
It passes through the Government District, Berlin Central Station, Brandenburg Gate, Holocaust Memorial, and the Berlin Wall, Gendarmenmarkt, Museum Island, etc.
This tour is customizable as well. After booking, contact the tour operator with your preferences about the time and places you prefer.
Bicycle rental is part of the tour price.
Tour price: 29 Euros per person
If the division of Berlin interests you more, check out this bike tour that focusses on the Berlin Wall.
Trabi Safari – the car lover's way to see Berlin
The Trabant is a car produced from 1957 to 1990 in East Germany. It is often seen as symbolic of what was wrong with East Germany.
It was the German Democratic Republic's official car, and now you can take it for a spin in Berlin.
A group of up to four gets their own Trabant, and you go on a Trabi Safari.
During this 75-minutes tour, you will pass by Potsdamer Platz, the Brandenburg Gate, Unter den Linden, the Berlin Cathedral, the Rotes Rathaus (Red City Hall), the TV Tower, East Side Gallery, the Oberbaum Bridge, and Checkpoint Charlie.
Important: Every new driver gets a Trabi driver's license and third-party, and vehicle damage insurance in excess of 650 EUR is also included.
Tour price
Adult ticket (18+ years): 59 Euros
Child ticket (less than 17 years): Free
Follow the link to explore Berlin in a mini Hot Rod.
Brandenburg Gate + Reichstag's Glass Dome
During this 90 minutes private tour, you discover the highlights of Berlin's parliamentary quarter and then go up to the glass dome roof for panoramic views over the city.
Tour price
Up to two people: 195 Euros
Up to four people: 215 Euros
Up to six people: 225 Euros
Berlin Wall's Greatest Escapes Game Tour
This experience is a perfect mix between an audio-guided tour, an outdoor escape game, and a treasure hunt.
In this tour, you download Questo, the gamified travel app, onto your smartphone, and play the role of a person escaping East Berlin in 1984.
Solving a clue gives you directions to the next stop, without the need of a map, GPS, or a physical guide.
On each step, you will learn about Berlin's secrets by visiting attractions such as Brandenburg Gate, Checkpoint Charlie, the Berlin Wall, etc.
Most visitors finish the game in two hours.
Tour price: 15 Euros for two people
What to see at Brandenburg Gate
Thousands of tourists visit Berlin's only surviving historical city gate every day.
They are impressed by the massive structure, its decorations, and sculptures designed by Gottfried Schadow.
Most of the decorations on the Brandenburg Gate Berlin are about the Greek mythological exploits of Heracles.
Schadow also sculpted the Quadriga, a chariot drawn by four horses, right on top of the Gate.
During your visit, besides seeing the massive Berlin Gate in all its glory, you will also get to experience Pariser Platz, a beautiful public square in front of the monument.
You can also see Haus Liebermann and Haus Sommer, the two buildings built by architect Josef Paul Kleihues in the late 1990s to replace the pavilions destroyed during World War II.
Max Liebermann Haus
To the left of the Brandenburg Gate is Max Liebermann Haus, a museum dedicated to Max Liebermann.
He was Germany's most famous artist from the last century and an ardent opponent of the Nazi regime.
Entry to the Museum is free, and visitors get to see exhibits on Libermann's life.
His paintings are known to be a cross between realism and impressionism.
Haus Sommer
Haus Sommer is to the right of the Brandenburg Gate,
The building belongs to the Rhein Mortgage Bank (Rheinische Hypothekenbank) who use the ground floor for Exhibitions.
Room of Silence
The Room of Silence was designed to give visitors a quiet place to calm and relax at one of Berlin's busiest attractions.
The locals refer to it as Raum der Stille.
This 30-square-meter room in the Northern gatehouse of the Brandenburg Gate is modestly furnished and welcomes visitors throughout the year.
Every day of the year, the Room of Silence in Berlin opens at 11 am. From March to October, it closes at 6 pm, in November and December, it closes at 4 pm, and in January and February, it closes at 5 pm.
What to see around Brandenburg Gate
Because of its central location, Brandenburg Gate in Berlin is an ideal starting (or ending) point for the day's itinerary.
Here are some attractions to see close by:
Brandenburg Gate at night
If you want to avoid the massive crowd it witnesses during the day, it is better to visit Brandenburg Gate at night.
This city icon is illuminated with yellow floodlights at sundown and makes for beautiful photographs.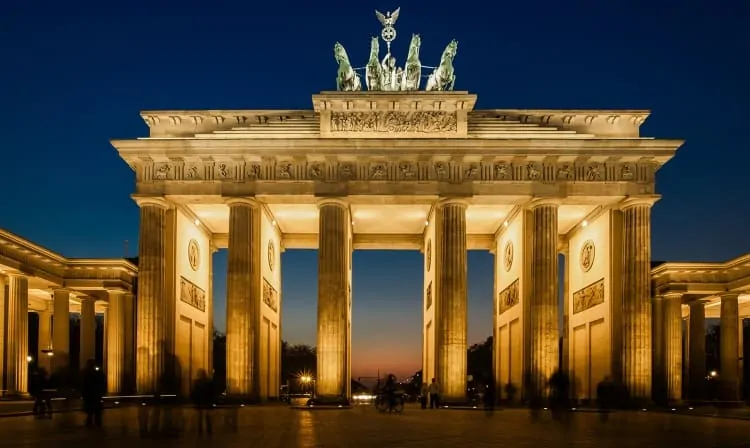 After dark, there is a carnival-like feel in the area around the Gate.
Visitors roaming around hand-in-hand, lots of street food options, professional photographers offering to take your photograph…tourists find it very romantic.
Most visitors take a stroll around the Berlin Gate, to reflect on its tumultuous history and marvel at its significance.
Brandenburg Gate during day or night?
Brandenburg Gate is a centrally located landmark and is easily reachable from all over the city.
We suggest you visit it once during the day and once at night.
It is within 3 kms (2 miles) of famous landmarks such as Berlin TV Tower, Reichstag, Museum Island, Berlin Zoo, Checkpoint Charlie, and Potsdamer Platz, which helps visitors who want to check out Brandenburg Gate after dark before heading back to their hotel.
Brandenburg Gate to Berlin Wall
Berlin Wall was built by the East Germans and the Soviet Union to keep people from escaping to the more liberal West Germany.
Brandenburg Gate stood between East and West Germany, becoming part of the Berlin Wall.
Many tourists, after seeing Brandenburg Gate want to see the Berlin Wall.
Even though the Berlin Wall doesn't exist now, there are a few places in the city where you can see remnants of the notorious wall. We list them below –
Checkpoint Charlie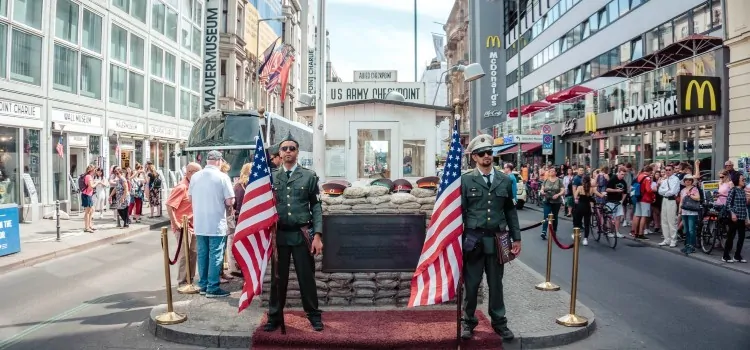 The Americans controlled three of the border crossings in Berlin, the most famous of which is Checkpoint Charlie (or "Checkpoint C").
After the collapse of the wall, Checkpoint Charlie has become a tourist attraction. It is part of the Allied Museum in the Dahlem neighborhood of Berlin.
Distance from Brandenburg Gate: 1.5 km (1 mile). 20 minutes by walk
Follow the link to find out more about Checkpoint Charlie tickets.
East Side Gallery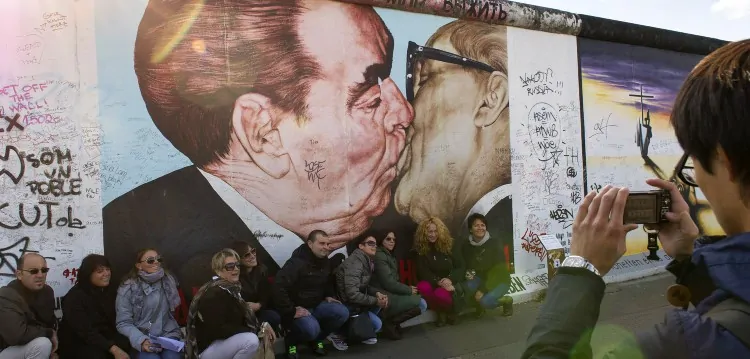 The East Side Gallery is the longest section of the Berlin Wall that still exists. It is 1.3 kms (almost a mile) long wall along the River Spree.
In 1990, after the Berlin Wall's collapse, the Eastern side of the wall was painted by more than 100 artists from 20+ countries.
Today, the East Side Gallery is the world's longest open-air gallery.
Distance from Brandenburg Gate: 4.5 km (2.8 miles). Bus Number 300 can take you there in 30 minutes. It is 13 stops away.
Follow the link to find out more about an exciting Alternative Tour of Berlin, which includes access to East Side Gallery.
Berlin Wall Memorial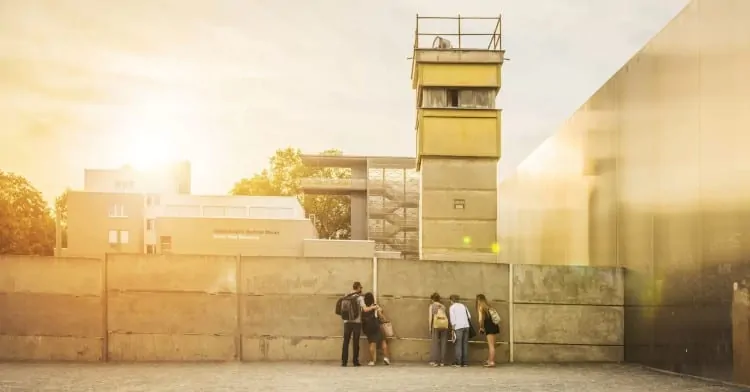 The Berlin Wall ran along the entire during the years of Berlin's division.
A part of the Berlin Wall that ran along the southern edge of Bernauer Straße has been preserved along with the watchtower.
It is now an open-air exhibition offering historical audio and video to the visitors.
Distance from Brandenburg Gate: 2.6 km (1.6 miles). 10-15 minutes by taxi.
This Private Walking Tour of the Divided City includes a visit to Berlin Wall Memorial.
Topography of Terror
The Topography of Terror is a Museum behind a 200 meters (650 feet) wall that runs along Niederkirchnerstraße.
This Museum is located in a building that used to house the Gestapo headquarters and the high command and security service of the SS.
Distance from Brandenburg Gate: 1.3 km (less than a mile). 15 minutes by walk.
A visit to Topography of Terror is part of this highly recommended Third Reich Walking Tour.
Brandenburg Gate facts
Here are some interesting facts about the Berlin Gate.
In ancient Greek mythology, Propylaea was a monumental gateway. In the modern world, the prime example of a Propylaea is the gateway to the Acropolis in Athens, Greece. Brandenburg Gate was also meant to be the monumental gateway and is modeled on the Acropolis' portal in Athens.
In 1945 for the first time, a Soviet Flag was flown on top of the Brandenburg Gate. The flag would remain till 1957.
Quadriga statue on Brandenburg Gate
In 1793, a Quadriga statue depicting the Goddess of victory bearing a symbol of peace got added to Brandenburg Gate.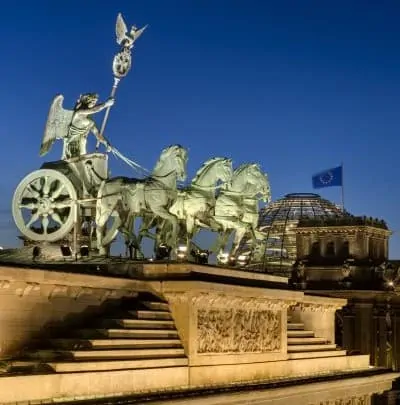 A Quadriga is a car or chariot drawn by four horses abreast. It is different from the more conventional two horses in the front and two horses in the back format.

Image: Visitberlin.de
When the French forces under Napoleon Bonaparte shattered Prussian Army and captured Berlin in 1806, he took Brandenburg Gate's Quadriga to Paris.
However, he never installed it anywhere.
The Prussian forces captured Paris in 1814, and following Napoleon's defeat brought the Quadriga back to Germany.
This time the Germans added a Prussian eagle and an iron cross on her lance, with a wreath of oak leaves and mounted it on the top again.
However, the original Quadriga was destroyed in WW II – only one horse's head from the Quadriga survived Allies' onslaught.
It is now on display in Märkisches Museum, in Mitte, Berlin.
Brandenburg Gate and Hitler
When Hitler seized power on 30 January 1933, he held a torchlit procession through the Brandenburg Gate.
Thousands of brown shirt wearing stormtroopers and SS members passed under the Brandenburg Gate to the presidential palace where Hitler was cheered.
When the Nazis ascended to power in Germany, red flags of the Nazi party were hung from the Brandenburg Gate, making it a party symbol.
Brandenburg Gate during World War 2
Brandenburg Gate survived many onslaughts during World War II.
After the war was over in 1945, it was the only structure still standing amongst the Pariser Platz ruins.
However, the bullets and nearby explosions had damaged it to a great extent. In fact, all the columns had bullet holes.
After WW II ended, the governments of East and West Berlin joined hands to restore Brandenburg Gate to its former glory.
Ronald Reagan's speech at Brandenburg Gate
On 12 June 1987, US President Ronald Reagan made his rousing speech standing in front of the Brandenburg Gate.
He said, "As long as this gate is closed […] it is not the German question alone that remains open, but the question of freedom for all mankind […].
He followed it up with a "Mr. Gorbachev, open this gate! Mr. Gorbachev, tear down this wall!"
On 22 December 1989, Brandenburg Gate was opened for good when West German Chancellor Helmut Kohl walked through it to meet East German Premier Hans Modrow.
FAQs about Brandenburg Gate
Here are a few questions, tourists visiting Brandenburg Gate like to ask –
What is the Brandenburg Gate?


The Berlin Brandenburg Gate (Brandenburger Tor in German), is an 18-century neoclassical gate in Berlin.

It consists of twelve columns that form five passageways. 

The public used the outer two passages, the inner two were used by the nobility, and the Royal family used the central passageway. 

Today more than 12 million people visit this attraction annually. 

When was Brandenburg Gate built?


Brandenburg Gate was built between 1788 and 1791, replacing the earlier simple guardhouses that stood in its place. 

The Gate, which was initially called Friendenstor (or Peace Gate) got inaugurated on 6 August 1791.

Who built Brandenburg Gate?


Frederick William II of Prussia commissioned the Brandenburg Gate to signal that Europe's tumultuous times were a thing of the past. 

It was to be an entrance to Unter den Linden, which led to the Prussian Palace. 

How big is Brandenburg Gate?


Brandenburg Gate is 20 meters (66 feet) high and 65 meters (213 feet) wide.

Each of the 12 Doric columns is 15 meters (49 feet) in height. 

On top of the 20 meters, high Gate is a 6-meter tall Quadriga statue which was installed in 1793. 

This statue takes the final height of Brandenburg Gate to 26 meters (85 feet).

When was Brandenburg Gate closed?


Initially, vehicles and pedestrians were allowed to travel freely through the gate in East Berlin. 

However, on 13 August 1961, the Berlin Wall was built, and the very next day, Brandenburg Gate border crossing was closed.

The Gate remained closed for 28 years until it was opened for all in a landmark decision on 22 December 1989.
Sources

# Wikipedia.org
# Berlin.de
# Visitberlin.de

The travel specialists at TheBetterVacation.com use only high-quality sources while researching & writing their articles. We make every attempt to keep our content current, reliable and trustworthy.
Popular attractions in Berlin