Reichstag Building is where the German Parliament sits in Berlin.
Every year around 3 million tourists head inside the world-famous Reichstag to discover its architecture, history, and symbolism.
In this article, we share everything you must know before buying your Reichstag tickets.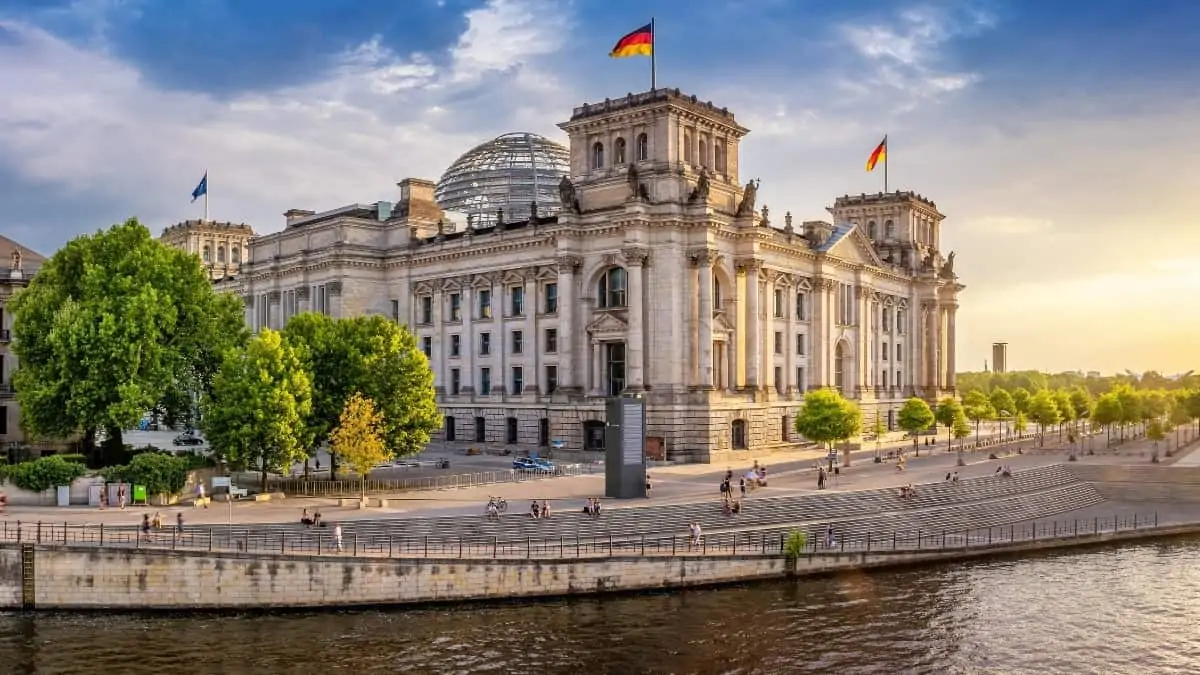 What to expect at Reichstag
There are two ways to explore Reichstag in Berlin.
Some tourists take in Berlin's panoramic views from Reichstag's glass dome or take a seat and watch Bundestag in action.
Others go for the upgraded experience where besides the Parliament building's dome, they also spend time in Reichstag's rooftop restaurant called Käfer.
Käfer at Bundestag is the world's only public restaurant in a parliament building.
If you don't want to go up the Reichstag's Dome, you can book the Government District, Chancellery, and Reichstag Tour where you explore the German Parliament form outside.
Reichstag tickets
There are two types of Reichstag building tickets you can book.
Whichever experience you opt for, it is better to purchase your Reichstag Building tickets in advance because they help you get the time slot you prefer and also skip the lines.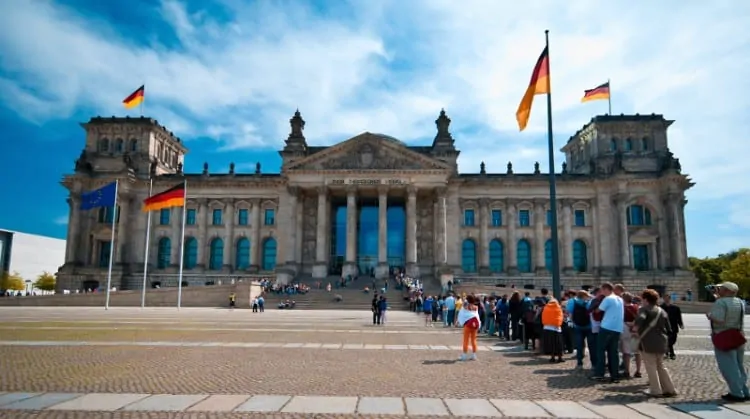 Guided tour of Reichstag
During a guided tour of the Reichstag, a local expert will take you through Berlin's parliament district and visit the chamber and the building's dome.
It is an ideal way to learn more about history, architecture, and politics in the heart of political Berlin.
Most Reichstag guided tours cost around €15 and after they get over, you can hang around at the Dome for as long as you want.
If you prefer an English tour, opt for the Plenary Chamber, Dome & Government District Tour.
If you prefer a German tour, you have two options – the Reichstag, Plenary Chamber, Cupola & Government Tour and the Government Quarter Tour and Reichstag Dome Visit
Reichstag Dome and restaurant tickets
Käfer is the only rooftop restaurant in the world attached to a Parliament building and open to the public.
This unique proposition makes these Dome and restaurant tickets the most memorable way to explore the Reichstag.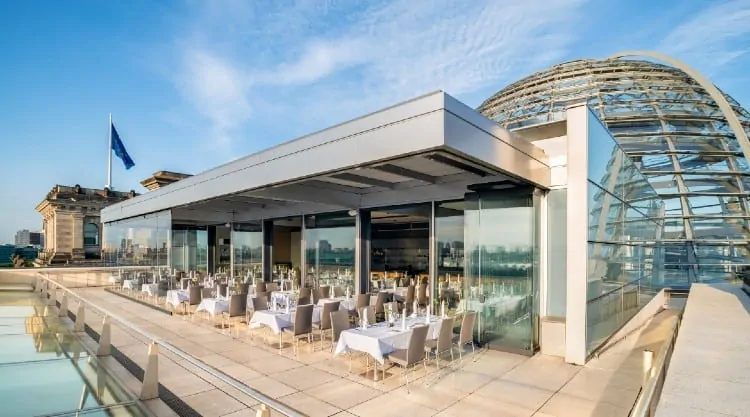 Besides access to the glass dome on the German Parliament and its open terrace, these Reichstag restaurant tickets also reserve a table for you at Käfer.
Depending on when you want to visit Reichstag Dome, you can opt from the following experiences –
# Apéro at Käfer in the Reichstag Dome
# Rooftop Breakfast at Käfer + Reichstag Dome
# Lunch at the Käfer Rooftop Restaurant
# Rooftop Dinner at the Käfer Restaurant
Private tour of Reichstag Dome
This is a highly popular tour with ratings of 4.7 out of 5.
This tour starts with you skipping the lines and heading to the Express Security Check counter.
After the 90-minute private tour by a local guide, you can hang around Reichstag for as long as you want.
The private guide speaks your preferred language, which you can indicate upon booking.
Tour price
Up to two visitors: 195 Euros
Up to four visitors: 215 Euros
Up to six visitors: 225 Euros
If you love history, we highly recommend this Discover Berlin Walking Tour in English.
Reichstag tours in German
Guided tours of Reichstag Building in the German language are very much in demand.
This is primarily because lots of tourists come from countries like Austria, Belgium, Luxembourg, Switzerland, etc., where German is one of the official languages.
We list below the best Reichstag tours in German –
Third Reich and Cold War Walking Tour
This is a two-hour, small-group walking tour that starts from Brandenburg Gate, touches upon the Berlin Wall, and passes through the Reichstag building.
You also get to see Soviet War Memorial, Memorial to the Murdered Jews of Europe, Hermann Göring's Ministry of Aviation building, Checkpoint Charlie, etc.
Tour cost
Adult ticket (26 to 65 years): 19 Euros
Seniors ticket (66+ years): 17 Euros
Youth ticket (less than 25 years): 17 Euros
If you are a bigger group or a large family, check out a very similar yet cheaper walking tour of the German Parliament area and a visit to Reichstag. It costs only 15 Euros per person.
Gov. District, Reichstag with Dome & plenary hall visit
This is a fascinating three-hour guided tour during which a German local takes you around the parliament quarter of Berlin.
There are three highlights of this Reichstag tour. You get to –
Step inside the Reichstag building and explore it
Attend a 45-minute speech about the German government and how it works, in the Plenary hall. This speech is in fluent German.
Visit Reichstag's glass dome and the rooftop terrace
Tour cost
Adult ticket (17+ years): 15 Euros
Student ticket (16 to 25 years, with ID): 12 Euros
Youth ticket (12 to 16 years): 10 Euros
Child ticket (3 to 11 years): 10 Euros
If you don't have much time, check out this Reichstag with Plenary Chamber & Dome visit tour that lasts only two hours.
Best time to visit Reichstag
The best time to visit Reichstag is on good weather weekday so that you can avoid the crowd and also enjoy Berlin's stunning views.
Some tourists believe twilight is the best time to be at the Reichstag building because one gets to see the sunset over the city of Berlin and enjoy an illuminated glass dome.
How long does Reichstag take?
Most tourists need 75 minutes or so to explore Reichstag Berlin and its Dome.
This factors in the security check, time spent picking up the audio guides, walking up the sloping ramp to go up on the glass dome, and the time on the open terrace.
On weekends and holidays, you may need an additional half-hour to navigate the crowd.
Book in advance to save time
If you book one of the Reichstag tours we have shared below, you can walk in directly.
Else you must register yourself just outside the Parliament Building and get a time slot for after two hours.
During peak times, all same-day slots get taken early in the day.
Thus visitors who register for their tour of Reichstag's Dome at the venue end up spending two hours more waiting for their time slot to arrive.
Reichstag visit – registration is a must
The German Bundestag imposes tight security measures, because of which the full names and birthdates of all guests are required at least 24 hours in advance.
These details are submitted to the police and security, and a clearance is obtained.
That's why if you plan to visit the Reichstag in Germany, it is better to book one of the tours or tickets in advance.
When you book a tour in advance, the travel agent registers your visit with Reichstag Building's officials and gets the necessary permissions.
If you haven't booked a tour in advance, you must share your full names and date of birth and register yourself at the venue.
Registrations can be done at Service Center run by Visitors' Service near the Reichstag Building, next to the Berlin Pavilion on the south side of Scheidemannstraße.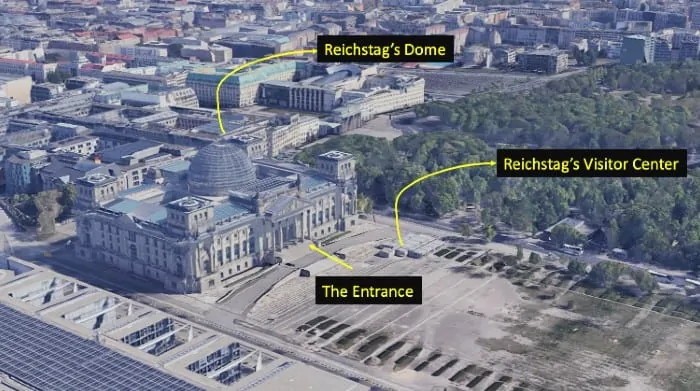 If free slots are available for the day, your Reichstag Berlin visit will be confirmed and you can stand in the queue at the entrance.
Else, you won't be able to go up the Dome on that day but can try for the next day's visit.
This registration must be done at least two hours before the time of your visit.
That is, if you want to visit Reichstag at 4 pm, you must register at the visitor center at least by 2 pm.
This allows the officials to run necessary security checks before your visit.
Future visits
If you prefer, you can register to visit the Parliament Building's glass Dome in the following two days.
At the Service Center, you can't book a visit for more than two days in advance.
Service Center timings
From April to October, Reichstag's Service Centre is open from 8 am to 8 pm, and from November to March, it is open from 8 am to 6 pm.
Käfer – Reichstag restaurant
Reichstag's roof is home to the Käfer Dachgarten Restaurant, where visitors can combine breakfast, lunch, or dinner with stunning views of Berlin.
Or you can also try out the restaurant's Appero offerings, and unwind over a cocktail (or two) and a few snacks.
Reichstag in Berlin is the only parliamentary building in the World with a restaurant open to the public.
Want to know what to expect at the Reichstag restaurant? Check out their menus – Appero Menu, Breakfast Menu, Lunch Menu and Dinner Menu.
Reichstag restaurant's timings
The rooftop restaurant on Reichstag opens in two shifts.
The first session is from 9 am to 5 pm, and after a two-hour break, it opens again at 7 pm and closes at midnight.
You can't just walk into this restaurant – you must reserve a table in advance.
Visitors who have a confirmed reservation can get to the Kafer restaurant via the entrance below and to the right of the West Portal (West C).
Guests can book either a breakfast, lunch or dinner at the restaurant.
Reichstag free with Berlin Welcome Card
The Berlin Welcome Card, available as 48-hours, 72-hours, 4-day, 5-day, or 6-day option, offers a cost-effective means to explore Berlin.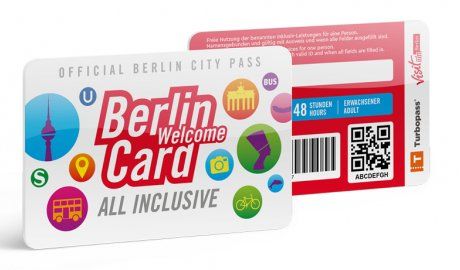 Besides Reichstag, the Berlin Welcome Card also gets you free entry into the Berlin TV Tower, Pergamonmuseum, Madame Tussauds Berlin, Sea Life Berlin, the DDR Museum, etc.
If you decide to use your Welcome Card and check out the German Parliament, you will need to register your visit here.
This discount card also gets you free transport within Berlin.
Reichstag's audio guide
If you prefer to know more about the German Parliament building and its workings you can try out the Reichstag's audio guide.
As soon as you exit the elevator on top of the building, you can pick up your set in one of these 11 languages: German, English, French, Spanish, Italian, Polish, Portuguese, Russian, Turkish, Dutch, and Chinese.
The 20-minutes long audio guide shares information about the Reichstag Building and its surroundings, the Bundestag, the working of the Parliament, etc.
The audio guide lasts the 230-meter-long walk on a sloping ramp, all visitors take while exploring the Reichstag's Dome.
It is a beautiful and leisurely walk, and you won't be bored because you will be looking outward at the views of Berlin.
Customized audioguides are also available for children and people with disabilities.
The audio guide can't be rented when the Reichstag's Dome is closed.
Reichstag's dome
The Reichstag dome, also known as the Bundestag dome, is a glass dome atop the Reichstag building.
The massive glass dome symbolizes Germany's reunification, and its unique design has made it a prominent landmark of the German capital.
Designed by architect Norman Foster, the Reichstag dome
Reichstag Dome offers a fascinating 360-degree view of Berlin, and when visitors look below, they can see the debating chamber of the Bundestag, the German Parliament.
This relative position of the people and the debating chamber symbolizes that the people are above the German government.
Visitors reach the top of the Reichstag Glass Dome by climbing two steel, spiraling 230-meter-long sloping ramps.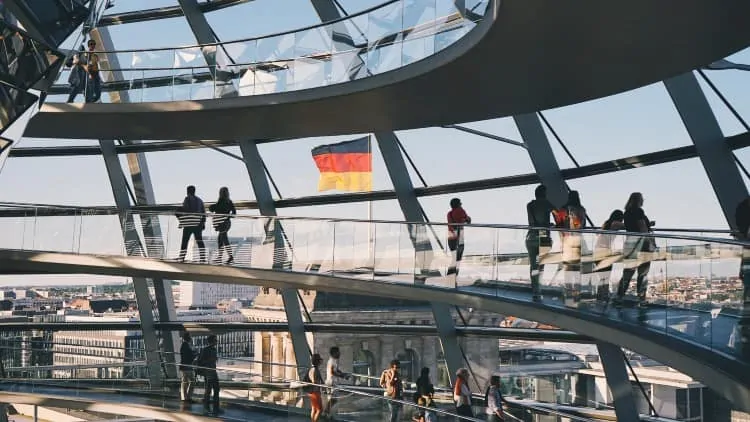 A mirrored cone in the center of the Dome directs sunlight into the Bundestag Bundestag building.
Architect Foster introduced the cone to send light into the building and reduce its carbon emissions.
Reichstag dome at night
There are two kinds of visitors who end up exploring Reichstag dome after dark.
Tourists who have already seen the city's daytime skyline from Berlin TV Tower's observatory or Panoramapunkt's observation deck and now want to experience its nighttime lights.
And then there are the visitors who didn't book in advance and thus got only the nighttime slots.
Either way, Reichstag Dome is all lit up at night and also offers fantastic views of Berlin.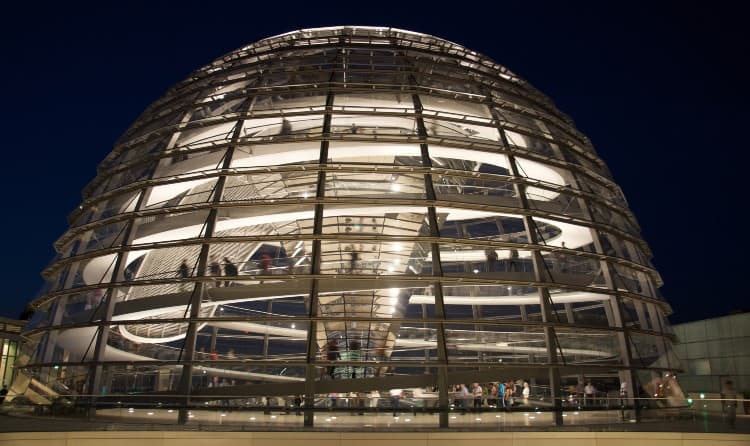 Even though the Dome is open till midnight, the last entry is at 10 pm.
How to get to Reichstag
Address: Platz der Republik 1, 11011 Berlin, Germany
It is best to take public transport to get to the Reichstag.
The same tickets are valid for trips on buses, S-Bahn, trams, U-Bahn (Underground), etc.
By Train (S-Bahn)
On weekdays, the S-Bahn starts at 4.30 am and continues till 1.30 am.
Depending on the time of day, the S-Bahn trains run in 5, 10 or 20-minute intervals.
You can board trains S1, S2, S25 or S26 and get down at Berlin Brandenburger Tor station.
Reichstag is around 650 meters (half a mile) from the station, and you can walk the distance in ten minutes.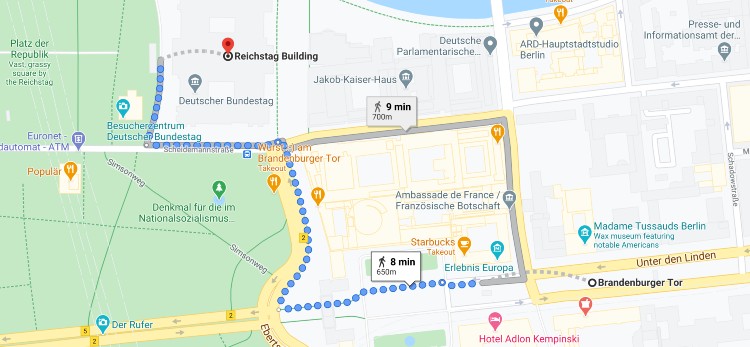 By Underground (U-Bahn)
Most U-Bahn lines run from 4 am till 1 am.
During the day, the Underground travels in 5-minute intervals, at night in 10-minute intervals.
Three Subway lines stop near Reichstag in Berlin – U55, U2, and U6.
On U55 line, you can either get down at U Bundestag or Berlin Brandenburger Tor.
U Bundestag is 200 meters from the German Parliament, while Brandenburger Tor Station is 650 meters (half a mile) away.
Locals feel the Underground is not the best way to get to Reichstag Parliament.
By Bus
Tourists tend to prefer a bus to the Reichstag Building because it also allows them to see the city.
Bus route No. 100 was created after Germany's reunification as the first bus route connecting East and West Berlin.
The primary objective of this route was to connect the sightseeing attractions the city has.
We highly recommend bus Number 100 to get to Bundestag.
245 is the other bus that can get you closer to the Parliament House.
Note: Berlin Welcome Card can be used to travel in the city's buses free of cost. It also gets you free entry to numerous Berlin attractions, including the TV Tower.
Reichstag hours
Reichstag Building's Dome and the roof terrace is open from 8 am to midnight.
The last admission is at 9.45 pm.
When is Reichstag closed?
Reichstag Parliament closes down for cleaning and maintenance work on the following dates –
16 to 20 March
6 to 10 July
13 to 17 July
21 to 25 September
19 to 23 October
The rooftop terrace and the Reichstag dome remains closed on 24 December.
On 31 December, Reichstag closes early at 4 pm.
Reichstag's Plenary Chamber
The Plenary Chamber of the Parliament is where all elected members who have the right to attend meetings gather for debates.
When the German Parliament is not sitting, visitors can attend sessions in the visitors' gallery of the Plenary Chamber.
Plenary Chamber lecture timings
During the peak season of April to October, Plenary Chamber lectures start at 9 am and go on till 6 pm.
During the lean season of November to March, Plenary Chamber lectures end early – by 5 pm on weekdays and 4 pm on weekends.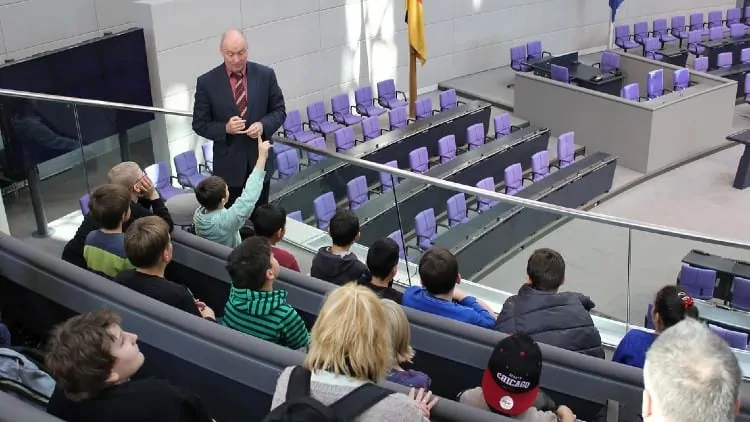 During these 45-minute lectures you learn about how the German Parliament works and know about the Reichstag building's history and architecture.
These sessions are in fluent German, and no translations are provided.
After the lecture, all visitors can go up to the Reichstag's Dome.
This is a limited experience, and you must book in advance.
We recommend two German tours which include a Reichstag visit with Plenary Chamber & Cupola – the three hours tour and the two hours tour.
German Bundestag's exhibition
Besides the Plenary Chamber lectures, there is one more way to learn about the German Parliament's working.
The German Bundestag's exhibition on parliamentary history in the Deutscher Dom traces the origins and history of the German parliamentary system.
Over five floors of exhibits, you get to learn about how its politicians run Germany.
The exhibition opens at 10 am and closes at 7 pm.
Location: Deutscher Dom, Gendarmenmarkt 1, 10117 Berlin. Get Directions
Reichstag from the river Spree
Reichstag parliament and a whole lot of the city's landmarks look imposing from the River Spree.
After they have experienced a closeup tour of the German Government district, many visitors, hop onto a boat for a trip on the Spree.
We recommend these river cruises, which offer stunning views of Bundestag.
1. Cheapest cruise on River Spree
On this boat tour, you learn about Berlin's intriguing history and see all the major attractions from the comfort of a river cruise.
The boat is glass-covered and heated during winters, making for a comfortable ride. Besides, a seat is guaranteed during the trip.
Audio guides are available in multiple languages, including English and German.
Cruise price
Adult ticket (14+ years): 19 Euros
Child ticket (6 to 13 years): 10 Euros
Infant ticket (less than 5 years): Free entry
2. River Spree cruise with Coffee and Cake
This boat trip lasts one hour, during which pre-recorded commentaries in English and German get played over the speakers.
Everybody gets one piece of apple strudel and a hot beverage (tea, coffee, or hot chocolate).
Cruise price
Adult ticket (14+ years): 28 Euros
Child ticket (less than 13 years): 20 Euros
3. Five-hour boat cruise along River Spree
This is a long boat trip where besides the German seat of power, you also get to see landmarks all over Berlin.
You can book this trip in English or German, and a live guide will be on the boat explaining everything you explore.
Some of the landmarks you will see are: Mühlendamm Lock, Radialsystem V, Berlin Ostbahnhof, Mercedes Benz Arena, Oberbaum Bridge, Badeschiff at Arena Treptow, Molecule Man sculpture, Humboldt Forum, Berlin Cathedral, Weidendammer Bridge, Tränenpalast (Palace of Tears), Friedrichstrasse station, Reichstag building, Federal Chancellery, Bellevue Palace etc.
Cruise price
Adult ticket (15+ years): 24 Euros
Child ticket (4 to 14 years): 12 Euros
Sources

# Wikipedia.org
# Britannica.com
# Bundestag.de

The travel specialists at TheBetterVacation.com use only high-quality sources while researching & writing their articles. We make every attempt to keep our content current, reliable and trustworthy.
Popular attractions in Berlin