Neues Museum is the second most famous attraction on Berlin's Museum Island, after the Pergamonmuseum.
The Museum boasts 9,000 plus exhibits divided into three collections – Egyptian and Papyrus, Prehistory and Early History, and Classical Antiquities.
Visitors from far and wide visit to see Egyptian Queen Nefertiti's bust – she is to Neues Museum what Mona Lisa is to the Louvre Museum.
In this article, we share everything you must know before buying your Neues Museum ticket.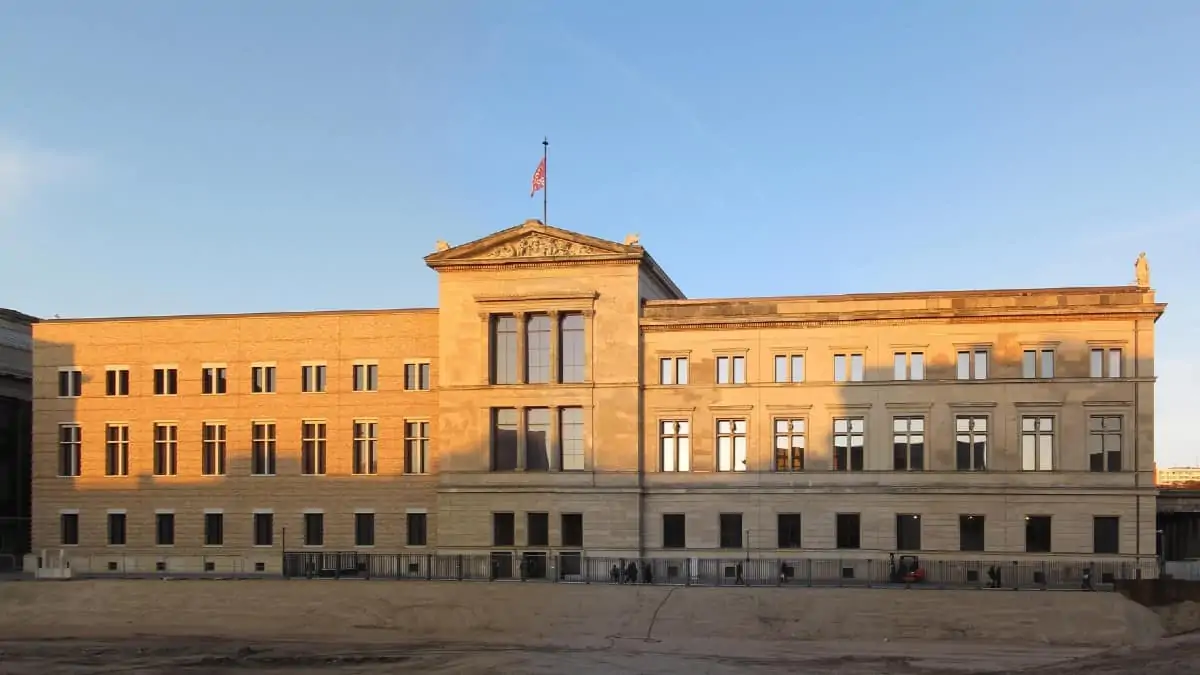 Where is the Neues Museum
Neues Museum is on Musuem Island in Berlin.
The Museum Island (locally referred to as Museumsinsel) is collection of Museums on the Northern part of the Spree Island in the center of Berlin.
Besides the New Museum, Museum Island is also home to Pergamon Museum (Pergamonmuseum), Bode-Museum, Old National Gallery (Alte Nationalgalerie), Old Museum (Altes Museum), and James Simon Gallery.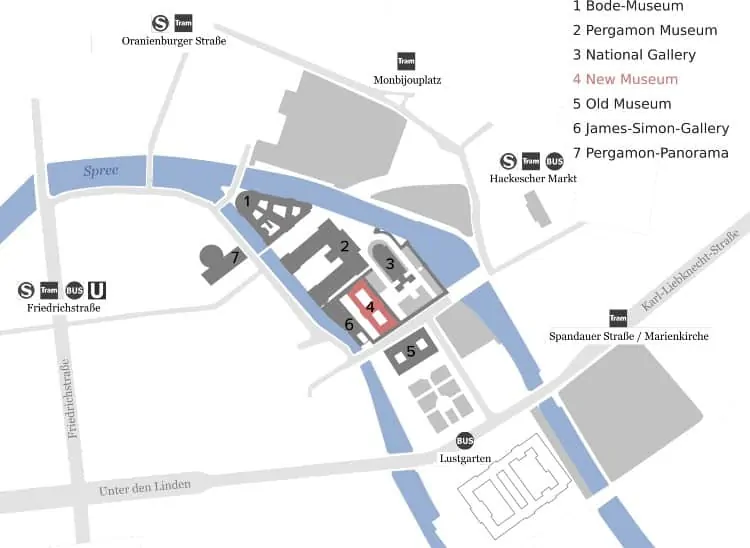 Neues Museum entrance
Entry to Neues Museum is exclusively through the newly built James Simon Gallery visitor center.
Everyone must use the big stairway (see map below) and meet at the Information Desk in the Upper Foyer of James Simon Gallery.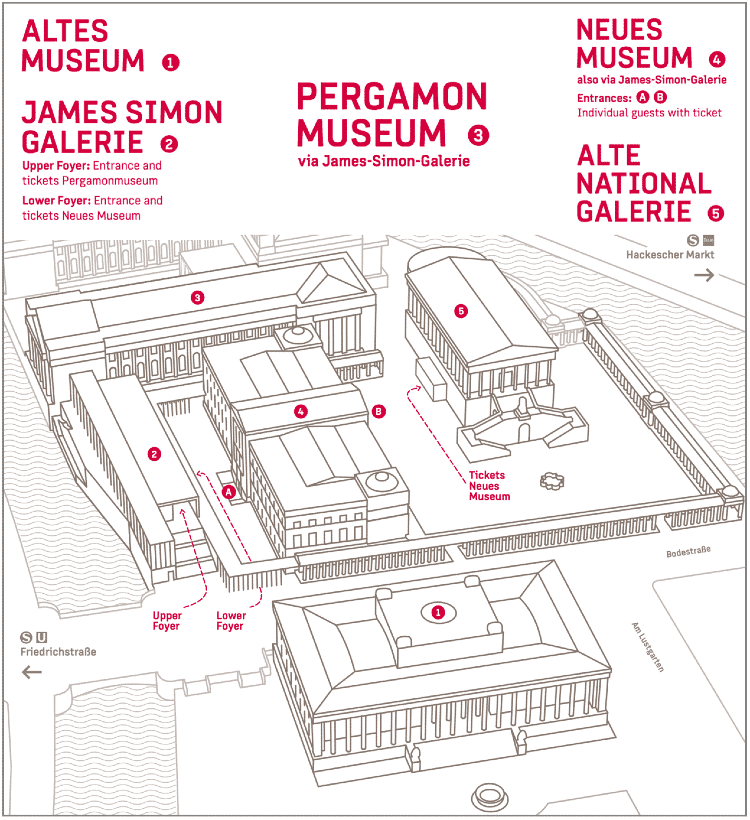 Visitors with limited mobility must access the Neues Museum via the Eastern entrance and via the lift on the Southern side of the building.
Neues Museum tickets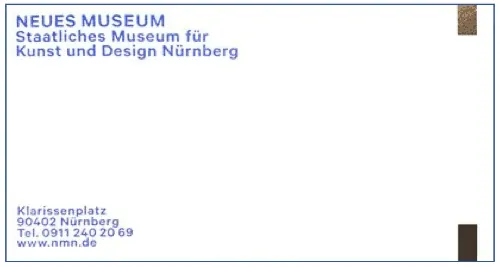 This Skip The Line Neues Museum admission comes with a free audio guide for everybody.

Image: Tripadvisor.com
It is the most popular ticket and gets you access to everything there is to see – the Egyptian Collection, the Antique Collection, and the Prehistoric and Early History Collection.
Visitors 18 years and below get free entry, but you must still mention them while booking your tickets.
Ticket price
Adult ticket (19+ years): 12 Euros
Student ticket (with valid ID): 6 Euros
Child ticket (less than 18 years): Free entry
Important: Large backpacks and items bigger than carry-on luggage must be left in the lockers.
Berlin Museum Island Pass
Berlin Museum Island Pass gets you entry into all the five Museums on the Island.
Museum Island Pass is perfect for two kinds of tourists – those who want to visit all the Museums on the Island and those who aren't sure which Museum they wish to visit.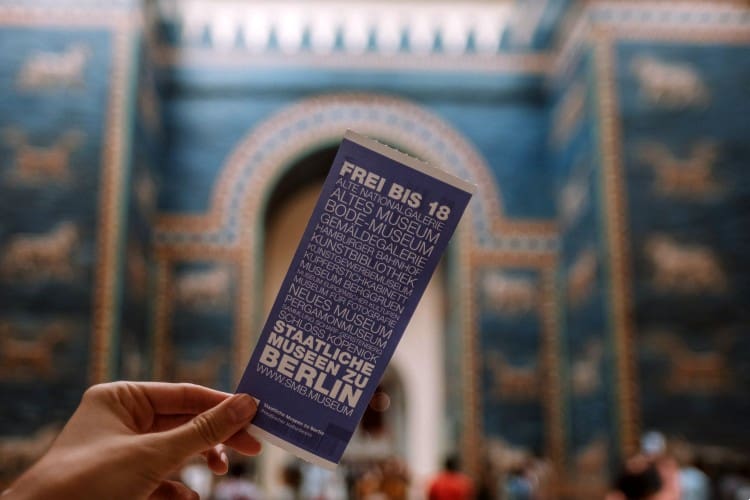 The Pass gets you skip-the-line access to the Bode Museum, Altes Museum, and Alte Nationalgalerie – you can show the Pass on your smartphone and walk into these Museums.
However, at the Neues Museum and Pergamon Museum, you must stand in a line to get a physical ticket before you can enter. You won't have to pay for anything.
Once activated, this Museum Island Pass is valid for one whole day.
How to get to the Neues Museum
It is best to get to the Neues Museum Berlin by public transport.
By Underground (U-Bahn)
You can board U6 line and get to the Friedrichstrasse U station, which is closest to the Museum Island.
The Subway is 900 meters (half a mile) from Neues Museum, and you can walk the distance in 10 to 12 minutes.
By S-Bahn train
You can board S-Bahn lines S1, S2, S25, S5, S7 or S75 and reach either Berlin Friedrichstraße station or Hackescher Markt station.
Hackescher Markt station is 550 meters (half a mile) from Neues Museum, and you can walk the distance in 7 to 8 minutes.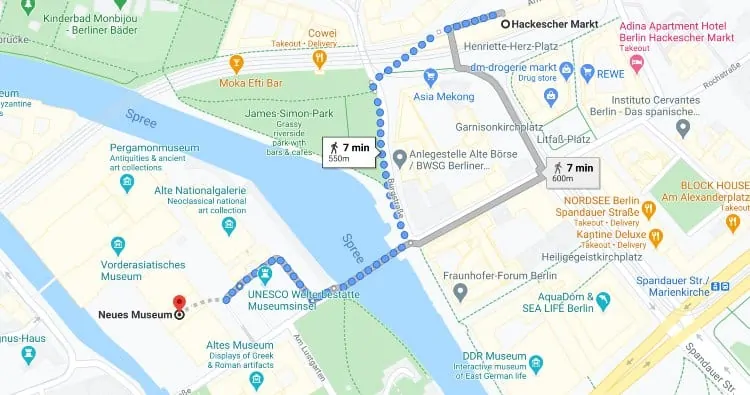 By Tram
You can take the Trams M1 and M12 and get down at AM Kupfergraben tram stop.
It is 500 meters (almost half a mile) from the Museum, and by walk, you can reach your destination in six minutes.
By Bus
If you prefer a bus, you can board Bus Number 100 or Bus Number 200 and get down at Lustgarten.
Lustgarten is a park on Museum Island.
The New Museum on Museum Island is 400 meters from Lustgarten, and you can walk the distance in five minutes.
Parking at Museum Island
There is no parking for cars or bigger vehicles on Museum Island.
If you plan to drive to the Museum, you can park at either Radisson Blu Hotel or International Trade Center.
The Hotel is 500 meters (less than half a mile), and the Trade Center is 800 meters (half a mile) from Neues Museum Berlin.
Neues Museum hours
Neues Museum on the Museum Island Berlin is open from 10 am to 6 pm from Tuesday to Sunday.
On Thursdays, the Museum stays open till 8 pm.
The last admission is 30 minutes before the Museum closes.
It remains closed on Monday.
Best time to visit Neues Museum
The best time to visit the Neues Museum is as soon as they open at 10 am.
The crowd is at its minimum, which means you can avoid the queue, take time exploring the exhibits, and snap photographs without strangers.
The Museum starts getting crowded around 11 am, and between 12 and 2 pm, it reaches its peak capacity.
If you can't make it early in the morning, the next best time to visit Pergamonmuseum is after 2 pm.
If you are planning on an evening visit, Thursdays are better because the Museum stays open till 8 pm.
How long does Neues Museum take?
Visitors in a rush can explore the highlights of the Neues Museum in approximately 45 minutes.
To explore the museum at a relaxed pace and relish the exhibits, you will need 90 minutes to two hours.
History buffs are known to spend upwards of three hours.

Note: Nefertiti's room is the most popular (and most crowded) at Neues Museum, and visitors end up spending more time here.
Free entry into New Museum, Berlin
It is possible to get free entrance into Neues Museum if you qualify any of the below conditions:
Visitors up to 18 years of age
School children on educational outings with their teachers
University / college students accompanied by a lecturer
Members of the International Council of Museums (ICOM) and the German Museums Association
Journalists with press ID cards
Persons in receipt of transfer benefits with valid documents
Carers accompanying a severely disabled person where this requirement is noted in the disabled Pass
Neues Museum ticket price
Neues Museum tickets can be purchased both online as well as at the attraction's entrance.
While buying online tickets, you can book them in advance or buy same-day tickets.
The Neues Museum entrance fee for adults 18 years and above is 12 Euros.
Neues Museum discounts
Visitors below 18 years of age get a 100% discount at the Neues Museum and thus enter for free. However, they must book a free ticket.
Students with a valid ID and visitors with a disability get a 50% discount on their New Museum entry ticket and thus pay only 6 Euros.
However, seniors don't get any reduction in the ticket price.
What to see in Neues Museum
Berlin's Neues Museum has around 9,000 exhibits spread across three collections.
With 8,000 square meters (86,000 square feet) of display space spread over four separate levels, the exhibits are divided into Egyptian and Papyrus Collection, the Prehistory and Early History, and Collection of Classical Antiquities.
We list the Neues Museum highlights below –
Nefertiti's bust
Nefertiti's bust is the star attraction of the Neues Museum in Berlin.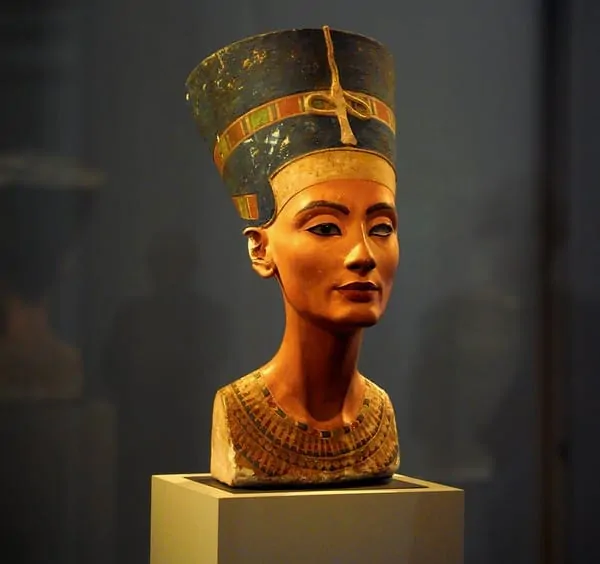 Queen Nefertiti's bust was discovered in 1912 in Amarna in Central Egypt by German archeologists, and art experts worldwide consider it the epitome of ancient Egyptian art.
Nefertiti was the Great Royal Wife of Egyptian pharaoh Akhenaten.
The painted stucco-coated limestone bust was crafted in 1345 BC by Thutmose and is one of the most copied works of ancient Egypt.
Nefertiti's bust is in Room No. 210, 2nd floor of the New Museum, and is full of visitors all through the day.
Berlin Green Head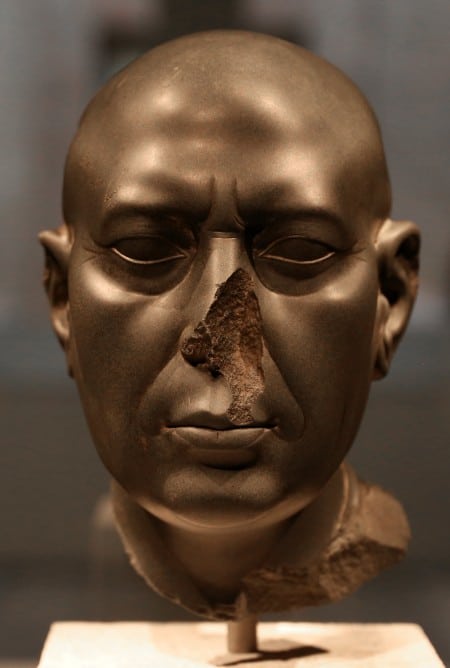 The Berlin Green Head is an ancient Egyptian statue head made from greenschist, a type of rock with chemicals that give it a green tinge.
The portrait head is considered the work of a master Egyptian sculptor, who unfortunately hasn't been identified.
Experts believe the Green Head was created around 100-50 BC, the last century of ancient Egyptian civilization. Image: Wikipedia
The Berlin Green Head is in Room No. 109, 1st floor of the New Museum.
Head of Teje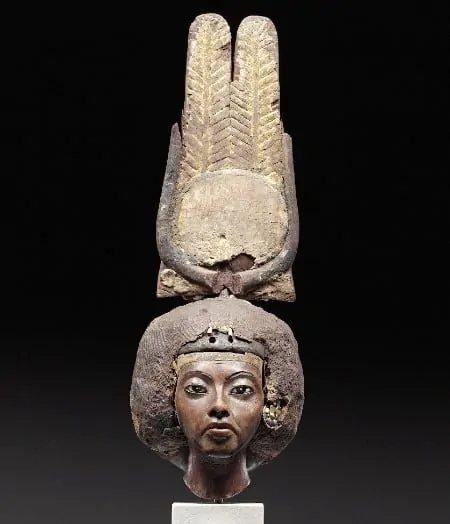 This is the portrait of Queen Teje, who came from a commoner's family and got married to the open-minded Pharaoh Amenophis III of Egypt.

The small statue head is carved from yew wood and shows the Queen wearing the headdress of a goddess.

Image: Google
Experts believe that the portrait was sculpted sometime between 1388 to 1351 BC. Yet again, the master sculptor is unknown.
Berlin Golden Hat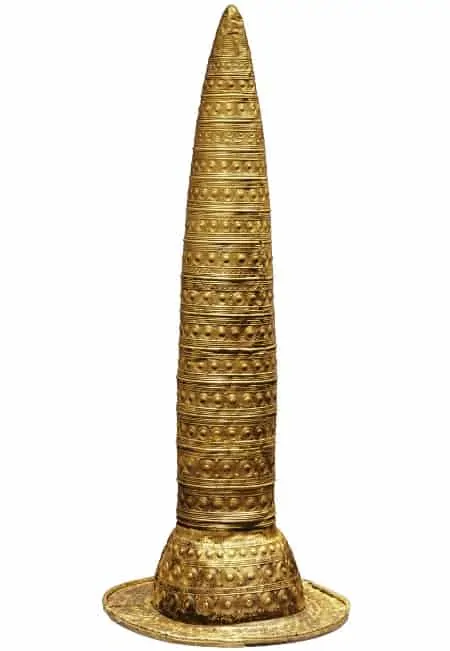 The Golden Hat at Neues Museum is part of the displays that depict life in the Stone, Bronze, and Iron Ages.

Experts feel the elaborate Berlin Golden Hat got made sometime between the 9th and 8th centuries BC.

The paper-thin hat was created from a single sheet of Gold and is decorated with ornaments.

Image: Arthistoryproject.com
The Golden Hat is in Room No. 305 of the 3rd floor of the Neues Museum.
Silver Vessels from Troy
This is a collection of three cups and a bowl made of silver.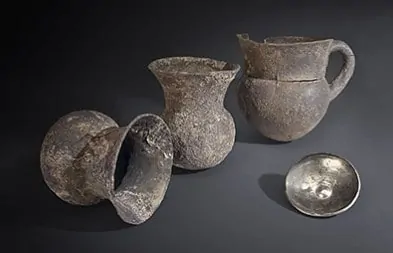 While most of the artifacts reached Pushkin Museum in Moscow, the silver vessels found their way to Berlin.
These vessels date back to 2500 BC and are on display in Room 104 of the Neues Museum's 1st floor.
The Sticna Breastplate
The Sticna Breastplate is also often referred to as Stična Cuirass and was found from the grave of a soldier in Stična, Slovenia.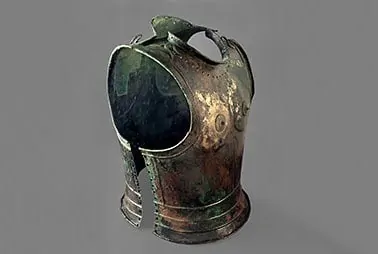 Cuirass is a piece of armor consisting of breastplate and backplate fastened together.

Image: Museumsinsel-berlin.de
The Stična Breastplate is a 6th Century BC item from the Eastern Hallstatt Culture of the Early Iron Age.
Now that you know what to expect, why don't you book your Neues Museum ticket?
Bonus: If you prefer, you can also take a virtual tour of Neues Museum before your actual visit.
Neues Museum on Tripadvisor
Neues Museum is highly rated on TripAdvisor – 4.5 out of 5.
We have picked two of the most recent Neues Museum reviews to give you an idea of what to expect during your trip.
Do not miss this one
I went to this museum because it has the same entrance as the Pergamon's. I thoroughly enjoyed my time here, even more so than at Pergamon. If you are into Egyptian history, make sure to visit this museum. Highly recommended.

Ericet593, Jakarta
It is a superb museum!
Superb museum–we thought better than it's sister museums on the Island. A huge amount of significant and interesting artifacts here, and the layout and the curating quality are outstanding. A history nerd could easily spend 3-4 hours here and still not see it all.

NewStart78, Des Moines, Iowa
Neues Museum map
There are lots of exhibits to see at the Neues Museum. The trick is in not getting lost and not miss out on the masterpieces.
That's why it is essential to be aware of the Neues Museum's floor plan and where the masterpieces are.
Besides helping you with the location of the exhibits, Neues Museum map's will also help you spot visitor services such as restrooms, cafes, souvenir shops, visitor assistance booths, etc.
Neues Museum's layout
Check out the floor plan of the Berlin Museum below –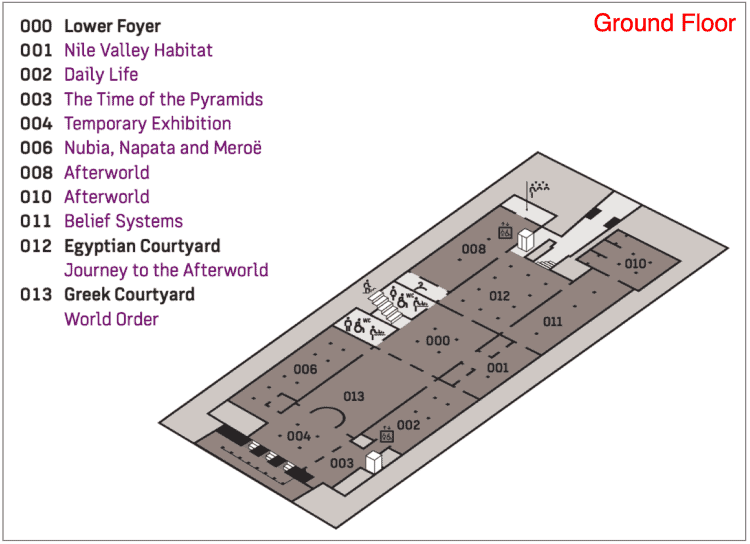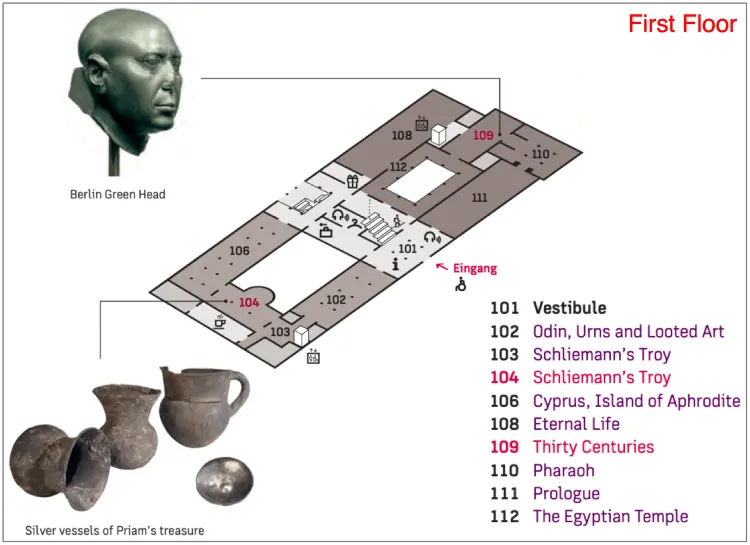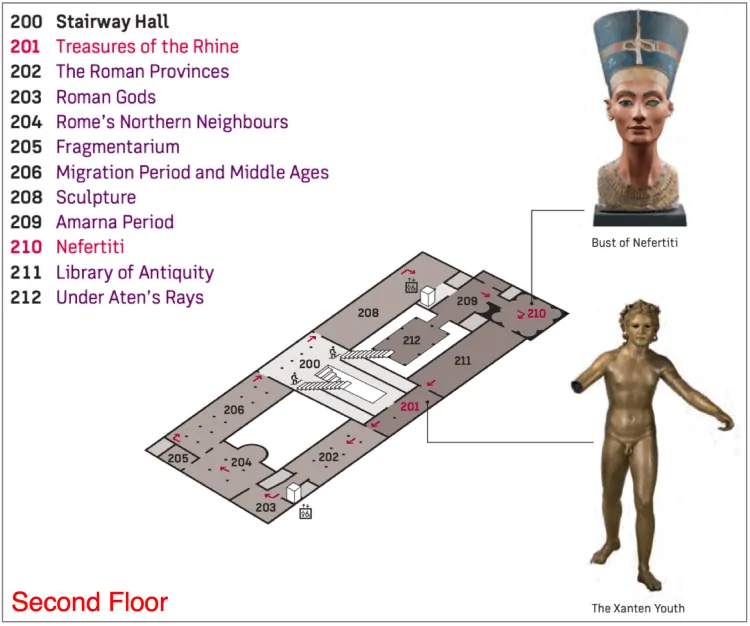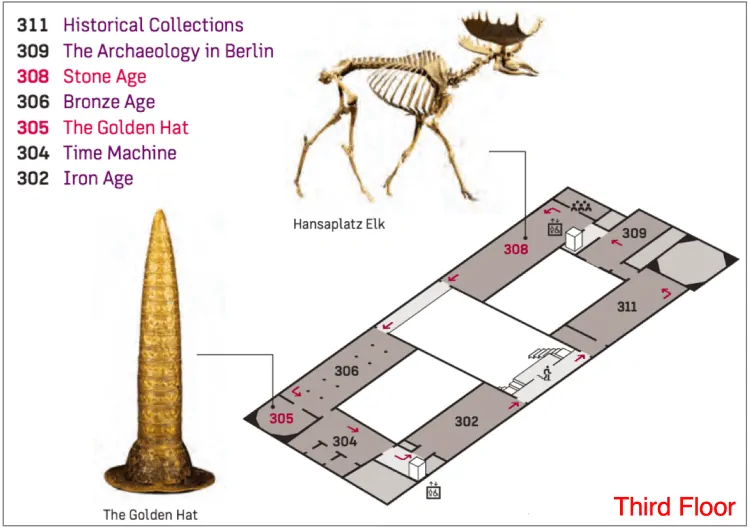 Neues Museum cafe
Allegretto Café is at the Neues Museum, and from Tuesday to Sunday, it is open from 10 am to 6 pm.
It is on the 2nd floor of the Neues Museum and is an excellent place to take a break during your visit to the Museum.
It is a bit expensive and serves both German and European cuisine.
Besides Allegretto Café at Neues Museum, the other recommended restaurants at Museum Island are – Cafe Pi at Pergamonmuseum and restaurant Cu29 in James Simon Gallery.
Neues Museum's architects
Work on the Neues Museum in Berlin started in 1841, and it opened for the public in 1855.
Friedrich August Stüler, court architect of King Friedrich Wilhelm IV, designed the massive neoclassical building from 1841 to 1859.
It was popular with history lovers from all over the world, but the museum suffered extensive bombing during the Second World War, which left the building in ruins.
Some of the sections of the Museum got destroyed completely while a few others survived the onslaught.
After War II, there wasn't much focus on art and history for long, and many not many attempts were made to repair the Museum.
Neues Museum and David Chipperfield
In 1997, David Chipperfield Architects won the contract for rebuilding Neues Museum in collaboration with conservation architect Julian Harrap.
Neues Museum restoration
The project had twin objectives –
Restore the rooms that remained after the destruction of the Second World War.
Introduce new building sections in continuity with the existing structure.
The archaeological restoration was in line with the Charter of Venice, respecting the historical structure in its different states of preservation.
The re-designing and rehabilitating project lasted 12 years.
After more than sixty years standing as a ruin, the Neues Museum reopened to the public in 2009.
After Altes Museum and Pergamonmuseum, it became the third restored building on Museum Island Berlin.
Sources

# Smb.museum
# Wikipedia.org
# Berlin.de

The travel specialists at TheBetterVacation.com use only high-quality sources while researching & writing their articles. We make every attempt to keep our content current, reliable and trustworthy.
Popular attractions in Berlin