You will like to celebrate Valentine's Day 2024 in Philadelphia if you love quiet romantic places, excellent food, museums, and night activities.
Aptly named the City of Brotherly Love, Philadelphia caters to lovers eager to infuse their relationships with a little extra passion around Valentine's Day.
Here, you will find some of the most romantic places in the United States.
Young and old couples, visitors, and locals alike enjoy spending their Valentine's Day in Philadelphia.
If you adore your sweetheart (and we don't doubt it!), you will want to spoil them with all the romantic surprises the city has to offer.
Plan ahead of time, for many lovers will be flocking to this city to celebrate the most passionate day of the year – 14 February 2024.
Check out our pick for the most romantic Valentine's Day itinerary in Philadelphia.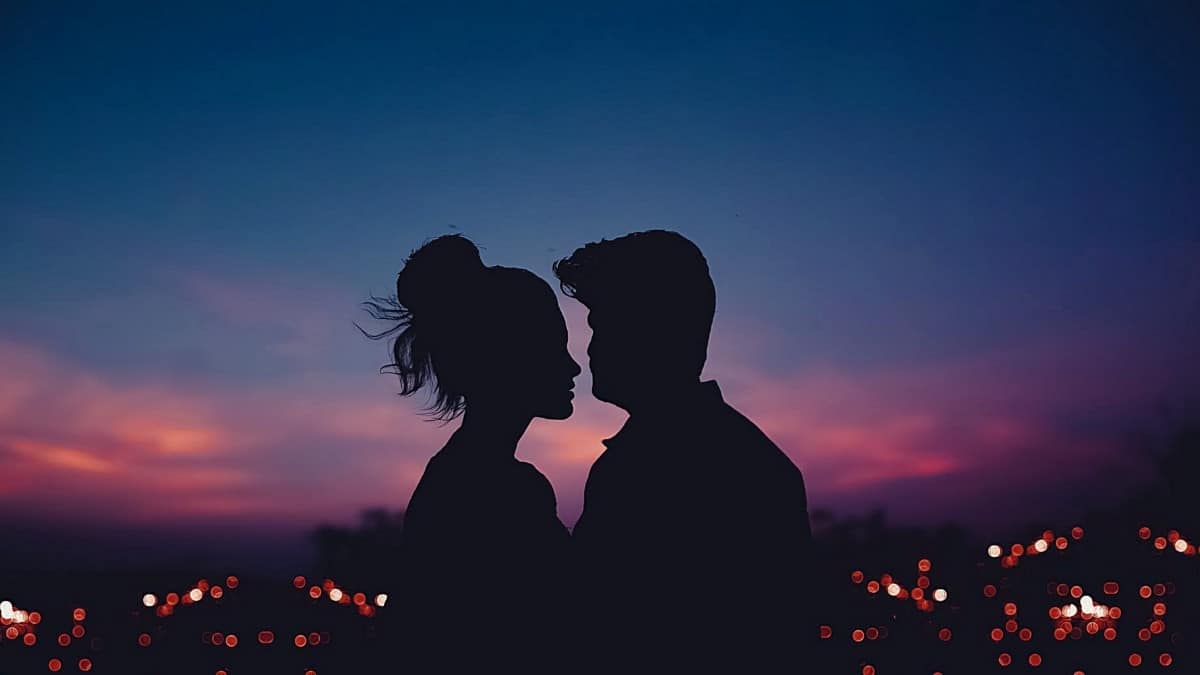 Things to do on Valentine's Day in Philadelphia
Here are our recommended 12 romantic things to do during your Valentine's Day week in Philadelphia.
You only need to bring your partner along.
Go on a horse-drawn carriage tour
Horse-Drawn Carriage Tour is one of the most romantic couple activities in Philadelphia.
During this private carriage ride, you pass through the tree-lined streets of Philadelphia's Independence National Historic Park, Society Hill, and Old City.
Your guide will take you on a leisurely ride through historic Philadelphia, providing amusing insights into the past and present of the City of Brotherly Love.
You can either select a daytime ride or a nighttime ride.
---
---
Relish a buffet lunch or dinner cruise
Onboard the Spirit of Philadelphia, take a 2-hour lunch or 3-hour dinner cruise on the Delaware River.
As you cruise across the city, enjoy a buffet eating experience while taking in panoramic views of the skyline.
Have your photo taken by the ship's photographer to capture your Valentine's Day 2024 celebration for eternity.
Once you are seated at your private table, you have your lunch or dinner buffet, which includes an array of dishes and delicacies.
After your meal, people in love can hold hands and sip on cocktails on the ship's spacious outdoor deck.
---
---
Tour the city on a Segway
See many of the city's top sights on a 2.5-hour guided Segway tour of Philadelphia.
You will get started on your self-balancing Segway after a 30-minute orientation on using the future means of transportation.
Some of the highlights:
Penn's Landing (to see views of New Jersey and the Benjamin Franklin Bridge)
Elfreth's Alley
Betsy Ross House
Independence Hall
Society Hill
Avenue of the Arts
Rittenhouse Square
Schuylkill Banks
Philadelphia Museum of Art
Rocky Balboa statue
Benjamin Franklin Parkway
Chinatown
It is an ideal Valentine's Day activity for young couples.
---
---
Visit LOVE Park and take a selfie
No list of the most romantic things to do in Philadelphia can be complete without mentioning Love Park, located in the heart of the city.
Known as the John F. Kennedy Plaza, the half-acre park is also called LOVE Park because it houses Robert Indiana's LOVE statue.
The statue consists of the letters L and O over the letters V and E in bold red color and is one of the most photographed spots in the city.
This Valentine's day, why don't you snap a selfie with your loved one at the LOVE statue?
---
---
Marvel at Philadelphia's murals
Philadelphia's Mural Arts program got launched in 1984 as an anti-graffiti measure which had become a massive headache for the city.
The mural program has changed some of Philadelphia's most unassuming locations, boasting over 4,000 community-based public artworks.
When you book this tour, you and your loved one will experience the thrill of riding a Segway, combined with the fabulous murals unique to Philadelphia.
The English-speaking guide will take you to see the Northern Liberties, two unique murals that show the beauty and individuality of Philly.
They will also explain the method used to create the murals, the story behind each mural, and the artist who worked on it.
---
---
Get tricked together at Museum of Illusions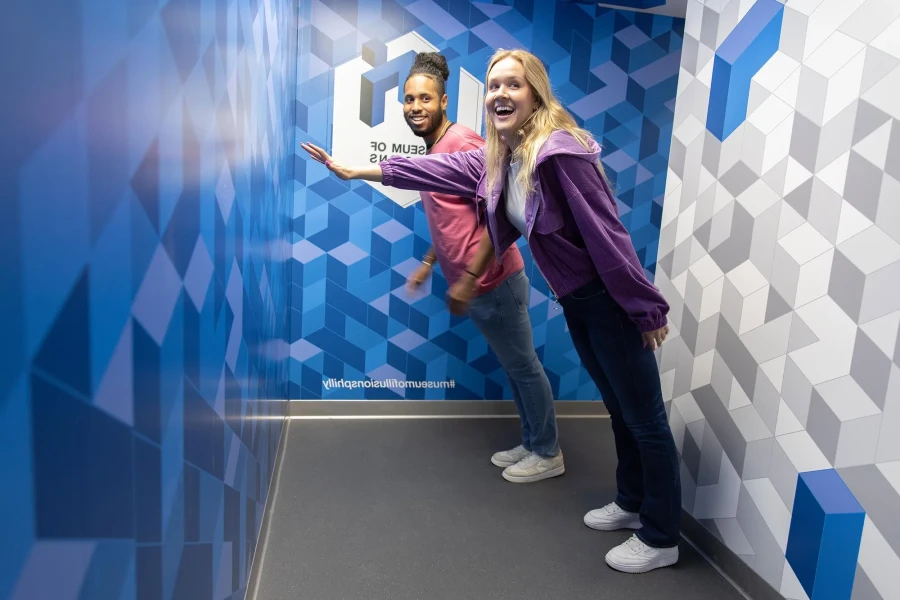 This Valentine's day, you can immerse yourself in the wacky world of illusions.
You and your partner would love to explore the 60+ exhibits, which make you go, "How did they pull that off?."
There will be unlimited laughter, and the endless photo opportunities to fill your Insta feed are a bonus.
---
---
Go in search of Philadelphia's best food
Philadelphia has its share of exciting food. So much so that Philly's food tours were listed in top 1% of Things To Do worldwide by TripAdvisor in 2021.
If you and your lover are foodies, we recommend two food tours, one of which is on a Segway.
The food tour of Philly on a Segway is a guided ride through South Philly in search of the city's best cheesesteak.
You get to see the Italian Market, South Street, and Society Hill and sample five varieties of the famed Philly cheesesteak along the way.
If you would rather walk, check out the 2.5-hour walking tour to explore Philadelphia's most popular food spots and dishes.
You will stop to eat at five spots on the way and pick up insight into the city's history and culture from your expert guide.
---
---
Take a bus tour of Philadelphia
Take a hop-on hop-off bus tour of Philadelphia that highlights over 100 years of history.
Depending on how long you want to stretch your Valentine's Day week, you can choose from 1, 2, or 3-day tickets.
This tour is an ideal way to spend time with your loved one because of the flexibility – you decide when you board and when to get off.
You must choose between two highly rated HOHO operators – City Sightseeing bus tour and the Big Bus tour.
---
---
Visit the museums of Philadelphia
Philadelphia is a city with dozens of historic sites, centuries-old neighborhoods, and more than 80 museums.
It may not be the traditional way to celebrate your Valentine's Day in Philadelphia, but if you and your partner love spending time in museums, why not?
We recommend the following –
Philadelphia Museum of Art: At this art museum, you discover one of the largest collections of art in the world, with over 240,000 pieces depicting 2000 years of creativity.
Penn Museum: University of Pennsylvania Museum of Archaeology and Anthropology has one of the world's most extensive collections of anthropological and archaeological artifacts.
Betty Ross House: At Betty Ross House, you learn about the creation of the United States of America's first flag.
Simeone Foundation Automotive Museum: In here, you explore one of the world's top private collections of classic sports cars and vintage motor vehicles
Franklin Institute: This is a science museum of interactive learning, family fun, and incredible live shows.
Museum of the American Revolution: This museum has more than 500 authentic artifacts, including weapons, clothes, and artwork.
---
---
Learn about Philadelphia's history
The city of Philadelphia has lots of history to show, and you can use this opportunity to learn about it with your girlfriend or boyfriend by your side.
You can book the Founding Fathers' historical walking tour and see where the US Constitution was signed, George Washington's house, etc.
At the end of the tour, you enter a local brewpub and grab a craft beer.
If history attracts you, we also recommend the tour of Eastern State Penitentiary.
Eastern State prison opened 180 years ago and was once the most famous and expensive prison in the world.
---
---
See wildlife in Adventure Aquarium
If both of you love wildlife, you can dedicate this 14 February to the sea creatures at the Adventure Aquarium.
They have the most extensive collection of sharks on the East Coast, little Blue penguins, Nile hippos, and over 8,500 aquatic animal species.
The aquarium is minutes from downtown Philadelphia on the calm Camden Waterfront and houses all its creatures in more than 2 million gallons of water.
---
---
Fall in love at Philadelphia's Magic Gardens
Philadelphia's Magic Gardens is artist Isaiah Zagar's masterpiece on the South Street of Philadelphia.
Since the 1960s, Zagar has created more than 100 mosaics in Philadelphia, most of which can be found along the South Street corridor.
The Gardens cover an indoor and outdoor space equivalent to half a city block and are made of cement, bicycle spokes, bottles, ceramic shards, and other artistic knick-knacks.
---
---
Get romantic during night tour of Philadelphia
If you and your spouse love nighttime romance amongst the glittering lights, you must try out the Philly By Night Double-Decker Bus Tour.
The 90-minute trip offers a unique perspective of Philadelphia, with all of the city's highlights lit under the stars.
Visitors especially enjoy the narration by the friendly and knowledgeable Philadelphia tour guide.
If you prefer a bit of horror so that you can snuggle closer at night, we recommend the Philadelphia ghost tour by candlelight.
---
---
Go Philadelphia Explorer Pass for more activities
What can be more romantic than not worrying about the cost and roaming around Philadelphia freely?
Imaginative romantic couples go for a Discount Pass, which helps them get more out of less during Valentine's Day in Philadelphia.
The Go Philadelphia Explorer pass is a multi-attraction pass covering entry to three, four, five, or seven Philadelphia attractions.
You can select from 30 trips and attractions and decide what you want to do with your loved one.
So how do you and your love plan to celebrate Valentine's Day 2024 in Philadelphia?
Book ahead before your options run out – after all, it is yet another way of showing that you care.
Additional Reading
Valentine's Day in Paris
Valentine's Day in Venice
Best honeymoon places in the World
Romantic places to take your girlfriend or wife