Las Vegas is an all-time holiday destination for couples looking to enjoy their time by indulging in the city's local food, entertainment, and exquisite nightlife.
The best thing about this city is that it is full of tourist attractions such that every couple can find something that interests them.
Las Vegas is famous for its nightlife scene, the casinos, and the bars flooded with locals and tourists.
You can plan your stay with your loved one on Las Vegas Boulevard, one of the top hotel destinations that offer excellent nightlife views.
For couples who love to enjoy nature and scenery, so many amusement parks await your presence.
In this blog, we'll take you through 15 attractions in Laz Vegas that will help you plan your travel itinerary and get the best out of your vacation.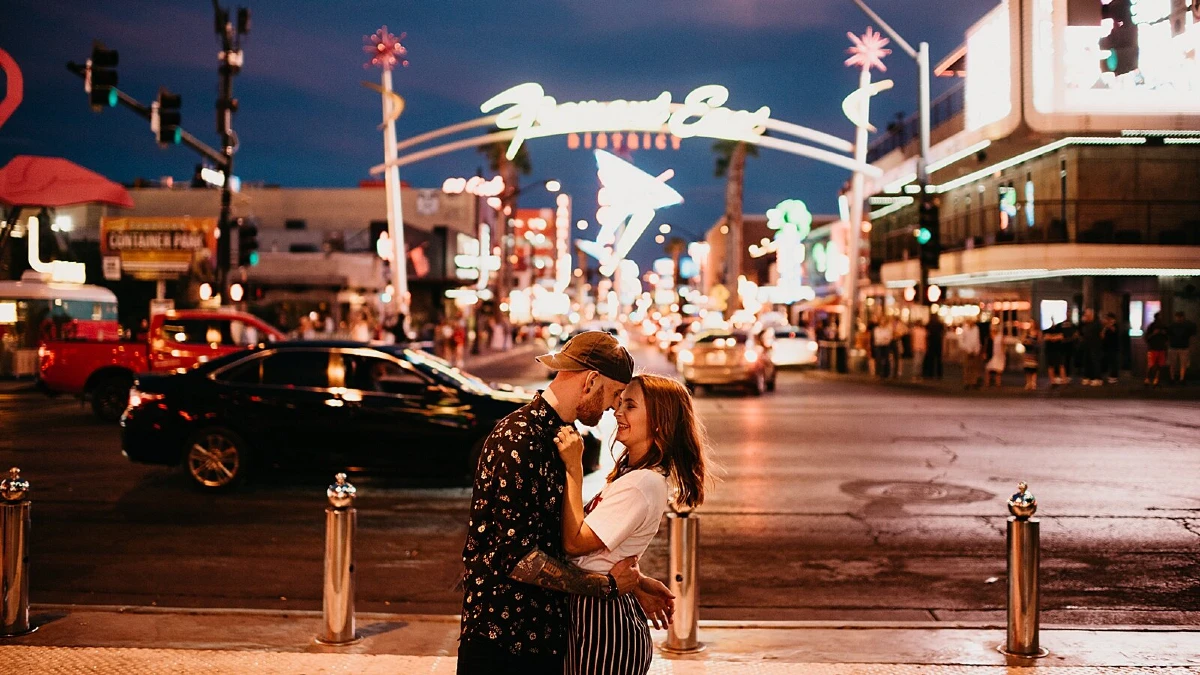 Hang around Las Vegas Strip
The Las Vegas Strip is 4.2 miles long, starting at Sahara Avenue and ending on Russell Road. There is nothing more satisfying than walking across the lanes of the Las Vegas Strip.
Also known as Las Vegas Boulevard, the Strip offers romantic couples a variety of resorts to stay in and glance at the numerous attractions of this place.
On one hand, you may find that Las Vegas Strip is full of people and crowds, but on the other hand, you can witness the beauty of attractions such as The Fountains of the Bellagio.
Fashion Show Mall is a great place on the Strip, famous for shopping and dining purposes.
The Strip is also famous for the theme rides that it offers. You can hop onto the world's highest thrill ride when walking down The STRAT, namely the Big Shot.
After your indoor skydiving session is over, you will take home a personalized flying certificate, a fantastic memory of your time with your loved one.
---
---
Go ziplining at the Las Vegas strip
There is nothing better than a zip line to start your romantic vacation. The thrill and vibe of going down a zip line at towering speeds will make your loved one shout out of the adrenaline rush in her veins.
Las Vegas has zip lines that are primarily designed for couples who can go on the zip line, sit side by side in a chair, watching the entire city of Las Vegas from a bird's view.
The zip line at the RIO hotel on the Las Vegas Strip offers two seats for romantic couples who can budge on each other, enjoying every moment of the adventure.
The list doesn't end here. If your sweetheart loves a speedy and super fast ride, you must go for the Fly LINQ Zipline at the LINQ Promenade.
It offers a surreal experience, roaring at benchmark speeds of 30-35 mph, giving your loved one the chills of an exquisite zip line ride.
---
---
Tour at Grand Canyon
The Grand Canyon, declared a UNESCO World Heritage Site is a popular vacation spot for couples who love sightseeing and adventure.
Glorious and majestic in its being, the Grand Canyon gives you all the chance to go on an adventurous hike to explore all the limitless attractions of the natural park.
Flowing through the inner sanctuaries of the Grand Canyon, the Colorado River stretches up to 277 miles, becoming an excellent choice for rafting.
Your loved one will be excited as she discovers the various rock patterns and attractions as the raft keeps tumbling down the waters.
You can also take a helicopter ride if you want an aerial view of the place.
After your indoor skydiving session is over, you will take home a personalized flying certificate, a fantastic memory of your time with your loved one.
---
---
Dine at Eiffel Tower Restaurant
Savor dinner at Las Vegas's Eiffel Tower Restaurant which promises a great view of the Las Vegas Strip and has tasty foods and delicacies.
You can view primary attractions such as the Bellagio Fountains from the restaurant while having the best quality wine and munching on some mouth-watering Beef Wellington and Roasted Rack of Lamb.
The restaurant's aesthetics is all glam, giving your partner every sense of delight upon dining at this place.
The night-time illuminations of this popular restaurant get you all vibed up to view the fantastic lighting of Paris Las Vegas.
---
---
Experience the bliss of a Cirque du Soleil show
The Cirque du Soleil show features the best musical performances and lives drama of Las Vegas. A talented team of artists use all their skills to demonstrate a one-of-a-kind show.
If your loved one is a fan of high-profile visual performances, this is one of the best couple things to do in Las Vegas.
Some of the best shows include The Beatles LOVE plays at The Mirage; Michael Jackson ONE at Mandalay Bay, and the timeless "O" at the Bellagio.
The Beatles LOVE plays at The Mirage is one of the most famous shows in the world. This multi-sensory show transports you to the netherworlds. The ticket pricing is 69$ for a single person.
Michael Jackson ONE at Mandalay Bay is an excellent show for couples who love to watch live acrobatics, dance, and visuals.
---
---
Marvel at the dancing Bellagio Fountains
One of the best couple things to do in Las Vegas is to admire the majestic Bellagio Fountain. Unlike any other fountain, this is a genuinely remarkable fountain as you see the incredible patterns of springs of water that gush forth every 30 minutes from 3 pm to 8 pm.
The Bellagio Fountains feature around 1000 unique fountains that glimmer and shine thanks to the fantastic lighting of the rising waters.
The waters soar as high as 460 feet above the ground level, offering a magnificent view each time the fountain arises.
Given this romantic setting, you and your sweetheart can sit somewhere around the fountain and enjoy the majestic views.
---
---
Watch a Fremont Street light show
Las Vegas is all about inevitable experiences, and the Fremont Street light show promises romantic couples just that. The light show spans a six-block stretch of roads lined with iconic casinos, bars, shops, and a mammoth zip line.
Your loved one will be delighted to see live bands and street performers who make the place a show for all music lovers and dance enthusiasts.
The flashing neon lights, featuring the truly remarkable Viva vision lights, consist of nearly 10 million LED bulbs that pave the way for the light show.
Great musical bands such as the Imagine Dragons and famous artists such as Shakira make the Street experience wild with fans screaming at the top of their voices.
---
---
Enjoy beauty of Conservatory Botanical Garden
The conservatory botanical garden features amazing floral creatives such as hot air balloons, butterflies, and various other objects of interest.
You can see A variety of plants and their intrinsic display when you visit the Conservatory Botanical gardens, one of the best things to do for couples in Las Vegas.
On top of all the floral designs, you and your partner can witness dynamic theatrical lighting across the venue, giving you all the time to click beautiful snaps and selfies.
Each season will have different floral themes that embark on the spirit of the botanical garden. Music plays in the background to further elevate the holiday spirit inside the garden.
---
---
Travel the sky in a hot air balloon ride
Las Vegas is one of those beautiful cities that deserve a hot air balloon ride. The fun even increases when you are with your life partner as both of you get to witness the entirety of Las Vegas.
The famous places to take balloon rides for couples are Love is in the Air Ballooning, Vegas Balloon Rides, and Las Vegas Balloon Rides.
Each balloon flight lasts up to a maximum of 2 hours, given that the day's weather is pleasing. The best thing about a hot air balloon ride is that it allows you to snap beautiful city pictures with the customized view you want.
A hot air balloon ride in Las Vegas can cost anywhere around $ 190 per person. You can also avail of discounts on particular seasons.
---
---
Click snaps with celebs at Madame Tussauds
If you want to add some celebrity glamour to your Las Vegas trip, look no further than Madame Tussauds Las Vegas.
The 200-year-old wax statue-making art and its magical appeal are still intact and make for a memorable experience for couples of all ages.
Madame Tussauds Las Vegas has some uncannily accurate wax figures and offers fun celeb-spotting, memorable experiences, and selfies.
Madame Tussauds Las Vegas wax museum was the first Madame Tussaud in the United States.
It was started in 1999 with over 100 celebrity wax figures and has since updated to modern icons, including the Hangover Stars, Tupac Shakur, Rihanna, Nicki Minaj, sports superstars, and music icons.
---
---
Learn history at Las Vegas Natural History Museum
Las Vegas Natural History Museum is an ideal attraction for couples in Downtown Las Vegas, Nevada.
Situated in Las Vegas' Cultural Corridor, the museum transports romantic couples back in time through two floors of prehistoric and wildlife exhibits.
It is a deviation from the attractions one expects in Las Vegas and is an ideal break from the Strip.
It is a natural history museum that exhibits a vast range of specimens from various segments of natural history.
Visiting this museum will help you and your sweetheart find a newfound appreciation for the animals and their unique history and environment.
The Natural History Museum is home to live and preserved wildlife and historical exhibits from prehistoric times to the present day.
---
---
Fancy yourself at the LINQ High Roller
Linq High Roller is an excellent way to take in spectacular 360-degree views of Las Vegas.
Couples get to relax in an air-conditioned cabin and savor the sights of the Las Vegas Strip and the surrounding areas from the world's tallest observation wheel.
Linq High Roller in Las Vegas is 168 meters (550 feet) tall and 158 meters (520 feet) in diameter.
These dimensions make it the Guinness Record holder for the largest observation wheel in the world.
The High Roller has 28 air-conditioned cabins, each of which can accommodate 40 guests.
An entertaining audio tour will cover Las Vegas' history during your ride, perfectly timed to point out the landmarks as they appear during the rotation.
---
---
Unravel the history of the Mob Museum
Mob Museum offers a fascinating overview of the power struggle between organized crime and law enforcement from the birth of Mob crime to today.
Located close to Fremont Street in Downtown Las Vegas, it has interactive exhibits, artifacts, and riveting crime and cop stories.
Built in 2012, Mob Museum Vegas is in a building that previously served as a post office and courthouse and attracts about 400,000 visitors annually.
It is a good option for couples looking for something unique and away from the Strip and casinos.
---
---
Entertain your loved one at SeaQuest Las Vegas
SeaQuest Las Vegas is a fun interactive aquarium where couples can see, feed and touch the sea animals.
The wildlife attraction is 31,000 square feet of interactive, educational, hands-on fun for couples, involving more than 300 species.
SeaQuest Las Vegas is a break from Sin City's attractions on the Strip and offers an opportunity to interact with wildlife and learn about the planet's diverse inhabitants.
It takes you on an interactive quest through more than 30 themed exhibits where you'll hand-feed birds in exotic aviaries, discover desert reptiles up close, touch sharks, interact with stingrays, and much more.
Besides the sea animals, visitors also engage with many land animals, such as birds, snakes, and turtles.
---
---
Visit some big cats at Lion Habitat Ranch
As the name suggests, the Lion Habitat Ranch is a wildlife sanctuary for the world's most fearsome predators, the lions.
There are about 30 lions in the sanctuary, and all the lions are well fed and maintained to give couples a great place to visit.
Besides just being able to walk across the trails, your sweetheart can also take a ticket that allows for animal feeding.
It will be a great experience to feed the animals as they merrily play around the park grounds.
There are exotic birds that fly around the sanctuary's boundaries. You can also spot Oozie, a painting giraffe that knows a thing or two about painting.
Best romantic destinations for couples