Taronga Zoo is home to more than 4,000 animals and is an extraordinary wilderness experience for kids and adults alike.
It is spread over 50 acres of harbor land, offering fantastic views of the Sydney harbor.
Taronga is also a not-for-profit organization supporting wildlife conservation.
It is a popular attraction for tourists and locals and provides a fun and educational day out for the whole family.
This article explains everything you need to know before purchasing your Taronga Zoo ticket.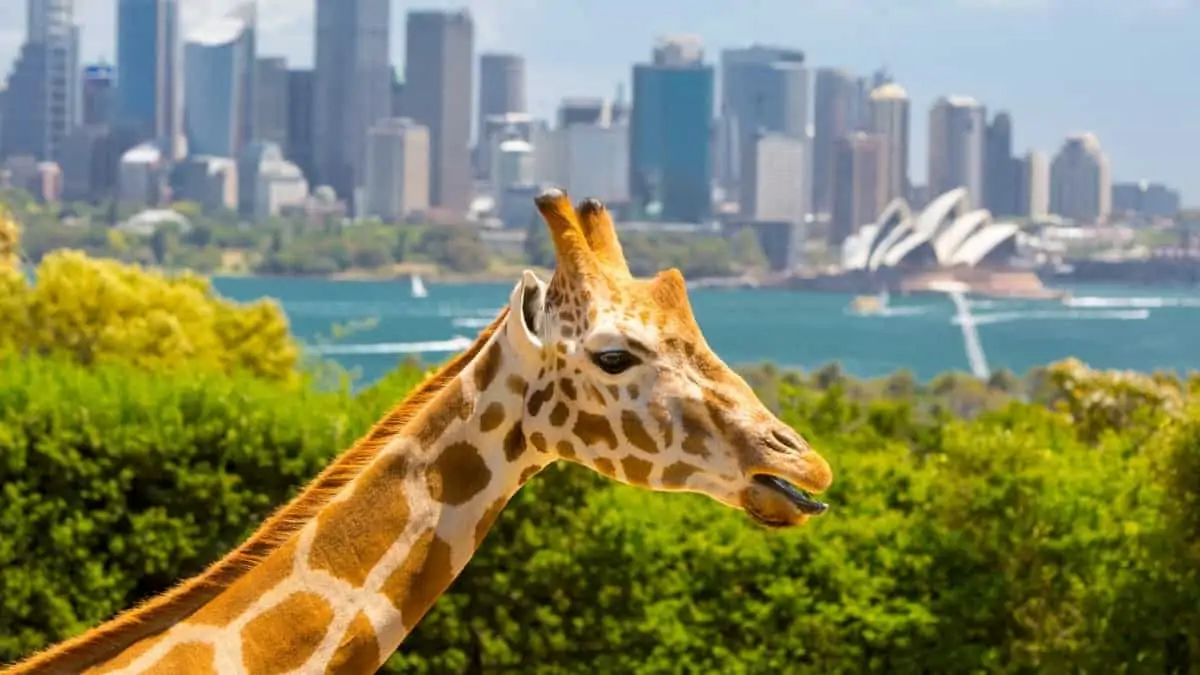 Taronga Zoo opening hours
Taronga Zoo opens at 9.30 am and closes at 5 pm every day of the year.
The last entry is one hour before closure.
This Sydney Zoo is open on weekends and public holidays too.
---
---
Taronga Zoo tickets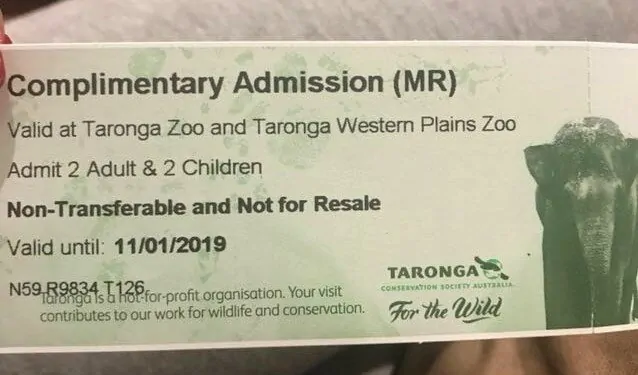 There are three types of Taronga Zoo admission tickets you can buy.
1. Taronga Zoo entry with Sky Safari
2. Basic Zoo entry tickets
3. VIP Tour of Taronga Zoo
4. Guided Taronga Wild Australia Experience tour
All are smartphone tickets.
You don't need to take a printout – on the day of your visit, show the tickets in your email and walk in.
In case of a last-minute change of plans, you can cancel them up to 24 hours in advance for a full refund.
Taronga Zoo entry with Sky Safari
This is the most value-for-money Taronga Zoo ticket.
You start this tour from one of these three locations – Darling Harbour, Circular Quay, or Manly.
You get on to the Rocket Ferry operated by Captain Cook Cruises and travel to Taronga Zoo; on the way, enjoy stunning views of the Sydney Harbour, Sydney Harbour Bridge, Sydney Opera House, etc.
This ticket gets you access to all Zones at the Taronga Zoo, including the Sky Safari cable car.
After your Zoo visit, you get on the Rocket Ferry and return from where you started your tour.
Tour Price
Adult ticket (16 to 64 years): A$ 65
Child ticket (4 to 15 years): A$ 40
Infant ticket (0 to 3 years): Free entry
Basic Taronga Zoo tickets
This ticket is the cheapest way to explore the Sydney Zoo.
It gets you full access to all nine different zones of the Taronga Zoo, including all the keeper talks and feeding sessions.
When you buy these Taronga Zoo tickets online, you get to skip the line at the ticketing counter and walk right in.
Taronga Zoo Prices
Adult ticket (16 to 64 years): A$ 51
Child ticket (4 to 15 years): A$ 30
Infant ticket (0 to 3 years): Free entry
Taronga Zoo Ticket with Return Ferry
Experience the animal world at Taronga Zoo with this entry ticket.
See native animals and enjoy a comfortable ferry ride with a roundtrip ticket from Darling Harbour, Circular Quay, Watsons Bay, or Manly.
Make the most of your visit by attending different daily keeper talks and shows
Spend a fun-filled day with your family in one of the most famous attractions of Sydney.
This tour is perfect for families with children or small groups. The starting time is 8.45 am.
Tour Price
Adult ticket (16+ years): A$ 65
Child ticket (Up to 15 years): A$ 40
Taronga Zoo & 1 or 2-Day Sydney Harbour Hopper Pass
Explore Taronga Zoo, one of Sydney's most famous and interesting attractions.
Choose between a one or two-day harbor pass and see Sydney from the water.
Enjoy insightful keeper talks and various daily presentations at Taronga Zoo.
Entry to the Taronga is part of this package.
This tour starting time is 8.45 am.
Tour Price +1 Day
Adult ticket (16+ years): A$ 69
Child ticket (Up to 15 years): A$ 49
Tour Price +2 Day
Adult ticket (16+ years): A$ 75
Child ticket (Up to 15 years): A$ 59
---
---
Taronga Zoo combo tours
Because of its proximity to the Sydney Harbour and Circular Quay, it is possible to combine your visit to Taronga Zoo with an equally exciting activity nearby.
Many tourists prefer these combo tours because when two or more activities are booked simultaneously, you get up to 40% discounts.
Sydney Harbour Ferry + Taronga Zoo + Whale Watching Cruise
Prepare for a full fun day on this tour with three fantastic adventures.
Take a ferry ride across Sydney Harbor to Taronga Zoo, which is home to many species of native Australian wildlife.
Then enjoy a whale-watching cruise with live narration about these majestic animals.
Finally, enjoy great views of the eastern suburbs on the return cruise.
Enjoy a variety of activities on one tour.
Tour Price
Adult ticket (16+ years): A$ 119
Child ticket (4 to 15 years): A$ 89
Infant ticket (up to 3 years): Free entry
Jet Boat Ride + Taronga Zoo
The first part of this tour is a thrilling jet boat ride on Sydney Harbour.
The skipper of the jet boat reaches high speeds and performs high-speed spins and breaks, etc.
After this adrenaline-inducing activity, you take a Yellow water taxi to Taronga Zoo.
This tour is not suitable for those with back problems.
Tour Price
Adult ticket (16 to 64 years): A$ 147
Child ticket (4 to 15 years): A$ 95
Infant ticket (0 to 3 years): Free entry
Check out Go Sydney Explorer Pass which includes access to Sydney Hop-on Hop-Off, Taronga Zoo and SEA LIFE Aquarium.
---
---
How to reach Taronga Zoo
Taronga Zoo is on Bradleys Head Road in Mosman, on Sydney Harbour. Get Directions.
It is close to Sydney's Central Business District (CBD), and there are various ways to get to Taronga Zoo.
Taronga Zoo Ferry
If you prefer a ferry to reach Taronga Zoo, board one from Circular Quay, Darling Harbour, or Manly.
The traveling time is around 12 minutes.
From Circular Quay, you can also get on board one of Captain Cook Cruises' Zoo Express boats.
All you have to do is buy a Sydney Harbour Cruise + Taronga Zoo ticket, and get the transport both ways.
By Bus
You can board the M30 metro bus outside Central, Town Hall, or Wynyard Train Stations every 10-15 minutes.
If you are trying to reach the Taronga Zoo via the Northern suburb bus routes, get down at either Spit Junction or Mosman Junction and board the M30 bus.
If you are coming from Balmoral Beach, pick bus route number 238 to get dropped off at Sydney's Taronga Zoo main entrance.
By Train
If you are trying to reach the Zoo by train, get down at the Circular Quay train station and get a ferry.
Taronga Zoo parking
Taronga Zoo Sydney's full-day parking costs 18 AUD.
The entrance to this parking zone is on Bradleys Head Road.
---
---
Best time to visit Taronga Zoo
The best time to visit Taronga Zoo is when they open at 9.30 am.
It is best to start early because the animals are most active in the morning, the temperatures are still moderate, the crowd is yet to get in, and you have the whole day to explore.
Since it gets crowded on weekends and school holidays, it is better to visit Taronga Zoo on weekdays.
The best months to visit Taronga Zoo are September, October, and November – Sydney's spring.
---
---
How long does Taronga Zoo take
Families with kids who usually attend keeper talks, feeding sessions, etc., need four to five hours to explore Taronga Zoo.
Adult-only groups tend to cover most animal exhibits at Taronga in two hours.
Taronga Zoo is divided into eight geographic regions and covers an area of 28 hectares (69 acres).
It houses more than four thousand animals, which makes it a massive attraction.
Some families turn it into a day-long activity by finding a picnic spot with stunning views of the Sydney Harbour.
---
---
Taronga Zoo tickets discount
The regular Taronga Zoo ticket for an adult costs A$ 47
The most significant discount on this ticket price is reserved for kids three years and below – they enter the Zoo for free.
Children between 4 to 15 years get the second-best ticket discount – they get a waiver of A$ 20 on the full adult ticket price and pay only A$ 27.
When you buy Taronga Zoo tickets online, you also qualify for an 'online discount.'
Yes, that's right. The entry ticket costs extra at the tourist attraction.
This is because when you buy Taronga Zoo tickets at the venue, you also pay what is known as the 'ticketing window surcharge' – the cost of maintaining a ticketing window.
The below-given cards also qualify for a concession of A$ 10 on the Taronga Zoo ticket price –
1. Pensioner Concession Card (PCC)
2. Companion Card
3. Health Cards (HCC)
4. Seniors Card
5. Student Card
---
---
What to do at Taronga Zoo
There are many things to do at this Sydney Zoo.
Watch this video to know what you can expect at Taronga Zoo –
This section also doubles up as Taronga Zoo's timetable because we mention the activities' schedule here.
Attend shows
There are two shows you must try and pack in during your Zoo visit.
Both are free for Taronga entry ticket holders.
However, they get crowded fast, so you must reach 10 minutes before the scheduled time to save a seat.
QBE, the free flight bird show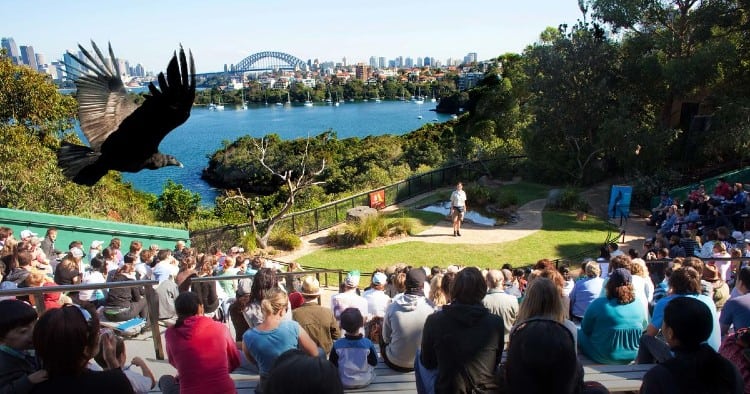 The free-flight bird show at Taronga Zoo begins at 12 pm and 3 pm daily; no booking is required.
It showcases the natural behavior of birds like Andean Candor. Watch out for its three-meter broad wings.
The Seal Show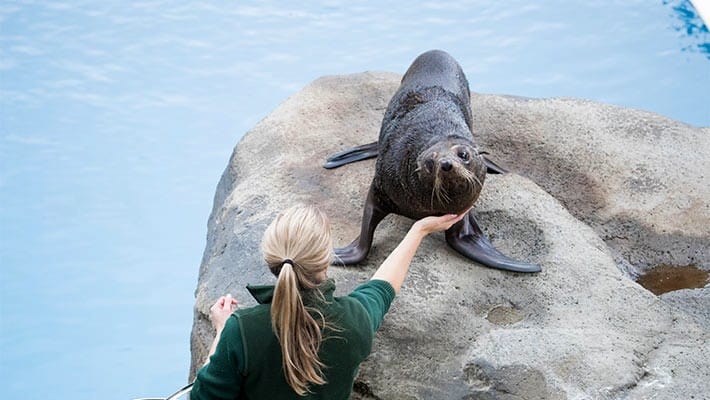 The Seal Show at Taronga Zoo show begins at 11 am and 2 pm daily. On weekends an additional performance is scheduled at 1 pm.
This showcases seals' natural behavior, like catching fish, climbing, etc.
You also see other species, such as the Australian Sea lion, Californian Sealion, etc.
Attend Keeper Talks
You can spend the whole day attending Keeper Talks at this Zoo.
All Taronga Zoo Keeper talks and feeding sessions are free to attend. That is, they are included in your entry ticket.
Most of them last only 10 minutes, so it is better to arrive early.
Elephant keeper talk
You get to see Taronga's Asian Elephants up close and learn how the lady of the house leads her herd.
Time: 1.45 pm, daily
Duration: 15 mins
Giraffe keeper talk
You get to understand why Giraffes are such amazing animals. How they are gentle and yet can be firm when required.
Time: 10.40 pm, daily
Duration: 15 minutes
Meerkat keeper talk
Meerkat family in Taronga Zoo Sydney is a lively bunch and to watch them eat insects, fruits, and vegetables during their feeding time is fantastic.
Time: 11.30 pm, daily
Duration: 15 minutes
Gorilla keeper talk
Gorillas have interesting social dynamics, and you get to learn and see it for yourself during this talk. You will see firsthand why Gorillas are known to be intelligent.
Time: 2.30 pm, daily
Duration: 10 minutes
Chimpanzee keeper talk
Chimpanzees have interesting family dynamics, which you will be able to observe from up close as they have their lunch.
Time: 12 pm, daily
Duration: 15 minutes
Penguin keeper talk
The keepers tell the story of the penguin's journey to the Taronga Zoo. How the injured and washed-up penguins reach the Zoo and settle down in their new home.
Time: 2.40 pm, daily
Duration: 10 minutes
This talk is currently not running.
Reptile keeper talk
You can see and learn a lot about Australian reptiles, such as the Black-headed Python, Blue Tongue Lizard, etc.
You can also take photographs to show off later.
Time: 11.30 am, daily
Duration: 10 minutes
Koala keeper talk
Koalas sleep for 18 to 20 hours a day, so no hard promises if you will see them all active.
However, you can learn a lot from the Zookeepers as the marsupials rest amongst the eucalyptus trees.
Time: 2.30 pm, daily
Duration: 15 minutes
Spider keeper talk
Not all get excited at the prospect of seeing a spider, but those that do want to know everything about the eight-legged beings.
Time: 3 pm, daily from Monday to Friday
Duration: 30 minutes
Komodo Dragon keeper talk
Komodo dragons are aggressive carnivores. In this talk, you get to see how ruthlessly the World's most giant lizards can eat.
Time: 11 am on Mondays, Wednesdays, and Saturdays
Duration: 10 minutes
Encounter the animals
At the 'Encounter the animals' session, you get closer to the animal for a one-on-one.
These animal encounters are paid activities; your Taronga Zoo entry ticket doesn't cover these.
You can encounter numerous animals up close, such as Koalas, Penguins, Giraffes, Meerkats Encounter, Birds, and Elephants.
Unfortunately, you can't book these animal encounters in advance.
You must book your encounter by visiting one of the Zoo's shops or Animal Experience stations. Book Your tickets
Tiger Trek
This trek lets you get close to endangered Sumatran tigers and discover ways to save them from extinction.
Every day this free-to-enter activity starts at 9.30 am and continues until 4.30 pm.
Sky Safari
The Sky Safari gondola operates from 9.30 am to 4.30 pm every day.
This ride is free for all visitors.
From the Taronga Sky Safari, you get fantastic views of Sydney Harbour.
During adverse weather conditions, Sky Safari is paused for a while.
Watch a movie
Access to the Centenary Theater is included in your admission ticket to the Taronga Zoo.
The theatre has a day-long schedule of screening animations, live shows, and short films.
10 am to 11.30 am: Lights for the Wild animation (Movie)
10.30 am: Super-smalls! GIANT bug show (LIVE show)
11.30 am: Reptile Keeper Talk (LIVE show)
12 pm to 12.30 pm: Lights for the Wild animation (Movie)
12.30 pm to 2.30 pm: Wild Squad (continuous screening of Movie)
2.30 pm: Super-smalls! GIANT bug show (LIVE show)
2.30 pm to 4.15 pm: Wild Squad (continuous screening of Movie)
Meet the bird keepers
This experience comes free with your day entry ticket.
During this session, you meet the Blue Mountains Bushwalk Keeper, Bush Bird Keepers, Wetlands Aviary Keeper, and Pelican Keeper.
Wild Ropes
This is a paid activity, and you can choose from four adrenaline-fueled Wild Ropes courses.
Both kids and adults can strap on a helmet and navigate suspension bridges, climbing walls, flying foxes, etc., even as they see the animals below and Sydney Harbour on the horizon.
Depending on which course you choose, this course can be 45 minutes to two hours.
Pat-a-pet
This is perfect for smaller kids. They are sure to love petting rabbits and Guinea pigs.
They also get to know what it takes to be a pet owner.
Farm Animal Walk
Kids can walk and learn how animals live on the farm at Taronga Sydney.
This 15-minute free activity is available on the weekends at 1.30 pm.
During school holidays, this is scheduled daily.
---
---
Taronga Zoo map
We recommend you look at Taronga Zoo's map before you visit this Sydney attraction.
Especially if you are traveling with kids.
It will help you plan your route – and thus not miss any exhibit.
Besides the animal exhibits, the map also points out visitor services such as restaurants, washrooms, ATMs, picnic areas, free Wi-Fi, etc.
We recommend you bookmark this page or keep a printed copy of the map while exploring the Zoo.
---
---
Taronga Zoo reviews
This Zoo in Mosman, Sydney, is a highly-rated tourist attraction.
Check out two Taronga Zoo reviews we picked from Tripadvisor, which give you an idea of what to expect at this attraction.
Day trip to remember
We had a great day at the Zoo. Our only regret is that we did not get up earlier and spend more time there.
The Kangaroos and Wallabies were great (you get close) but the highlights for us were probably the Platypus and Australian nocturnal animals – some of which we had not heard of before.
A really good, active day out. We could have easily filled 2 days rather than the about 3/4 we gave it. – Alekstomczyk, Edinburgh, United Kingdom
Perfect day for a young family
Try to go outside of busy times (school holidays). The seal show is amazing – the kids were captivated! Also, bring a spare change of clothes and swimmers in warm weather as there are great playgrounds with water features to play in. – Alison B
---
---
Taronga Zoo Roar and Snore
This is also known as Taronga Zoo Sleepover, and as part of the overnight stay at the Zoo, you get to experience four things –
1. Overnight safari with animal encounters
2. Delicious food at Campsite
3. Comfortable accommodation
4. Fantastic views of the Opera House, Harbor Bridge, etc
Since Roar and Snore experience is outdoors, it is best to come prepared for an extreme weather change.
Since a lot of walking is involved, it is best to wear comfortable shoes/sandals.
---
---
Taronga Zoo Restaurant
Taronga Zoo in Sydney has three restaurants.
Forage and Graze
This food joint is near the zoo's entrance and serves pizzas, croissants, toast, Bacon and eggs, sandwiches, wraps, muffins, etc.
Opens at 9 am daily.
The View
You need to book your spot for The View.
It is open from 11 am to 3 pm on Thursday to Sunday.
During the NSW school holidays, it is open on all days.
It serves a la carte menu and makes for a relaxing setting against the backdrop of Sydney Harbour.
Taronga Food Market
This eating place serves diverse and contemporary hot and cold food options.
We recommend freshly cooked roast chicken or their fantastic salads.
Sources
# Wikipedia.org
# Taronga.org.au
# Int.sydney.com
# Tripadvisor.com

The travel specialists at TheBetterVacation.com use only high-quality sources while researching & writing their articles. We make every attempt to keep our content current, reliable and trustworthy.
Popular attractions in Sydney
# Sydney Opera House
# Sydney Harbour Bridge Climb
# Sydney Aquarium
# Sydney Tower Eye