Sydney Opera House is the most recognizable Sydney landmark and a popular tourist attraction.
With over forty shows a week, this multi-venue performing arts center at Sydney Harbour attracts more than 8 million visitors a year.
In this article, we explain everything you must know before visiting the Sydney Opera House.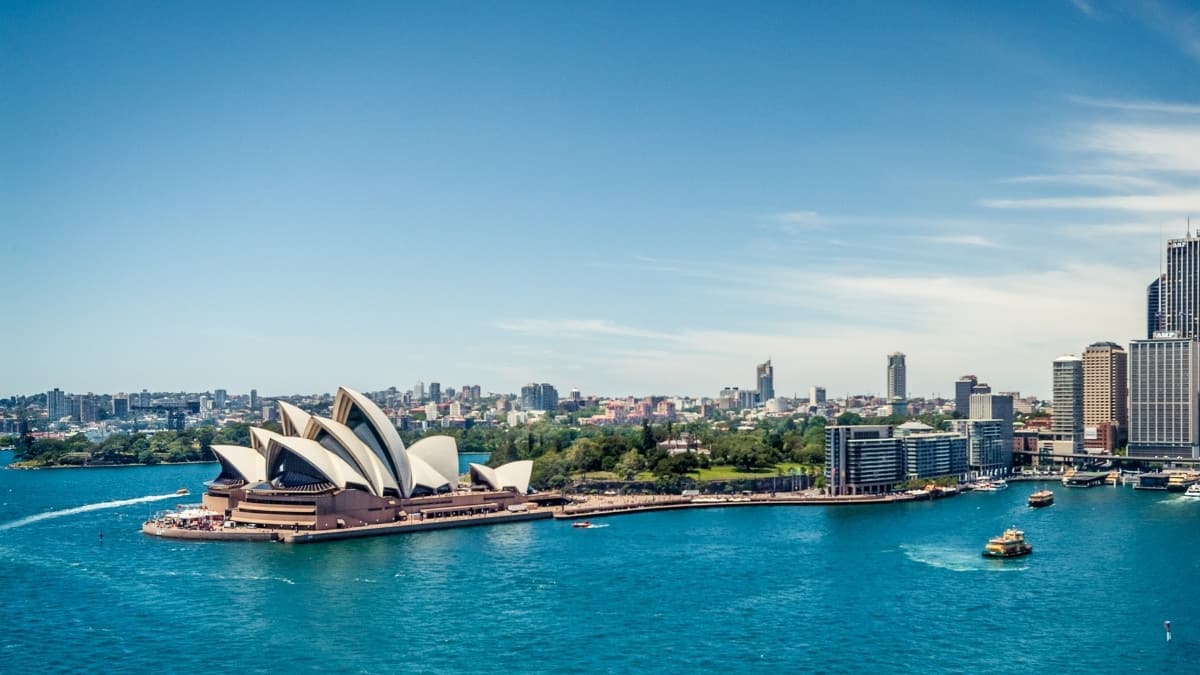 Best time to visit Sydney Opera House
If you want to avoid the crowd, the best time to visit the Sydney Opera House is early in the morning or late at night.
It is best to first go on a Sydney Opera House tour to admire the inside of the building and then step out to explore the outdoors.
Sunset is an excellent time to explore the surroundings of the Sydney landmark.
It is better to avoid Sydney Opera House on hot summer days, rainy days, and school holidays in January because it gets crowded.
More than twenty thousand people visit the Sydney Opera House every day.
Of these, approximately 1,200 visitors book the Sydney Opera House tours to explore the cultural monument. The rest come in to watch shows, dine, or drink.
---
---
Sydney Opera House shows
The Sydney Opera House hosts more than 2,000 shows a year, out of which more than 300 are Operas.
The other shows are usually stand-ups, rock shows, orchestras, ballet performances, art and culture lectures, theatre, dance, and international concerts.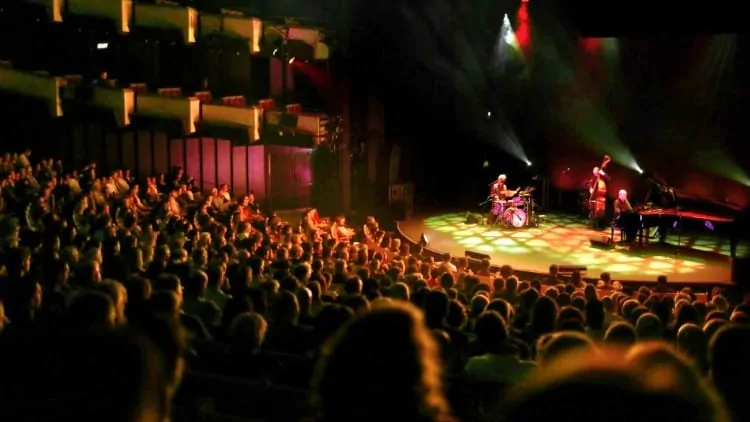 Usually, the performances start at 7.30 pm and go on for 2 to 3 hours, with an interval or two so that you can drink at the bar even as you enjoy the view of Sydney Harbour.
All these performances have English subtitles projected on a screen above the stage.
Show tickets at Opera House
A few things to remember –
As soon as you book the tickets, you will receive a confirmation in your email. One hour before the performance, you must show the email and collect your tickets from the Sydney Opera House Box Office. The tickets will be available under the name you used during the booking.

If you change your plans, all these show tickets can be canceled for free up to 24 hours before the show/performance starts.

The ticket price for these shows at Sydney Opera House varies depending on the seating you choose.
We list below some of the most popular shows currently going on at Sydney Opera House.
Opera tickets at Sydney Opera House
Every day, a different Opera is performed at Joan Sutherland Theater in Sydney Opera House.
This ticket gets you entry to the performance of the day.
Grand Opera hits by Opera Australia
During this show, you listen to famous arias from composers such as Rossini, Bizet, Puccini, and Verdi performed by some of Opera Australia's best opera singers.
During this 90 minute performance, a piano accompanies the singing.
Ticket price: The Standard seating will cost you A$ 69 while the Premium seating is costlier at A$ 89 per person.
Carmen Opera tickets
Carmen is the story of a shy, small-town soldier boy, Don Jose, who falls for a gypsy woman called Carmen.
When Carmen finds another lover, Don Jose is furious and what unfurls is an excellent Opera in an iconic venue.
This 3-hours long show is known for its incredible costumes and set design.
Depending on the seats you choose, this performance ticket's price ranges from A$ 99 to A$ 335 per person.
Verdi's Aida Opera performance tickets
Aida is Italian composer Giuseppe Verdi's historical epic.
This is a larger-than-life performance with ten towering digital screens creating ever-changing floor-to-ceiling set pieces.
Opulent costumes and props come together nicely with the stunning music to create Egypt at the height of its power.
This 3-hours show is NOT suitable for kids below 12 years of age.
Fiddler on the Roof
Fiddler on the Roof is a funny, warm and honest story about milkman Tevye and his five daughters.
This musical has been capturing the hearts and imaginations of audiences around the world for more than 50 years now.
Since this Opera performance is a celebration of life, love, family, and, ultimately, a story of hope, it is perfect for watching with kids.
Depending on the seats you opt for, this performance's ticket price varies from A$ 110 to A$ 230.
At all theatres, your seat decides the quality of the viewing experience. Find out about the best seats in Sydney Opera House.
---
---
Sydney Opera House tours
Opera House tours come in three flavors –
Guided Sydney Opera House tour
This tour is the cheapest and the most popular option.
A local guide takes you around and helps you get a glimpse of the 300 corridors and 1000 rooms of the Sydney Opera House.
Once your tour is over, you are free to hang around for as long as you want.
Adult ticket (16+ years): A$ 42
Student ticket (with ID): A$ 32
Child ticket (5 to 15 years): A$ 22
Kids below four years get free entry to Sydney Opera House.
This tour is also available in Mandarin.
Sydney Opera House tour + dinner
This ticket helps you combine the Opera House tour with a relaxed meal at the Opera Bar.
After the tour is over, you can head out to the Opera Bar located just a short walk from the Welcome Center on the Lower Concourse Level and have lunch or dinner.
Dining is available between 11.30 am and 6 pm.
Adult ticket (16+ years): A$ 73
Student ticket (16+ years with ID): A$ 63
Sydney Opera House backstage tour + Breakfast
This ticket gets you the most intimate of Sydney Opera House tours.
You get to access areas usually reserved for the stars and their crew members.
Your two-and-a-half-hour tour starts at 6.45 am and ends with a full breakfast in the Green Room, the space reserved for the star performers.
Ticket price (10+ years): A$ 175
Opera House tour + Dinner + Performance
These tickets give you the complete Sydney Opera House experience because they include –
1. Tour of Sydney Opera House
2. A dining experience at one of the Opera House restaurants
3. A stunning performance at one of the Opera House venues
This experience begins at 4.15 pm with a VIP guided tour of Australia's most famous icon, the Sydney Opera House.
Two-Course dinner at either Aria or Bennelong restaurant follows the tour, after which you get to enjoy a performance by Opera Australia.
If you are not on a budget holiday (yes, these tickets are costly!), we highly recommend these experiences.
Even though these packages are costly, they regularly sell out weeks in advance.
Book ahead of time to avoid disappointment.
---
---
Sydney Opera House box office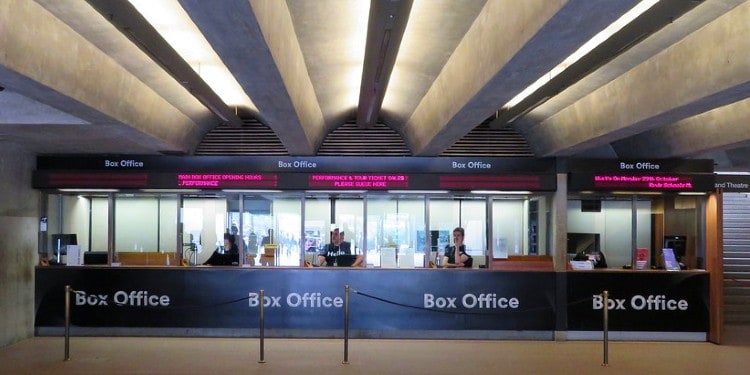 Sydney Opera House's ticket office is in the Box Office Foyer, which is at Level 1 of the building.
Monday to Saturday, Sydney Opera House remains open from 9 am to 8:30 pm.
On Sundays, it closes a little early – at 5 pm.
If you are worried that the performance you plan to attend is outside of the general box office opening hours, don't be.
Whenever there is a performance, the Sydney Opera House Box Office remains open until 15 minutes after the performance starts.
However, we recommend you buy Sydney Opera House tickets for tours and performances much in advance to avoid last-minute disappointment.
---
---
Inside Sydney Opera House
Many visitors to Sydney wonder what's inside the tourist attraction.
There are two ways to experience the Sydney Opera House from the inside.
Sydney Opera House for free
You can visit the Syndey Opera House for free, at any time of the day.
You can enter and check out the foyers, the Box Office, or dine and drink at one of the restaurants/bars in the building.
Exploring the interiors
To experience Sydney Opera House beyond the foyers and dining places, you must book a tour of the building or book a show at one of the venues.
Or you can book a combo ticket, which includes the Opera House tour, dinner, and an Opera performance.
Till then, let us tell you what's inside the Opera House –
Venues in Sydney Opera House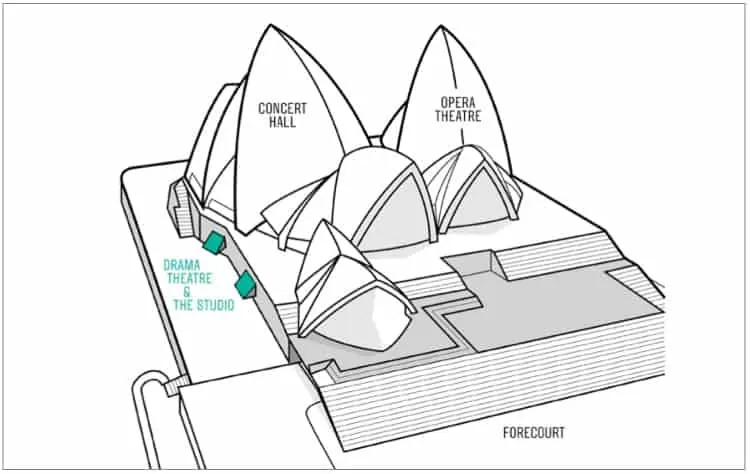 There are six performance venues in this beautiful building.
On average, 2000 plus events are held annually at these performance centers.
These venues host a varied range of performances ranging from operas, rock music concerts to seminars.
Concert Hall is the biggest venue inside Sydney Opera House, and the Utzon Room is the smallest.
The other venues are Joan Sutherland Theatre, Playhouse, Drama Theatre, The Studio, and the Forecourt.
Sydney Opera House restaurants
There are three main restaurants at the Opera House.
Bennelong Restaurant
The Bennelong serves modern Australian cuisine, and if you want to have 'Australia on your plate,' this is the place to visit.
The Bennelong is on Level 1 of the Sydney Opera House.
Bennelong is open daily for dinner, and from Friday to Sunday, it is available for lunch.
Lunch service: Friday to Sunday, from noon to 2.30 pm
Dinner service: Sunday to Thursday, from 5.30 pm to 9 pm. Friday and Saturday, from 5 pm to 9 pm
You can drop into Bennelong for a pre-theatre or post-theatre visit as well.
Pre-theatre: Sunday to Thursday, from 5.30 pm to 6 pm. Friday and Saturday, from 5 pm to 6 pm
Post-theatre: Thursday to Saturday, from 10 pm to 11 pm
Opera Kitchen & Bar
The Opera kitchen is located at the water's edge on the Lower Concourse level of the Opera House, making it one of the favorite Sydney experiences.
It has a seasonal menu and is open daily for breakfast, lunch, and dinner.
Opera kitchen is perfect for all occasions and popular with guests with kids as well.
Monday to Thursday: 10.30 am to 12 am
Friday: 10.30 am to 1 am
Saturday: 9 am to 1 am
Sunday: 9 am to 12 am
Portside Restaurant
If you want to have a private dining experience with uninterrupted views of the Sydney skyline, you must visit Portside.
Portside is under the Colonnade on the Broad western walk facing the Harbour bridge.
You can choose from the restaurant's a-la-carte menu, the kids' meals or one of the grab-and-go options (ideal for pre-theatre goers).
Portside is open daily for lunch and dinner – lunch starts from 11.30 am, and dinner from 5 pm.
---
---
Sydney Opera House dress code
Since the Sydney Opera House is a cultural hub, many visitors wonder if this Sydney landmark follows a dress code.
As long as you are wearing shoes and a shirt, Sydney Opera House management is okay.
Whether you have just walked into the Opera House to check out the foyers or you plan to attend one of the Operas, you can dress however you like.
If you don't want to be underdressed or overdressed during your visit, we recommend smart casuals.
However, if you have booked a guided tour of Sydney Opera House, you must wear comfortable shoes for climbing more than 300 steps.
---
---
Map of Sydney Opera House
Sydney Opera House is massive, and one can very easily get lost.
Sydney Opera House's Welcome Centre, also known as the reception, is on the Lower Concourse.
Near the Welcome Center, you will also find lifts to all the performance venues.
There are two Box offices, one at the Ground Level and another at the Upper Level.
Public toilets are located on the Lower Concourse and inside at the Main Box Office and Western Foyers.
There is so much to see and do that it is easy to get lost without an understanding of the layout or a map at hand.
We recommend you bookmark this page or download the map to your mobile so that you can explore this Sydney landmark better.
---
---
Sydney Opera House at night
One touristy thing to do while holidaying in Sydney is to check out the Sydney Opera House looks at night.
Many tourists opt to walk around Circular Quay at sunset, from The Rocks to the Sydney Harbour Bridge, to see the changing colors of the building.
The 10 Million plus tiles of Sydney Opera House's roof reflect nature's mood and present a visual feast.
Seeing the architectural beauty from across the Quay, with the numerous boats in the forefront, is nothing short of amazing.
We also recommend some wining and dining at the Opera Kitchen and Bar.
Lighting of the Sail
The best time to see Sydney Opera House at night is when 'Lighting of the Sails' is on.
Each year an artist of international renown is commissioned to project their version of art onto the Sydney Opera House.
---
---
Sydney Opera House on New Year's Eve
Every year, more than a million people land up in Sydney to welcome the New year.
There are many places in the city where you can watch the New Year fireworks and ring next year.
However, nothing compares to the Sydney Opera House's New Year experience.
New Year's Eve Opera Gala
The Opera Gala on New Year's Eve at the Sydney Opera House is a two-and-a-half-hour show.
The show starts at 7.45 pm on 31 December.
After you enjoy the talented performers from the Australian Opera and Ballet Orchestra for an hour, you come out of the Opera House for the fireworks.
You will have front-row views as fireworks light up the Sydney Harbor Bridge and Sydney skyline precisely at 9 pm.
The fireworks over the Sydney Bridge lasts for 15 minutes, after which you get back to the Opera concert, which then goes on till 10.30 pm.
After the Opera performance is over, you are free to welcome the New Year, as you wish.
---
---
Sydney Opera House history
In 1957, Bennelong Point in Sydney emerged as the top spot for building the cultural center.
To attract the best of the architects, the Australian Government decided to launch an international competition for the building's design.
Jørn Utzon, a Danish architect, emerged as the winner, and the work started under his guidance.
In 1966, after being with the project for almost a decade, Jørn Utzon backed off.
He didn't want to help build Sydney Opera House since he was disappointed and disillusioned because of the technical problems, delaying construction, and mounting costs.
The building was finally completed ten years later than planned at ten times the estimated cost.
The builders first budgeted A$10 million for Sydney Opera House, but in the end, it cost the Government A$100 million.
On 20 October, 1973, when Queen Elizabeth II opened the Sydney Opera House for the public, designer and architect Utzon did not attend the opening ceremony.
---
---
How to reach Sydney Opera House
This city-defining building is at Bennelong Point, Sydney NSW 2000, Australia.
Sydney Opera House is located North of the Sydney city center, in Sydney's Central Business District (CBD).
Walk to the Opera House
If the weather is good, find out how close you are to the Sydney Opera House, and walk the distance.
If you are in The Rocks, the neighborhood around Sydney Harbour Bridge, a leisurely walk to the Circular Quay is a pleasant experience.
The Opera House can be seen from the Circular Quay, and you can walk to it in five to ten minutes.
If you are in the city center, head North along Macquarie Street and keep walking till you reach Circular Quay.
Take the train
Public transport in Sydney is well managed, and there are plenty of trains which can lead you to the Sydney Opera House.
However, the trains only go to the Circular Quay station, after which you must walk to the Opera House.
Circular Quay station services Aqua, Orange and Green lines.
If you are in a station that doesn't serve any of the above three lines, you can train to the Sydney Central station, which serves all the Metro lines.
Once you are at the Central Station, you can board either an Aqua, Orange, or Green line train to Circular Quay station.
Some tourists prefer to walk the distance from the Sydney Central Station to Sydney Opera House – a distance of 3 km (1.9 Miles).
Board a bus to Opera House
Buses are far more cost-effective than trains, so if you are on a budget, that's what we recommend.
The right bus for you depends on where you are, and what time you want to leave.
NSW's transport website is the best resource for bus routes and schedules in Sydney.
Arrive in a car
If you are not a fan of walking, hiring a taxi to get to the Sydney Opera House is a great option.
Taxi stands are available throughout the city center, or if you prefer, you can call an Uber.
The taxi/uber will drop you off at the designated taxi stop on Macquarie Street, past Wilson's Carpark entrance.
On your return, taxis can again pick you up from the same designated area.
Water Taxis
Another way to reach the Opera House is by water taxis.
You get to see the Sydney skyline, Sydney Harbor, Sydney Harbour Bridge, etc., making it a pretty romantic journey.
The Sydney water ferries travel along the Parramatta River and stop at many places, making it an ideal means of transportation. Ferry routes
Parking at Sydney Opera House
Wilson Parking operates Sydney Opera House's car park under the building at 2A Macquarie Street, Sydney. Get Directions
The Sydney Opera House parking is open all the time, including public holidays.
The Opera House car park has 1200 parking bays, so you are guaranteed a slot whenever you come in.
Sources

# Sydneyoperahouse.com
# Wikipedia.org
# Whc.unesco.org
# Britannica.com

The travel specialists at TheBetterVacation.com use only high-quality sources while researching & writing their articles. We make every attempt to keep our content current, reliable and trustworthy.
Popular attractions in Sydney
# Sydney Harbour Bridge Climb
# Sydney Aquarium
# Taronga Zoo
# Sydney Tower Eye