The Sydney Harbour Bridge is an iconic landmark of Sydney, Australia.
The Sydney Habour Bridge Climb is one of the most popular activities in Sydney.
Under the guidance of trained guides, you will climb more than 1300 stairs through the outer archways of the Sydney Harbour Bridge to reach its highest point.
From the top, you see the beautiful Sydney Harbour, the Sydney Opera House, and if the sky is clear, the Blue Mountains too.
The bridge is illuminated at night, providing a spectacular sight for those watching from the city or the water.
More than 2.75 million people have climbed the bridge till now.
In this article, we explain everything you need to know about the Sydney Harbour Bridge Climb tickets.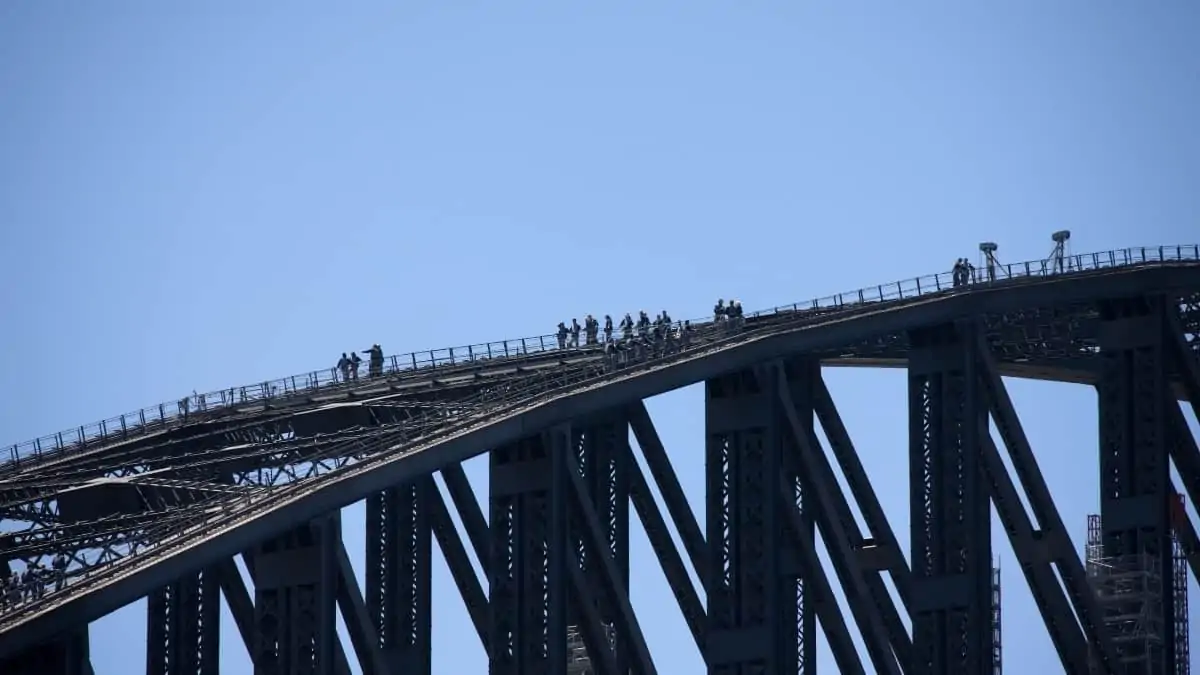 Sydney Harbour Bridge hours
The Sydney Harbour Bridge is open 24 hours a day, 363 days a year.
The earliest Bridge climbs depart at 3:15 am, and groups of climbers keep going up till late at night.
For more details on when the day climbs, night climbs, Twilight climbs, and dawn climbs happen, check out the tickets section.
---
---
Sydney Bridge Climb tickets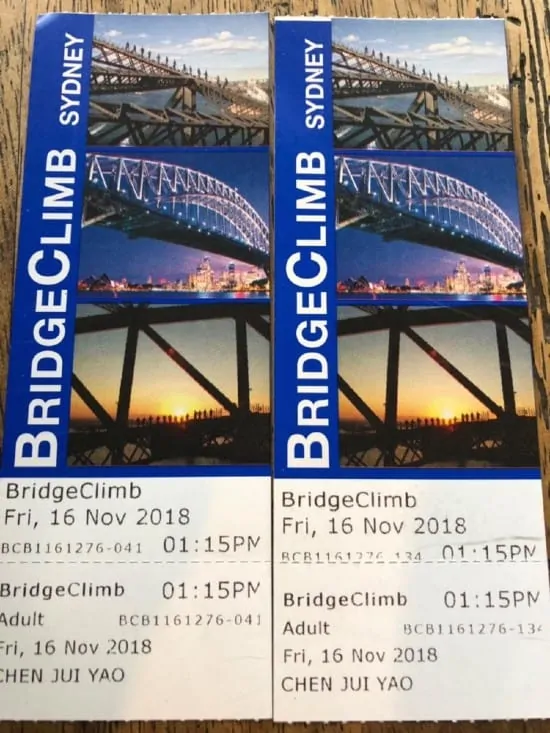 There are three ways to experience a Sydney Bridge Climb. You can book a –
Regular Climb (climb to the top at dawn, dusk, day time or night)
Express Climb (a quicker route to the top)
Sampler Climb (a shorter climb, which takes you half way)
All these experiences require you to purchase a Sydney Bridge Climb ticket.
With all Bridge Climb tickets, you also get –
Pylon Lookout ticket*
(You can use this ticket on the day after your climb)
Climber Certificate
A Bridge Climb cap
Photograph with the group you climbed with
*The Sydney Harbour Bridge has four Pylons. The South-East Pylon (also known as the Pylon Lookout) is an observation deck and a Museum. Most climbers visit this Museum to learn about how the Sydney Harbour Bridge was constructed, its challenges, etc.
Sydney Harbour Bridge tour tickets are very much in demand, so book early to avoid disappointment.
Regular Bridge Climb at night
During winter (in Australia, June, July and August are the winter months!), the Sydney Harbour Bridge night climbs start before 5 pm.
During the summer months, they start after 6 pm.
During this 3.5-hours night climb, you get to see Sydney's spectacular skyline all lit up.
The night climb is quite thrilling, but tourists who have tried it say that the evening is almost over by the time they get down.
Adult ticket (16+ years): 268 AUD
Child ticket (8 to 15 years): 188 AUD
On the ticket booking page you must select 'Bridgeclimb Summit: Night'
Regular Harbour Bridge climb during day
The day climbs start as early as 9 am (during peak times, these can start much earlier).
Day climbs usually stop by 3 pm in summers and 2.30 pm in winters.
Many tourists try and target the last day climb of the day to experience the sunset on the way back.
Adult ticket (16+ years): 308 AUD
Child ticket (8 to 15 years): 208 AUD
On the ticket booking page, you must select 'Bridgeclimb Summit: Day'
Regular Sydney Bridge climb at twilight times
This is the most popular Sydney Harbour Bridge climb tour because tourists get to see the sunset from a vantage point.
Therefore, this BridgeClimb ticket is priced higher.
During winter, the start times of the twilight climb can be as early as 3 pm.
In summers, these climbs start around 4 pm.
Adult ticket (16+ years): 374 AUD
Child ticket (8 to 15 years): 268 AUD
On the ticket booking page, you must select 'Bridgeclimb Summit: Twilight'
Sydney Harbour Bridge Express Climb
Sydney Bridge climb can be a little time-consuming and tiring. Thankfully, there is an alternative.
The Sydney Harbor Bridge Express Climb takes you through a shorter and faster route. It is a whole new experience in itself.
In the Regular Climb, you go up 1,332 steps, while in the Express version, you climb along the lower arch of the Sydney Bridge over 1,002 steps.
Adult ticket (16+ years): 320 AUD
Child ticket (8 to 15 years): 216 AUD
On the ticket booking page, you must select 'Bridgeclimb Summit Express'
BridgeClimb Sampler
As the name suggests, the sampler is a "sample" of the original climb.
This option is perfect for those who do not have much time to devote to the climb or fear heights.
This climb takes you to half of the original height of the Sydney Harbour Bridge.
This pocket-friendly option lasts 90 minutes.
Adult ticket (16+ years): 175 AUD
Child ticket (8 to 15 years): 150 AUD
On the ticket booking page, you must select 'Sampler Climb'
Vivid BridgeClimb Sydney
The VIVID bridge climb lets you be a part of the famous Sydney Harbour Bridge light show during the VIVID Sydney 2020.
This climb is only available during VIVID Sydney 2020 celebrations from May 22 to June 13.
You can experience the fantastic light show from the top of the city.
If you're visiting the city during this period, do not miss this opportunity.
Adult ticket (16+ years): 272 AUD
Child ticket (8 to 15 years): 190 AUD
---
---
Is Sydney Bridge Climb worth it?
The Sydney Bridge climb is for people who love a little adventure and like to challenge themselves.
If you only want to see Sydney's skyline, there are cheaper and easier ways, Sydney Tower Eye, for instance.
You won't have to go through the climb – get into a lift and reach the observatory in no time.
Meanwhile, the Sydney Bridge Climb will give you an adrenaline rush like never before.
Sydney skyline will also look prettier because of all the hard work you would have put in the climb.
Besides, the bragging rights of having climbed the Sydney Harbour Bridge is totally worth it.
---
---
Cost of Sydney Harbour Bridge climb
The costliest Sydney Harbour Bridge climb for an adult is priced at 388 AUD, and the cheapest Bridge Climb ticket you can buy costs 174 AUD.
There is no fixed cost of the bridge climb ticket because it depends on many factors, such as –
1) The time when you want to climb – dawn, during the day, Twilight, or at night.
2) The age of the climber. All tourists aged 8 to 15 years get a discount on the adult price
3) How far up you would want to go. Will it be the full-distance climb, or will it be the much shorter 'sampler'?
4) The climbing route you choose. Will it be the regular route, or will it be the much shorter 'Express' route that takes you to the highest point faster?
---
---
Sydney Bridge Climb's discount
Officially, the only discount on Sydney Bridge Climb tickets is for children aged 8 to 15 years.
However, you can make a difference of 80 to 100 AUD on an adult Sydney Bridge Climb ticket by just making a few adjustments while booking your experience.
Climbs during different timings have different prices. So, you can always choose the one at the most comfortable price.
Unfortunately, there is no discount for senior citizens.
---
---
Bridge Climb during day or night
Deciding whether to climb during the day or the night can be a little overwhelming as both options have their unique benefits.
With the day climb, you get the beautiful view of the sun shining at the opera house and the city glowing under the sunlight.
It is also perfect for taking pictures and leaving the evening free for other entertainment.
The night climb gives you the glowing view of the city's sparkling city lights and bustling nightlife.
The temperature is more relaxed, and the effort doesn't seem as tiring.
However, by the time you are done with the climb, you won't have much evening time to spend elsewhere.
If you are stick stuck, how about a climb in between the day and night slots – twilight, dawn, or the last climb of the day?
Check out the video to know what climbers can expect from their bridge climb during different parts of the day –
---
---
Sydney Bridge Climb FAQs
If you are planning to climb up the Sydney Bridge, you are sure to have lots of questions.
We try and answer them for you.
How many Sydney bridge climb steps are there?


On the regular Bridge Climb route, climbers scale 1332 stairs and then climb down the same number.

The Express Bridge Climb has 1002 steps one way and the Sampler Climb, which is the shortest experience, has 556 steps to ascend.


How many people climb as a group?


Each climbing group has a maximum of 12 to 14 tourists.
 
This limit gets maintained for all bridge climbs to ensure a personalized experience for all participants. 

What do the climbers get after the Sydney BridgeClimb is over?


All climbers get a commemorative climber certificate, a BridgeClimb cap, a Pylon Lookout ticket, and a group photo with their fellow climbers.

Can everyone climb Sydney Harbour Bridge?


All reasonably fit visitors can climb the Sydney bridge.
 
Good hand-eye coordination and reasonable control over yourself are the only requirements.

If you feel you are not fit enough to try the regular Bridge climb, you can check out the Express Climb or the Sampler.

What is the minimum age to climb Sydney Harbour Bridge?


A tourist must be eight years and above to make it on a Sydney Harbour BridgeClimb tour.
 
Children under 15 years can't be on the climb alone – they must be accompanied by an adult.
 
There is also an upper limit of a maximum of three kids per adult.

Is there a minimum height requirement for Sydney BridgeClimb?


Even if the tourist qualifies the minimum age requirement (of 8 years and above), they need to be 4 feet (1.2 meters) and above to join the Sydney Harbour Bridge climbing tour.

Can pregnant women climb the Sydney Harbour Bridge?


If you are less than six months (24 weeks) pregnant, you must consult a doctor and have a signed consent form from them.
 
If you are more than 24 weeks pregnant, you won't be allowed to climb.

Can climbers drink alcohol before their Sydney Harbour Bridge Climb?


If you are drunk, you won't be allowed to participate in the Sydney Harbour Bridge Climb tour.
 
Every climber is subjected to a breathalyzer test, and those who have a blood alcohol concentration of 0.05% or higher won't be allowed to proceed further.
 
You will be requested to stand down if you are under the influence of drugs (legal or illegal).

What kind of shoes should climbers wear for the Sydney Bridge Climb?


Shoes with PVC and/or leather soles aren't good for the Sydney Bridge climb.
 
We suggest you wear suitable closed-toe rubber-sole shoes – the ones you wear for sporting activities.
 
Rubber sole shoes will give you the grip and support you will need on the 3.5-hour long journey.
---
---
Sydney Bridge Climb reviews
Tourists have rated Sydney Bridge Climb very highly on Tripadvisor – 4.5 out of 5.
Here are two reviews we have handpicked, so you know if Sydney Bridge Climb is worth it.
Amazing experience
The bridge climb is suitable for everyone. There is no need to be afraid as everyone is attached via a link and chain to the actual handrail. You get all the gear. Even handkerchiefs are attached to you so that you can't drop them. Everything is well planned and executed, the staff is excellent, and nobody is rushed. I would highly recommend the bridge climb without a doubt.

HA60, Manchester, United Kingdom
Scared of heights and had a ball
I was very dubious about spending all the $$ on this trip, especially since I was 50% sure I would have to back out. I couldn't have been more wrong. This trip is 100% safe. Honestly. The facilities are well kept, the gear is in good shape, they teach you what to expect, and you do a replica of the "worst" part indoors before you go out on to the bridge. It does take the full 3 hours- and that's because they spend a lot of time on safety. You are always tethered to the bridge by a cable, and you always have handrails. Now let's talk about the view- WOW. Outstanding.

ChrissieRutter, College Station, Texas
---
---
Bridge Climb or Pylon Lookout
While the Sydney Bridge Climb is not a demanding activity (most reasonably healthy folks can do it), it requires a certain amount of commitment.
If you don't want to climb the Sydney Harbour Bridge for whatever reason, you can still get a partial experience of the climb – by trying the Pylon Lookout.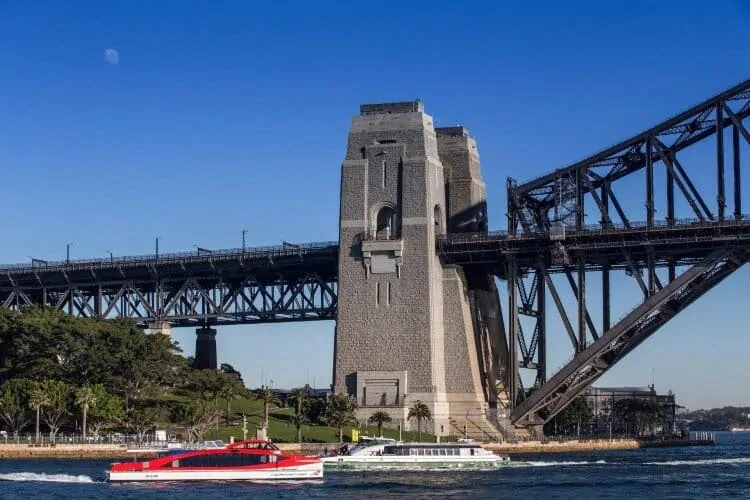 The Pylon Lookout is a viewing platform 200 steps above the bridge.
From the Pylon lookout, you get to see Sydney from a height of 89 meters (292 feet) at a price that's much lower than the BridgeClimb.
Visitors can see the Opera House, Circular Quay, the two arches of the Harbor Bridge and even the bridge climbers.
Check out the video below to know what to expect at Pylon Lookout –
Bridge Climb vs. Pylon Lookout
Looking down on Sydney from a height is heavenly and a must-do for all visitors to the city.
Depending on the amount of effort you are willing to put in, the time you want to spend, and the cost you are ready to pay, you have two options – Bridge Climb or Pylon Lookout.
Here are the three key differences between Sydney Harbour Bridge Climb and Pylon Lookout –
1. Pylon Lookout costs AUD 15, whereas the BridgeClimb costs around AUD 300.
2. Pylon Lookout will only take an hour or a half, while BridgeClimb will take up three to three and a half hours.
3. On the Bridge Climb, you go up 1300+ stairs to reach the summit, while to reach the Pylon Lookout, you only need to climb 200 steps.
Sydney Harbour Bridge's Pylon Lookout
The Sydney Harbour Bridge's Pylon is a perfect outing for the day.
This Pylon Lookout ticket includes admission to the Pylon Museum.
The small Pylon Museum displays exhibits that narrate how Sydney Harbour Bridge got constructed, what work went into building the magnificent structure, the risks faced by the workers, etc.
We recommend this combo tour which besides the Pylon Lookout, also includes a visit to Eastern Suburbs beaches of Bondi, Tamarama, and Bronte.
This ticket includes a fantastic Australian lunch at a restaurant in Surry Hills or East Sydney.
Popular attractions in Sydney
# Sydney Opera House
# Sydney Aquarium
# Taronga Zoo
# Sydney Tower Eye