SEA LIFE Sydney Aquarium is a huge tourist draw for families and solo travelers alike.
It showcases more than 700 species of sea creatures, including sharks, dugongs, rays, tropical fish, etc. – a true reflection of the waters around the Australian shores.
Sydney Aquarium's most popular exhibit is its 100 meters (328 feet) long ocean-tunnel walk-through.
In this article, we explain everything you need to know before buying your Sydney Aquarium ticket.
Top Sydney Aquarium Tickets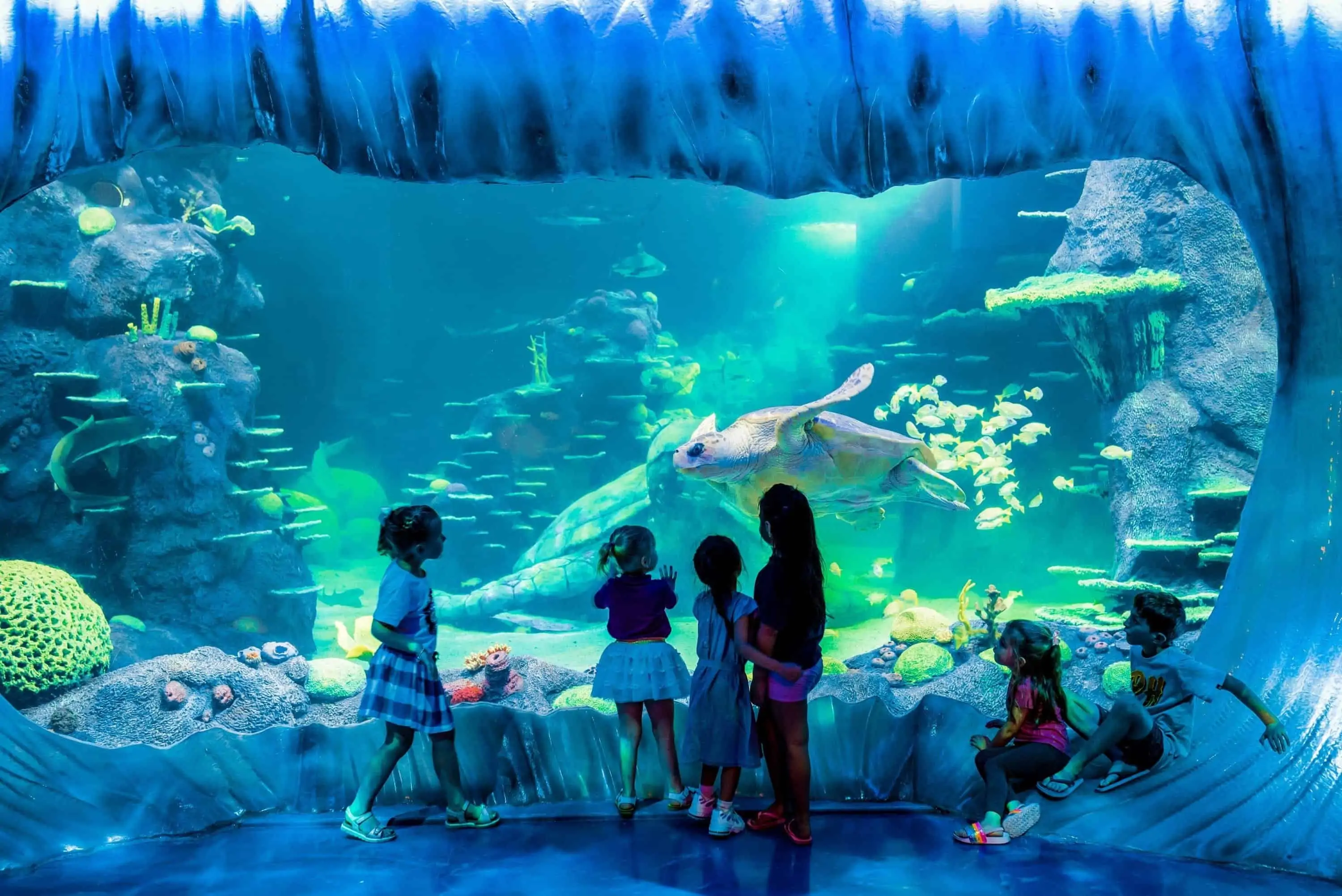 How to reach Sydney Aquarium
SEA LIFE Sydney Aquarium stands right in the heart of Sydney and is on the city side of Darling Harbour.
The aquarium's central location makes it an ideal place for tourists visiting Sydney.
The Aquarium is at 1-5 Wheat Road, Sydney NSW 2000. Directions
By Ferry
You can travel by the public ferry services to Darling Harbour, 800 meters (half a mile) from the Sydney Aquarium.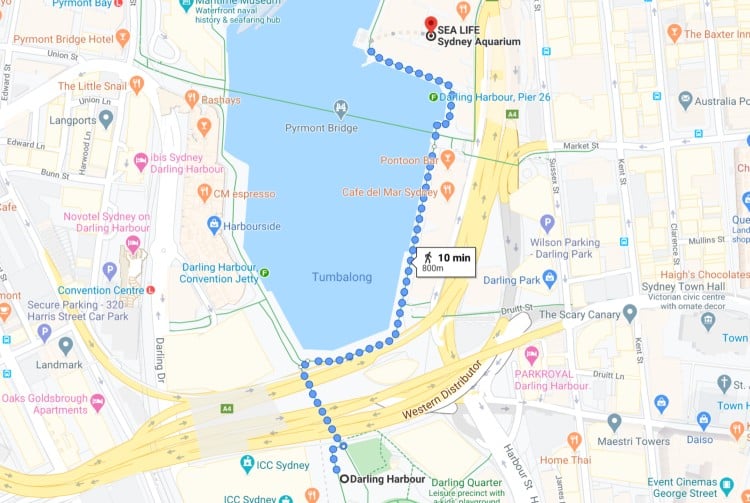 From Circular Quay Wharf 5, a ferry departs every half an hour to Darling Harbour.
One of the advantages of traveling by ferry is the stunning views of Sydney Harbour, which you get to enjoy.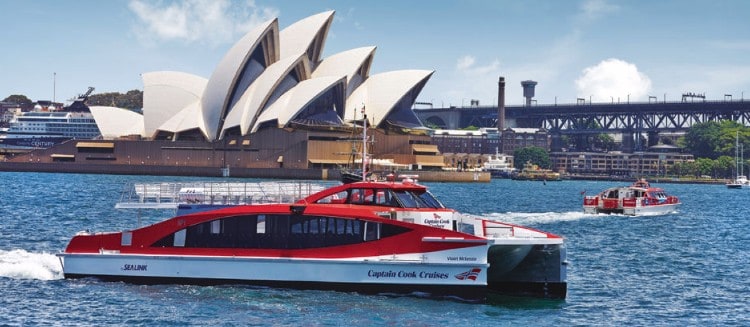 By Train
If you plan to reach Sydney Aquarium by train, get down at either Town Hall Station or Wynyard station.
The Sydney Aquarium is 10 minutes walk from both Town Hall Station and Wynyard station.
By Bus
If you are riding the Big Bus Sydney, you can get down at the SEA LIFE Sydney Aquarium stop on Wheat road under the footbridge.
If you are riding any other bus service, get down at Market Street or King Street and walk on foot down the hill to reach Darling Harbour.
It is a five to ten minutes walk, depending on where the bus drops you.
Sydney Aquarium Parking
Sydney Aquarium has lots of parking options nearby.
Get your parking ticket validated at the Aquarium's gift shop while exiting save money in the process.
If you plan to book an Uber or taxi, ask the driver to drop you at the rear of Cockle Bay Wharf or the King Street Wharf.
---
---
Sydney Aquarium hours
SEA LIFE Sydney Aquarium opens at 10 am and closes at 6 pm every day of the week.
In April, because of the school holidays, the Aquarium opens half an hour early – at 9.30 am.
The last entry to the Sydney Aquarium is always at 5 pm.
---
---
Best time to visit Sydney Aquarium
The best time to visit the Sydney Aquarium is at 10 am, as soon as they open.
When you start early, you don't get stuck behind the crowd, the creatures in the touch pools are most active, and you can attend most of the Aquarium's interactive sessions.
If you can't make it to Sydney Aquarium in the morning, the next best time is after 3 pm, because by then the crowd has left.
If you want to avoid the crowd and long queues at the ticket counter, it will be best to avoid visiting the Aquarium during the weekends and school holidays.
Tip: When you buy Sydney Aquarium tickets online, you save time by avoiding the long lines at the ticketing counter.
---
---
How long does Sydney Aquarium take
To explore all the zones of Sydney Aquarium, visitors need at least 90 minutes.
Families visiting with kids end up spending up to three hours exploring the Aquarium.
SEA LIFE Sydney Aquarium is one of the largest aquariums in the World and is home to over 13,000 marine creatures from 700 different species.
---
---
Sydney Aquarium discount
At 46 AUD per adult ticket (16+ years), Sydney Aquarium's ticket prices are slightly on the higher side.
Here are ticket prices of two more Sydney attractions for comparison:
Sydney Tower Eye @ 24 AUD per adult
Sydney Opera House Tour @ 42 AUD per adult
This is the reason why tourists end up looking for ways to get a Sydney Aquarium discount.
Worry not, for here are the four ways to get a discount at Sea Life Aquarium.
Online ticket discount
When visitors purchase tickets at the Sea Life Sydney Aquarium, they also pay the ticketing window surcharge. It is the cost of having a ticket window and a person to manage it.
This is why, those who purchase the ticket online pay 20% less than the ticket price at the venue. Buy now and save money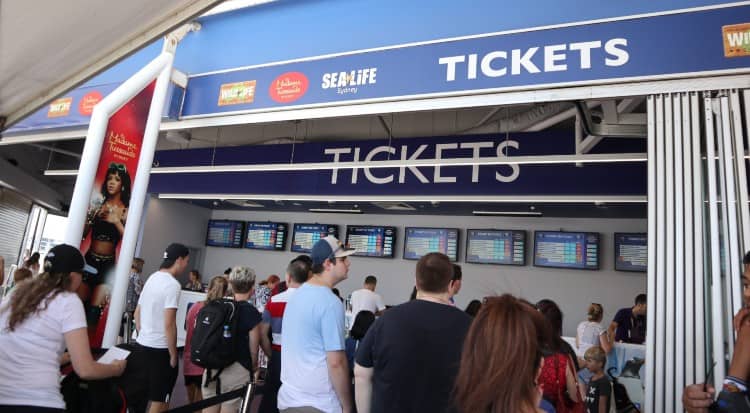 Age-based discount
On regular Sydney Aquarium tickets, kids below 3 get a 100% discount – that is, they can enter for free.
Children aged 4 to 15 years get almost a 30% discount on adult tickets.
Weekday discount
SEA LIFE Sydney Aquarium tickets are cheaper on weekdays than on weekends.
Visitors can purchase tickets at a discount if they plan their visit from Monday to Friday.
A weekday ticket is 10 AUD cheaper for a visitor aged 16 plus years and 7 AUD less for kids aged 4 to 15.
Discount through combo tickets
The best way to get a discount while visiting Sydney Aquarium is by buying a combo ticket, which includes access to a few other attractions.
These combo tickets help get discounts of up to 45% on the value of the individual tickets.
Let's understand this in detail.
Here are the adult ticket prices for four of the top Sydney attractions –
Sea Life Sydney Aquarium: 46 AUD
Sydney Tower: 24 AUD
Wild Life Sydney Zoo: 35 AUD
Madame Tussaud Sydney: 35 AUD
If you were to buy them individually, it would have cost you 140 AUD.
However, if you buy a combo ticket that includes access to all the above attractions, it will only cost you 80 AUD.
You will end up saving 60 AUD – a saving of almost 45%.
These combo tickets are perfect for first-time visitors to Sydney.
If you want to include the Harbor Cruise as well, go for this combo ticket.
---
---
Sydney Aquarium tickets
These Sea Life Sydney Aquarium tickets are valid for one day and get you access to beautiful sea creatures of the World, including Grey Nurse Sharks, Little Penguins, Sting Rays, Seahorses, and Dugongs.
You also get to enjoy interactive exhibitions, storytelling sessions by aquarists, and special light showcases.
If you want to avoid standing in long queues to get tickets, you should consider booking your tickets online. They also help you save 20% of the ticket cost.
Sydney Aquarium tickets are timed
The Sydney Aquarium online tickets are timed, and you need to arrive at the attraction within the time mentioned on your ticket.
If your booking is for the 11.15 am – 11.30 am slot, you must arrive within this time slot. If you arrive later, you may have to wait a while.
If you are late and the aquarium is crowded, you will get a chance to enter at the next available opportunity.
Ticket prices (weekend)
Adult ticket (16+ years): 48 AUD
Child Ticket (4-15 years): 35 AUD
Ticket prices (weekday)
Adult ticket (16+ years): 38 AUD
Child Ticket (4-15 years): 28 AUD
Infants three years and below can enter for free.
---
---
What to see at Sydney Aquarium
The Sydney Aquarium has various zones, making it an informative and exciting trip for everybody in the family.
Day and Night on the Reef
Day and Night on the Reef is the brand new zone in the Sea Life Sydney Aquarium, where you will witness the largest exhibit of the Great Barrier reef.
It is uniquely designed to recreate the reef transitioning through night and day, creating a visually interactive experience like never before.
The exhibit showcases over 500 sea creatures, including jellyfish, tropical fish, turtles, etc.
The zone also recreates the phenomenon of bioluminescence through an interactive light show.
Penguin Expedition
The Sydney Aquarium's Penguin expedition is a ride that will take you close to the Aquarium's King and Gentoo Penguin colonies.
You will get a chance to witness Penguins sliding and swimming mere meters away from your eight-person raft.
Shark Valley
Take the adventure to the next level by walking over some of the biggest Aquarium sharks of the World, including Grey Nurse Sharks.
Journey deep into the valley to face some of the most fearsome species of Sharks, including the massive Queensland Groper.
Dugong Island
This unique exhibit showcases the beautiful mammalian herbivore, also known as Dugong.
Some legends claim that they were mistaken for mermaids by sailors when they first arrived at the Australian waters.
The exhibit also includes other creatures like the White Spotted Eagle Rays and various other species of sharks.
Discovery Rockpool
The Discovery Rockpool helps you make startling discoveries.
Have an exciting time in the Rockpool where you will be able to see and touch amazing creatures like sea stars, corals, shells, shark eggs, etc.
The Aquarium's experts guide you through the experience.
South Coast Shipwreck
This exhibit showcases the creatures native to the Southern seas and is primarily known for its Little Penguin colony.
This exhibit is set in the beached shipwreck environment.
Some of the other creatures you might witness in this exhibit zone are Port Jackson Sharks and Moon Jellies.
Sydney Harbour
The Sydney Harbour Zone of the Sydney Aquarium is home to over 600 species of fish native to the most iconic harbor in the World.
This exhibit recreates the mesmerizing World that lies beneath the harbor.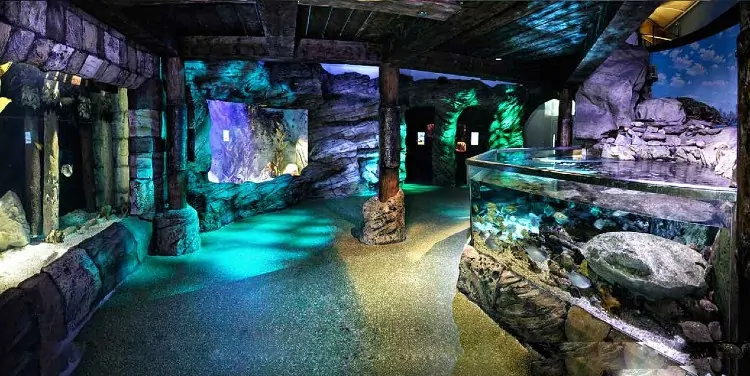 It shows how vital the harbor is in maintaining the ecological balance of the Sydney coastline.
Some of the creatures you will see in this zone are Silver Sweeps, Cuttlefish, Mado, etc.
Jurassic Seas
This exhibit transports you to the old World – into the depths of the ocean, where you will get to watch mysterious living fossils.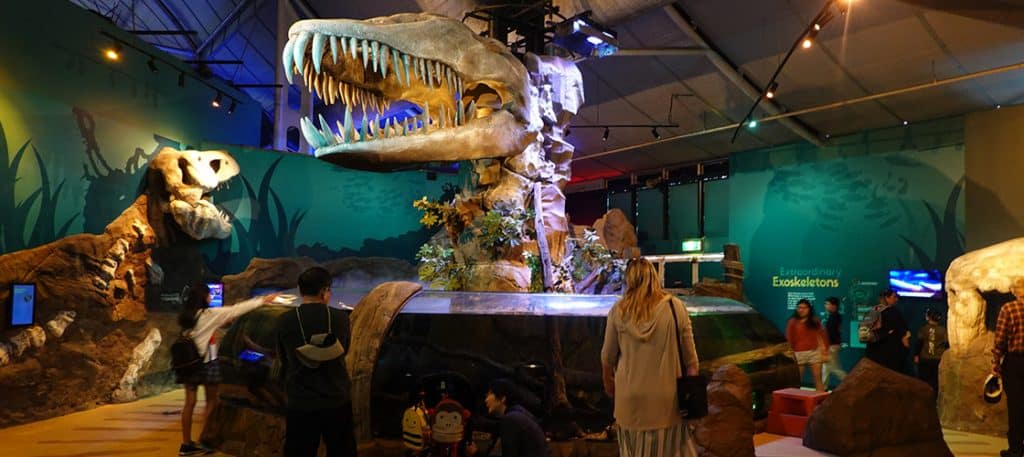 Jurassic Seas lets you understand evolution and discover unique species such as Nautilus, Lungfish, and Peacock Mantis Shrimp.
---
---
Sydney Aquarium Shark Dive
At the SEA LIFE Sydney Aquarium, you can swim with the sharks.
It is one of the few places in the world where you can book an underwater experience with sharks.
What is Shark Dive Xtreme?
You can experience Shark Dive Xtreme at the Sydney Aquarium with no previous diving experience. Book Your Dive
You will scuba dive into a tank full of sharks and other sea life.
Dives run up to 4 times per day with a maximum of 5 people per dive.
The duration of the Sydney Aquarium Shark Dive is 30 minutes.
This experience is available only for guests of 14 years and above.
This activity is very much in demand, so book early to avoid disappointment.
What do you encounter?
The Shark Dive allows you to swim with fantastic Grey Nurse Sharks, up to 3 meters (10 feet) long.
You will be diving with them without any cages.
You will also have the company of Sydney's varied local marine life, including massive stingrays (and we mean MASSIVE), Port Jackson Sharks, Wobbegong Sharks and hundreds of fantastic sea creatures.
What is included?
Your Shark Dive experience starts with an introduction to scuba diving.
After your training session is completed, you will get all the dive equipment and wetsuit.
This preparation stage usually takes 90 minutes.
After you finish your dive, you will be awarded an 'I dived and survived' Shark Dive Xtreme certificate.
When you book a Shark Dive ticket, full-day admission to SEA LIFE Sydney Aquarium is included.
---
---
Sydney Aquarium map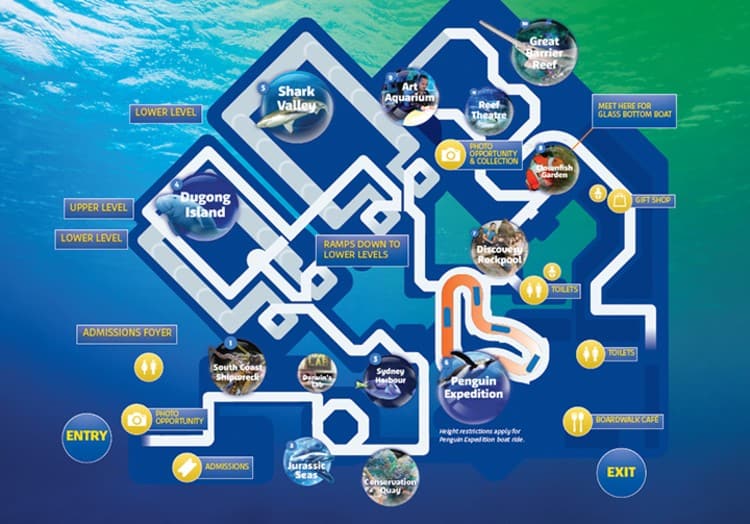 The Sydney Aquarium is a vast area with multiple dynamic zones.
The map can help you find the aquarium's exhibits easily.
Besides the exhibits, a map of the Aquarium will also help you find visitor services like washrooms, restaurants, elevators, souvenir shops, etc.
Sources

# Visitsealife.com
# Wikipedia.org
# Tripadvisor.com

The travel specialists at TheBetterVacation.com use only high-quality sources while researching & writing their articles. We make every attempt to keep our content current, reliable and trustworthy.
Popular attractions in Sydney
# Sydney Opera House
# Sydney Harbour Bridge Climb
# Taronga Zoo
# Sydney Tower Eye