Sydney Tower Eye has been a popular tourist attraction in the city for the last 30 years.
Also known as the Sydney Tower, it has an observation deck at 250 meters (820 feet) and offers a 360-degree view of the Sydney skyline.
In this article, we share everything you need to know before buying Sydney Tower Eye tickets.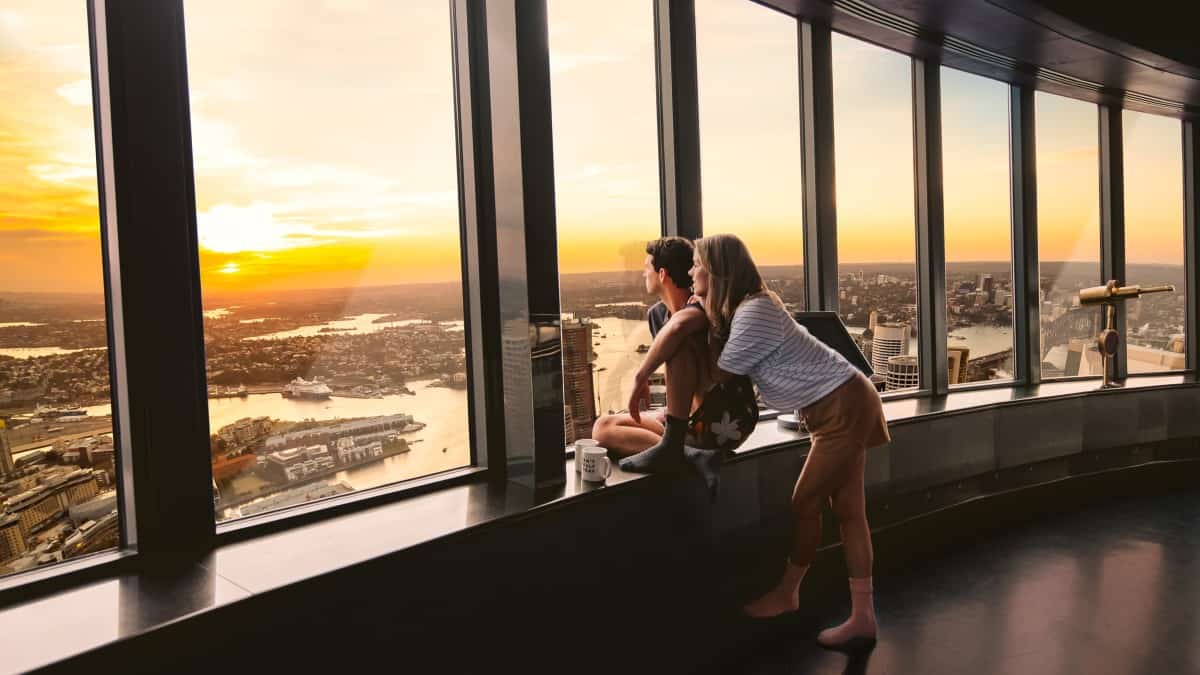 Video of what to expect
---
---
Sydney Tower tickets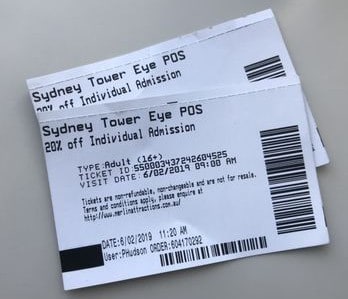 Sydney Tower has everything you can ask for – breathtaking views and fun adventures.

This Sydney Tower Eye ticket gives you skip-the-line access along with a complimentary 4D cinema show.
Image: Yelp.com
These are smartphone tickets – that is, on the day of your visit, you can show the tickets in your email and walk in. No need to take printouts!
You can cancel up to 24 hours in advance for a full refund.
The Sydney Tower Eye ticket price depends on when you buy it – same-day tickets are costlier. If you add the Skywalk experience, the cost increases further.
Sydney Tower ticket price at least one day in advance
Adult ticket (16+ years): 24.80 AUD
Child ticket (3 to 15 years): 17.60 AUD
Same day Sydney Tower ticket price
Adult ticket (16+ years): 31 AUD
Child ticket (3 to 15 years): 22 AUD
Sydney Tower entry + Skywalk
Adult ticket (16+ years): 59.80 AUD
Child ticket (3 to 15 years): 52.60 AUD
Kids less than three years walk in for free.
---
---
How to reach Sydney Tower
The Sydney Tower Eye stands in the Westfield shopping center.
On foot
Just walk to Pitt Street Mall and Market street corner, and you can't miss the Tower. Get Directions
Go up to the 5th floor of the Mall and follow the signs to the admissions desk.
By Train
Three train stations are close to Sydney Tower Eye – St. James, Town Hall, and Martin Place.
The St.James station is a 2-minute walk from Sydney Tower Eye, while Town Hall and Martin Place Stations are approximately 10 minutes away.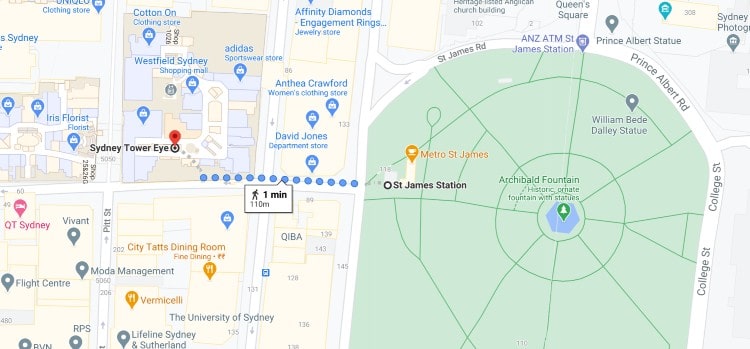 By Bus
There are several bus stops near Sydney Tower.
Sydney Tower is the last stop for some buses, and some go further into the city.
Catch any bus that goes along George Street, Castlereagh Street, or Elizabeth Street and get down at the Westfield Sydney stop.
By Taxi
Book a cab and let them know that you want to be dropped at the corner of Market and Pitt or Market and Castlereagh.
Most taxi drivers will know the Sydney Tower.
By Car
You can get special discounts on parking charges starting at only 13 AUD.
Just find your spot in one of these Wilson's parking garages:
---
---
Sydney Tower opening hours
Sydney Tower Eye observatory opens at 9 am and closes at 9 pm, all through the year.
The last entry up is at 8 pm.
On three days of the year, Sydney Tower Eye has different timings –
| | | | |
| --- | --- | --- | --- |
| Dates | Opens | Last entry | Closes |
| 6 Mar | 9 am | 5 pm | 6 pm |
| 25 Dec | 10 am | 5 pm | 6 pm |
| 31 Dec | 9 am | 6 pm | 7 pm |
---
---
Best time to visit Sydney Tower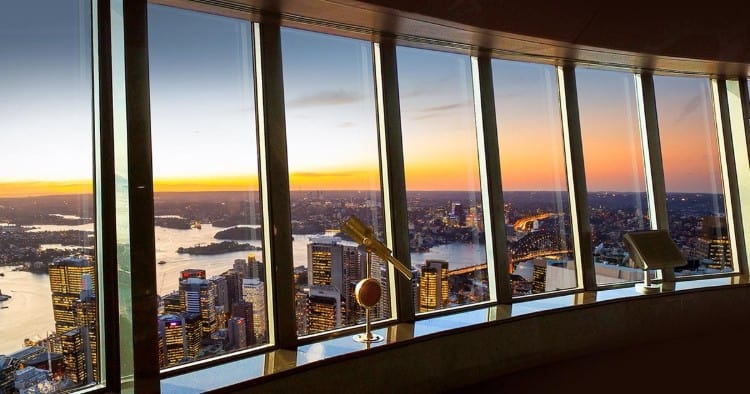 The best time to reach Sydney Tower Eye is an hour before sunset.
The observatory will be crowded during these sunset hours, but you can see the Sydney skyline in three different lights – during daylight, twilight, and nighttime.
The sunset views also make for great photographs. Book your sunset visit
Sydney's sunset times vary throughout the year, so it is better to do some research before your visit.
Sydney Tower at night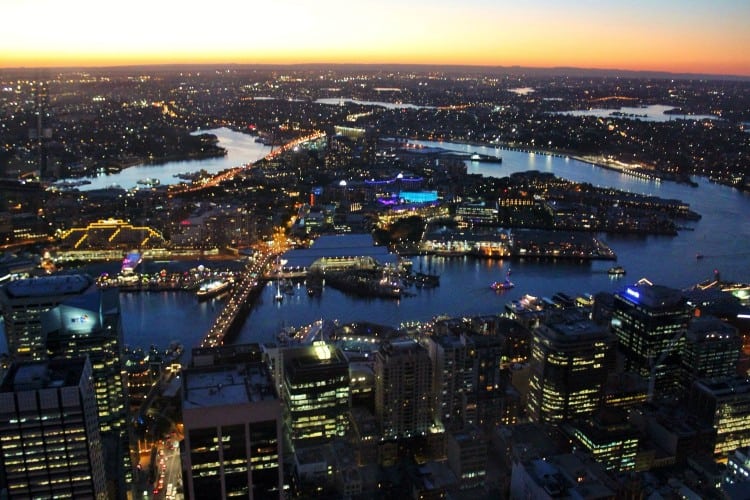 Even though the last entry at Sydney Tower is a bit early – at 8 pm, it can be a good, romantic night out.
Sydney at night from Sydney Tower Eye Observation Deck is all lit up and magical.
Tourists who have done the Sydney Harbour Bridge Climb during day time love to visit Sydney Tower at night for the night views. Or vice versa.
Tip: Buy Sydney Tower tickets online, so you don't have to wait in the ticketing line.
---
---
How long does Sydney Tower take?
Visitors spend anywhere from 60 minutes to two hours at the Sydney Tower Eye.
But since the captivating views from the observatory can keep visitors hooked for long, there is no time limit on the ticket.
While planning, keep in mind the waiting time – especially if you will be visiting on weekends or school holidays.
To avoid waiting, we recommend you book your tickets in advance.
---
---
Sydney Tower discounts
There are three ways to get a discounted entry to the Sydney Tower Eye.
Online ticket discount
When visitors purchase tickets at the tourist attraction, they pay an additional charge known as the 'ticketing window surcharge.'
This additional cost is the price of maintaining a ticketing window and a person to manage it.
This is why same-day tickets at the venue are costlier, and buying online in advance is much cheaper.
Adult
Child
(3 to 15 yrs)
Student / Seniors
At the venue
31 AUD
22 AUD
24 AUD
Online tickets
24.80 AUD
17.60 AUD
19.20 AUD
When you purchase Sydney Tower Eye tickets online, you pay 6.2 AUD less on an adult ticket – which amounts to a discount of 20 percent.
The same 20% discount on the online tickets gets extended to kids, seniors, and students.
Age-based discount
Kids below the age of three get 100% off.
Four to 15-year-old children get around 30% off on the adult Sydney Tower ticket price.
This results in a saving of 7 to 9 Australian Dollars depending on where you buy your tickets.
Discounts through combo tours
Combo tours are a great way to save money on tickets.
These tours, including skip the line access to Sydney Tower, are perfect if you are in Sydney for the first time because you can see more for less.
Combo tours help you save up to 40% on the ticket costs.
Sydney's four best attractions combo
At just 75 AUD per adult, this discount ticket gives you access to four attractions – Sydney Aquarium, Wild Life Sydney, Madame Tussauds, and Sydney Eye Tower.
This ticket is a steal because Sydney Tower's adult ticket alone costs 29 AUD.
To the top four attractions, if you also want to include a 90-minute Sydney Harbour Cruise, check out this tour.
---
---
What to see at Sydney Tower
There are lots of activities to do at this popular Sydney attraction.
Sydney Tower Observation Deck
The Sydney Tower observation tower is 250 meters above the ground and offers a 360-degree view Of Sydney's mesmerizing skyline.
It is the main attraction at the Sydney Tower Eye.
On the Observational deck, you also get to use four single complimentary binoculars.
Visitors who use wheelchairs can use the four double binoculars.
You can also use the heritage telescopes to view the city.
Sydney City Exhibits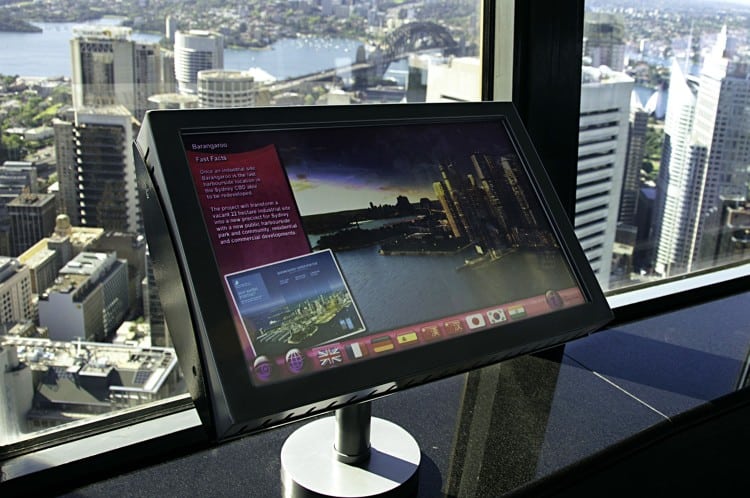 You can learn more about the city and landmarks using the various interactive screens on display on the observation deck.
4D Cinema Experience
Do not miss out on the four minutes long 4D cinema experience.
During the show, you may experience flashing lights and small water sprays, and if that's a problem, inform the attendant beforehand.
You get 4D glasses in one size, which fits most of the visitors.
A show starts every 5-10 minutes.
Sydney Tower Skywalk
Walk in the clouds with Sydney Tower Eye Skywalk at 880 feet above the ground.
In this activity, you will be walking outdoors on the glass-floored viewing platform that circles the Sydney Tower Eye.
There is nothing to worry for you will be accompanied by an expert guide and securely attached to safety lines.
The duration of the Skywalk is 90 minutes, and once done, you get a certificate of completion.
---
---
What is visible from Sydney Tower Eye
At the Sydney Tower Eye, you can get a 360-degree view of the city.
Here are some of the major landmarks you can sport from the Sydney Tower Observatory –
1. The Blue Mountains
These famous mountains are more than 100 kilometers from the city, and yet on a clear day, they are visible from the Sydney Eye.
Since they are covered with eucalyptus trees, they appear blue and are known as the Blue Mountains.
2. Darling Harbour
A little away from the Sydney Tower, you can see the Darling Harbour with water taxis, boats, and ferries.
You can also spot Wild Life Sydney Zoo, Madame Tussaud's, and SEA LIFE Aquarium next to it.
3. The Rocks
The Rocks was established in 1788 and is one of the oldest parts of the city.
This neighborhood still holds Sydney's oldest pub called 'Fortune of War.'
4. Sydney Harbour Bridge
An integral part of Sydney's life, the Sydney Harbour Bridge is more than just a landmark.
The bridge opened in 1932 and has hosted several New Year's Eve fireworks.
5. Bondi Beach
The white sand Bondi Beach is a hot spot amongst tourists visiting Sydney.
As your eyes try to reach Bondi beach, you may also spot the large Coca-Cola sign, which is often referred to as The Gateway to Kings Cross.
6. Sydney Football Stadium
Moving into the city, you will see Sydney's Football Stadium, also known as Allianz Stadium.
It has hosted many sold-out games.
7. Sydney Cricket Stadium
Towards the east, you will spot the Sydney Cricket Stadium, situated in Moore Park.
It has staged several popular games and concerts.
8. Sydney Airport
Completing the 360-degree view, you'll see Sydney Airport.
Standing on the Observational Deck, you can see the airplanes taking off and landing with a new perspective.
---
---
Sydney Tower restaurants
The Sydney Tower Eye does not have a restaurant or a bar.
They have a small kiosk that serves lite bites and drinks.
If you want to sit and eat, you can try out the Food Court at Level 5 of the Westfield shopping center.
Once you leave Sydney Tower Eye to eat at the Food Court, you can't get back in.
However, if you are looking for the famous Sydney Tower's revolving restaurants, there are two of them – Sydney Tower Buffet and 360 Bar & Dining.
Sydney Tower Eye entry tickets don't get you entry to these restaurants.
To enter these fine dining restaurants with an amazing 360-degree view of Sydney, you must book a ticket in advance.
Sydney Tower buffet
Enjoy a delicious meal at the famous rotating restaurant of the Sydney Tower.
With fantastic food, you also get splendid views of the city.
You can choose lip-smacking food from a long menu of Sydney Tower restaurant buffet.
Sydney Tower buffet price
Buffet price for adults (13+ years): 60 AUD
Buffet price for kids (3 to12 years): 27.50 AUD
360 Bar and Dining
At the rotating 360 Bar and Restaurant, you can grab a delicious contemporary Australian lunch or dinner.
Book your place and sit back while you are served the tastiest delicacies high up at Sydney Tower's 360 Dining.
Cost of dining at @ Sydney Tower's 360 Dining
Cost of Lunch
For Adults (13+ years): 60 AUD
For Children (3 to 12 years): 30 AUD
Cost of Dinner
For Adults (13+ years): 85 AUD
For Children (3 to 12 years): 30 AUD
If you prefer a six-course meal at 360 Bar and Dining, check this out.
Sources

# Sydneytowereye.com.au
# Wikipedia.org
# Sydney.com
# Tripadvisor.com

The travel specialists at TheBetterVacation.com use only high-quality sources while researching & writing their articles. We make every attempt to keep our content current, reliable and trustworthy.
Popular attractions in Sydney
# Sydney Opera House
# Sydney Harbour Bridge Climb
# Sydney Aquarium
# Taronga Zoo