The Sonoran Desert is the hottest in both Mexico and the United States. It is a captivating location known for its scorching temperatures, extensive stretches of sand and stone, and a wide variety of fauna.
Spread over 100,000 square miles (258,998 square km), the desert covers parts of Arizona, California, and Mexico.
Contrary to expectations, the Sonoran Desert is teeming with life, with various birds, reptiles, and mammals calling it home.
The desert has subtropical warmth during winter and experiences rainfall twice a year, setting it apart from nearby deserts.
This article covers everything you must know before booking tickets for Sonoran Desert tours.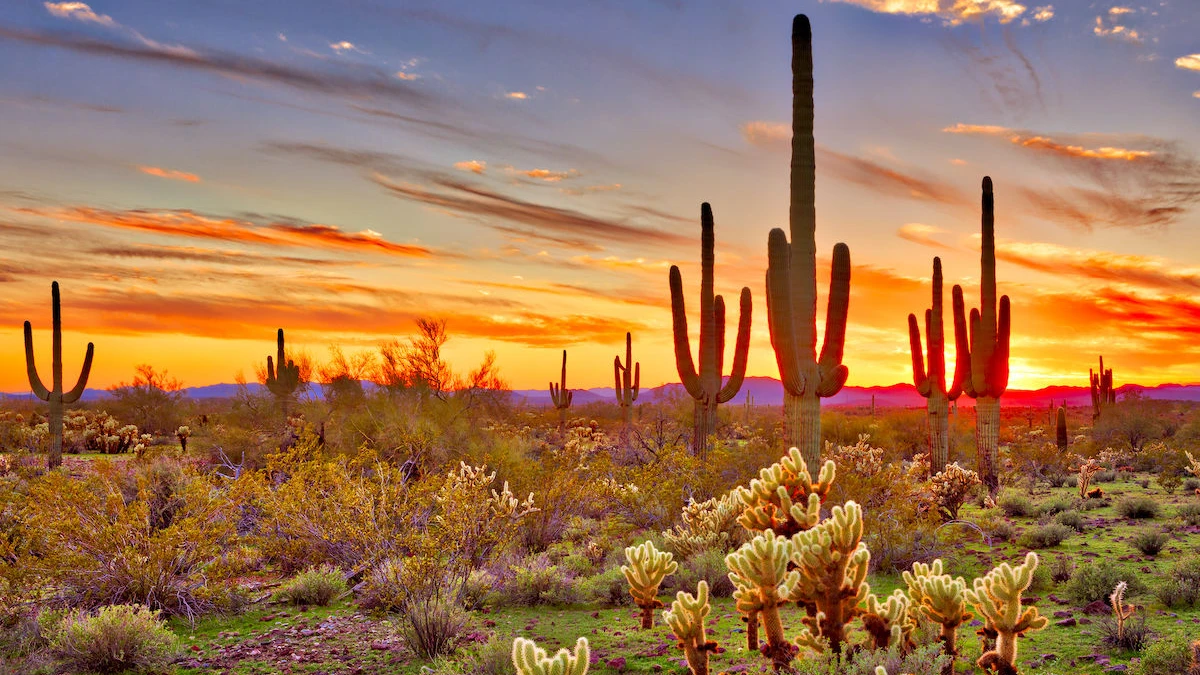 What to expect
Be ready to be amazed by the unique and diverse landscape of the region when embarking on a Sonoran Desert tour.
Move through the captivating desert, showcasing the area's stunning natural beauty.
Expect to see a fascinating variety of desert plants and animals, including cacti, lizards, and birds.
Learn intriguing stories and fascinating facts about the desert, making it a unique visit.
Take part in fun and exciting outdoor activities, including ATV rides, hiking, and even yoga.
Exploring the Sonoran Desert is an incredible opportunity to witness the magnificent beauty and marvel of this distinct American desert.
---
---
Where to book tickets
Tickets for Sonoran Desert Tours can be purchased online or offline.
Online ticket prices tend to be cheaper than tickets sold at the counters.
When you buy online, you can avoid the long queues at the ticket counters.
Because some tours sell a limited number of tickets, booking early helps avoid last-minute disappointment.
When you book early, you also get your preferred time slot.
How do online tickets work
To book your Sonoran Desert tour, head to the booking page and choose your desired date and time and the number of tickets.
Once you've made your purchase, your tickets will be sent to your email.
On the day of your visit, simply present your ticket at the meeting point and embark on the adventure.
Sonoran Desert Tours from Phoenix ticket price
Sonoran Desert 2 Hour Guided ATV Adventure tickets are available at US$320 for adults. You can book for a minimum of four and a maximum of 15 travelers.
The Stunning Sunrise or Sunset Guided Hiking Adventure in the Sonoran Desert tickets sell at US$195 per adult. You can book for up to ten people.
Tickets for the Amazing 2-Hour Guided Hiking Adventure in the Sonoran Desert are available at US$125 per adult.
Sonoran Desert Tours from Phoenix tickets
Choose between a host of options to explore the Sonoran desert and have the absolute best time in the American Southwest.
Dive into the world of ATV rides, hikes, yoga exercises, and much more.
Sonoran Desert 2 Hour Guided ATV Adventure tickets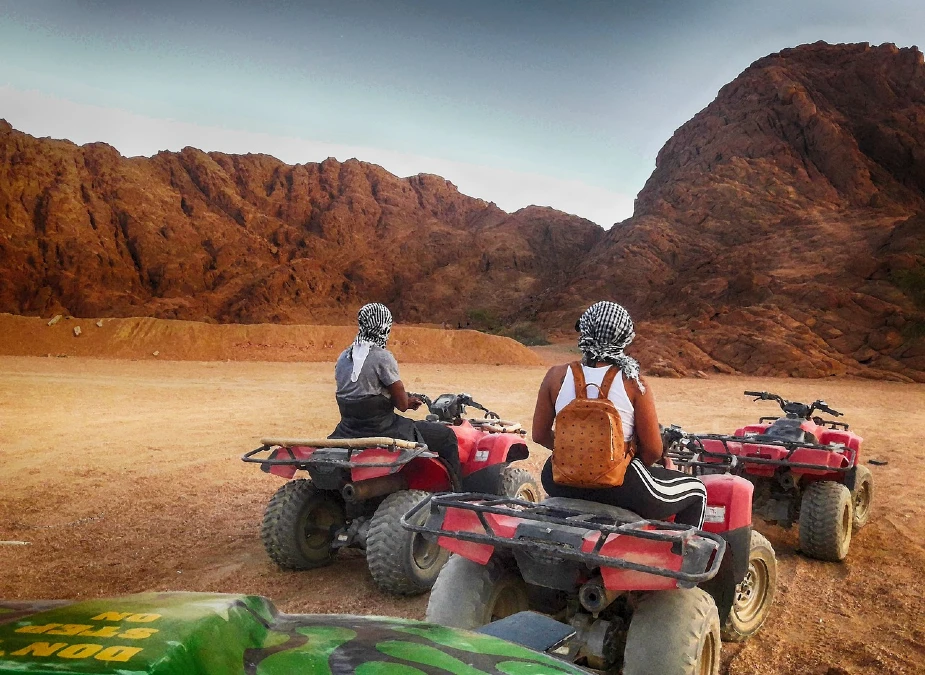 Embark on an exciting ATV ride through the Sonoran desert with the help of a knowledgeable adventure guide.
Before setting off on your own Sonoran Desert Tour, receive a safety orientation and a brief lesson on ATV driving.
The tour offers a fantastic opportunity to explore the vast Sonoran Desert on a thrilling two-hour adventure.
Choose to make your adventure as leisurely or extreme as you like depending on your desired experience.
Be sure to watch for the unique Sonoran flora and fauna you may encounter along the trail.
Departures are available throughout the day, and your guide can answer any questions about the area.
Ticket Cost: US$320
Stunning Sunrise or Sunset Guided Hiking Adventure in the Sonoran Desert tickets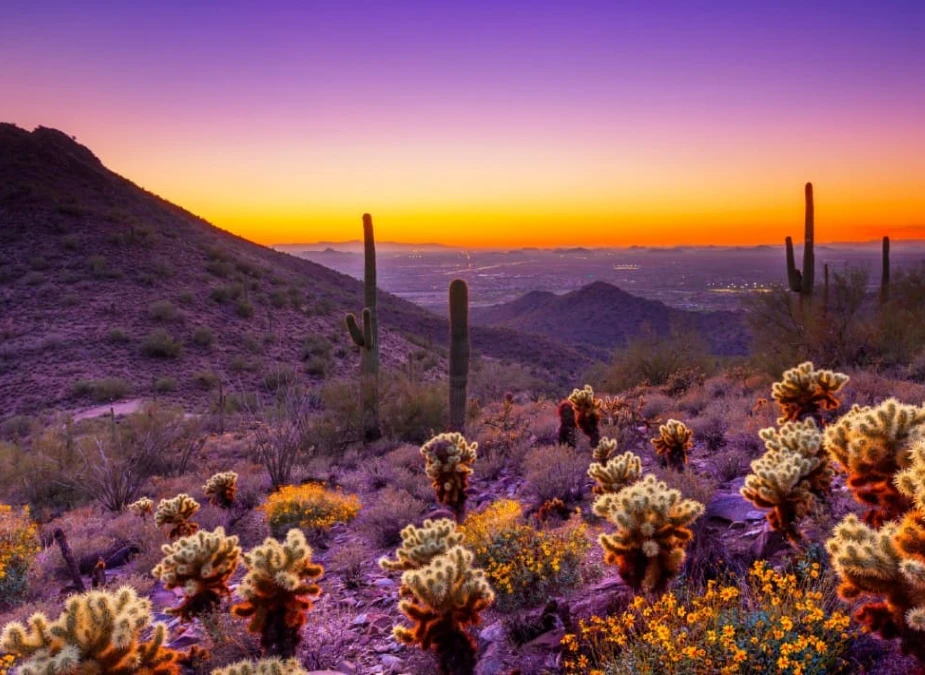 If you want to get your adrenaline pumping on a desert adventure, then a customized hike in the Sonoran Desert of Phoenix might just be what you are looking for.
If you are a sucker for the golden hour, join in for an exhilarating hike in the desert and witness the awe-inspiring sunrise or sunset.
Be accompanied by an experienced guide who is sure to amaze you with fun facts about the desert.
Choose between a variety of difficulty levels based on your preferences, and adjust the hike to match your desired mileage, terrain, and grade.
The 2-hour tour lets you soak in the beauty of the most biologically diverse desert in the United States.
As you ascend to a mountain viewpoint, be treated to a stunning panoramic view of the Valley of the Sun and the Phoenix Metro Area, with the Sonoran Desert stretching over 40 miles to the west.
Ticket Cost: US$195
Amazing 2-Hour Guided Hiking Adventure in the Sonoran Desert tickets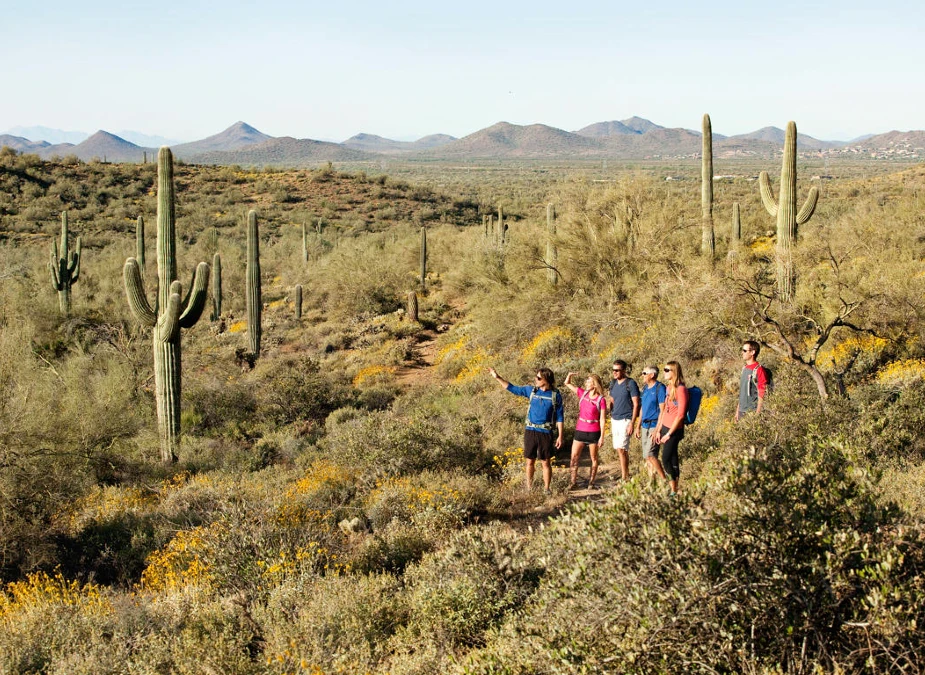 If you think getting into a desert is dull and uninteresting, be ready to be surprised when you get to the Sonoran desert.
Experience a spectacular American landscape that you can explore through a 2-hour guided hike.
The hike is tailored to your preferences and fitness level, so there is no need to worry about hiking gear.
Let a knowledgeable guide lead you to a popular trail in the Phoenix Mountains, where you can hike at your own pace and enjoy the breathtaking views.
Take a hike to a mountain saddle for a breathtaking view of Piestewa Peak and the encompassing desert mountain range, as well as the Valley of the Sun, including Phoenix, Scottsdale, and Camelback Mountain.
Learn about the diverse wildlife, flora, and geology of the Sonoran Desert from a seasoned outdoors enthusiast.
Ticket Cost: US$125
FAMILIES Groups ALL Levels 1.5 hr. Hike – Private, Fun, Educational Sonoran Desert tickets
Embark on a fantastic adventure to witness the beauty of the Sonoran Desert while enjoying breathtaking views of Phoenix and Scottsdale.
This hike is a perfect opportunity to explore the stunning Sonoran Desert landscape and experience the rich history and geology of the region.
A personalized hiking tour of the Sonoran Desert with a dedicated guide who will cater to your interests and preferences awaits you.
Get an opportunity to learn about the desert's flora and fauna, ask questions, and receive expert guidance throughout the hike.
This private hiking tour is exclusive to your party, and you can hike at your own pace without the risk of getting lost, thanks to your knowledgeable guide leading the way.
The tour also includes sunscreen, water, and a backpack.
Ticket Cost: US$95
Incredible, Fun, ALL Levels/Families 1/2 Day Private Guided Hike-Sonoran Desert tickets
Embark on a half-day Sonoran Desert tour from Phoenix with a personal guide who can tailor the experience to your preferences.
Opt for an easy hike or a more strenuous trek over rough terrain according to your own preference.
Make this an educational tour if you're traveling with children, and have a fun day out.
If it is your fuzzy friends you are worried about, fret not, as you can bring your dogs along as long as they are leashed.
This private tour is exclusive to your group, and the route can be customized based on your interests.
So buckle up and let the Sonoran desert wow you with an unforgettable experience.
Ticket Cost: US$115
Tickets for Guided Hike and Yoga Session at the Sonoran Desert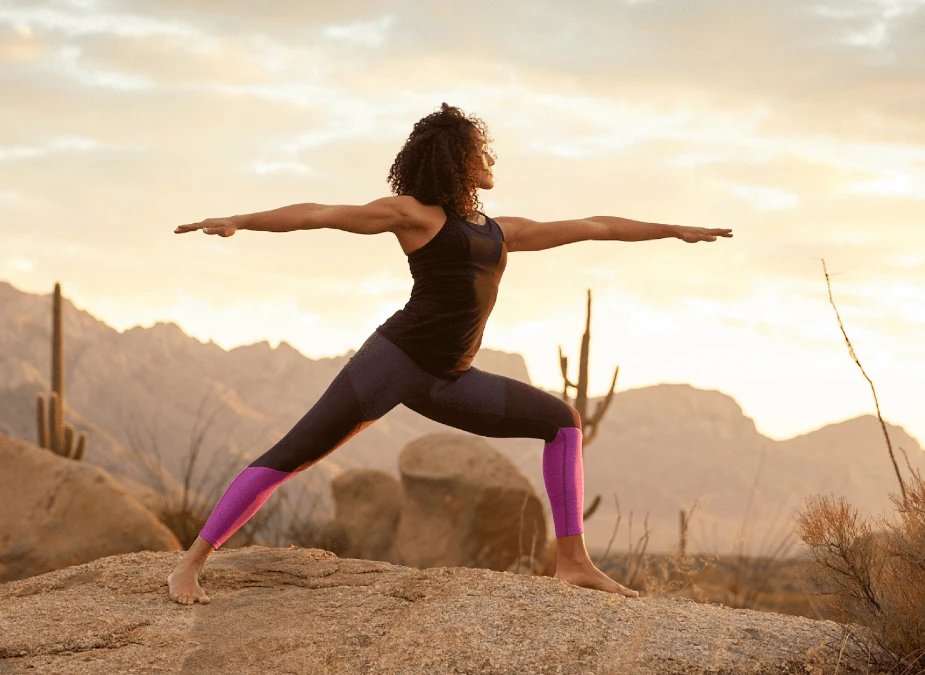 Join in for an exciting adventure on the Double Butte Loop trail, suitable for all levels of hikers.
This unique adventure lets you unwind with a relaxing yoga class to give you the ultimate soothing experience for your muscles and mind after the hike.
Experience the beauty of nature in and around our cities with the unique outdoor yoga class and get yoga mats included with the ticket.
The hike is a great way to discover the city, and the yoga class will surely be the perfect ending to the day.
Whether you are a beginner or an experienced yogi, you are sure to feel comfortable and confident throughout the class.
Ticket Cost: US$145
1.5-hour SOLO AMAZING, Educational, Beautiful Easy Sonoran Desert Hike tickets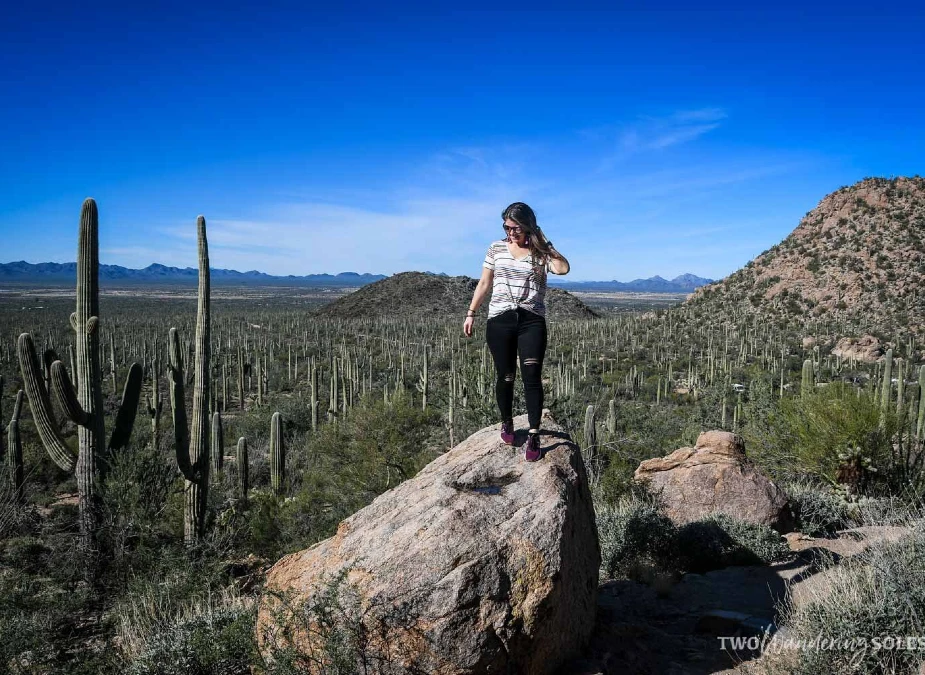 If you have a busy schedule or are in town for business, this exciting tour of the Sonoran desert is perfect for you.
Join in for a fun and efficient way to explore the desert while also getting in a quick workout.
Let an experienced guide take you on a private hike with stunning views of the desert and Piestewa Peak in the distance.
Expand your horizons and learn fascinating things about the Sonoran desert.
Explore the picturesque landscape on a 90-minute escapade, taking you on an easy and educational hike.
Ticket Cost: US$190
Embark on a full-day tour from the Phoenix-Scottsdale area to witness the picturesque landscapes of Arizona. Discover the highlights of the Grand Canyon and explore Sedona on this small-group tour while driving through the Sonoran Desert. The tour caters to a maximum of 13 participants, providing an intimate experience of the Southwest's natural beauty.
---
---
How to reach
The Sonoran desert is an ecoregion in North America that spans the northwestern Mexican states of Sonora, Baja California, and Baja California Sur, as well as a portion of the southwestern United States. Get Directions.
The Sonoran Desert is just 60 miles (96.5 km) from Phoenix in south-central Arizona and can be reached by public transport or car.
By Bus
If you wish to travel by bus, the area is serviceable by Line 29 and takes around 3.5 hours to reach.
By Car
If you want to drive to the attraction, turn on Google Maps and get started!
Timings
The timings for each activity in the Sonoran Desert are different.
The tours range from hikes, exercises, and ATV rides and start early, around 7 am.
Tours are also available around dusk, with sunset tours being the most popular.
Best time to go on tour
The best time to go on the Sonoran Desert tours is during winter.
During this time, temperatures are mild at around 70 degrees Fahrenheit (21 degree Celsius), and the sky is clear and blue.
This makes for a more comfortable and enjoyable visit. However, the desert is at its most stunning in the early spring season.
The blooming wildflowers and lush greenery create a breathtaking sight to behold.
How long does the tour take
The duration of the tours depends on what kind of adventure you wish to embark upon.
Quick tours are available for just 90 minutes, or you can choose to spend a whole day exploring the desert.
FAQ about Sonoran Desert tours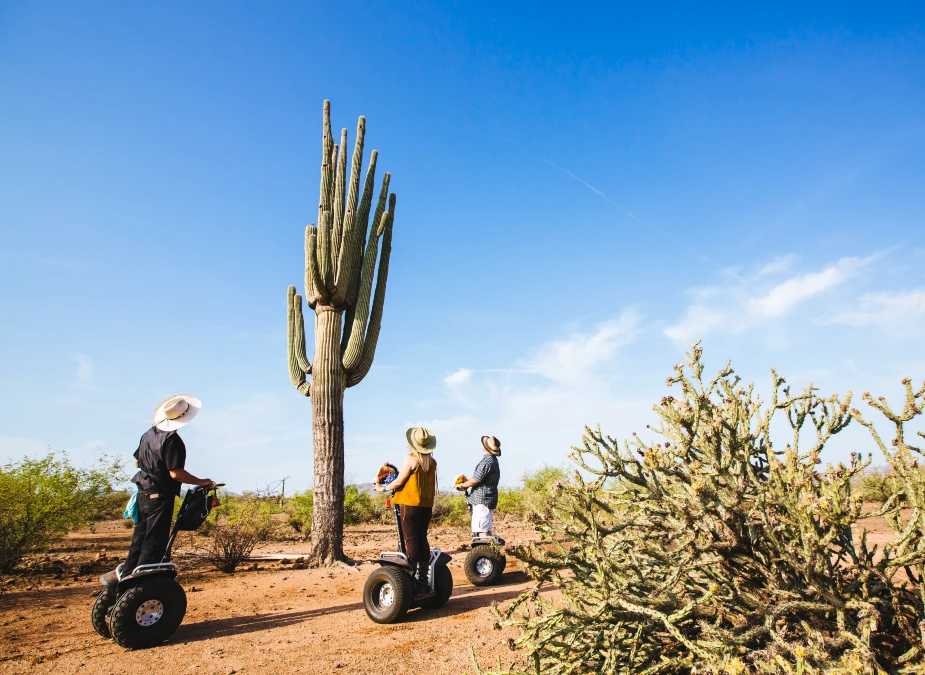 Here are some questions visitors usually ask before visiting the Sonoran Desert.
How big is the Sonoran Desert?
The Sonoran Desert takes up over 100,000 square miles (258,998 square km), and covers parts of two states and two countries. 
How should I dress on a Sonoran Desert tour?
It is best to wear comfortable, lightweight clothing that covers your skin and closed-toe shoes. Make sure to wear a hat and sunglasses to protect yourself from the sun.
Can I click pictures when on the Sonoran Desert tours from Phoenix?
You can click as many pictures as you wish when on a Sonoran Desert tour.
Will I be accompanied by a professional on the Sonoran Desert Tour?
Experienced, knowledgeable, and professional guides will accompany you at all times on the tours of the Sonoran Desert.
What type of flora and fauna can I expect to see on Sonoran Desert tours from Phoenix?
The Sonoran Desert is an ecosystem that boasts a diverse range of plant and animal life, such as coyotes, javelinas, rattlesnakes, and Gila monsters. 

It is considered the most varied desert in North America in terms of vegetation and is famous for the iconic saguaro cactus.
How long does a Sonoran Desert tour from Phoenix typically last?
The duration of Sonoran Desert tours varies depending on the specific tour you are on. 
Tours can last anywhere between a few hours to a full day.
Are the Sonoran Desert tours from Phoenix safe?
Yes, the Sonoran Desert tours are completely safe if you follow your guide's instructions and take necessary precautions, such as staying hydrated and wearing appropriate clothing.
Popular attractions in Phoenix