In spite of Portuguese and African influences, the Sultanate of Oman remains a predominantly Islamic nation.
Halal holidays in Oman are thus extremely popular.
In fact, many Arabic corporate giants have tied up with hotel chains in the past few years to build exclusive properties compliant with Sharia laws, cashing in on the trend of Islamic tourism in Oman.
From beautiful mosques in the city to breathtaking nature and wildlife outside populated areas, Muscat, the capital of Oman, will be the brightest jewel on the necklace of your sparkling vacation.
The blue seas and dazzling deserts are waiting for you!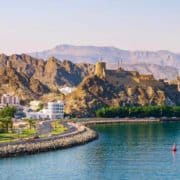 Halal friendly resorts in Oman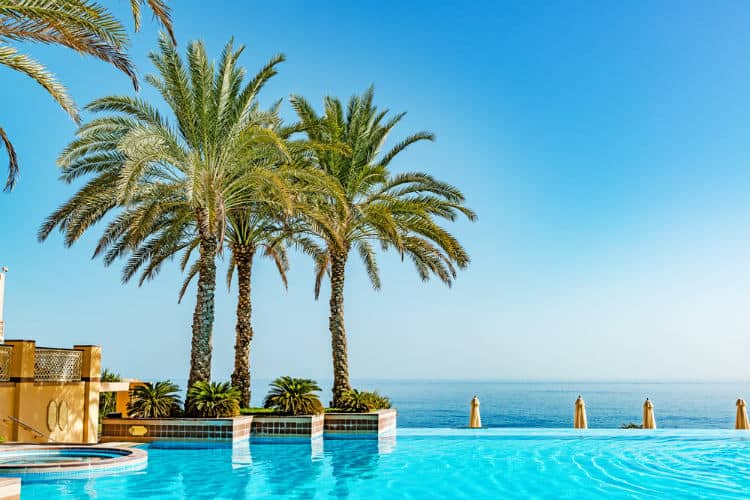 The Grand Millenium Muscat was the first among five-star halal hotels in Oman.
Conveniently located near the airport and the central hub of Muscat, this palatial hotel is an idyllic retreat for your dazed senses.
Overlooking the brilliant blue Arabian Sea is the luxurious Shangri-La Al Husn.
One of the top picks for Muslim friendly holidays in Oman, this sprawling property is built like an ancient Omani fort.
It offers halal food, alcohol-free rooms and separate prayer rooms on request.
Enter a tunnel built into mountains to step into this wonderful paradise.
The Al Bustan Palace in Oman is no less decadent. Spectacular mountain views, private beaches, lush gardens, Muslim friendly staff, the Al Bustan has an endless list of offerings.
Even after being renovated to suit modern tastes, it retains an old-world charm.
If the Indian Ocean is more to your taste, opt for The Chedi Muscat. Here you can choose to dine under the stars, gazing upon the blue ocean.
Or eat at one of their many halal friendly restaurants.
Almost all resorts in Oman provide halal travel packages.
More so because the Omani government has been consciously pushing Islamic tourism in Oman for a few years now.
Attractions in Oman for Muslim travelers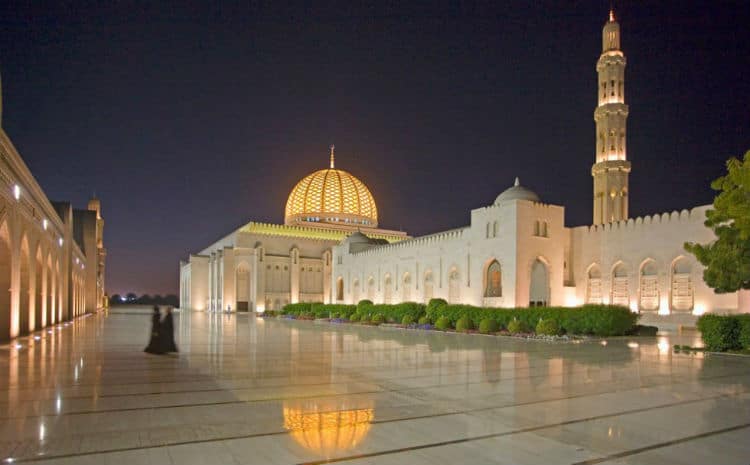 Oman is located near the cosmopolitan city of Dubai and is in itself a global destination.
However, the burgeoning development has not robbed Oman of its Islamic traditions.
Visit medieval Islamic towns and Bedouin villages, which are the highlights of all halal holidays in Oman.
The Sultanate is home to some of the most famous mosques in the Middle East. The Sultan Qaboos Mosque just outside Muscat is a must visit.
This grand structure hogs a large part of Muscat's skyline and is a brilliant ode to Islamic architecture.
There are customizable tours in and around Muscat, combining heritage and modernity.
Halal honeymoon packages to Oman
Oman is the perfect honeymoon destination as it offers plenty of sightseeing with generous doses of lazy relaxation.
Discover the many facets of your newly wedded partner as together the two of you delve into Islamic culture.
Or forge a bond with your partner with blue waters of the Arabian Sea and a million stars as your witnesses.
Most resorts in Oman offer attractive halal honeymoon packages.
They include stay at the hotel, excursions into the city and guided tours to nearby attractions.
For an adventurous and unforgettable honeymoon, book an authentic Bedouin camp and set off the nuptial fireworks!
Halal holiday destinations
# Halal holidays in Singapore
# Halal holidays in Morocco
# Halal holidays in Maldives
# Halal holidays in Marrakech