Maldives is no longer only a holiday destination for honeymooners. It has become an ideal halal holiday destination for couples and families alike.
Why? Because Maldives has been promoting Islamic tourism to attract Muslim travelers.
The Muslim friendly environment in Maldives has ensured a good word of mouth. As a result, every year the count of Muslims visiting Maldives has been increasing.
The positive word of mouth has been because of the increasing number of halal restaurants and halal resorts in Maldives.
This trend has given a shot in the art to Islamic tourism in Maldives.
There is nothing that compares to dining at a halal food resort while listening to the sea waves hit the shores.
So, what are you waiting for? Check out or advice on how you can have a great halal holiday in Maldives.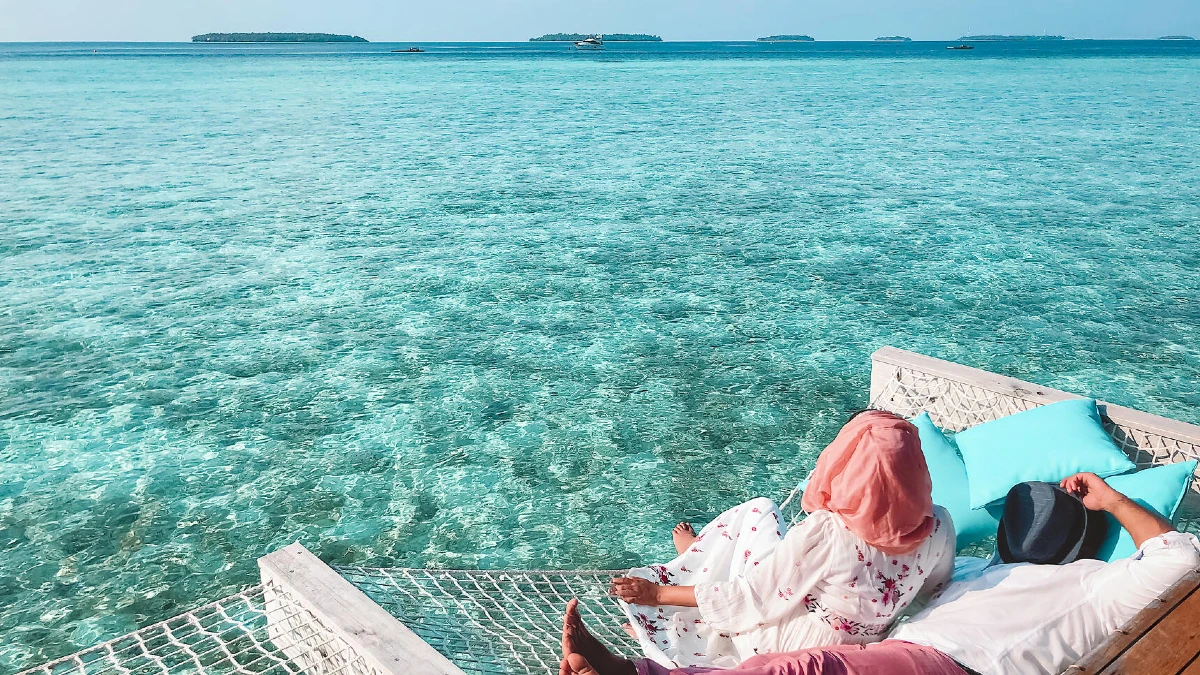 Halal friendly resorts in Maldives
Some resorts measure up better than others when it comes to their halal-friendliness.
These are the resorts which have understood the needs of a Muslim traveler better.
Some needs are straight forward – for example, like serving halal chicken, lamb, and beef in their restaurants and having alcohol-free rooms.
Some of the needs of a Muslim traveler aren't so apparent – for example having a female spa therapist attend to the ladies.
Here is our selection of the best four halal-friendly resorts in Maldives.
Halal friendly resort 1. Conrad Maldives Rangali Island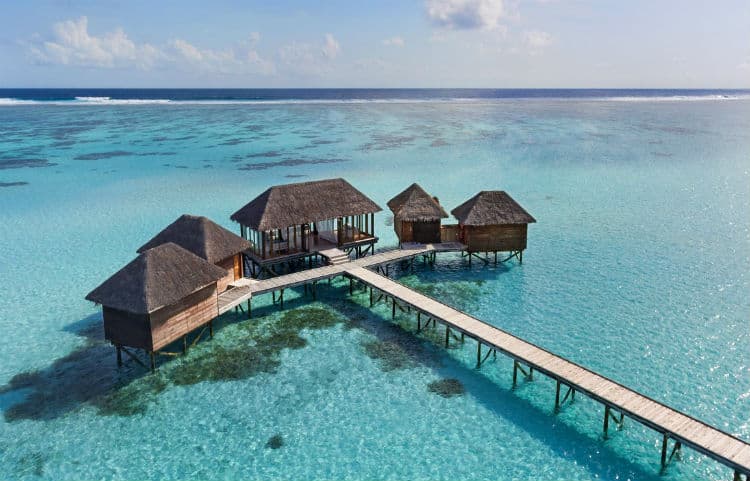 Conrad Maldives Rangali Island is one of the most Muslim friendly resorts in Maldives.
Apart from halal food, and alcohol-free villas the resort also provides options for prayers.
It is surrounded by a lagoon, coral reef, beautiful ocean views and lots and lots of white sand.
The resort has sports activities such as tennis if you are interested.
They also have two infinity pools where you can swim to your heart's content.
For your Friday prayer, you can always go to Huskuru Miskiiy mosque in Male.
Halal friendly resort 2. Banyan Tree Vabbinfaru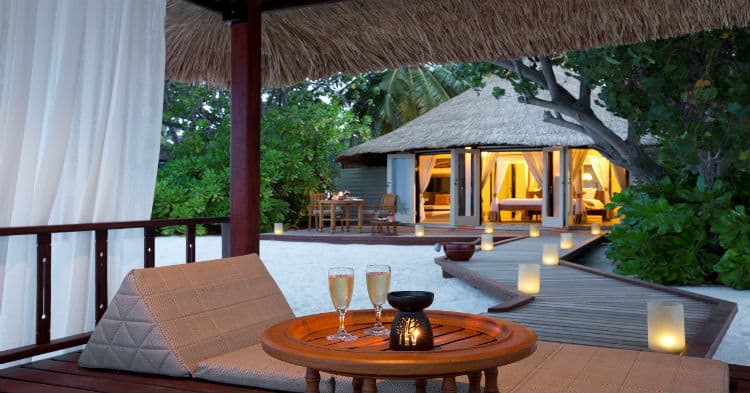 Banyan Tree Vabbinfaru also provides Muslim travelers exclusive halal travel packages.
Like rest of the halal friendly resorts, this resort also offers halal food, alcohol-free villas and prayer options for travelers.
Situated at Maldives' North Male Atoll, Banyan Tree Vabbinfaru also owns two private yachts, which you can take out for cruising.
If you are a young couple, one of the primary attraction is the lunch or dinner on a sandbank in the middle of the Indian Ocean.
If you love turquoise waters, swaying coconut trees, beautiful flowers and pure white sand you will fall in love with resort.
Halal friendly resort 3. Six Senses Laamu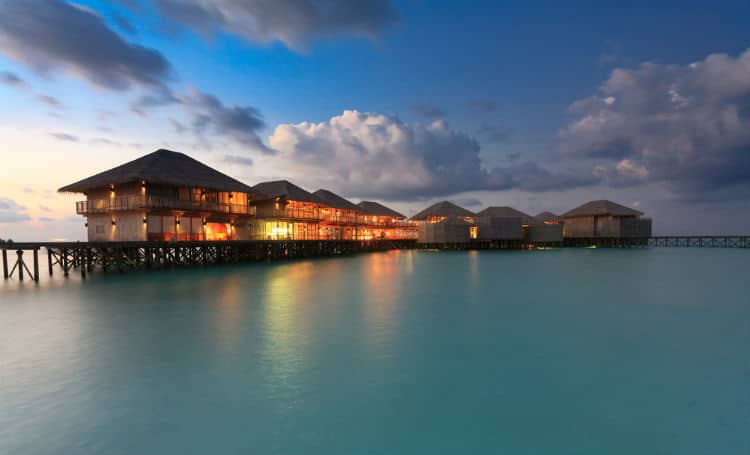 Six Senses Laamu is another perfect destination for Muslim travelers.
Muslim tour packages offered at this resort include diving and surfing experiences along with private desert island experience and six senses spa.
This halal friendly resort is ideal for Islamic honeymooning couples and Muslim families alike.
Six Senses Laamu is the only resort in the Laamu Atoll.
You will have to take a small plane ride from Male airport or take a boat ride to reach this resort.
You can choose from on-land and over-water villas at this Muslim-friendly resort.
Chefs from both East and West prepare mouth-watering halal international cuisine at all restaurants in this resort.
Halal friendly resort 4. Jumeirah Vittaveli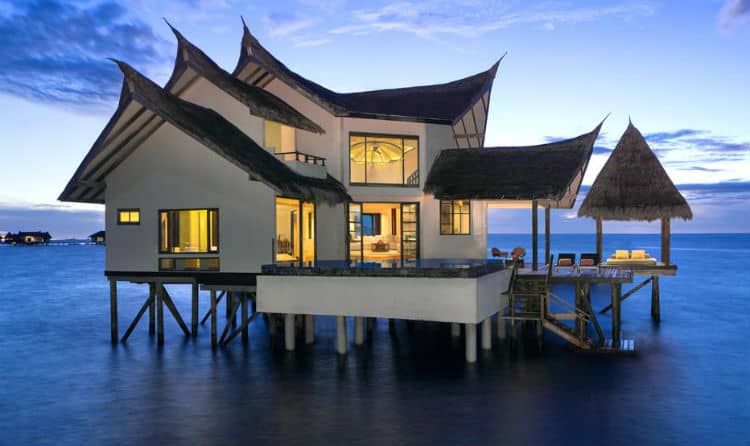 If you are looking for exclusive halal food and alcohol-free rooms, Jumeirah Vittaveli is the right resort for you. It offers everything that a traveling Muslim family looks for.
To reach this resort from Male, you must take a 20-minute ride on-board a motorized catamaran.
The resort comprises of 89 villas and suites and each of these have their own swimming pools and direct access to the beach or lagoon.
This is the kind of privacy which suits both Muslims and non-Muslims.
If you can afford it you must check out their Ocean Suites, which are freestanding villas on the sea.
One of the notable experiences at Jumeirah Vittaveli is their 'Dining by Design'.
Do ask for it – starts from sunrise breakfast on the beach, to an Aqua dinner served in the swimming pool.
Attractions in Maldives for Muslim travellers
Though Maldives is best known as a water sports and snorkeling destination, the island has hidden treasures of heritage which connects to the Islamic traditions.
The jewelry, the clothing, the reed mats and the lacquered wooden boxes collectively provide subtle hints of the Islamic influence in the state.
The famous Singapore bazaar exhibits a collection of exotic items touched by the beauty of Islamic art.
The main island is also pitted with various halal restaurants offering halal food and an alcohol-free environment.
Then there is, of course, the Masjid-al-Sultan Muhammad Thakurufaanu Al Auzam mosque at Male along with many other mosques throughout the country.
Note: Islam is the State religion of Maldives. Every Friday, since the Muslim citizens of Maldives want to attend mosque, they close their shops and offices by 11 a.m.
Halal holiday destinations
# Halal holidays in Singapore
# Halal holidays in Oman
# Halal holidays in Morocco
# Halal holidays in Marrakech