The Houston Downtown Aquarium is a captivating destination that houses the wonders of the deep blue sea.
This 6-acre (2.4-hectare) complex boasts a 500,000-gallon aquarium with hundreds of fascinating creatures and plants.
This sprawling aquarium is home to over 200 species of aquatic animals, including sharks, stingrays, and even a white tiger.
Whether you're a marine enthusiast, thrill-seeker, or food lover, the Downtown Aquarium has something for everyone.
Visitors can learn about marine animals through the interactive exhibits, watch shows and demonstrations, and even feed some animals.
This article shares everything you must know before booking tickets for Houston Downtown Aquarium.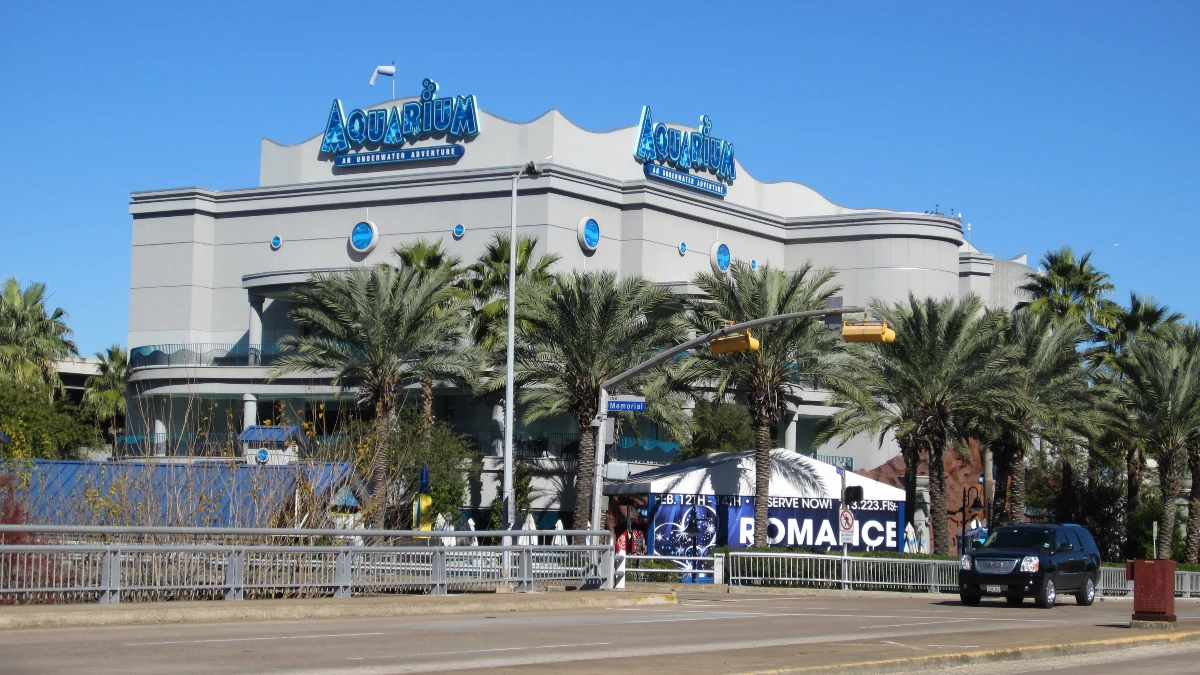 What to expect
Downtown Aquarium Houston is great for families, school groups, and anyone who loves animals and the underwater world.
Here are some exciting things that you can expect at the aquarium.
Captivating exhibits
Discover the Rainforest Shipwreck and Sunken Temple exhibits, showcasing tropical rainforest life, a sunken Spanish galleon, and exotic creatures like lionfish and pufferfish.
Younger visitors can enjoy hands-on encounters in the Discovery Zone.
Thrilling games and rides
Indulge in carnival-style games and amusement rides, including the Diving Bell Ferris Wheel and Shark Voyage, a train that passes through a 200,000-gallon shark tank.
Best dining experience
Dine at the Aquarium Restaurant, surrounded by mesmerizing marine life exhibits, offering a one-of-a-kind underwater atmosphere.
Educational and interactive shows
Engage with knowledgeable staff, attend presentations, and learn about marine life conservation efforts.
---
---
Where to book tickets
Tickets for Downtown Aquarium Houston are available online or at the attraction.
Booking your tickets online in advance is always better.
Online ticket prices tend to be cheaper than tickets at the venue.
When you buy online, you can avoid the long queues at the attraction's ticket counters.
Because some attractions sell a limited number of tickets, booking early helps avoid last-minute disappointment.
How do online tickets work
Go to the Downtown Aquarium Texas booking page, select your preferred date and number of tickets, and buy the tickets right away.
After the purchase, you will receive the tickets in your email.
There is no requirement to bring any printouts.
You can walk in and show the ticket on your smartphone.
Ticket price
All day adventure pass tickets for Houston Downtown Aquarium are priced at US$28 for visitors over 42" (107 cm).
All day adventure pass tickets for visitors below 42" (107 cm) are priced at US$26.
Kids under two years can get in free, but they too need a ticket or wristband.
Downtown Aquarium Houston tickets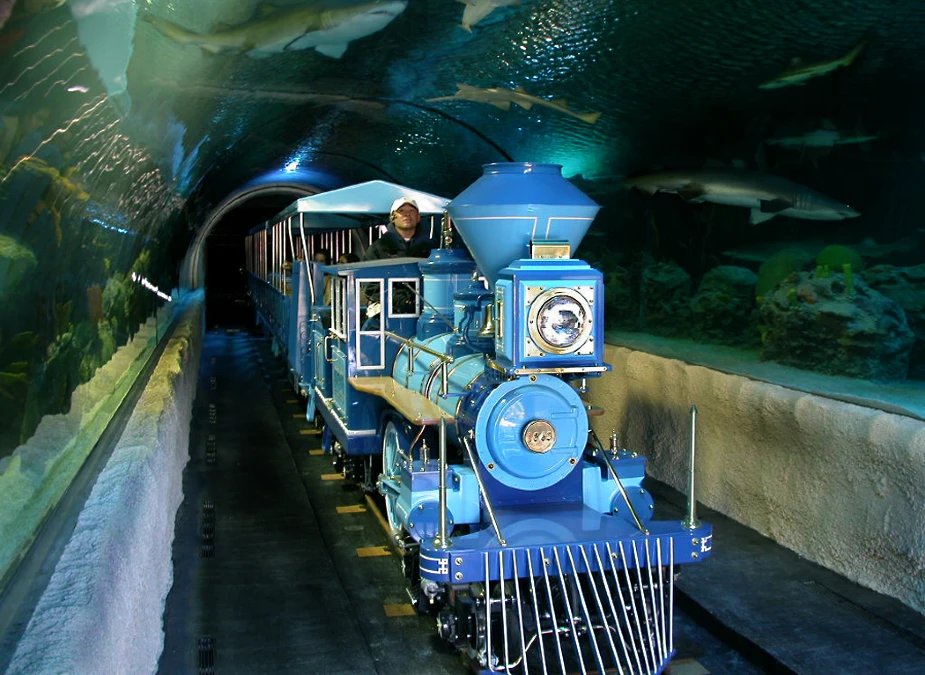 Access all zones and journey through seven captivating exhibits, including the Shipwreck and the Sunken Temple.
Get up close and personal with stingrays at Stingray Reef and encounter a diverse range of sea life worldwide.
Enjoy unlimited rides on attractions like the Diving Bell Ferris Wheel with your all-day adventure pass.
From mesmerizing marine creatures to thrilling rides, the Texas Downtown Aquarium offers a unique blend of education, entertainment, and excitement.
Ticket Prices
Adult Ticket (Over 42″/106 cm): US$28
Child Ticket (Under 42″/106 cm): US$26
Combo ticket: Space Center Houston + Downtown Aquarium Houston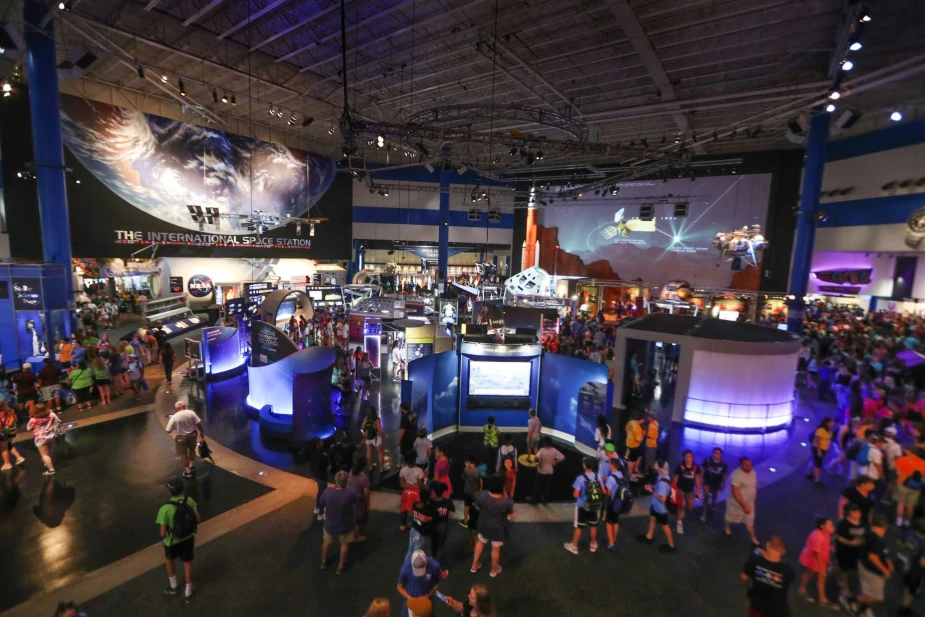 Distance: 26.7 miles (42.9 km)
Time Taken: 27 min by car
At Space Center Houston, discover the wonders of space as you explore exhibits featuring shuttles, space suits, and artifacts from historical missions.
Learn about the captivating story of NASA's history with a documentary in the Destiny Theater, where monumental moments come to life.
Take a tram tour of the Johnson Space Center, home to astronaut training and mission control.
Step inside a replica of the Independence Shuttle and marvel at the intricacies of space travel.
From the colossal Saturn V rocket to the Apollo Mission Control, every corner reveals the triumphs and advancements of humanity's journey into space.
Take advantage of the opportunity to experience the thrill and inspiration of Space Center Houston, where the past, present, and future of space exploration converge.
Ticket cost: US$55
Save time and money! Explore Houston's best attractions with the Houston CityPASS and save big. You can use the pass for 9 consecutive days starting from the date of first use and visit 5 incredible attractions in Houston!
---
---
How to reach Downtown Aquarium Houston
Downtown Aquarium is located at Bagby Street in downtown Houston.
Address: 410 Bagby St, Houston, TX 77002, USA. Get Directions.
By Bus
Downtown Aquarium Houston is only a 7-minute walk from the Smith St @ Rusk St bus stop. Buses 85, 15, 160, 161, 162, 216, 217, and 269 stop at this bus station.
It is only a 7-minute walk from the Milam St @ Texas Ave bus stop. You can take buses 102, 108, 202, 204, and 291.
Travel Terminals
Houston Downtown Aquarium is only a 7-minute walk from the Houston Amtrak Station. (Trains: Cnoc and Sunset limited)
By Light Rail
The aquarium is only a 5-minute walk from the Theater District light rail station. (Light rail: green, purple)
By Car
If you are traveling by car, turn on your Google Maps to get started.
For information regarding parking areas near the attraction, click here.
Timings
The Downtown Aquarium Houston stays open from 10 am to 8 pm from Sunday to Thursday.
The opening hours are from 10 am to 9 pm on Fridays and Saturdays.
Best time to visit
The best time to visit Downtown Aquarium is early morning when it opens, i.e., 10 am, because early mornings are relatively less busy.
To avoid the crowd and have a peaceful outing, you can plan your visit on weekdays.
How long does the tour take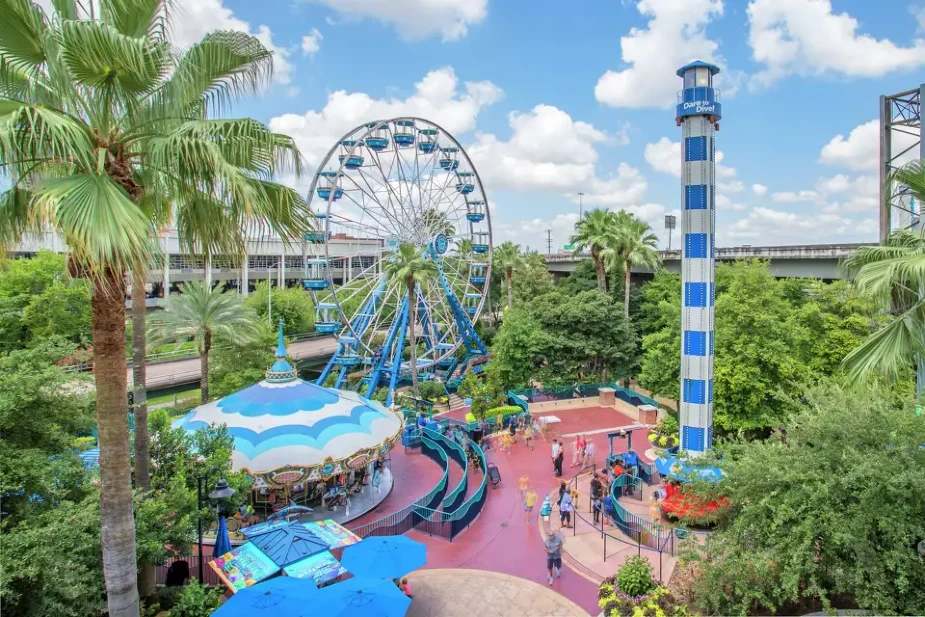 Visitors take 1 to 2 hours to complete the Downtown Aquarium tour.
But this duration may vary depending on different individual interests and preferences.
---
---
FAQs about Downtown Aquarium
Here are some frequently asked questions by many visitors that might help you.
What can I expect to find at Downtown Aquarium Houston? 
Houston Downtown Aquarium offers many attractions, including underwater exhibits showcasing diverse marine life, interactive touch pools, and thrilling amusement rides such as the Shark Voyage train ride and the aquatic-themed Ferris wheel.
Are there any dining options available at Houston Downtown Aquarium? 
Yes, Downtown Aquarium Houston boasts several dining options, including the Aquarium Restaurant, where you can enjoy a meal surrounded by a captivating underwater atmosphere. 
Can I host events or parties at Downtown Aquarium Texas? 
Yes, Downtown Aquarium offers event spaces for various occasions, including corporate events, weddings, birthdays, and more. The unique and vibrant setting adds an exciting touch to any gathering.
Is parking available at Downtown Aquarium Houston, Texas? 
Yes, the Houston Downtown Aquarium provides parking facilities for visitors. However, there are parking charges accordingly.
Are there any age restrictions for Downtown Aquarium Houston, USA?
There are no age restrictions for Downtown Aquarium Texas. However, some of the exhibits may be too intense for young children.
Can I bring food and beverages inside Houston Downtown Aquarium?
Food and beverages are not allowed in the aquarium's exhibits. However, a restaurant is inside the aquarium where guests can purchase food and drinks.
Is there a dress code for Houston Downtown Aquarium?
There is no formal dress code for the Downtown Aquarium. However, guests are asked to dress in a way that is appropriate for a family-friendly environment.