Cincinnati Zoo and Botanical Gardens has around 2000 animals including, Fiona, the famous baby hippo.
It spans across 75 acres and has over 3000 plant species making it the greenest zoo in the US.
Cincinnati Zoo in Ohio gets over 1.5 million visitors annually.
In this article, we share everything you must know before buying Cincinnati Zoo tickets.
Cincinnati Zoo has been around since 1875 and was launched 14 months after the Philadelphia Zoo, making it the second oldest zoo in the United States of America.
How to reach Cincinnati Zoo
Cincinnati Zoo and Botanical Garden is at 3400 Vine St., Cincinnati, Ohio 45220. Get Directions
Bus routes 1, 46, 38x, and 78 take you closest to or pass the wildlife attraction.
Visitors can enter through one of the two gates – the Vine Street entrance or the Erkenbrecher Avenue Entrance.
Cincinnati Zoo by car
If you drive to Cincinnati Zoo on I-71, take Exit 3 off the freeway to Martin Luther King Interchange.
If you are driving on I-75, take the Hopple Street exit.
Cincinnati Zoo parking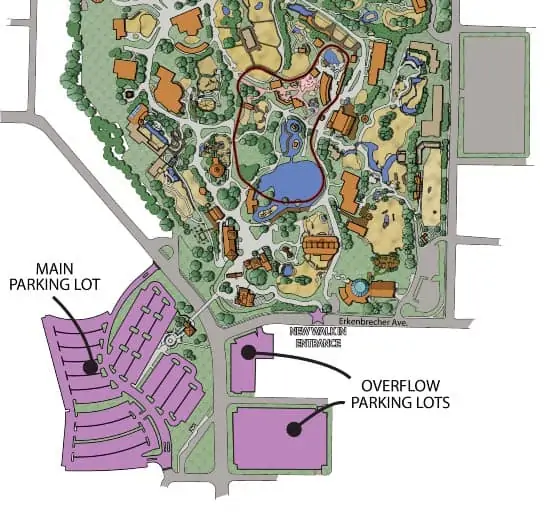 Cincinnati Zoo and Botanical Garden's main parking lot is on Vine Street.
It has stairs and elevators, and visitors can enter the Pavilion Building from the parking lot itself.
The second parking space is available on Louise Avenue.
Image: Cincinnatizoo.org
Cincinnati Zoo's parking fee is $10, and visitors need to pay when they exit.
---
---
Cincinnati Zoo hours
Cincinnati Zoo opens at 10 am daily, but its closing time keeps changing.
From 13 March to 31 October, it closes at 5 pm, from 20 November to 9 January, when Festival of Lights is on, it closes at 9 pm, and from 10 January to 12 March, the zoo starts closing at 5 pm again.
The last admission is one hour before closure.
---
---
Best time to visit Cincinnati Zoo
It is best to visit the Cincinnati Zoo as soon as they open at 10 am.
There is no crowd, and queues at the exhibits are non-existent.
Early in the morning, animals are also most active.
During summer, as the day gets hotter, they may recede to shaded areas, sometimes making it difficult to spot them.
If possible, pick a weekday to beat the rush at Cincinnati Zoo, Ohio, as weekends and public holidays tend to be a busier time.
Cincinnati Zoo in winter
Cincinnati Zoo has a hilly terrain, and the walk through the zoo can get tiring in hot weather.
Fall and winter are an excellent time to visit the Cincinnati Zoo, with some exciting events and extended hours thrown in.
Some of the animals are more active during cooler months.
Check out the best things to do in Cincinnati, Ohio.
---
---
How long does Cincinnati Zoo take
Families visiting with kids tend to take three to four hours to explore the Cincinnati Zoo and Botanical Garden.
Depending on the itinerary and time at some attractions and rides, visitors may spend half a day or more exploring the zoo.
If you are a group of adults that keep up a good pace and take lesser breaks, you can explore the Cincinnati Zoo in 90 minutes.
---
---
Cincinnati Zoo tickets
Tickets at the Cincinnati Zoo get sold on a first-come, first-served, and often they get sold out.
This is why it makes sense to book them much in advance.
When you book your tickets to Cincinnati Zoo online, you also avoid waiting in the long ticket counter queues.
While booking, you must select a time slot, which is spaced 30-minutes apart.
You must be at the zoo within the 30-minute window that's on your reservation confirmation.
Cincinnati Zoo ticket price
The price of the day's ticket depends on various factors, which is why we have mentioned a range below –
Adult tickets (13 to 61 years): $14.50 to $26
Child tickets (2 to 12 years): $8.50 to $20
Seniors ticket (62+ years): $8.50 to $20
---
---
Cincinnati Zoo's train
This miniature train takes you on an exciting tour around the Cincinnati Zoo and Botanical Garden and is a hugely popular attraction.
Every year close to 400,000 visitors ride the Cincinnati Zoo train.
Since the General Zoo Entry Tickets don't cover the ride, everybody must purchase the train tickets at the safari train station, which is past the Children's Zoo towards the Wing of the World.
Cost of ticket: $4
Timing: 9.30 am to 5 pm. daily
With four world-class zoos with thousands of animals, Ohio State is a wildlife lover's destination. Read about the best zoo in Ohio.
---
---
Cincinnati Zoo's carousel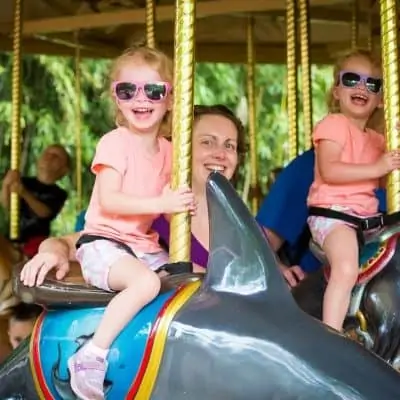 Cincinnati Zoo Carousel, known as the Conservation Carousel, is located near the Safari Camp area of the zoo.
The young and old can ride the carousel that has seats shaped like various animals.
At the box office, you can purchase tickets to ride the carousel.
Image: Cincinnatizoo.org
Cost of tickets: $3
Timings: 9.30 am to 3 pm, Monday to Friday & 9.30 am to 5 pm, Saturday and Sunday
---
---
Kanga' Klimb
The Cincinnati Zoo's new Aerial Adventure Course Kanga' Klimb is for visitors seeking some thrill alongside animal encounters.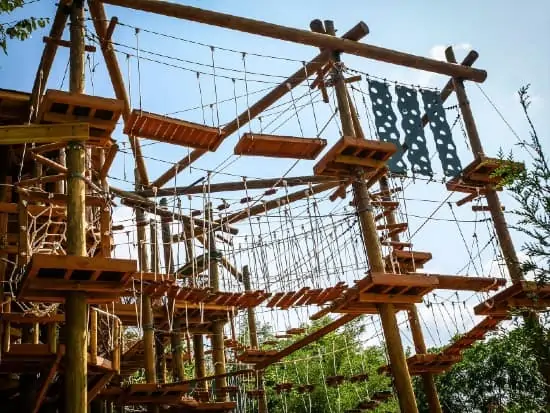 This elevated obstacle course features 11 platforms with 50 obstacles accessible from the central hub platform.
You need to put on a harness and a helmet and climb up the rope tunnel to reach the central platform.
Image: Cincinnatizoo.org
A trained guide monitors and helps you navigate obstacles like swinging logs, plank walk, tight rope, Burma bridge, spider web, post hop, and balance beam.
Tickets to Kanga' Klimb are available at the hike entrance.
It takes 30 to 60 minutes to complete the obstacle course.
---
---
Animals to see in Cincinnati Zoo
The animal enclosures at the Cincinnati Zoo mirror the varied and natural habitats of its occupants.
Africa habitat
The Africa exhibit at the Cincinnati Zoo and Botanical Garden holds numerous animal habitats such as the Savannah Yard, Hippo Cove, Giraffe Deck.
The savannah section gives you a glimpse of life in the wild and is home to the Cheetah Encounter.
Other animals that live here are African Lions, Masai Giraffe, African Painted Dogs, African Servals, Anatolian Shepherds.
The African-themed restaurant, Base Camp Café, is in this section.
Penguin Point
The massive African Penguin point habitat houses 30+ penguins.
Besides the thriving penguin colony, you see the Eastern White Pelicans, White-breasted Cormorants, and Yellow-Billed Ducks.
It is exciting to see the popular Cincinnati Zoo Penguin Parades where King penguins march through the audience.
The Penguins march is scheduled only between mid-Jan to mid-March.
Cat Canyon
Cat Canyon is the section with the big cats from the wild such as Cougars, Malayan Tigers, and Snow Leopards.
Cincinnati zoo has partnered with other zoos on a Tiger Species Survival Plan.
Visitors can see the numerous conservation efforts and programs to nurture the species in this section.
Dragons
Hudo, Cincinnati Zoo's famed Komodo Dragon, resides in this section since he hatched in February 1994.
He is the grandson of Naga and a third-generation Komodo Dragon at the Cincinnati Zoo Ohio.
The Dragons habitat is also home to Ackies Dwarf Monitor, Green Tree Monitor, and Quince Monitor.
Gibbon Islands
At Gibbon Island, numerous species of Gibbons swing among the trees under the rainforest canopy.
You can walk across a wooden bridge and watch the aerial acrobatics of the animals on jungle gyms built on landscaped islands.
Guests can also hear the melodic songs of the gibbons from time to time.
Giraffe Ridge
This 27,000 square-foot exhibit is home to the Masai Giraffe.
Here, you can get up close with the Cincinnati Zoo Giraffe from an elevated platform for an interactive feeding experience.
Gorilla World
Built in 1978, Gorilla World has a simulated African jungle-like ambiance with several open viewing areas and floor-to-ceiling glass windows.
It allows you to watch the Cincinnati Zoo Gorilla from multiple angles.
This section was the first sizeable realistic primate exhibit in the world that aided the conservation of this endangered species when it launched.
Hippo Cove
Visitors can see the charismatic Nile Hippopotamus above and underwater in this exhibit at the Cincinnati Zoo.
These charismatic African wildlife species require a temperature of 40 degrees or warmer to be outdoors.
This part of the zoo is also home to the Cincinnati Zoo's Fiona, the world-famous baby hippo, and her mother, Bibi.
Jungle Trail
Visitors can experience the Asian and African tropical rainforest ecosystem as they journey through the Jungle Trail.
The indoor and outdoor area house endangered primates such as Orangutans, Gibbons, and Bonobos.
Sculptures and murals, a wild soundtrack, and exotic flora and fauna complete the ambiance.
The interactive elements of the exhibit, Swing Like a Gibbon, Balance Like a Lemur, Thumbs Up for Thumbs, have families working together like primates and adds to the overall learning and experience.
Kroger Lords of the Arctic
Kroger Lords of the Arctic houses the Andean bears and Arctic Foxes.
The exhibit with its waterfall, a stream, two pools, and an underwater viewing area is an enriching experience for the visitors and the animals.
Until March 2021, this section was home to Cincinnati Zoo's Polar Bear named Little One.
The 31-year-old bear with a chronic medical condition was laid to rest on 27 March.
Manatee Springs
Manatee Springs is an ode to Florida's biodiversity, especially the Florida Manatee.
Since 1999, the Cincinnati Zoo and Botanical Garden have been partnering with different groups in Florida to nurture the weak and abandoned baby Manatees.
The success and dedication of Manatee care are visible through the active and healthy disposition of the animals living here.
Meerkats habitat
Meerkats habitat is where the six famous Meerkats – Bert, Louis, Zevon, Santana, Mark, and Shakira – from Disney's Animal Kingdom live.
Visitors, young and old, can watch the animals closely from under a pop-up bubble.
It is fascinating to see the Meerkats sitting in upright-posture and doing their tennis-match-style head-turn just as they do to scan the African Desert.
Night Hunters
Night Hunters is a multi-sensory nocturnal journey featuring a variety of cats.
The Clouded Leopard, Pallas' Cats, Sand Cat, Fishing Cat, Caracal, Black-Footed Cat, and other night-time predators such as the Eurasian Eagle Owl, Potto, Vampire Bats, Fennec fox, Aardvark, and Burmese Pythons are on display in this section.
Children can crawl in the Aardvark den to watch the animals closely with just a glass barrier in between.
Discovery Forest
Discovery Forest replicates the tropical Latin American rainforest and incorporates interpretive elements from the jungles of Central and South America and even Mexico.
It offers visitors a multi-sensory exploration of the world of plants.
Keeping up with the true essence of the Cincinnati Zoo Botanical Garden, the exhibit depicts the plant-wildlife relationship and is home to some neo-tropical animals.
Painted Dog Valley
With beautiful trees, a babbling brook, and rolling topography, Painted Dog Valley is an attractive habitat.
The African Painted dog with its large round ears and magnificent 'painted' multi-colored coats make it the most attractive enclosure of the Cincinnati Zoo.
Passenger Pigeon Memorial
Passenger Pigeon Memorial is a homage to Martha, the last known passenger pigeon who died in 1914 at the Cincinnati Zoo.
The Japanese pagoda-style memorial building is a National Historic Landmark and the last of its kind still standing.
The memorial, built in 1975, initially housed the zoo's aviaries and has been preserved to honor the passenger pigeon species that were once abundant but hunted into extinction.
Reptile House
The Cincinnati Zoo Reptile House is a National Historic Landmark.
It has more than 35 reptile species, including snakes, lizards, turtles, and alligators.
Reptile House was built in 1875 in Turkish style and is the oldest American Zoo building.
Rhino Reserve
With its outdoor path encircling the open-air animal yards, the Rhino Reserve has several hoofed mammals and wetland birds native to the Eastern hemisphere.
In here, visitors see Manjula, Seyia, Kendi, and Faru – the zoo's four rhinos.
Apart from Cincinnati Zoo's Rhinos, this habitat has Zebras, Okapis, Visayan Varty Pig, etc.
Roo Valley
The Australian-themed Roo Valley offers visitors a never-before experience and encounter with Kangaroos and Little Blue Penguins.
Roo Valley has a lush shady canopy of trees, Hops -a multi-tiered beer garden, and Kanga' Klimb, a two-level ropes course.
Spaulding Children's Zoo
Spaulding Children's Zoo features a petting yard, animal nursery, playground, and animals, including baby miniature cows, Llamas, and Alpacas.
Children and adults can enjoy interacting, touching, and even brushing some of the zoo's friendliest animals like baby Pygmy Goats, Nigerian Dwarf Goats, etc.
Right next to Spaulding Children's Zoo, visitors can find Cincinnati Zoo's Red Pandas.
Wetland Trails and Swan Lake
Wetland Trails and Swan lake signifies the importance of wetlands and has native species to this habitat, such as turtles and waterfowl.
Zoo guests can look through telescopes and press buttons to hear various frog and bird calls at the interactive stations along a boardwalk in the exhibit.
Wings of the World
Wings of the World consists of a variety of birds, from songbirds to puffins. Originally built as a reptile house in 1936, it got renovated in 1996 into a massive aviary.
The elaborate artwork and lavishly painted aviaries complement this naturalistic exhibit with habitats such as rainforests, grassland, and wetlands.
Wolf Woods
The Wolf Woods has two sections.
The section along the Wolf Woods trail highlights the conservation stories of the Ohio woodlands and their species, especially the North American River Otter.
The other section focuses on conservation efforts for the Mexican Gray Wolf in the SouthWestern part of the United States.
World of the Insect
World of Insects was built in 1978 and was the first enclosure devoted to insects in any US zoo.
The realistic exhibit includes an indoor tropical butterfly aviary, innovative signs, graphics, videos, and interactive activities to engage visitors.
When the zoo was closed in 2020 due to the pandemic, Cincinnati Zoo home safaris got popular. Check out their videos.
---
---
Fiona, the Nile Hippo
Cincinnati Zoo's Fiona is one of the most popular animals at the Zoo and Botanical Garden.
She is the first Nile hippo born at the Cincinnati Zoo in 75 years and the first of the species to be scanned in the womb using ultrasound.
This Cincinnati Zoo baby hippo was born six weeks premature and weighed just 29 pounds- about half as much as the low end of the average birth weight for a Nile hippo.
Millions of wildlife lovers worldwide followed Cincinnati Zoo keepers even as they nursed Fiona back to health.
Named after the famous Shrek movie character, Fiona is the smallest hippo ever to survive.
She is most active at the Hippo Cove between 3 pm and 5 pm.
---
---
Harambe, the Gorilla
Harambe, a 17-year-old Western Lowland Gorilla resident of Cincinnati Zoo, is etched in public memory for the infamous incident that led to his death.
On 28 May 2016, a three-year-old boy fell into the gorilla enclosure at the zoo.
Harambe grabbed and dragged the boy and was shot by a zoo worker to save the boy's life.
The ordeal was recorded on video and was much talked about nationally and internationally.
It sparked a debate over the use of lethal force instead of the tranquilizer on animals in captivity.
---
---
Animal encounters
Cincinnati Zoo and Botanical Garden have quite a few engaging animal encounters for the zoo guests.
Most are included with the general entry ticket.
Giraffe Feeding: Visitors can feed the zoo Giraffes at an extra cost
Timings: 9.30 am to 11.30 am and 12.30 pm to 1.30 pm every day.
Goat Yard: Children and adult can brush the friendly goats in the Cincinnati Zoo Goat Yard
Timings: Daily from 9.30 am to 4.30 pm
Blakely's Barn: Children can play and interact with farm animals in the Blakely's Barn at the Children's Zoo
Timings: Opens at 11 am from Thursday to Sunday.
Cheetah Run: Kroger Cheetah run takes place at the Cheetah Encounter Yard
Timings: 10.30 am and 12 noon, Thursday to Sunday
Ameritas Bird Encounter: Ameritas Bird Encounter is at the Wings of Wonder Amphitheater.
Timings: 1 pm and 3 pm every day except Wednesday and Thursday
Besides these free encounters, the Cincinnati Zoo also has private paid encounters with exotic animals.
For upwards of $200 per person, visitors can spend half an hour with animals such as Giraffes, Penguins, Sloths, Wallabies, Elephants, Hippo, Red Panda, etc.
---
---
Cincinnati Zoo map
With more than two thousand animals to see, it is wiser to have a copy of the Cincinnati Zoo's map to navigate the various exhibits.
Besides helping spot animal habitats, animal encounters, playgrounds, rides, attractions, etc., you can also find out visitor services such as parking, restrooms, restaurants, etc.
You can either download the map or bookmark this page for later.
Other Zoos in Ohio
# Columbus Zoo
# Cleveland Zoo
# Toledo Zoo