Cleveland Zoo is Northeast Ohio's most-visited year-round attraction and gets around 1.5 million visitors annually.
The 183-acre Cleveland Metroparks Zoo is home to over 3000 animals offering guests countless opportunities to connect with wildlife.
The zoo is divided into several exhibits, including the African Elephant Crossing, Australian Adventure, the Rainforest, and the Primate, Cat & Aquatics Building. There are also seasonal exhibits, such as the Asian Highlands and the Wild Winter Lights.
This article shares everything you must know before buying your Cleveland Zoo ticket.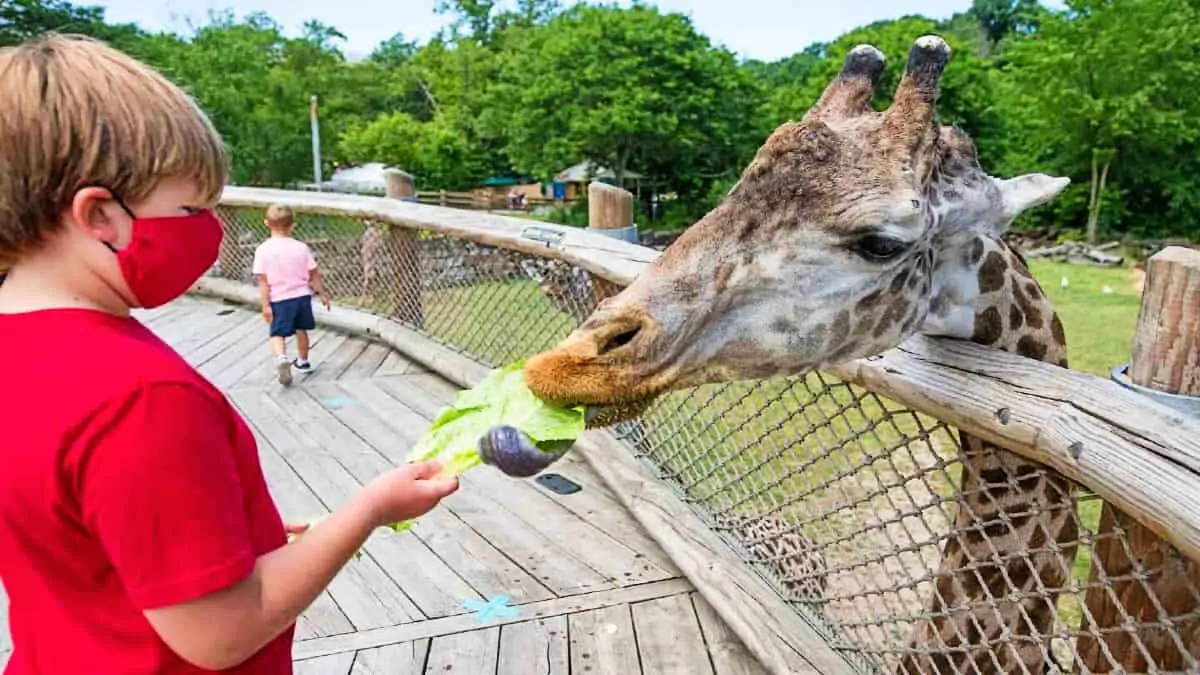 What to expect
---
---
How to reach Cleveland Zoo
Cleveland Metroparks Zoo is located just 5 miles south of downtown Cleveland at 3900 Wildlife Way, Cleveland, Ohio 44109.
It is easily accessible from Interstates 71, 77, 90, and 480.
If you plan to drive, it is best to fire up Google Maps and follow the directions.
Click here to know about the nearby parking lots.
On busy days, especially weekends and Mondays, you may get traffic on the way.
RTA Bus is the best option if you plan to take public transport.
Cleveland Zoo has lots of parking space, all of which is free.
---
---
Cleveland Zoo hours
The Zoo is open from 10 am to 5 pm from April through October and 10 am to 4 pm from November through March.
It remains closed on Thanksgiving, Christmas, and New Year's Day.
---
---
Best time to visit Cleveland Zoo
The best time to visit Cleveland Zoo is when they open at 10 am.
The animals are most active early in the morning, and crowds are just about getting in.
As the day progresses and the temperature increases, animals get lethargic and go into the shaded areas.
We recommend weekdays for a peaceful visit because it gets crowded on weekends and school holidays.
Check out the best things to do in Cleveland, Ohio.
---
---
How long does Cleveland Zoo take
If you visit with children, you will need three to four hours to explore Cleveland Metroparks Zoo.
Kids tend to linger longer around their favorite animal enclosures, attend feeding sessions and keeper talks, and try out all the available experiences.
If you are a group of adults in a hurry, you can walk past all the exhibits at the Metroparks Zoo in 90 minutes.
---
---
Cleveland Zoo prices
Cleveland Zoo's General Admission ticket for adults aged 12 to 61 years costs $19, and kids from 2 to 11 years pay a discounted price of $15.
Senior visitors 62 years and above pay a price of $17 for their admission into the Zoo.
Infants up to two years enter for free.
The Total Experience Ticket is priced at $25 and gives you access to the Zoo.
---
---
Cleveland Zoo tickets
While reserving your visit to Cleveland Zoo, you have two options – book the cheaper General Admission ticket or get the Total Experience Ticket.
The Total Experience Pass allows you to access all the extras in the Zoo, such as RainForest, unlimited Train rides, Carousel rides, and 4-D theater, and $1 off Giraffe and Lorikeet Feed.
If you book the General Admission ticket, you must pay extra for all the additional rides.
Train: $2.50
Carousel: $3
4-D Theater: $3
Giraffe Feeding: $3/leaf, $6.00 for three leaves
Lorikeet Feeding: $2.50/cup
Did you know that Ohio has many zoos? Find out about the four fantastic zoos in Ohio.
---
---
Animals in Cleveland Zoo
Cleveland Zoo has lots of animals to see. After all, it houses more than 3000 animals representing about 600 species.
These animals are divided into habitats that mimic their natural living environment.
African Elephant Crossing
African Elephant Crossing is near the zoo's main entrance and offers prime viewing areas for visitors to see the animals.
The Crossing offers open-air viewing, a nose-to-trunk window, an elevated feeding station, and a gated crossing where guests get closer to the elephants.
Asian Highlands
The Asian Highlands of Cleveland Metroparks Zoo hosts Amur, snow leopards, red pandas, and Takin.
Since this part of the zoo is newly constructed, it is larger and more intricately built with cooling caves, climbing structures, elevated platforms, etc.
Australian Adventure
At Gumleaf Hideout, visitors can see koalas perching on live eucalyptus trees in indoor and outdoor habitats.
At the Wallaby Walkabout, kangaroos and wallabies roam freely.
Kookaburra Station is home to sheep, goats, miniature donkeys, and other farm animals; younger kids love touching and interacting with them.
African Savanna
At the African Savanna, you also get to see lions up close and from a safe distance.
The habitat features grassy areas, shade trees, and a rock shelter for the African Lions.
African Savanna is also home to the Ben Gogolick Giraffe Encounter, where visitors can feed giraffes.
Besides the Lions, visitors can also see rhinos, zebras, bontebok, Colobus monkeys, etc.
Primate, Cat & Aquatics
Primate, Cat & Aquatics is a series of indoor habitats where you see Western Lowland gorillas, rare snow leopards, lemurs, and many other diverse primate species.
The outdoor Gorilla habitat is open during the warm weather months.
This zoo section is interesting because it brings the slowest animals with the fastest – Aldabra tortoises- next to the cheetahs.
Here, guests also see aquatic animals from salt and freshwater habitats.
Rainforest
The Cleveland Zoo's rainforest exhibits more than 600 animals and ten thousand plants from the jungles of Asia, Africa, and the Americas.
Don't forget to look up because over 50 birds from 12 different species fly freely overhead in the free-flight indoor aviary.
Rainforest is a two-acre, two-level habitat with a 7.6 meters (25 feet) waterfall. It is one of the largest of its kind in the country.
The lush green part of the zoo is also home to a research hut, the Discovery Center, a tropical rainstorm exhibit, a weather station, etc.
Waterfowl Lake
At the Waterfowl Lake, visitors can see native Waterfowl and a nesting pair of trumpeter swans.
Don't miss the outdoor flight cages that house Andean condors, the planet's largest flying birds, and a pair of Stellar's sea eagles.
While visiting the Waterfowl Lake, step into Wade Hall, a Victorian-themed ice cream parlor.
Wilderness Trek
Wilderness Trek is home to cold climate animals active outdoors throughout the year, including various bear species, Amur tigers, grizzly bears, wolves, seals and sea lions, tufted deer, Persian onagers, etc.
Wilderness Trek's Rosebrough Tiger Passage is home to the zoo's two Amur Tigers.
The state-of-the-art glass viewing ensures visitors can see the Tigers from up close.
---
---
Experiences in Cleveland Zoo
Besides the animal exhibits, the Cleveland Metroparks Zoo has other exciting experiences for guests.
4D Theatre
At the 4-D Theatre, you can see 15 to 17-minute immersive shows that stimulate the senses with stunning 3-D projection and special effects.
The theatre is right next to The Ben Gogolick Giraffe Encounter and is a fun experience for guests of all ages.
4-D Theatre is included in the Total Experience Ticket.
Boomerang Line
Boomerang Line is a train that rides through Cleveland Metroparks Zoo's Australian Adventure section.
The train service is open only from April to October, weather permitting.
Cleveland Zoo's general admission ticket doesn't include the train ride, and the train ticket is $2.50 per person.
Circle of Wildlife Carousel
The Circle of Wildlife Carousel features 64 animals carved by Mansfield, Ohio-based Carousel Works.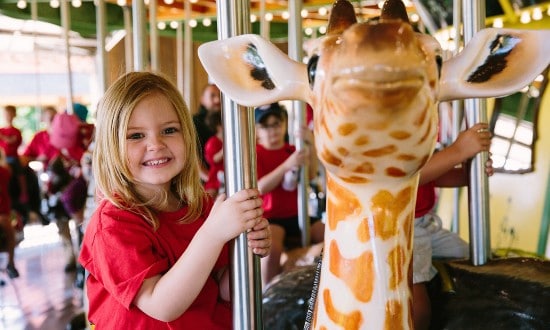 The carousel ride costs $3 per person and is suitable for all age groups.
Nature Discovery Ridge play area is next to the Circle of Wildlife Carousel and is a must-visit if you are in the zoo with your kids.
Image: Clevelandmetroparks.com
The park invokes children's imagination and inspires them by using wild habitats and natural elements like rocks, water, and trees.
Ben Gogolick Giraffe Encounter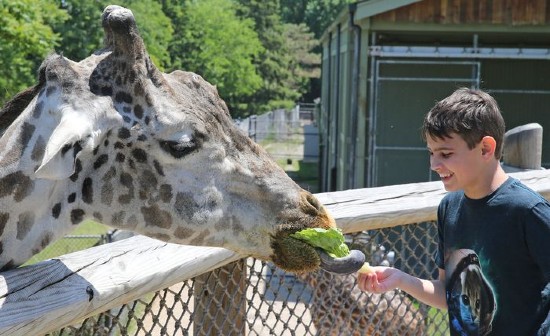 The Giraffe Encounter is an exciting opportunity to hand-feed 17-foot giraffes right out of your hand.
Ben Gogolick Giraffe Encounter in the African Savanna area has a massive deck from where you can interact with the world's tallest mammal.
Image: Cleveland.com
Visitors who plan to feed the animal must purchase Romaine lettuce at the giraffe deck site for $2.50 per leaf or three for $6.
Cleveland Zoo's tram
The Tram Service at Cleveland Metroparks Zoo is the best way to ensure you explore most wildlife attractions during your visit.
During the open-air tram car experience, you also hear an informative commentary that explains the animals and their exhibits along the tram route.
The Tram Service, which starts at 10 am and continues till the zoo closes, is included in your regular Cleveland Zoo ticket.
The tram travels directly from African Elephant Crossing to the Primate, Cat, Aquatics Building, and back.
The trams can accommodate strollers, wagons, etc.
Since the MetroParks zoo tram is a popular activity, there is usually a wait – around 20 minutes on regular days and a little more on busy days.
---
---
Cleveland Zoo map
If you visit with kids, a map helps you stay on course and aware of the situation.
Besides helping you locate the exhibits, Cleveland Zoo's map can also help you figure out where the restaurants, playgrounds, restrooms, stroller/wheelchair rentals, gift shops, etc., are.
You can download the map of Cleveland Metroparks Zoo now or bookmark this page for later.
---
---
Restaurants in the Zoo
Cleveland Zoo has a Pizza Hut serving Personal Pan Pizza, popcorn, Bavarian Pretzel, Cheese Cup, Uncrustable, Hot Dogs, Nachos, etc.
There are many drink options as well.
---
---
Strollers and Wheelchairs
Strollers and Wheelchairs are available for rent from the gift shop in the Welcome Plaza.
The Single Stroller costs $8 for the day, and the double stroller costs $10.
Electric Wheelchair costs $25 to rent. However, you must leave a $25 deposit and display your ID card at the gift shop.
To reserve a wheelchair in advance, you can call the Zoo gift shop at 216-661-7603.
Sources
# Clevelandzoosociety.org
# Wikipedia.org
# Zooborns.com
# Tripadvisor.com

The travel specialists at TheBetterVacation.com use only high-quality sources while researching & writing their articles. We make every attempt to keep our content current, reliable and trustworthy.
Other Zoos in Ohio
# Cincinnati Zoo
# Columbus Zoo
# Toledo Zoo