Columbus Zoo and Aquarium, initially built in 1927, is located north of Columbus city.
Columbus Zoo in Ohio gained national recognition under its visionary zoo director Jack Hanna and has won accolades in the past decade.
It spans over 580 acres and is home to 10,000 animals of 800 different species from around the world.
Some of the most popular animals include polar bears, lions, tigers, gorillas, and various species of primates.
The Columbus Zoo hosts various events throughout the year, including concerts, holiday celebrations, and special animal encounters.
It attracts over two million visitors every year.
In this article, we share everything you must know before purchasing Columbus Zoo tickets.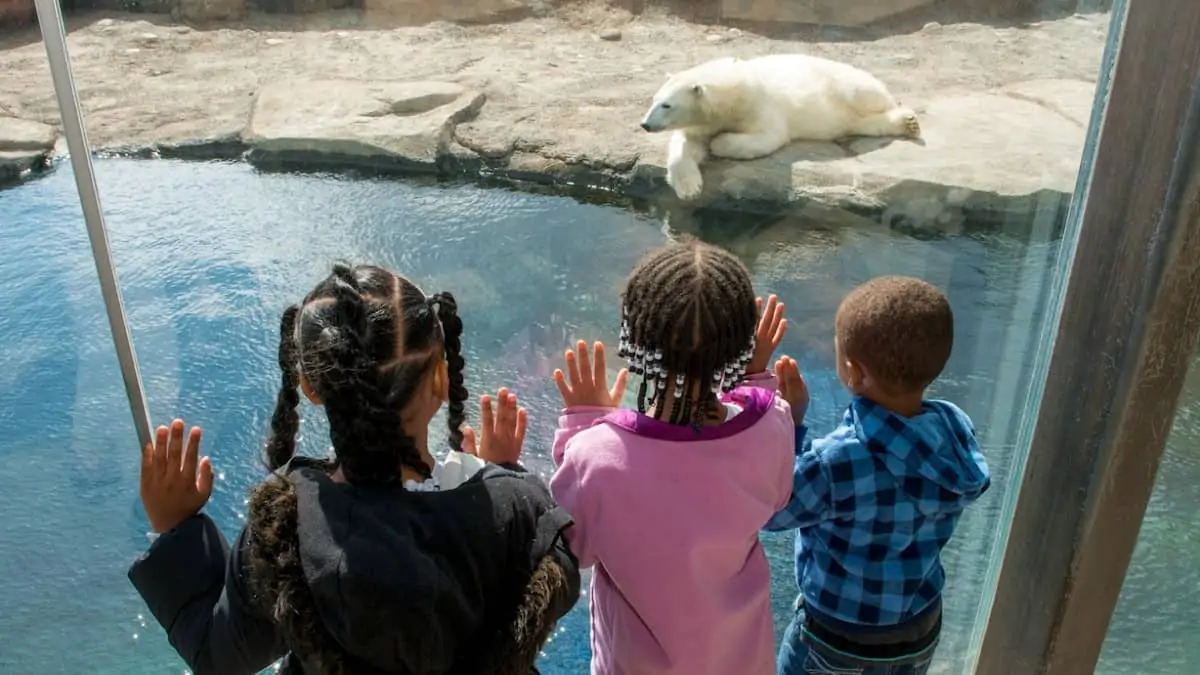 Directions to Columbus Zoo
Columbus Zoo and Aquarium is close to Powell in Liberty Township, Delaware County.
The zoo lies along the eastern banks of the O'Shaughnessy Reservoir on the Scioto River, at the intersection of Riverside Drive and Powell Road.
Its address is 4850 West Powell Road, Powell, Ohio 43065.
If you plan to drive to the zoo, it is best to fire up your Google Map and follow the directions.
---
---
Columbus Zoo hours
The Columbus Zoo and Aquarium are open every day of the year except Thanksgiving and Christmas Day.
During the peak season of April to September, Columbus Zoo opens at 9 am, and the rest of the year, it begins at 10 am.
From June to August, the zoo closes at 6 pm to accommodate the summer holiday crowd, in January and February the zoo closes at 4 pm, and the rest of the year, it closes at 5 pm.
The Columbus Zoo hours are as follows:
| Months | Opening hours |
| --- | --- |
| January and February | 10 am to 4 pm |
| March and May | 10 am to 5 pm |
| June to August | 9 am to 6 pm |
| September | 9 am to 5 pm |
| October to December | 10 am to 5 pm |
With Columbus: Attraction Pass, enjoy admission to Columbus's top attractions: Columbus Museum Of Art, Columbus Zoo and Aquarium, National Veterans Memorial And Museum, and Franklin Park Conservatory And Botanical Gardens!
---
---
Best time to visit Columbus Zoo
The best time to visit Columbus Zoo is as soon as they open for the day.
Early in the day, animals are more active, and lines at animal exhibits are smaller.
As the day gets hotter, especially in summers, the animals may recede to shaded areas.
Weekends and public holidays see a higher crowd turnout than weekdays.
If possible, choose a weekday for your visit to avoid crowds and queues.
Check out all activities in Columbus City
---
---
How long does Columbus Zoo take
Columbus Zoo and Aquarium is spread over a large area and has animal exhibits, experiences, shows, and rides.
Families with kids tend to take at least four hours to explore the zoo.
If you step into a restaurant in the zoo for lunch, you need one more hour.
If you are a group of adults, you can walk past all animal exhibits and experiences in two hours.
---
---
Columbus Zoo tickets
Visitors must purchase their timed Columbus Zoo tickets online in advance.
The zoo doesn't sell tickets at the venue.
Guests cannot enter the Zoo before their timed entry but can enter at any time after their reserved time.
Once inside, visitors can stay on for as long as they want.
If you plan to drive to the zoo, it is better to pre-pay for parking on the ticket booking page.
The entry to the Discovery Reef- the Zoo Aquarium- is free with a general entry ticket.
Visitors can exit and re-enter the zoo on the same day as long as they get a hand-stamp on the way out, failing which the re-entry is impossible.
Children two years and under get in for free and do not require a ticket.
Columbus Zoo offers a discounted price for Franklin County residents.
Regular ticket prices
Adult ticket (10 to 59 years): $25
Child ticket (3 to 9 years): $19
Seniors ticket (60+ years): $19
Ticket prices for Franklin County residents
Adult ticket (10 to 59 years): $17
Child ticket (3 to 9 years): $12
Seniors ticket (60+ years): $12
Columbus: Attraction Pass comes with 1-Day and 3-Day options. Buy the attraction pass and get admission to Columbus's top attractions.
---
---
Keeper talks at Columbus Zoo
Columbus Zoo offers ten different zookeeper talks spread throughout the day.
Some of these keeper talks are seasonal and available only during the peak months of April to September.
The regular Columbus Zoo tickets include access to these keeper talks.
Here is the 2023 Keeper Talk Schedule for Columbus Zoo. The Keeper Talk Schedule is subject to change based on weather, animal health, construction, and other factors.
From 2 April till 27 May, Keeper Talk will be only at the weekends.
From 28 May till 5 September, it will be followed daily.
From 6 September till 30 October, the schedule will be only for the weekends.
| Animal | Time | Location |
| --- | --- | --- |
| Lions | 9.45 am | Heart of Africa |
| Polar Bears | 10.30 am | Polar Frontier |
| Tigers | 11.15 am | Asia Quest |
| Koalas | 1 pm | Australia and the Islands |
| Orangutans | 1.45 pm | Congo Expedition |
| Penguins | 2.30 pm | Shores and Aquarium |
With four fantastic zoos, Ohio is a wildlife lover's destination. Read about all the Zoos in Ohio.
Check out the best things to do in Columbus City
---
---
Columbus Zoo experiences
There is a lot more to see and do at the Columbus Zoo and Aquarium besides the animal exhibits.
We list all the not-to-be-missed experiences so that you can make the most of your visit.
Giraffe feeding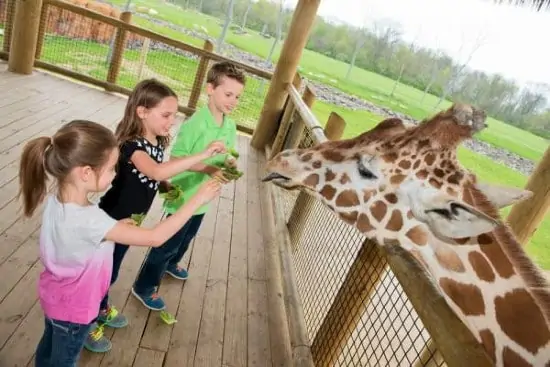 Giraffe Feeding happens in the Heart of Africa habitat.
You can buy animal feed for $3 and enjoy the giraffe feeding experience at different times throughout the day at Columbus Zoo.
Image: Midwestliving.com
It is subject to weather conditions and the willingness of the animal.
Lorikeet Gardens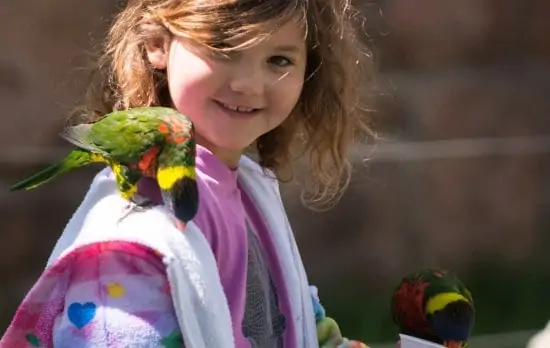 Lorikeet Gardens, with its brilliantly colored birds, is a treat to the eyes.
You can pay $3 additional to purchase nectar to feed and get up close to the lorikeets.
Image: Columbuszoo.org
This experience is a massive hit with both kids and adults and makes for great photographs.
Discovery Reef Diver
You can see the divers feed the tropical fish and find about the diversity and beauty of coral reefs at this exhibit of Columbus Zoo and Aquarium.
It is fascinating to watch the divers interact with the fish in the main tank.
My Barn
My Barn is just outside the My House at Habitat Hollow.
Children and adults can interact with domesticated animals like sheep, goats, cows, and chickens.
Children can also brush the sheep and ride a pony in this exhibit.
Stingray Bay
You can get up close with the stingrays, touch them and watch them glide majestically in the water at Stingray Bay in Columbus Zoo and Aquarium.
Entry to Stingray Bay is part of the general entry ticket, but you need to pay $3 to feed them.
Tide Pool Touch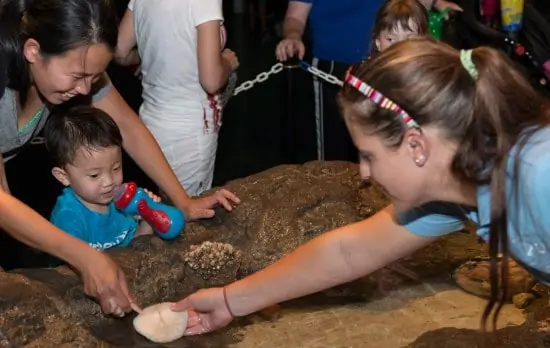 Columbus Zoo and Aquarium's Tide Pool Touch in Discovery Reef is a hugely popular exhibit.
Here, you can touch a Sea Star and get up close with one of the most ancient species on the planet, the Horseshoe Crab.
Image: Columbuszoo.org
Younger kids tend to love the Tide Pool.
Cheetah Run
The Cheetah Run is an opportunity to see the fastest cats chase a lure at top speed.
Timings of Cheetah run may vary due to weather and climate conditions at the yard for the day.
Visitors need to confirm the Cheetah run times for their day of visit at the zoo's main entrance.
4D Theatre
You can enjoy film viewing with sensory stimulation at Columbus Zoo's 4D Theater at Shores Play Park.
Tickets to screening at this brand-new theater cost $5 per person.
Children aged two and under can enter for free.
---
---
Animals Exhibits in Columbus Zoo
Animals at Columbus Zoo live across various sections similar to their native habitats.
Adventure Cove
Columbus Zoo's Adventure Cove is a brand-new habitat replicating the Pacific Northwest-inspired rocky coast and harbor setting.
The state-of-the-art zone houses diverse species, including 10 California sea lions, harbor seals, and numerous sting rays.
Adventure Cove also has one-of-a-kind indoor-outdoor animal habitat- Jack Hanna's Animal Encounters Village.
Asia Quest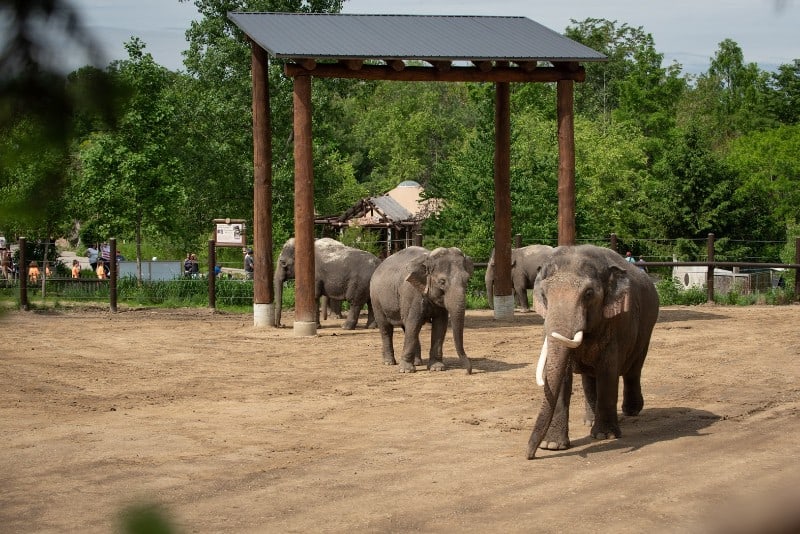 As the name suggests, Asia Quest houses Asian animals and other species that are nearing extinction.
The Rhino Keepers in this area of Columbus Zoo make you aware of the conservation and care efforts they are taking to preserve the threatened species.
This section also has the Asian elephants at the Elephant Conservation Station.
The Pheasant Aviary, with parakeets, freely-running pheasants, and Reeve muntjac strolling alongside visitors, is another highlight.
Australia and the Islands
You can see the wildlife native to the Australian outback and neighboring Southeast Asian islands in this section of Columbus Zoo.
Visitors walk amongst the Kangaroos in the Kangaroo walkabout while these marsupials are hopping about or sunning themselves.
Another exciting part of this zone is the Lorikeet Garden, with its vivid colored lorikeets flying about freely.
The friendly birds will readily come in close quarters if you offer them a cup of nectar.
You can top up this zone with 'Island of Asia Boat Ride' to see unique artifacts and species of animals found in the Islands of Southeast Asia.
Congo Expedition
The Congo Expedition is like a visit to the Congo region and its renowned forest.
You see the primates, cats, hogs, and other animals native to the African jungle.
The insect-themed playground has exciting activities like Crawl Like a Caterpillar, Climb Like a Spider, and Zip Around Like a Bee, etc., for the young visitors.
The Congo River Food Court is a popular destination for lunch/ snack breaks with multiple food options.
Heart of Africa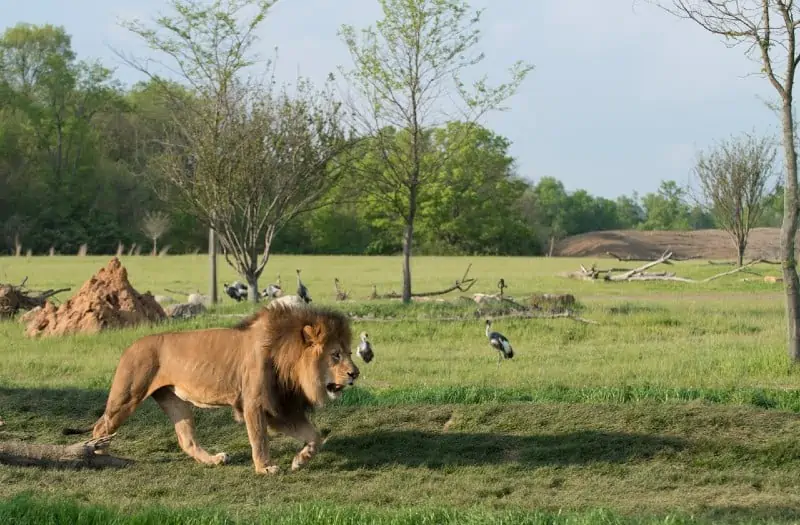 The Heart of Africa is the most extensive section of the zoo with an ambiance like the Mudiwa village.
Its 43-acre area includes African Savanna – where you can spot animals like zebra, cranes, and gazelle in action and the Ajabu National Park with hoofstock.
Other attractions here are the giraffe feeding, camel ride, and Mapori restaurant overlooking the savanna.
North America
You can explore the indigenous wildlife of the North American habitats- mountains, prairies, wetlands, and coastal areas.
At 'My House in Habitat Hollow', you can see the species native to the swamps, forests, and deserts of North America.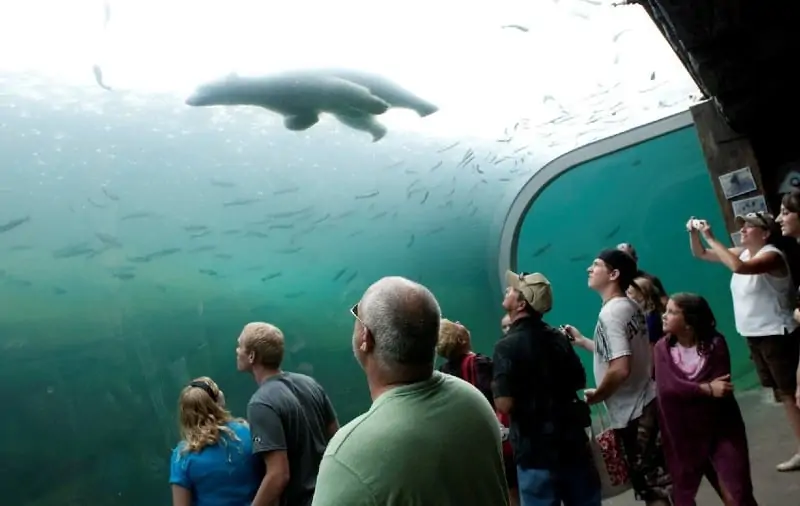 The 'Battelle Ice Bear Outpost' exhibit educates and informs visitors about conservation in the arctic.
Shores & Aquarium
Visitors can view animal species native to different water bodies in this section alongside informative experiences like the Penguin Keeper Talks and Discovery Reef Tide Pool.
Columbus Zoo and Aquarium's Manatee Coast Boat takes you on an exploration of the Florida coast to acquaint you with the West Indian manatees.
---
---
Rides at Columbus Zoo
Along with Animal viewings, Columbus Zoo has several rides multiplying the fun and adventure.
The Grand Carousel
The remarkable 1914 Mangels-Illions Carousel is in the Shores region near the Manatee Coast in Columbus Zoo.
A fascinating part of this Grand Carousel is the refurbished band organ that operates periodically during the day.
Visitors under 3.5 feet (42 inches) need a supervising adult to ride the carousel.
Infants can ride with an adult in a chariot seat.
Cost: $2 per rider.
North America Train Ride
A 5-minute ride on this Columbus Zoo train serves as a perfect break from all the walking you do on the zoo grounds.
The route takes you around the North American section of the park that houses animals like wolverine, reindeer, and moose.
Adults must accompany all kids shorter than 4.3 feet (52 inches) during the train ride.
Cost: $2 per rider
Heart of Africa Camel Ride
The Camel ride familiarizes you with what it is like to be riding this 'ship of the desert'- the Arabian camels.
Only visitors over two years can take the camel ride. Children aged two to four years must ride with an adult. Guests five years and older may ride alone.
Cost: $7 per rider
Island Boat Ride
You can catch a glimpse of gibbons, orangutans, and Asian small-clawed otters in this slow-paced boat ride through Columbus Zoo's Australia and the Island region.
Guests must be 4.3 feet (42 inches) tall or accompanied by a supervising companion.
Unfortunately, kids who can't walk aren't permitted on this boat.
Guests may get wet during the boat ride.
Cost: $2 per rider
Pony Ride
Children 10 years or younger can ride a pony while seeing the bison and pronghorn hill in the North America region at the Columbus Zoo Ohio.
Cost: $5 per rider
Rides in Adventure Cove
The Adventure Cove exhibit is the latest addition to the Columbus Zoo.
Sea Dragon
This rebuilt wooden coaster has an 11 meters (37 feet) hill, a figure-eight layout, and a double out and back.
The Sea Dragon coaster is 402 meters (1320 feet) long and clocks 40 kmh (25 mph).
Guests must be four feet (48 inches) tall to ride alone or 3.5 feet (42 inches) tall if accompanied by a supervising companion.
Cost: $2 per rider
Flying Clipper
Guests over three feet (36 inches) can ride this swinging ship with a supervising partner, and those over four feet (48 inches) can ride alone.
Cost: $2 per rider
Havoc Harbor
This bumper car style attraction is hugely popular amongst families and open to everyone over 3.6 feet (44 inches).
Cost: $2 per rider
Safari Stampede
Spin forward and backward on this Matterhorn ride.
Riders who are 3.5 feet (42 inches) can go with a supervising adult, while and those over 3.8 feet (46 inches) can ride alone.
Cost: $2 per person
Swingin' Gibbons
The wave swinger has been a crowd-favorite since the 1970s.
Riders must be at least 3 feet (36 inches) to ride on the inside swing and 3.5 feet (42 inches) to go on the outside swings.
Cost: $2 per rider
Dust Devil
Three arms with a cluster of cars will swivel and rotate you on this scrambler ride.
Riders need to be at least four feet (48 inches) tall or 3 feet (36 inches) if accompanied by a supervising companion.
Cost: $2 per ride
Golden Frog Hopper
Guests three feet (36 inches) or taller can bounce and descent this 7.6 meters (25 feet) tall ride.
Children not walking independently cannot board this ride.
Cost: $1 per rider
Jack's Tea Party
Adults and children at least three feet (36 inches) tall or accompanied by a supervising partner can spin their teacups on a swirling tabletop.
Cost: $1 per rider
Tiny Tusks
The ride with elephant-shaped cars is for adults and children to enjoy together.
The riders can maneuver their vehicles to going up and down.
Children less than three feet (36 inches) tall can go on the ride with a responsible companion.
Cost: $1 per rider
Tiny Town Train
The Tiny Town Train comes with a locomotive fitted with a bell you can ring, two cars, and a caboose.
Children need to be over three feet (36 inches) tall to ride this alone.
If not, they can join in with a guardian.
Cost: $1 per rider
Mission Macaw
The high interactive swing ride allows passengers to move the front fin and swing in and out while it circles the central tower.
Riders three feet (36 inches) and above can board with a companion, while those taller than 3.6 feet (44 inches) can ride alone.
Cost: $2 per rider
Falcon Fall
This ride has a 15 meter (50 feet) drop and a pull-back to repeat the process.
The climb to the top and plummeting straight down is sure to get your adrenaline rushing.
Visitors must be at least 3.8 feet (46 inches) tall to ride.
Cost: $2 per rider
---
---
Columbus Zoo map
It is advisable to carry the Columbus Zoo map to plan your visit better.
Besides helping you locate the animal enclosures, a map will also help navigate visitor facilities such as restrooms, restaurants, picnic areas, lockers, nursing stations, ATMs, souvenir shops, etc.
Maps are helpful for families who may want to view their favorite animals and prepare an itinerary in advance.
You can download and print Columbus Zoo's layout in advance.
---
---
Restaurants in Columbus Zoo
The two major food joints at the zoo – Congo River Market Food Court and Mapori Restaurant – serve sumptuous food with amazing vibes.
Congo River Market Food Court
Congo River Market has indoor seating with air con in the summer and heating in the winter.
It offers cheeseburgers, pizza, fresh salads, deli sandwiches, and kids' meals.
Mapori Restaurant
The Mapori Restaurant in the Heart of Africa region serves food with a view of the African Lion habitat.
The menu has Harvest Pizzeria, flame-grilled baby back ribs, pulled pork sandwiches, chicken tenders, and fresh garden salads.
Besides these two food joints, the zoo has Lakeside Grill and several smaller cafes, ice cream joints, cake shops, and specialty carts.
Guests can take lunch/snacks to the zoo, but you cannot take straws and alcohol inside the zoo.
Sources

# Columbuszoo.org
# Wikipedia.org
# Visitdublinohio.com
# Tripadvisor.com

The travel specialists at TheBetterVacation.com use only high-quality sources while researching & writing their articles. We make every attempt to keep our content current, reliable and trustworthy.
Other Zoos in Ohio
# Cincinnati Zoo
# Cleveland Zoo
# Toledo Zoo