Austin Zoo in Texas is a non-profit rescue zoo with more than 300 animals belonging to around 2100 species.
It was known as the Good Day Ranch before it was re-named Austin Zoo in 1994.
The zoo has a wide variety of animals, starting from Bengal Tigers, African Lions, and Galapagos Tortoise to the locally available North American Black Bears.
In this article, we share everything you must know before buying your Austin Zoo tickets.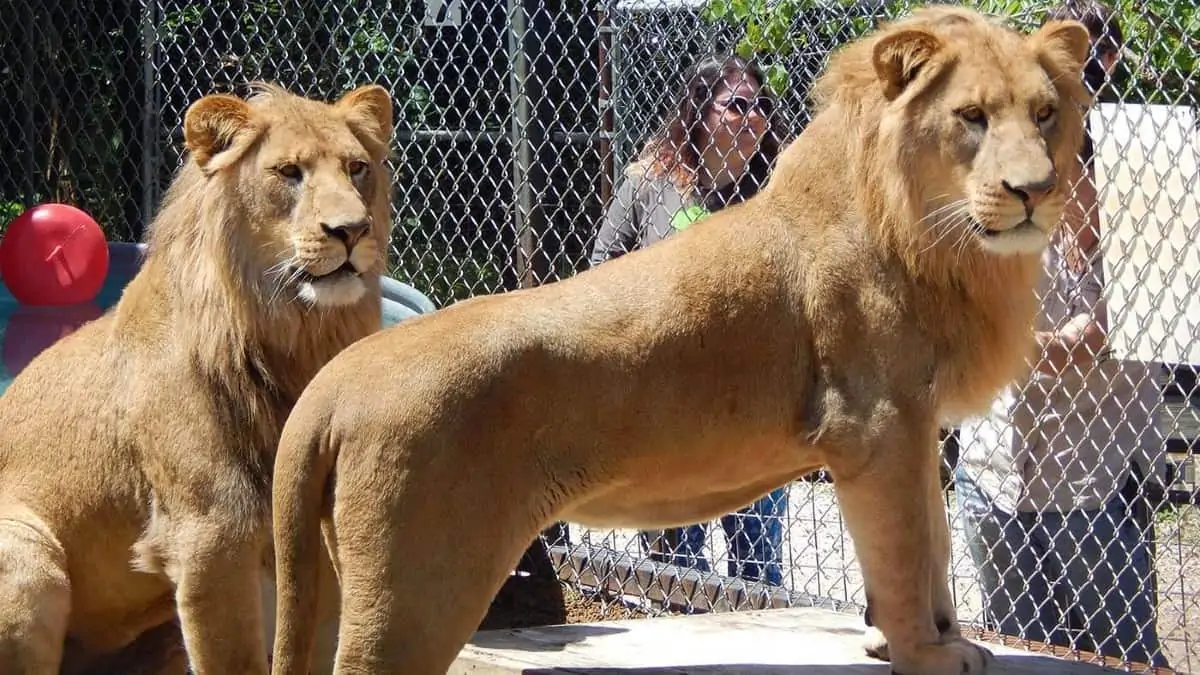 How to reach Austin Zoo
Austin Zoo is a pleasant Hill Country zoo located on the SouthWest edge of Austin off Highway 290 West and Circle Drive.
Address: 10808 Rawhide Trail, Austin, TX 78736.
For driving directions, fire up your Google Map, and start driving.
From Downtown Austin, the zoo is 24 km (15 miles), and the drive time is between 22 to 25 minutes.
It is 4 km (2.5 miles) past the "Y" in Oak Hill on Hwy 290 West.
There is plenty of parking, and it is free.
---
---
Austin Zoo tickets
Purchasing your tickets for Austin Zoo online is a better experience for three reasons:
When you book online, you save $1 per ticket. Online tickets are cheaper because there is no 'ticketing window surcharge.'
You don't wait in the ticket counter queue and waste your time and energy.
Tickets on-site are sold on a 'first-come, first-served basis. Even though Austin Zoo never fills up, booking your tickets online (and in advance) ensures a guaranteed entry.
These Austin Zoo tickets get emailed to you.
On the day of the visit, you can skip the line at the ticket counter and proceed directly to the check-in booth to scan your smartphone ticket.
Kids under two years get in free and don't need a ticket.
Ticket price
Adult ticket (13 to 59 years): $14.95
Seniors ticket (60+ years): $13.95
Student ticket (with valid ID): $13.95
Military ticket (with valid ID): $13.95
Child ticket (2 to 12 years): $11.95
Visual Story: 13 must-know tips before visiting Austin Zoo
---
---
Austin Zoo hours
All through the year, Austin Zoo opens at 9.30 am.
During the peak season of February to October, the zoo closes at 5 pm on weekdays and 6 pm on weekends and holidays.
During the winter months of November to January, Austin Zoo closes at 5 pm, seven days a week.
The last entry is one hour before the day's closure.
The Gift Shop closes when the zoo closes for the day.
Austin Zoo remains closed on Thanksgiving and Christmas Day.
Train ride timing
From Monday to Friday, Austin Zoo's Rawhide Train operates from 11 am to 3 pm, and on weekends and holidays, it runs from 11 am to 4 pm.
---
---
Best time to visit Austin Zoo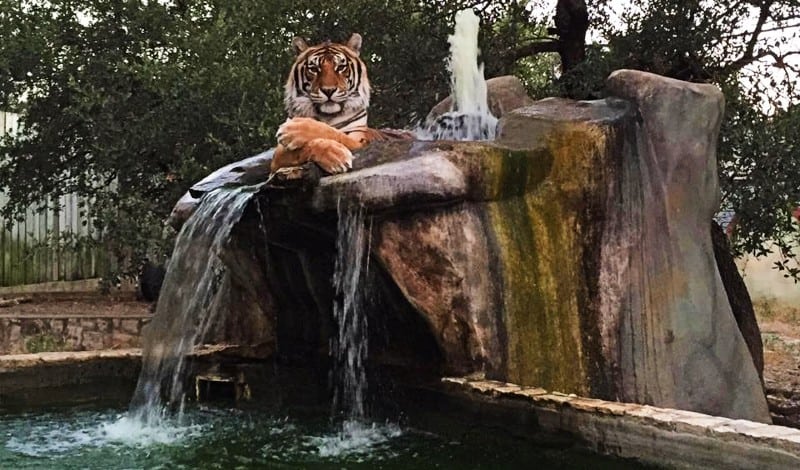 The best time to visit Austin Zoo in Texas is as soon as they open at 9.30 am.
There are four advantages of starting early – the animals are most active early in the morning, the temperatures are still moderate, the crowd is yet to get in, and you have the whole day to explore.
When you start early, you can explore for a few hours, take a break at one of the picnic tables, and begin exploring the zoo again.
We recommend weekdays for a peaceful visit because it gets crowded on weekends and school holidays.
At Austin Zoo, the busiest hours are 12 pm to 1 pm – that's when more than 40% of the crowd is visiting.
---
---
How long does Austin Zoo take
If you are visiting with kids and plan to attend keeper talks, feeding sessions, try out the train ride, etc., you will need three hours to explore Austin Zoo.
However, if you are a bunch of adults and want to wrap up soon, you can cover most animal exhibits in 90 minutes.
Some families who pace themselves well, with regular breaks, are known to spend up to five hours and more at the zoo.
Tip: When you buy Austin Zoo tickets online, you avoid wasting time in the ticket office queue.
---
---
Austin Zoo prices
Austin Zoo tickets are priced at $14.95 for all adult visitors between the age of 13 to 59 years.
Austin Zoo discounts
On showing their valid ID cards, military personnel and students get a $1 discount on the full ticket and pay only $13.95 for entry.
Seniors 60 years and above and kids between 2 to 12 years also qualify for the $1 discount.
---
---
What to see and do in Austin Zoo
Austin Zoo in Texas is a complete wildlife experience, and there is a lot to see and do.
It is better to wear closed-toed, comfortable walking shoes during your visit because its trails are made of crushed granite gravel.
We now list out all the Austin Zoo experiences.
See all animals of Austin Zoo
Cats such as Tiger, Lion, Cougar, Serval, and Bobcat are the biggest draws at Austin Zoo. Recently the zoo got a white tiger named Zulema.
Besides these carnivores, the other mammals visitors can see in the zoo are – North American Black Bear, Wolf Hybrid, Coatimundi, Genet, Binturong, etc.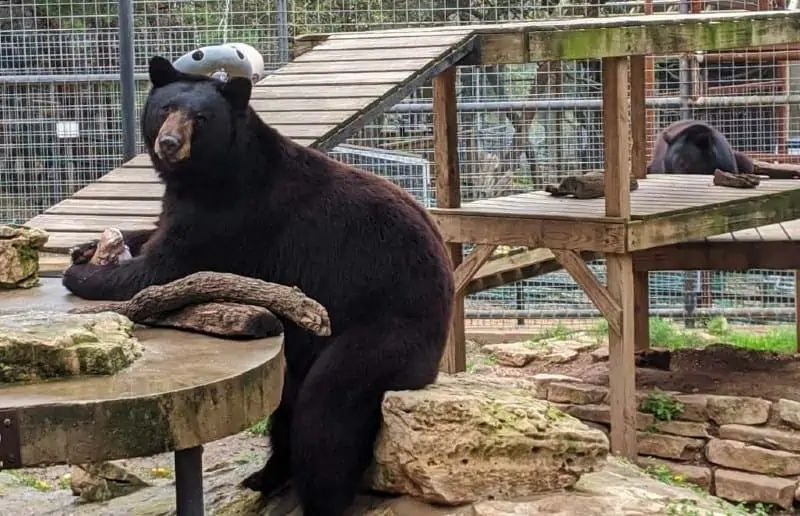 In the Primates section, you will see Capuchin Monkey, Black and White Colobus Monkey, Ring-Tailed Lemur, Brown Lemur, Spider Monkey, Common Marmoset, etc.
The Reptile House has lizards such as Iguana, Savannah Monitor, Leopard Gecko, and snakes such as Leucistic Texas Rat Snake, Red-Tailed Boa, Ball Python, etc.
In the Tortoise Barn, you will find Galapagos Tortoise, the largest living Tortoise.
The other tortoises and turtles on display are Sulcata Tortoise, Red-Footed Tortoise, Leopard Tortoise, Red-Eared Sliders, Box Turtle, Mud Turtle, etc.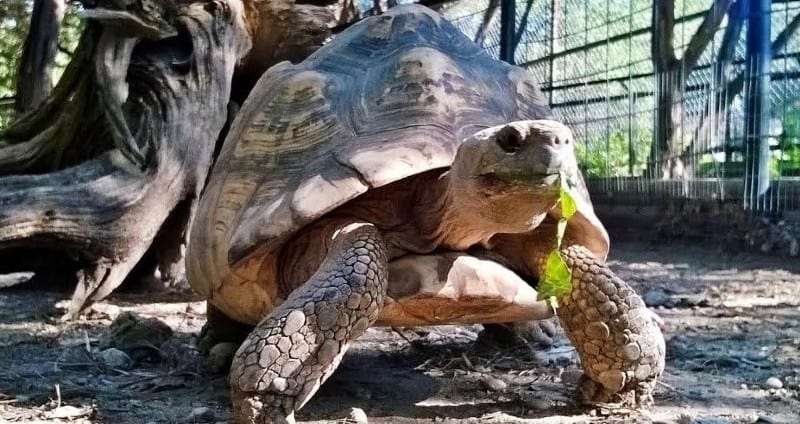 Numerous aviaries are located between the bears and big cat exhibits.
These birdhouses have exotic varieties such as the African Grey Parrot, Amazon Parrot, Jenday Conure, Sulfur-crested Cockatoo, White Umbrella Cockatoo, Rainbow Lorikeet, etc.
Feed animals in Dairy Barn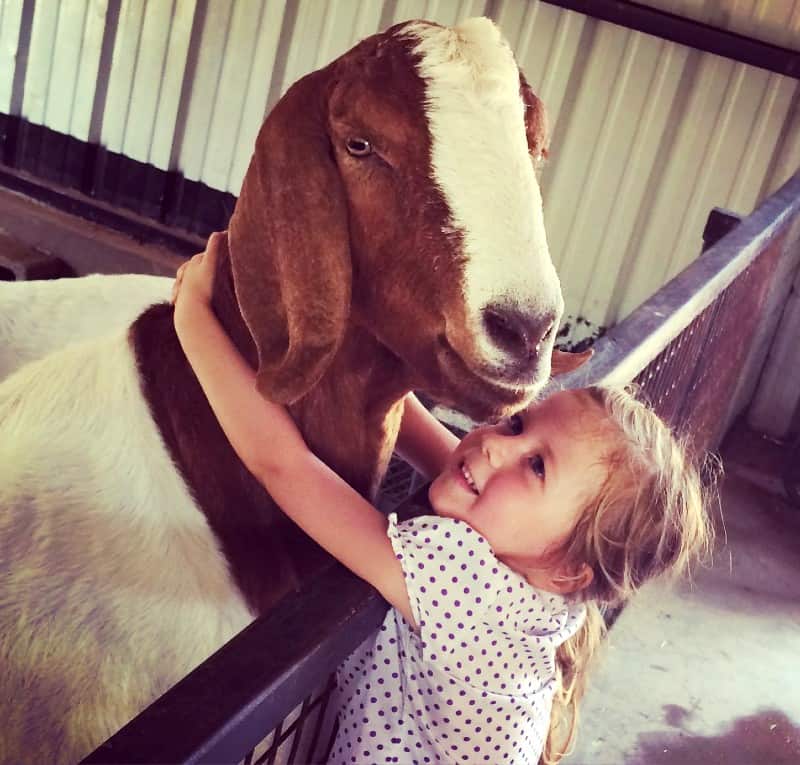 Not all of the animals at the Austin Zoo are exotic.
The Dairy Barn has farm animals such as Boer goats, Nigerian dwarf goats, pigs, pygmy goats, sheep, etc.
Guests can buy food from the Gift Shop for $3 and feed the farm animals.
Emu, Zebra, Ostrich, Axis Deer, and Llama habitats surround the barnyard.
Board the Austin Zoo train
Austin Zoo's train Rawhide Rocket offers a scenic 20-minute ride through the hill country.
Visitors can also see some of the zoo's off-display animals such as Emus, Alpacas, Longhorns, etc.
Austin Zoo train departs the depot at the top of every hour starting at 11 am and runs till 3 pm during the school days.
On Saturdays, Sundays, holidays, and school holidays, the train continues its trips till 5 pm.
The train rides cost $5 per person, and visitors can purchase the tickets from the train station.
Children under two years board the train for free.
Get closer with animal encounters
Austin Zoo offers two animal encounters, which are a great opportunity to get closer to the animals.
Capybara Encounter
Capybara is a good-tempered and gregarious animal, and the Capybara Encounter is an excellent opportunity to spend 35 minutes with them.
You will be meeting Austin Zoo's favorite Capybaras – Diego, Enrique, and Olivia.
The encounter costs $40 per person and is available Monday, Wednesday, Friday, Saturday and Sunday at noon.
Encounters are limited to three individuals from the same household, and only visitors ten years and older can participate.
An Animal Care staff member will be with you during the entire encounter.
To book this wildlife interaction, call 512.695.3021 at least 24 hours in advance.
You will still need to buy the regular Austin Zoo tickets.
Galapagos Tortoise Encounter
During the 25-minute long Galapagos Tortoise Encounter, you will spend time with the gentle giants and even feed them lettuce right from your hand.
This up close and personal encounter with the largest tortoises in the world is available seven days a week at 11 am.
Encounters are limited to three individuals from the same household, and
you get to meet Muffet, Gertie, and Wheezy, the three Galapagos Island Tortoises of Austin Zoo.
Only visitors five years and older can participate, and an adult must supervise kids under ten years of age.
The encounter costs $25 per person, and you must book at least 24 hours in advance by calling 512.695.3021.
The cost of the Galapagos Tortoise encounter is over and above Austin Zoo entry tickets.
Find out everything about the five fantastic zoos in Texas.
---
---
Austin Zoo map
With more than 300 animals to see, it is wiser to have a copy of the Austin Zoo's map to navigate the various exhibits.
Besides the animal enclosures, the zoo map also helps you identify visitor services such as restrooms, parks, gift shops, etc.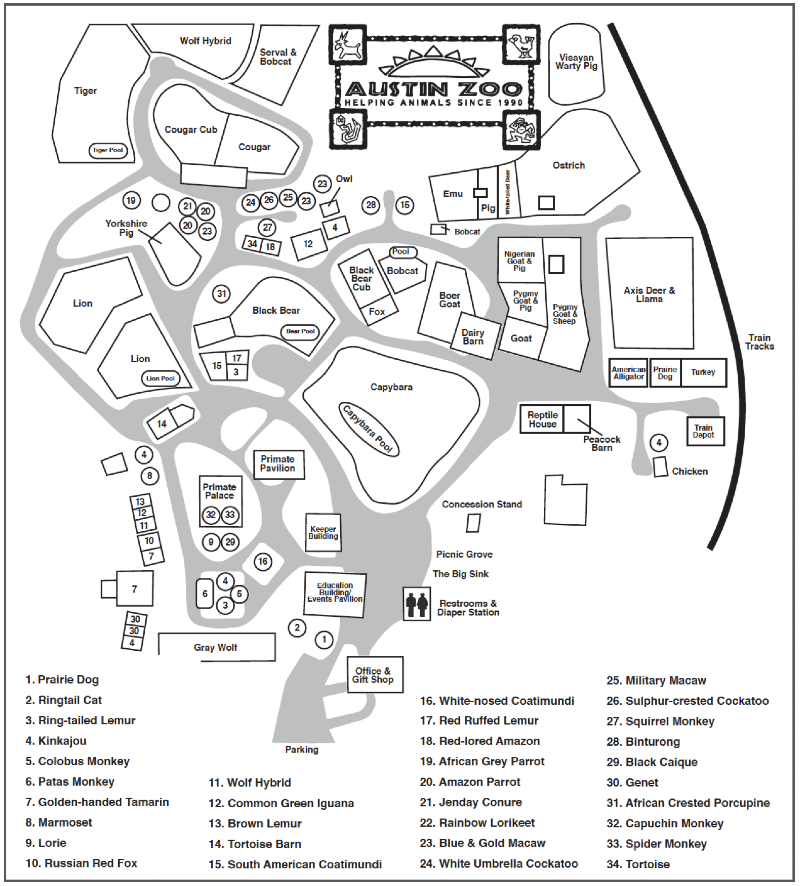 Carrying the Austin Zoo's layout is highly recommended if you are traveling with kids because you won't waste time finding the various exhibits, and in the process, get exhausted.
You can either download the map (101 Kb, pdf) or request it at the zoo entrance.
---
---
Restaurant in Austin Zoo
Austin Zoo doesn't have sit-in restaurants.
However, guests can purchase snacks and drinks in the Gift Shop or vending machines available at most locations.
If you plan to stay longer, you can bring your food and drinks and use the picnic tables located throughout the zoo grounds.
Austin Zoo does not have water fountains, but you can buy bottled Rainwater from the Gift Shop. Or bring your own drinks.
Sources
# Austinzoo.org
# Wikipedia.org
# Tripadvisor.com
# Austintexas.org

The travel specialists at TheBetterVacation.com use only high-quality sources while researching & writing their articles. We make every attempt to keep our content current, reliable and trustworthy.
Other Zoos in Texas
# Dallas Zoo
# Houston Zoo
# Fort Worth Zoo
# San Antonio Zoo