Fort Worth Zoo is home to more than 7,000 animals from 500+ species, including mammals, birds, reptiles, amphibians, and invertebrates, making it a popular wildlife attraction in Texas.
It has been rated by the top zoo in the USA by publications such as USA Today, Los Angeles Times, Family Life, etc., and attracts more than a million visitors annually.
Some of the most popular exhibits at the Fort Worth Zoo include the African Savanna, where visitors can see elephants, giraffes, zebras, and other African animals.
The Asian Falls is home to tigers, Asian elephants, and other animals from Asia, and the World of Primates features various types of primates, including gorillas, chimpanzees, and lemurs.
In this article, we share everything you must know before buying Fort Worth Zoo tickets.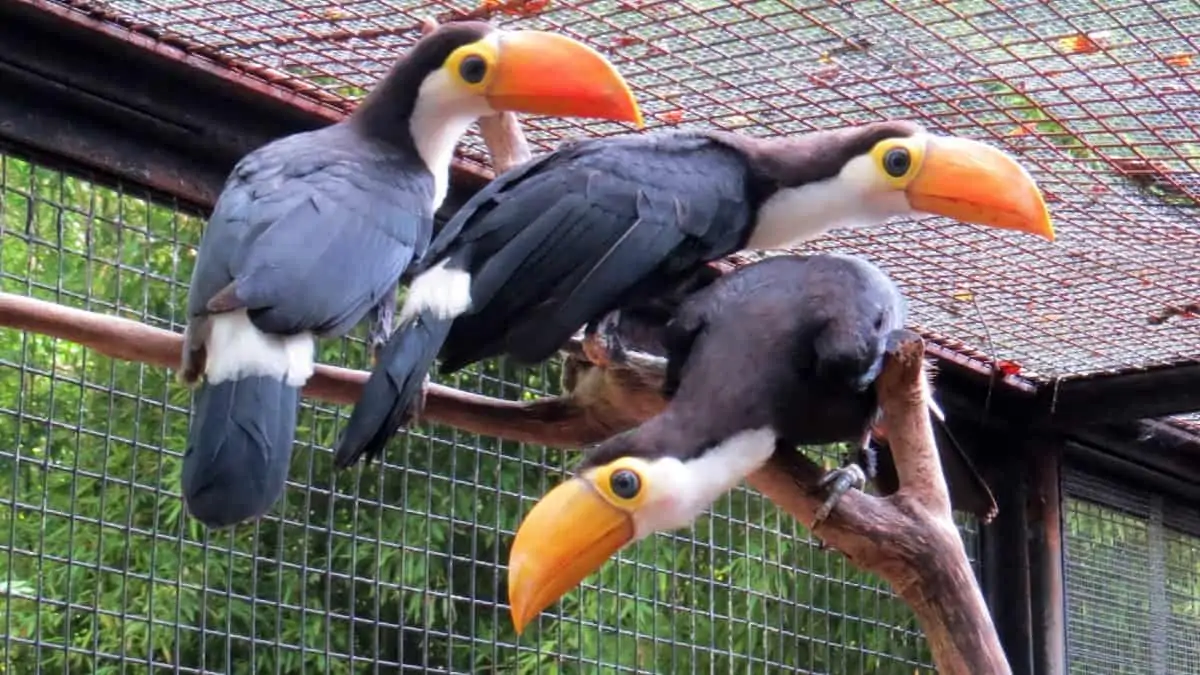 How to reach Fort Worth Zoo
Fort Worth Zoo is on Colonial Parkway, just 3 miles from the city's Downtown.
Address: 1989 Colonial Pkwy, Fort Worth, TX 76110, United States. Get Directions.
The nearest bus stop is Colonial & Flamingo, take the bus number 18X and get down at Colonial & Flamingo. The zoo is just a 4 minute walk away from the bus stop.
If you are in the city center, you can board bus number 053 and get down at University & Colonial stop.
From the bus stop, the wildlife attraction is approximately 1 km (.7 mile), and you can walk the distance in 12 to 15 minutes.
If you plan to drive to the zoo, open google maps and get going.
Parking at Fort Worth Zoo
Fort Worth Zoo has a lot of parking right in front of the attraction's entrance.
Parking costs $5 per vehicle, and visitors can pay at the parking booths.
Click here for more parking lots.
---
---
Fort Worth Zoo hours
From March to June, Fort Worth Zoo opens at 10 am and closes at 5 pm, in July and August, it opens at 9 am and closes at 4 pm, and from September to February, the zoo opens at 10 am and closes at 4 pm.
| Months | Opening | Closing |
| --- | --- | --- |
| March to June | 10 am | 5 pm |
| July to August | 9 am | 4 pm |
| September to February | 10 am | 4 pm |
Fort Worth Zoo Texas is open 365 days a year, and the last entry is one hour before closing.
The zoo opens from noon to 4 pm on Thanksgiving and Christmas Day.
The zoo opens from 10 am to 4 pm on New Year's Day.
---
---
Best time to visit Fort Worth Zoo
The best time to visit Fort Worth Zoo is as soon as they open for the day.
Early in the morning, animals are most active and visible.
As the day progresses and the temperatures rise, the animals recede to shaded areas and become hard to spot.
After 11 am, the queues at the counters and the exhibits get longer.
When you start early, you can explore a considerable part of the wildlife attraction before breaking for lunch.
On weekends and public holidays, Fort Worth Zoo tends to draw a large number of people.
Check out the best things to do in Fort Worth, Texas
---
---
How long does Fort Worth Zoo take
If you are visiting with children, you will need at least three hours to explore Fort Worth Zoo.
Kids tend to hang around longer near their favorite animal exhibits, attend most feeding sessions, listen to keeper talks, and try out numerous other experiences.
If you stop for lunch in one of the restaurants, you need one more hour.
If you are a group of adults in a hurry, you can see all the animal exhibits at Fort Worth Zoo in 90 minutes.
Note: Families who visit the Fort Worth Zoo also plan a visit to the SeaQuest Aquarium. SeaQuest in Fort Worth is home to over 1,200 animals and one of the wildest experiences in Texas.
---
---
Cost of Fort Worth Zoo tickets
Fort Worth Zoo tickets for an adult aged 13 to 64 years costs $17.
Kids 3 to 12 years and seniors 65 years and above get a $4 discount on the adult ticket price and pay only $13 for entry.
Cost of ticket price on Wednesday
On Wednesdays, Fort Worth Zoo offers half-price admissions.
Adults aged 13 to 64 years visiting Fort Worth Zoo on a Wednesday must pay only $9, while kids (3 to 12 years) and seniors (65+ years) must pay only $7 for entry.
---
---
Buy Fort Worth Zoo tickets
All visitors to Fort Worth Zoo in Texas must purchase their tickets in advance.
You will have to select a date and time while making a reservation.
After purchase, the tickets get emailed to you.
On the day of your visit, you can open your ticket on your mobile, self-scan them at the gate, and walk in.
Kids two years and younger don't need tickets to visit the zoo.
Ticket price
Adult tickets (13 to 64 years): $17
Child ticket (3 to 12 years): $13
Seniors ticket (65+ years): $13
Yet to decide? Check out the best wildlife attractions in Texas.
---
---
Fort Worth Zoo animals
This wildlife attraction on Colonial Parkway has around 7,000 animals representing 500+ species.
The animals at Fort Worth Zoo are housed in habitats designed to be as naturalistic as possible.
There are 10 animal enclosures –
African Savanna
As soon as you enter the 10-acre African Savanna, you will see giraffes, springbok, ostriches, and the aviary, with a variety of bird species.
The hippo habitat has two parts – the above-water and underwater viewing area.
The giraffe feeding happens at an elevated deck within the African Savanna.
Elephant Springs
Elephant Springs serves as the home to the zoo's Asian elephant herd, including a three-generation family.
Even as you walk through the floating village, you can see elephants swim in the 500,000-gallon pool below.
Visitors can spray water into the pool and engage with the elephants.
The greater one-horned rhino is next door to Elephant Springs.
Australian Outback
Australian Outback is dedicated to Australia's aquatic and terrestrial animals.
This part of the zoo is home to several species of Australian birds and a group of red kangaroos.
At the Fort Worth Zoo's Great Barrier Reef, visitors can check out the depths of the Coral Sea.
The three saltwater tanks containing more than 10,000 gallons of water are home to vibrant fish, eels, corals, small invertebrates, and blacktip reef sharks.
Flamingo Bay
Flamingo Bay showcases three of the world's six flamingo species – Caribbean flamingos, Chilean flamingos, and lesser flamingos.
You can see more than 70 flamingos at this leading captive breeding facility for the reddish-pink birds.
Parrot Paradise
Parrot Paradise is a walk-thru aviary where guests can get closer to colorful wildlife.
The domed structure houses hundreds of cockatiels and parakeets, comfortable with humans, and who don't mind eating out of their hands.
Birds will fly in and sit on you if you buy a seed stick to feed them
Museum of Living Art (MOLA)
Museum of Living Art (MOLA) is an award-winning herpetarium displaying some of the most exotic and endangered species on the planet.
It houses 5,700 reptiles, amphibians, etc., of more than 250 species.
The 30,000-square-foot indoor and outdoor facility has hand-painted murals on the building walls, yet another visitor attraction.
Some of the highlights of MOLA are America's most enormous saltwater crocodile, the Burmese Python, Fly River Turtles, Yellow-spotted Climbing Toads, King Cobra, Komodo Dragons, etc.
Penguins
The Fort Worth Zoo's Penguins habitat has both indoor and outdoor viewing areas.
The outdoor area is home to a group of African penguins, which are native to the southwestern coast of Africa.
Southern rockhopper penguins occupy the much colder, indoor Penguins habitat.
Through a huge glass window, guests can see the penguins swim in their massive pool.
World of Primates
The 2.5 acres of the World of Primates has both indoor and outdoor habitats.
Don't miss the huge tree in the center of the gorilla habitat that stretches to the ceiling.
You are sure to love the waterfalls trickling throughout the rainforest habitat.
Kids love watching and imitating animals such as Black-and-white Colobus Monkeys, Bonobos, Orangutans, Mandrills, White-cheeked Gibbons, Gorillas, etc.
Raptor Canyon
Raptor Canyon introduces Zoo guests to seven species of raptors.
The Raptor Canyon is a heavily shaded path that winds through an exhibit with seven species of raptors.
Visitors can see African Crowned Eagle, Andean Condor, Milky Eagle Owl, King Vulture, and Harpy Eagle.
Texas Wild!
Texas Wild showcases the state's different regional landscapes and the animal species that call it home.
Besides seeing animal exhibits, you also learn what is being done to conserve Texas wildlife.
Children's Ranch and Petting Corral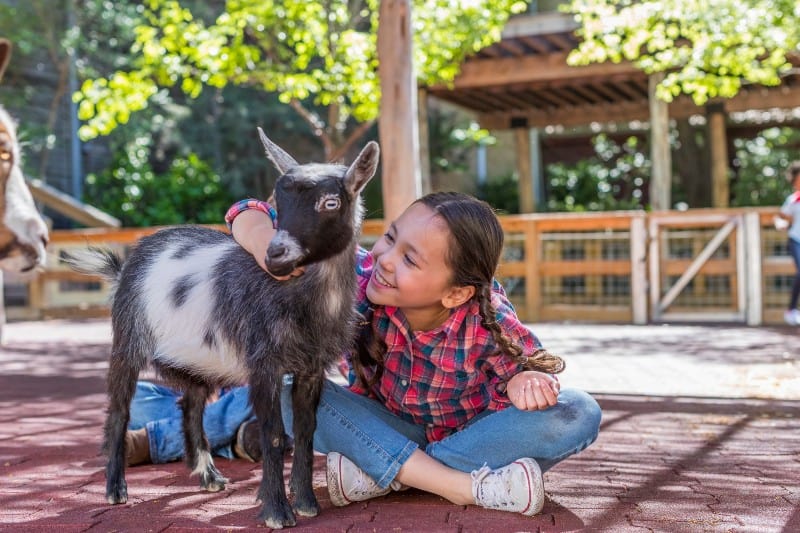 The Children's Ranch and Petting Corral is located just inside Texas Wild!.
The Children's Zoo is ideal for younger kids who love getting close to animals such as goats, sheep, miniature donkeys, pigs, chickens, etc.
---
---
Fort Worth Zoo's exhibits
Besides the animal enclosures, many other zoo exhibits are a hit with wildlife-loving visitors.
Outdoor Learning Theater
The 13,000-square-foot Outdoor Learning Theater at Fort Worth Zoo offers entertaining and educational animal encounters.
Zookeepers come in and present exciting animals and share information and stories about them.
It has shaded seating and a stage with behind-the-scenes areas.
The shows happen on Saturdays and Sundays, at noon and 2 pm.
Yellow Rose Express Train
Both kids and adults love the Fort Worth Zoo's train, which travels between the Safari Depot and Texas Wild!.
The train ride is not included in the Fort Worth entry tickets and costs $4 per person one-way.
Image: Fortworthzoo.org
Visitors can purchase train ride tickets at both stations.
Country Carousel
The Country Carousel is a merry-go-round with hand-crafted exotic animals.
It is a hit with kids of all ages and costs $4 per rider.
Tickets for the western-style ride located in Texas Wild! can be bought from both the train stations.
Safari Splash
The 14,000 square-foot Fort Worth Zoo's water park is the perfect place to cool down for all.
Kids love its four slides, water dump tower, a fill wall for the water toys, water cannons, etc.
Parents love to sit in a lounge chair under the shade and enjoy a cold soft drink or lemonade even as they keep an eye on their kids.
There is a separate toddler play area as well.
Access to Safari Splash costs $5 over and above the Zoo admission.
Safari Splash will open on April 21 for the season.
Play barn
The Playbarn is an interactive play area near the entrance of Texas Wild!.
At the colorful jungle-barn, kids can indulge in lots of crawling, climbing, and sliding.
Both adults and their children love learning about the animal babies on the farm.
Wild West Shooting Gallery
Wild West Shooting Gallery is an interactive laser target game popular with the kids and is part of the Texas Wild experience.
The Shooting Gallery is not part of the regular Fort Worth Zoo ticket, and visitors must pay $1 per play.
Swinging Swamp Bridge
This 60-foot suspension bridge spans the swamp of the 8-acre Texas Wild habitat.
This bridge comprises just nets and wood planks and adds a new level of adventure to your zoo visit.
Texas Nature Traders
Texas Nature Traders is the home base for many Texas-based Wildlife education programs.
Kids three years and older are encouraged to explore the outdoors and bring in fossils, rocks, bones, plants, and other artifacts in exchange for points.
The 'kid' traders can then redeem these points for items in the Nature Trader inventory.
Stingray Cove
Stingray Cove is an interactive exhibit where visitors can get up close to and touch various stingrays and small sharks as they swim in a shallow pool.
The massive pool with more than 50 Stingrays and Sharks offers a never-before experience.
Admission to the Stingray Cove is $4 per person, but the best part is you can feed them as well.
Tasmanian Tower
Fort Worth Zoo's Tasmanian Tower is a 7.6 meters (25 feet) tall rock climbing wall.
It is located next to Australian Outback and costs $4 per person.
Parental release forms are required for kids to participate.
Hurricane and Tornado Simulators
Kids can experience the power of high-force winds at the Hurricane Simulator in African Savanna and tornado simulator in Texas Wild.
This experience is not part of the regular Fort Worth tickets and costs $2 per person.
---
---
Fort Worth Zoo's keeper talks
Fort Worth Zoo offers 17 different zoo keeper talks spread throughout the day.
These encounters are included in your Fort Worth Zoo tickets.
| Animal | Time | Location |
| --- | --- | --- |
| River Otter, Alligator, Snapping Turtle | 1 pm | Pineywoods and Swamps, Texas Wild! |
| Komodo Dragon | 1.30 pm | Museum of Living Art (MOLA) |
| Black Bear | 2 pm | Pineywoods and Swamps, Texas Wild! |
| Gharial | 2 pm | Museum of Living Art (MOLA) |
| Hippo | 2.30 pm | African Savanna |
| Mountain Lion, Jaguar and Coyote | 2.30 pm | Mountains and Desert, Texas Wild! |
| African and Rockhopper Penguins | 3 pm | Penguins |
---
---
Fort Worth Zoo map
Carrying the Fort Worth Zoo map is highly recommended if you are visiting with kids because you won't waste time finding your favorite animal enclosures, and in the process, get exhausted.
With more than seven thousand animals to see, the zoo involves exploring a lot of animal exhibits.
Besides helping in navigating the habitats, a map of Fort Worth Zoo will also help identify visitor services such as restaurants, restrooms, kids parks, souvenir shops, etc.
You can either download the map or bookmark this page for later.
---
---
Dallas Zoo vs. Fort Worth Zoo
Some locals wonder if they must visit Dallas Zoo or Forth Worth Zoo, in Texas.
This confusion is primarily because the two world-class zoos are just 56 km (35 miles) apart.
We think both zoos have their advantages and disadvantages and you must visit whichever is convenient or closer to you.
In 2020, USA Today announced that Fort Worth Zoo was the No. 1 in North America.
However, if you want to check out some visitor comments before arriving at a decision, check out this discussion on Reddit.
Sources
# Dallaszoo.com
# Holidify.com
# Tripadvisor.com
# Wikipedia.org

The travel specialists at TheBetterVacation.com use only high-quality sources while researching & writing their articles. We make every attempt to keep our content current, reliable and trustworthy.
Other Zoos in Texas
# Dallas Zoo
# Houston Zoo
# Austin Zoo
# San Antonio Zoo