Set on 56 acres, San Antonio Zoo in Texas is home to more than 750 species of animals and birds, including exotic and endangered species from around the world. 
The zoo is divided into several different areas, including Africa Live! the exhibit, which features a variety of African animals such as lions, zebras, and giraffes; the Amazonia exhibit, which showcases animals from the Amazon rainforest, including jaguars and monkeys; and the Big Cat Valley exhibit, which features tigers, lions, and other big cats.
With numerous wildlife exhibits and experiences, it is a great half-day outing for animal-loving families.
San Antonio Zoo is a popular attraction for both locals and tourists. It offers a unique opportunity to learn about and interact with various animals worldwide.
This article shares everything you must know before buying your San Antonio Zoo ticket.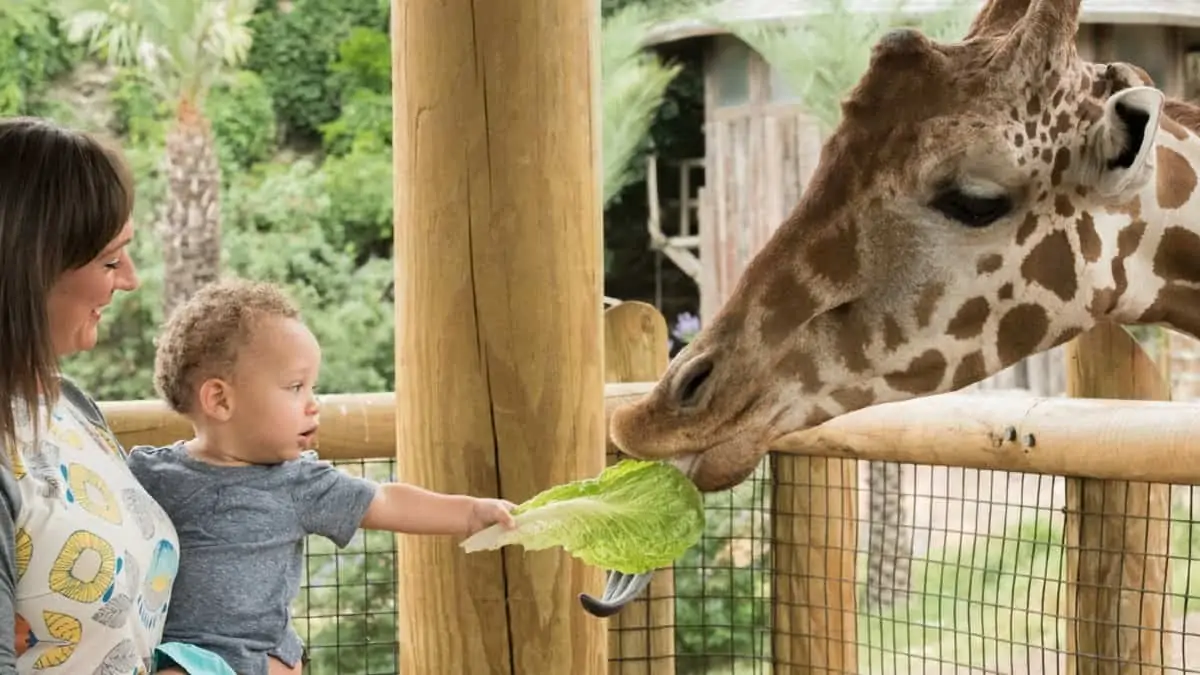 How to reach San Antonio Zoo
The San Antonio Zoo is located in Brackenridge Park, just north of the city center.
It is 5.5 km (3.5 miles) from Downtown San Antonio.
Address: 3903 N. St. Mary's Street, San Antonio, Texas.
If you plan to drive to the zoo, it is best to fire up your Google Maps and follow the directions. 
San Antonio Zoo parking
San Antonio Zoo's parking garage is between the zoo and Will Smith Zoo School.
Parking at the garage is free during zoo hours.
Many other parking areas exist in and around Brackenridge Park (see map below). 
Click here to know more about the nearby parking lots.
Book your Any Day ticket to San Antonio Zoo.
---
---
San Antonio Zoo hours
San Antonio Zoo opens at 9 am every day, but its closing time differs – from Sunday to Friday, it closes at 5 pm, and on Saturday, it closes at 7 pm.
The last entry is one hour before closing.
---
---
Best time to visit San Antonio Zoo
The best time to visit San Antonio Zoo is when they open at 9 am.
Early in the morning, animals are most active and visible, and as the temperatures go up, they recede to shaded areas and become hard to spot.
After 11 am, the queues at the counters and the exhibits get longer.
When you start early, you can finish exploring the exhibits, drop in at one of the restaurants in the zoo for lunch, and head back home. 
San Antonio Zoo tends to draw many people on weekends and public holidays.
Check out the best things to do in San Antonio, Texas.
---
---
How long does San Antonio Zoo take
If you are visit with kids, you will need at least three hours to explore San Antonio Zoo.
Children hang around longer in the animal enclosures, attend feeding sessions and keeper talks, pose for photographs, etc. 
If you stop for lunch in one of the restaurants in the zoo, you need one more hour.
If you are a group of adults hurrying, you can see all the animal exhibits at San Antonio Zoo in 90 minutes. 
Note: Families who visit the San Antonio Zoo are also interested in SeaWorld San Antonio. Besides numerous animals, they also have fascinating rides.
---
---
San Antonio zoo tickets
When you purchase San Antonio Zoo tickets online, you can skip the lines at the zoo's ticket counters. 
Besides, at the counters, they accept only credit or debit cards.
Visitors can purchase two types of tickets – the Standard Admission and the Fun Day Tickets. 
Standard Admission ticket
Experience all of what San Antonio Zoo offers with a standard admission ticket. 
Children under three years can enter for free.
Ticket prices
Adult ticket (12+ years): $40
Child ticket (3 to 11 years): $28
Fun Day ticket
Besides entry to the San Antonio Zoo, the Fun Day Ticket also gets you a train ride, a carousel ride, and entry into a seasonal animal experience.
Adult ticket (12+ years): $41
Child ticket (3 to 11 years): $46
Infant ticket (under 3 years): $10
Check out our list of the top five Texas zoos.
---
---
Animals at San Antonio Zoo
San Antonio Zoo has a collection of over 3,500 animals representing 750 species.
As soon as you enter the zoo, you see a flock of Caribbean Flamingos and, right next to them, an excited group of Red Ruffed Lemurs and Black and White Lemurs.
Walking through the entry point, you reach the Bear Corner exhibiting Spectacled Bear and Black Bear.
Next, you reach the Cat Grotto, home to small cats like the Caracal, Clouded Leopard, and Black-footed Cat.
Savanna is the next enclosure, which besides housing the Giraffes, also has birds and Zebras.
Giraffe feeding sessions happen in Savanna.
Outpost Amazonia is home to more than thirty species of tropical animals, including Jaguars, Ocelot, Monkeys, sloths, Bats, etc. 
Tiny Tot Nature Spot is designed for kids up to five years. The youngsters can dig, climb, splash, etc., but get dirty as they discover nature's wonders.
At the Big Cat Valley, guests meet with majestic lions. 
The Gibbon Forest, with its ropes and vines, helps to create a naturalistic environment for the gibbons to climb and play around.
Visitors can see Rhinos, Storks, and other hoofstock roaming the Africa Plains.
At Africa Live, guests are amazed by the underwater views of Hippos and Nile Crocodiles.
You can walk around and explore the rest of the habitat to see animals such as Okapi, African Wild Dogs, Dwarf Mongoose, Colobus Monkeys, Nile Crocodiles, and a wide variety of fish. 
The Friedrich Aquarium is an old exhibit (inaugurated in 1948) home to freshwater and saltwater creatures. 
At the Hixon Bird House, one encounters birds from all over the world, including the deserts of the American southwest, coastal beaches, the South American rain forest, the jungles of Asia, and the African bush.
The Reptile House has some of the most exciting animals, such as snakes, turtles, lizards, etc. 
Amphibia exhibit is home to many frogs, toads, salamanders, and caecilians from Texas and worldwide.
Get up close to wild and endangered animals with any day San Antonio Zoo tickets.
---
---
Experiences at San Antonio zoo
Besides the animal exhibits, the San Antonio Zoo offers many other wildlife experiences.
Giraffe Feeding
The Savanna enclosure is home to San Antonio Zoo's three giraffes, Cosmo, Alan, and Brayden, and it is here that the Giraffe feeding happens.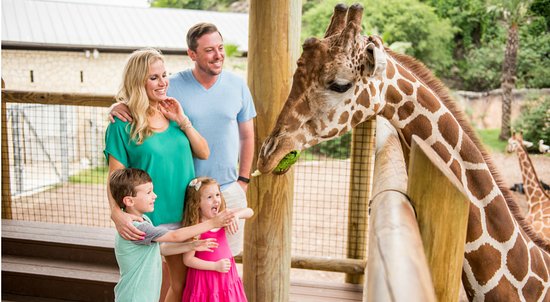 Giraffe Feeding tickets cost $5 per person, and each guest gets two leaves of lettuce to feed the animal.
The feeding happens daily* from 10.30 am to 4 pm. 
*times subject to change
Image: Tripadvisor
Butterfly Rainforest
Get up close and personal with beautiful monarch butterflies and other species.
Find it inside Kronkosky's Tiny Tots Nature Spot next to Discovery PLAYce.
Entry into the Butterfly Rainforest costs $4 per person and is not included in the regular San Antonio Zoo ticket.
Children under 3 are free.
This colorful exhibit is open daily from 9 am to 5 pm.
It is closed from November to February because of winter. 
Flamingo Mingle
Flamingo Mingle is an excellent opportunity for the whole family to meet the pink birds.
You can purchase Flamingo food at the ticket booth in Zootenial Plaza for $4 per person.
The experience is open from 10 am to 2 pm daily*.
*Times subject to change 
Kangaroo Krossing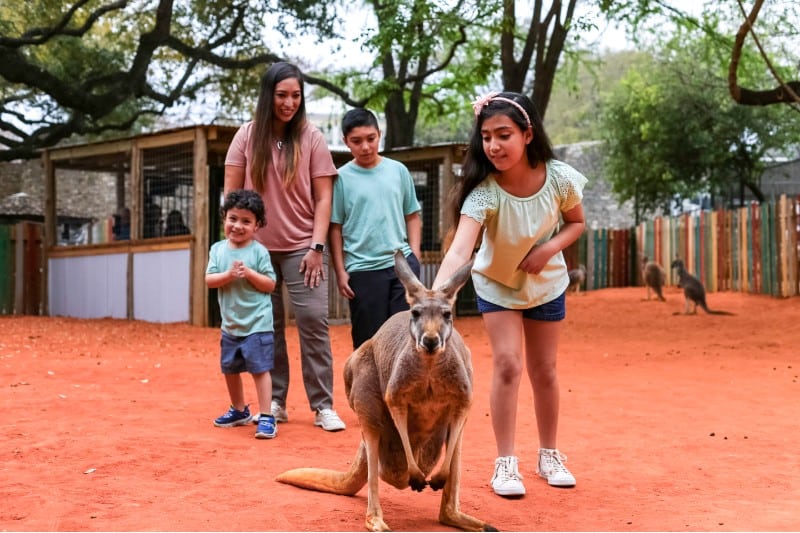 Kangaroo Krossing is an opportunity to get up close and learn more about Kangaroos while feeling like you are in Australia.
Kangaroo Krossing costs $8 per person, and you can purchase the tickets at the habitat near Hixon Bird House.
The experience is available from 10 am to 5 pm.
Lory landing
The Lory Landing is an Australian rainforest environment with hundreds of brightly colored, playful, and curious lorikeets. 
Families with kids love this experience, where you also get a chance to feed them nectar.
You can purchase cups of nectar from the nearby Lory Cafe for $4 per person.
Lory Landing is open from 9 am to 5 pm. 
San Antonio Zoo's train
San Antonio Zoo's train is also known as the San Antonio Zoo Eagle and has been active since 1956.
During zoo hours, it goes around the zoo, along the tracks skirting the banks of the San Antonio River.
Its 3.2 km (2 miles) long ride stops at Witte Museum, Kiddie Park, Japanese Tea Gardens, etc. 
The train is not part of the regular San Antonio Zoo tickets.
The train tickets cost $6 for all visitors three years and above, and you can buy them from the Train Depot Shop located next to Starbucks.
Zootennial Carousel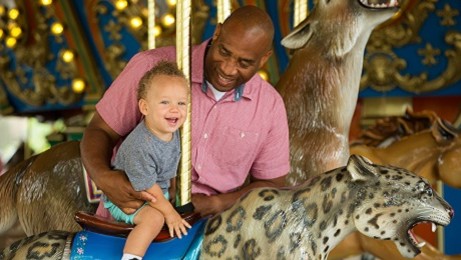 With its 60 stunning, hand-painted animals, San Antonio Zoo's carousel is an instant hit for kids and adults. 
The carousel costs $3 per person, and you can purchase the tickets at the nearby ticket stand.
Image: Sazoo.org
An adult must accompany children under 3.5 feet (42 inches) on the ride.
Behind the Scenes Encounters
San Antonio Zoo offers four unique behind-the-scenes encounters with animals.
All these encounters start from Outpost Amazonia (you must reach 15 minutes in advance) and last 20 to 30 minutes.
| Animal | Timing | *Cost |
| --- | --- | --- |
| Hippos | Fridays, Saturdays, and Sundays at 11.15 am | $40 |
| Rhinos | Friday, Saturdays, and Sundays at 1.15 pm | $40 |
| Aldabra Tortoise | Daily at 10.30 am | $40 |
*Cost per person
Breakfast Encounters
San Antonio Zoo offers three fascinating breakfast encounters where you dine with your favorite animals.
All the breakfast encounters with animals cost $25 for adults (12+ years) and $20 for kids (3 to 11 years).
This cost is over and above the regular San Antonio Zoo entry ticket.
---
---
San Antonio Zoo map
With more than 750 species on 56 acres to be explored, carrying a map of the San Antonio Zoo is highly recommended if you visit with kids.
With a map handy, you will save time finding your favorite animal enclosures.
Besides helping navigate the habitats, having the San Antonio Zoo's layout, also helps identify visitor services such as restaurants, restrooms, kids' parks, souvenir shops, etc.
You can either download the map or bookmark this page for later.
---
---
Food at San Antonio Zoo
San Antonio Zoo has three main restaurants – Beastro Restaurant, Longnecks Bar and Grill, and Riverview Restaurant.
Beastro Restaurant offers a stunning view of the zoo's wildlife carousel and lake and serves delicious burgers, pizza, and desserts. 
Longneck is an African-inspired open-air cafe with a good view and classic American food.
The Riverview restaurant serves family favorites such as burgers, sandwiches, salads, and ice cream.
Outside food or drink is not allowed in the zoo. 
---
---
Dress code at San Antonio Zoo
San Antonio Zoo strictly enforces a dress code to ensure a family-friendly atmosphere.
They recommend proper attire, including shirts and appropriate footwear, at all times.
Visitors are not allowed to get in wearing clothing or tattoos with offensive language or graphics.
Offensive language includes – profanity, pornography, graphic violence, support for drug use, gang symbols, and promotion of discrimination against any group.
Sources
# Tripadvisor.com
# Wikipedia.org
# Sazoo.org
# Yelp.com

The travel specialists at TheBetterVacation.com use only high-quality sources while researching & writing their articles. We make every attempt to keep our content current, reliable and trustworthy.
Other Zoos in Texas
# Dallas Zoo
# Houston Zoo
# Austin Zoo
# Fort Worth Zoo