Visitors to Atlanta relish its top tourist attractions ranging from art museums, historical sites, beautiful parks, gardens, etc.
It is a perfect couple's holiday destination.
National Geographic selected Atlanta as one of the top destinations to visit in the National Geographic Best of the World 2022 list.
Young and old couples, visitors, and locals enjoy spending their time together in Atlanta and its surroundings.
If you love your sweetheart (and we don't doubt it!), you'll want to spoil them with all the romantic surprises Atlanta offers.
Check out our pick for the most couple-friendly things to do in Atlanta.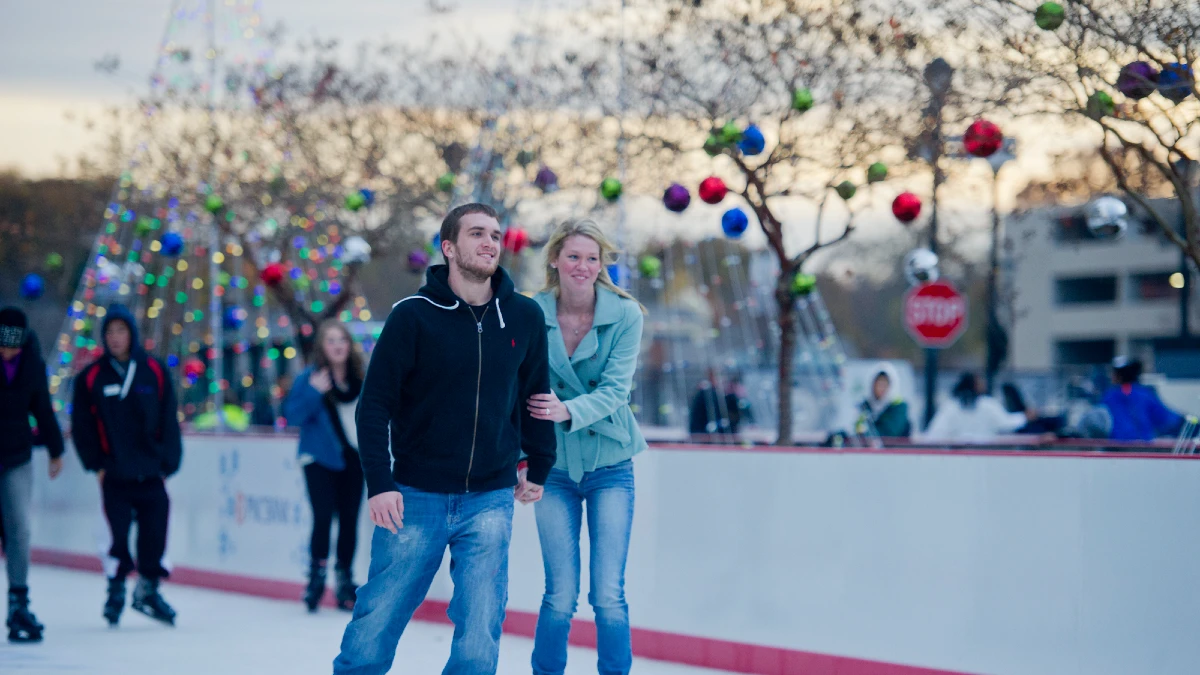 Get an adrenaline rush at iFly Atlanta
At iFLY Atlanta, couples can experience the thrill of skydiving without the worry or cost of leaping out of a plane.
Your instructor follows both of you into a vertical wind tunnel with speeds of up to 175 mph (282 kph) after private instruction.
This indoor skydiving simulator is popular entertainment for young and old pairs in the Atlanta area, with various time slots and year-round hours.
After your indoor skydiving session is over, you will take home a personalized flying certificate, a fantastic memory of your time with your loved one.
---
---
Go wild with your partner at Atlanta Zoo
Atlanta Zoo is spread across 40 acres of Grant Park, a historic neighborhood just west of downtown Atlanta.
It houses 1,500 animals of 220 species in natural habitats similar to their environment in the wild.
As young couples, both you and your sweetheart can have loads of fun by mimicking the animals and trying to win their trust.
Atlanta Zoo's highlights include Giant Pandas, including Ya Lun and Xi Lun, a set of twins born in the zoo, one of North America's largest zoological populations of Gorillas.
---
---
Crack a joke or two at Fun Spot Atlanta
Romance can get every inch better by cracking jokes that make your loved one burst with laughter.
Fun Spot Atlanta is a vacation spot that will tempt your loved one to get into a dizzying assortment of heart-pounding roller coasters, adrenaline-pumping thrills, and Georgia's first multi-level go-kart track.
Fun Spot Atlanta has over two dozen couple activities, thrill rides, three mini-golf courses, and fast-paced go-kart tracks.
Grease your adrenaline engine and unleash your inner speed demon over Samson's twisty turns — Georgia's most severe go-kart track.
After spending some time zipping around Samson like an F1 racer, take a ride on the Screaming Eagle Coaster.
---
---
Get closer to sea creatures at Georgia Aquarium
If your sweetheart is fond of sea life and loves to explore the different sea creatures, make sure you take them to this aquarium.
Georgia Aquarium in Atlanta is the largest aquarium globally and is home to more than 100,000 sea creatures.
It has seven permanent galleries exhibiting amazing aquatic animals, such as Beluga Whales, Whale Sharks, Manta Rays, Penguins, Sea Otters, Dolphins, Sea Lions, etc.
Who doesn't love to cuddle dolphins?
That's what you can do by buying a dolphin encounter ticket.
You and your loved one can then spend 8 minutes with dolphins, where they come to reach out to you.
Georgia Aquarium is the only institution outside Asia to house 4 Whale Sharks.
This is one of the best couple things to do in Atlanta.
---
---
Enjoy the surreal experience of Illuminarium Atlanta
With the unique cinematic experience at Illuminarium Atlanta, both you and your loved one will encounter the world's most exotic creatures in their native habitats.
To add on, take in the breathtaking scenery and marvel at the beauty of a star-studded Kenyan sky.
Illuminarium engages all of your senses, immersing you and your life partner in the world around you.
4K laser projection, 3D audio, in-floor vibration, and even scent bring the spectacular movie experience to life.
Complete your couple safari with food, beverages, and unique products from Africa, the café, patio, and shops.
Honestly, this is one of the best things to do in Atlanta for couples.
---
---
Travel back in time at Medieval Times Georgia
Medieval Times Georgia is an exciting, couple-friendly dinner attraction inspired by medieval times, the 11th-century, to be precise.
During the two-hour experience, both you and your loved one will witness authentic sword fights, jousting, and pure Spanish horses as you feast upon a four-course meal fit for the Royals.
At Medieval Times Georgia, which happens inside the King's 11th century-style castle walls, an authentic Medieval-style tournament keeps your loved one engaged.
During the tournament, both you and your partner have to cheer for one of six Knights competing in the joust and other skill tests, even as you eat a four-course banquet meal.
The experience also includes the Hall of Arms, which displays medieval artifacts, and a Museum of Torture.
---
---
Chill with your lover at The World of Coca Cola
The World of Coca-Cola in Atlanta is Coke's attempt to share the brand's story with Coke-lovers worldwide.
At the World of Coca‑Cola, couples experience the world's most famous beverage in a dynamic, multimedia attraction and get closer to the vault that houses its secret formula.
You and your sweetheart can see thousands of coke artifacts from the last 100 years, witness the bottling process, and taste around 100 Coca-Cola beverages worldwide.
World of Coca‑Cola is next to the Georgia Aquarium at Pemberton Place in downtown Atlanta's Centennial Park District.
---
---
Get sporty at College Football Hall of Fame
The College Football Hall of Fame is a heartthrob for both die-hard and casual fans to experience the game's passion.
If your sweetheart loves football, it's well worth taking him/her to this iconic place.
Your partner-in-love will get an immersive and engaging experience at the Chick-fil-A College Football Hall of Fame in Atlanta, Georgia.
It is one of the few museums that allow physical activity. If you and your partner are in Atlanta and have half a day to spare, this is a fantastic attraction to visit.
Enter the quad through the tunnel. Discover your loved one's team helmet on the three-story Helmet Wall, which has helmets from 770 different schools.
Select your team and watch as their helmet illuminates the wall.
---
---
Discover the world of SeaQuest Stonecrest
SeaQuest Stonecrest is the ultimate sea and land expedition with over 1,200 animals and 300 different species from five continents.
Couples can hand-feed Flash the Sloth, feel Stormin' Norman's gigantic Sulcata Tortoiseshell, snorkel with Stingrays and Sharks, and take a selfie with Marina the Mermaid among other activities.
You and your loved one will be excited to explore unique themed aquatic ecosystems such as the Amazon Rainforest, Caribbean, Mayan Jungle, and Pirate Island.
SeaQuest Stonecrest provides a memorable experience for romantic couples, owing to its fascinating displays and activities.
---
---
Enjoy the ride at SkyView Atlanta
A Ferris wheel ride is just one of the top things to do for couples in Atlanta. Who doesn't love the wide-angle views that these rides offer?
That too, having your loved one by your side, you can witness the glorious lights that run down in the city's downtown area if you're going for a night ride.
SkyView Atlanta takes you to a maximum height of 200 feet, from which you can view all the scenery and drama that happens in Atlanta.
You and your partner will be seated on one of the 42 climate-controlled gondolas and experience the inevitable stretch of the Kennesaw mountain.
Each ride lasts between 8 and 12 minutes, giving you enough time to click those fabulous selfies and snaps of Atlanta's famous attractions.
---
---
Giggle and sizzle at Live Comedy Show
Romantic vacations are all about having fun and doing crazy things with your loved one. That's why you have to take your partner to a comedy show.
Atlanta's comedy scene is outstanding as it features world-class comedians who will make your sweetheart laugh their belly.
Roll Out Theater's Laugh Out Loud Comedy series at Ponce City Market is one to watch as the comedians instantly relate with the audience and deliver the giggles.
The comedy series consists of various themes, bringing raw emotion to the stage.
---
---
Plan the perfect picnic at Piedmont Park
Romantic vacations are never complete without a fun-inducing picnic. In Atlanta, Piedmont Park is that sought-after picnic spot which lies along the midtown neighborhood.
After having visited attractions that created an adrenaline rush within your loved one, it's time that you spend quality time with your sweetheart by gazing, chatting, cycling, and walking across these lanes.
You can settle at the most romantic spots in the park where both you and your partner can enjoy gazing and marveling at the park's scenery.
A great attraction at Piedmont park is the front lawn garden laid bare and beautiful for nature enthusiasts to have an excellent time. Your time here will be one of the best things to do for couples in Atlanta.
---
---
Dine at Nikolai's Roof
Dining at a world-class restaurant with your sweetheart is one of the top couple things to do in Atlanta.
Nikolai's Roof, which is based on the top floor of Hilton Atlanta, offers you a tremendous experience in terms of the food and the breathtaking views that you can see from this rooftop.
Whether it be a date, honeymoon, or wedding anniversary, Nikolai's Roof will entirely transform your perception of Atlanta, owing to the magical views you get to see from this restaurant.
If you're into vodkas and cocktails, dash into the hip spot that serves top-notch drinks that will satisfy your appetite.
---
---
Enjoy music at Atlanta Symphony Orchestra concert
Wouldn't it be amazing to hear the saxophone's sweet melody, the violin's lyrical effect, and other instruments such as the Cello and trumpets when having a gorgeous meal?
Yes, founded in 1945, Atlanta Symphony Orchestra, popularly known as the ASO is one of North America's best orchestras that entertains the likes of music lovers.
The diverse music genres that ASO offers make it a must-watch concert.
You will be dazzled to hear the iconic theme song of Star Wars:
Return of the Jedi in concert and, in contrast, the classical, ever acclaimed Brunch and Beethoven at UGA.
The theater seats are of top quality and excellent comfort, giving you the ultimate live music experience. You can also munch on your favorite snacks from the food counter.
---
---
Ride to the gigantic Stone Mountain Park
Atlanta has many landmarks that are worth exploring. Stone Mountain Park is one of those best landmarks for couples to gaze and spend some intimate moments.
What's most interesting to the viewer is the magnanimous size of the mountain. It stretches up to 5 miles wide and 1,600 ft above sea level.
The enormous mountain has been here in Atlanta for 350 million years. One of the fascinating attractions is the summit Skyride which transports guests to more than 825 feet, i.e, towards the top of the mountain.
Being an adventure-ridden couple, you will enjoy the whole ride in the aerial tram and express your wonder when you reach the top of the mountain.
---
---
Drive to Macon with your partner
Macon is a beautiful city in central Georgia that boasts some of the oldest earthen mounds of native American origin and other primary archeological artifacts.
Drive 1.5 hrs southeast of Downtown Atlanta to reach this historic destination, Macon. One of the major highlights of visiting this place is getting a taste of the native American culture.
You can take your loved one to Macun during festival time to witness a great gathering of Native Americans in the South East celebrating endlessly with wine, dance, and music.
Festivals such as Ocmulgee Indian Celebration, Central Georgia Greek Festival, and Macon's International Cherry Blossom Festival are what you and your partner should look out for.
---
---
Have a great time at Freedom Park
Just as the name of this park goes, so is the naturality and freshness that adorns the garden. Freedom park is all about doing things with explicit freedom.
Freedom Park is connected to the main attractions, given the park's size. As couples, you can take some time to relax in this park, walking, jogging, and doing other activities your partner would enjoy.
The primary attraction of this place is the variety of public art installations your loved one will truly admire. One of the central art installations is 'Homage to King', a sculpture that has been installed in remembrance of the Atlanta activist Martin Luther King Jr.
---
---
Stay one night at ATL Treehouse
Surprise your loved one by booking a stay at ATL Treehouse in Atlanta.
Yes, one of the best couple things to do in Atlanta is to get all adventurous and sporty and stay one night in a treehouse.
A treehouse date is always special; your sweetheart will cherish the moments forever.
A 400-year-old tree holds down the treehouse at a massive height, giving you all the freedom to view the skies and surrounding regions during nighttime.
This treehouse offers you all the amenities of a luxury stay, with a single bedroom and King-sized bed for the lovely couples.
---
---
Tour the Atlanta Botanical Garden
Atlanta's botanical garden is one of the most beautiful places in Atlanta.
Your romantic vacation is only fulfilled within the flower paradise that arouses strong emotions in your loved one.
Started in 1976, the Atlanta Botanical Garden has been a home for all nature enthusiasts.
Both you and your partner will be mesmerized by seeing the various flower designs and displays that make ABG a natural winner.
The garden spans 30 acres long, including attractions such as the Children's Garden and Storza Woods, highlighted by a unique Canopy Walk.
Different theme-based gardens are arranged across the weekdays so that you can find a diversity of flower designs throughout the week.
---
---
Get a spa treatment for you and your loved one
It will help if you stay fresh and agile when on vacation. Quality Spa treatment will get you in proper shape, giving you the mental peace to go on more daring activities.
Luxury Spa at The Mandarin Oriental in Buckhead is the most sought-after Spa, where couples get a steam bath followed by a smooth massage to relax the body.
You can go for different kinds of Spa treatments based on what you want from it. Your loved one might choose a brightening facial, whereas you might prefer a deep tissue massage for full-body relaxation.
Spa at The award-winning St. Regis Atlanta is another spa you would love to try out.
Best romantic destinations for couples