Atlanta Zoo is spread across 40 acres of Grant Park, a historic neighborhood just west of downtown Atlanta.
It houses 1,500 animals of 220 species in natural habitats similar to their environment in the wild.
Atlanta Zoo's highlights include Giant Pandas, including Ya Lun and Xi Lun, a set of twins born in the zoo, one of North America's largest zoological populations of Gorillas, and a global center for the care and study of reptiles and amphibians called 'Scaly Slimy Spectacular.'
Some of the most popular exhibits at the Atlanta Zoo include the African Savanna, the Giant Pandas, the Reptile House, the Komodo dragon exhibit, the Asian Forest, and the World of Wild Theater.
This top Atlanta attraction gets more than 1.2 million visitors annually.
This article shares everything you must know before buying your Atlanta Zoo tickets.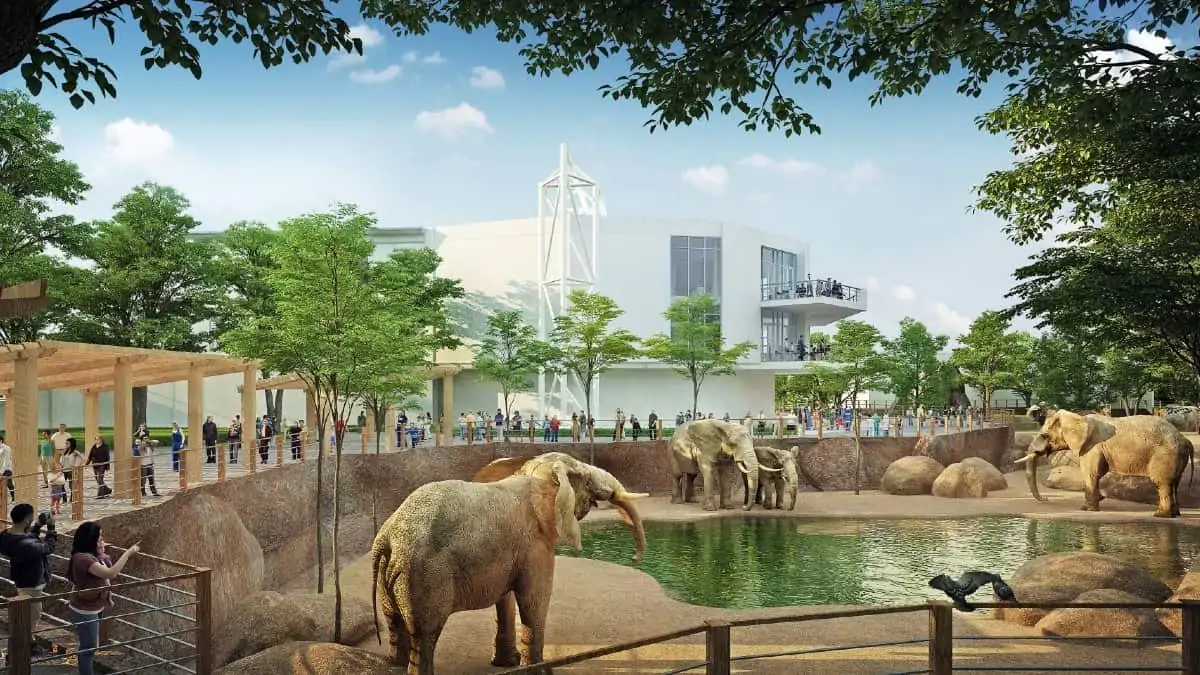 Atlanta Zoo ticket prices
The cost of entrance tickets for Atlanta Zoo for adults aged 12 to 64 is $34.
Children aged 3 to 11 years get a discount of $8 and pay only $26 to enter the Zoo.
Seniors aged 65 and above get a discount of $2 and pay $32 to enter the Zoo.
Kids under three years can enter the Zoo for free.
Atlanta Zoo for free
All active-duty, reserves, veterans, and retired US Armed Forces members get free entry to Zoo Atlanta with their valid military ID.
Visitors can get these free Atlanta Zoo tickets at the ticket counters.
Atlanta Zoo tickets
Purchasing your tickets for Atlanta Zoo online is a better experience for two reasons:
You don't wait in the ticket counter queue and waste your time and energy.
The daily capacity is limited, and tickets on-site are sold on a 'first-come, first-served basis. Booking your tickets online (and in advance) ensures a guaranteed entry.
The tickets get emailed to you. On the day of the visit, you can Skip the line at the ticket counter and proceed directly to the check-in booth to scan your smartphone ticket.
These tickets get you access to all the exhibits at Atlanta Zoo.
Kids under three years get in free and don't need a ticket.
Ticket price
Adult ticket (12 to 64 years): $34
Child ticket (3 to 11 years): $26
Senior ticket (65+ years): $32
Kids under three years can enter the Zoo for free.
Visual Story: 11 must-know tips before visiting Atlanta Zoo
Zoo Atlanta and Georgia Aquarium
Georgia Aquarium is the largest aquarium in the world.
It has over 100,000 sea animals and is the only aquarium outside Asia with whale sharks.
It is at 225 Baker St NW, Atlanta, Georgia, only a 10-minute drive from the Atlanta Zoo. Get Directions.
Atlanta Zoo and Georgia Aquarium is a popular sightseeing combination amongst tourists with children.
You can cover both attractions on the same day if you keep pace. Or plan them for two separate days.
When you buy this Atlanta Zoo and Aquarium Pass, you save 10% on your next booking!
Atlanta Zoo with Atlanta City Pass
If you have a prolonged stay in Atlanta, the Atlanta City Pass is a smart choice for sightseeing.
It saves you 44% on tickets to Atlanta's top 5 tourist attractions, including Atlanta Zoo.
The Atlanta City Pass for adults (13+ years) costs $97, and for kids (3 to 12 years), it costs $75.
With your Atlanta CityPass, you get the following:
General Admission to Atlanta Zoo
Anytime pass to Georgia Aquarium
General Admission to World of Coco-Cola
Admission to any two of the following attractions:
College Football Hall of Fame
Fernbank Museum of Natural History
National Center for Civil and Human Rights
The pass is valid for nine consecutive days after the first use.
---
---
How to reach Atlanta Zoo
Zoo Atlanta is in historic Grant Park, minutes from downtown Atlanta. Get Directions
Public Transport
The West End Station and the King Memorial Station are closest to the Atlanta Zoo.
You can board the Red or Gold Line to get to West End Station and then ride Route 832 bus. West End Station is 4 km (2.6 miles) from the zoo.
Or ride the Green or Blue Line to King Memorial and board Route 9 bus to the Atlanta Zoo. King Memorial station is 2.5 km (1.5 miles) from the zoo.
Atlanta Zoo parking
Atlanta zoo parking is available at 800 Cherokee Avenue and in the new Grant Park Gateway parking facility on the Boulevard.
Both these paid parking lots are close to the zoo, and you can walk the distance in 2 to 4 minutes.
The parking fee is $3 for an hour and capped at a maximum of $12 for the entire day.
---
---
Atlanta Zoo hours
Atlanta Zoo opens at 9 am and closes at 5 pm every day of the year.
The last entry for the zoo is at 3.30 pm.
It remains closed on Thanksgiving Day and Christmas Day.
Atlanta Zoo starts to bring its animals in for the day an hour before the zoo closes.
Food outlets also stands close an hour before the closing time.
---
---
Best time to visit Atlanta Zoo
Visiting the Atlanta zoo as soon as it opens at 9 am is a good idea.
The animals are most active early in the morning, and crowds are just about getting in.
Weekends are busier than weekdays.
Pick a weekday to make the most of your visit if you can. You also get a $3-weekday discount on the ticket.
We recommend weekdays for a peaceful visit because it gets crowded on weekends and school holidays.
Summer is a perfect time for visiting the Atlanta Zoo but also busier than winter.
Atlanta Zoo in winter
Atlanta Zoo also has much to offer during winter – animals like Pandas, Tanuki, and Elephants are active in cold weather.
Another advantage of visiting in winter is that you may find parking readily.
In winter, the zoo may suspend some activities.
Also, species native to hotter climates may be challenging to spot.
If you love wildlife, check out Atlanta Zoo & Aquarium Pass, which gives you access to kid-friendly attractions. You also get a 10% discount code, which you can use (five times!) to get discounts on future purchases.
---
---
How long does Atlanta Zoo take
If you visit with children, you may need three to four hours to explore Atlanta Zoo.
Children tend to linger longer around their favorite animal enclosures, attend feeding sessions and keeper talks, and try out numerous experiences.
Families that break for lunch tend to take more time.
If you want, you can also turn it into a full-day outing because Atlanta Zoo entry tickets don't have a time limit.
---
---
Kids activities at Atlanta Zoo
Atlanta Zoo has lots to offer to its young visitors.
Several exciting activities throughout the day can make your zoo outing more fun.
Some of these activities have age restrictions, are time-bound, plus come at an additional fee.
Here is all you need to know about them so you can plan your visit accordingly.
Giraffe Feeding
Atlanta Zoo's Giraffe feeding is an activity popular with all age groups.
When you purchase giraffe feeding tickets at the tent on Twiga Terrace, you will receive a numbered ticket to indicate your position in the line.
You need to buy food for giraffes separately. It costs $4 for two pieces of romaine lettuce to feed the giraffe.
When: 10 am to 1 pm and 2 pm to 3.30 pm every day, weather permitting.
Where: Giraffe enclosure
Age Specifications: This activity is for All Ages. A parent or guardian must accompany children three years old and under during the feeding experience.
Cost: $4 for two pieces of romaine lettuce
Atlanta Zoo Train
The Atlanta Zoo Train is a handcrafted replica of an original 1863 locomotive and one of the zoo's most popular attractions.
Visitors take a train ride through the Critter Crossing and see for themselves the daily life of its animals. See the train's route.
The train's covered passenger coaches are equipped with wide, comfortable seats.
When: 10.30 am to 4.15 pm every day, subject to weather conditions. The Ticket Booth closes at 4.15 pm.
Where: KIDZone
Specifications: One parent rides free with any child under 3.5 feet (42 inches) tall
Cost: $3 + tax
Treetop Trail
The Treetop Trail is an excellent opportunity to see things from the perspective of tree-dwelling animals.
The experience has two levels of rope ladders, swaying rope bridges, nets, foot lines, etc., through which visitors must navigate and get to the other side.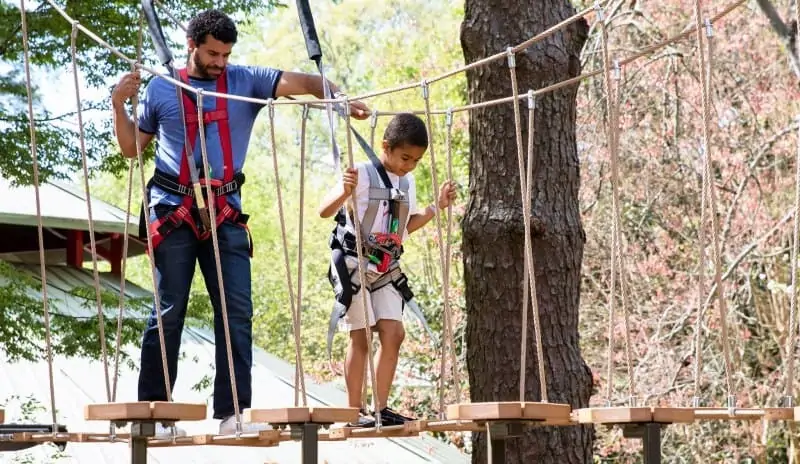 The adventure meets the highest safety levels, and participants always remain secure and tethered to an overhead tracking system.
All guests can participate. However, adults must accompany kids below four feet (48 inches).
When: 10.30 am to 4.30 pm, Friday to Sunday, depending on the weather.
The last ticket is available at 4 pm.
Where: KIDZone
Age Specification: All age groups can participate. However, kids below 4 feet (48 inches) need an adult to be with them on Treetop Trail's Sky Trail Navigator. Participants must be at least four feet (48 inches) tall to access the Treetop Trail's SkyRail.
Cost: $14.95
Endangered Species Carousel
The Endangered Species Carousel, housed under a colorful pavilion, has hand-carved wooden animal figures that zoo guests can ride.
It also features murals depicting an endangered mother and baby animals in their natural habitat.
When: 10.30 am to 4.30 pm, every day, all year round
Where: Carousel
Age Specification: Visitors of all ages are allowed on the carousel. One parent can ride free with a child under 3.5 feet (42 inches) tall.
Cost: $3 + tax. Please note that the ticket Booth closes at 4:15 pm)
Outback Station's petting zoo
The Petting Zoo is a popular exhibit, especially for young children.
Here, they get a chance to get up close and personal with a few furry friends.
Children can meet friendly farm animals like sheep, goats, and pigs at the Outback Station in the Orkin Children's Zoo.
Though the animals are used to human interaction, following the rules and even better if adults accompany children to ensure a safe experience is good.
Access to the Petting Zoo is included in the regular Atlanta Zoo ticket.
Playgrounds for kids
Children are the happiest at playgrounds, and Zoo Atlanta knows that well.
The zoo has two playgrounds- the 'KIDZone Playground' and the 'Naked Mole Rat Playground.'
Both are suitable for kids under 4.2 feet (50 inches) tall, and all visitors can enjoy them for free.
These animal-themed playgrounds have plenty of room for their little patrons to slide, climb and explore.
It is good to watch the children when they are playing, as these areas get crowded during peak hours.
Access to the playgrounds is part of Atlanta Zoo's entry tickets.
Splash Fountain
Atlanta can get quite hot in the summer.
If you visit the Atlanta Zoo in the warm weather season, you can get some cool reprieve and take a break at the Splash.
Splash Fountain is in the KIDZone section and is spread over 2500 square feet, featuring 18 water jets.
Make sure you make the most of it because this doesn't cost extra but is part of the regular admission ticket.
---
---
Atlanta Zoo animals
Atlanta Zoo has more than 1500 animals belonging to around 220 species, spread over different habitats.
African Rainforest
Zoo Atlanta is currently home to one of North America's largest populations of gorillas. All of these live in the African Rainforest.
Don't forget to meet Ozzie, the world's oldest male gorilla.
The Living Treehouse is an extension of the African Rain Forest and houses an aviary of African birds and different kinds of lemurs, monkeys, drills, and guenons.
Complex Carnivores & Trader's Alley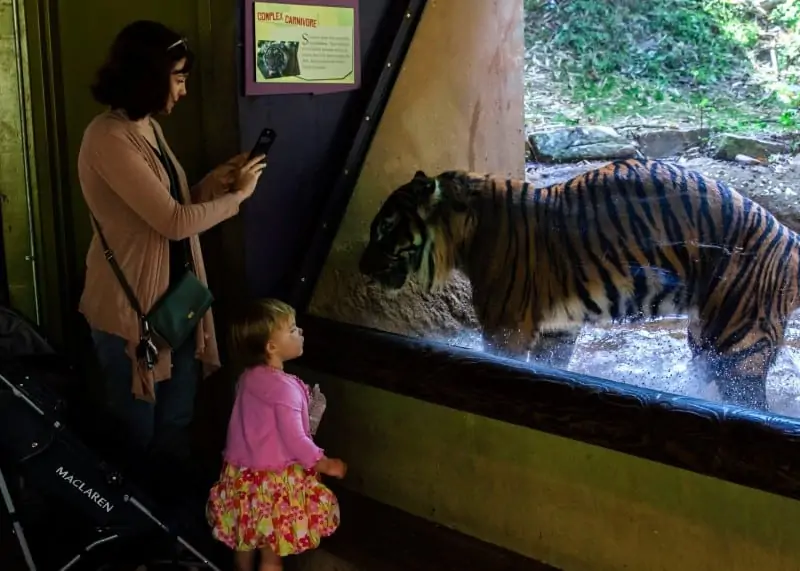 Complex Carnivores is where you will see all the big cats such as Tiger and Lions.
This section also shows smaller carnivores such as Bush Dogs, Binturong, Fossa, etc.
Meanwhile, the Trader's Alley focuses on animal species impacted by the international wildlife trade.
Visitors see animals such as Malayan Sun Bears and Raccoon Dogs, who get sold quite a bit.
African Savanna
The African Savanna is a dynamic living space featuring elements specifically designed for animal well-being and enrichment.
It houses wildlife native to the grasslands and desert of Africa.
This section highlights the lions, elephants, giraffes, zebras, ostriches, warthogs, meerkats, etc.
Mumbles, the 9-year-old 4,300-pound southern white rhino, also lives in the African Savanna complex.
Scaly Slimy Spectacular
Scaly Slimy Spectacular is the award-winning new amphibian and reptile complex of Atlanta Zoo, which features more than 70 species.
Visitors can't miss it because of its 14 meters (45 feet tall) iconic glass entry dome.
Some prominent species to spot here are Gaboon Viper, Prehensile-tailed skink, Green anaconda, Gila monster, Green tree python, Jamaican iguana, Diamondback terrapin, etc.
Asian Forest
The highlight of the Asian Forest is giant otters, sun bears, Komodo dragons, Sumatran tigers, giant pandas, tanukis, red pandas, and Bornean orangutans and Sumatran orangutans.
During your visit to Zoo Atlanta, don't miss out on the Orangutan Learning Tree Project, where you see orangutans engage in computer puzzles, games, and problem-solving exercises.
Giant Pandas
Atlanta Zoo is one of three institutions in the US currently housing giant pandas.
The Giant Pandas exhibit is part of the Asian Forest but deserves a special mention.
Lun Lun (female) and Yang Yang (male) came in 1999 on loan from China. Since then, their numbers have grown.
The youngest Pandas in the enclosure are Ya Lun and Xi Lun, twins born to Lun Lun on 3 September 2016.
Outback Station
Zoo Atlanta's Outback Station houses Australian wildlife, including Red Kangaroos, Major Mitchell's Cockatoos, Kookaburra, and a Double-Watted Cassowary.
Children's petting Zoo is also part of the Outback Station and is home to goats, sheep, pigs, etc., for kids to get closer and pet the animals.
---
---
Wild Encounters
Atlanta Zoo offers four unique wild encounters that can uplift your tour.
At an additional fee, you can interact at close quarters with the zoo's wild inhabitants.
We tell you all about these so you can pick and plan your Atlanta Zoo trip efficiently.
Encounter with Rhino
Mumbles, Atlanta Zoo's first southern white rhino, is the star of this encounter.
Initially, a zoo educator introduces the visitors to facts and efforts to conserve this remarkable species.
Then a Rhino Care Team member guides you with getting up close, feeding, and touching Mumbles.
Encounter with Elephant
In this face-to-trunk encounter, you meet Tara or Kelly- two of the elephants in Zoo Atlanta.
The encounter lasts an hour, starting with a zoo educator informing you about the elephant's habitat and behavior.
After that, you meet up with a member of the Elephant Care Team and get to feed one of the elephants.
Encounter with Aldabra Tortoise
This encounter is a once-in-a-lifetime opportunity to see, feed, and touch the Aldabra Tortoise, the world's largest living tortoise species.
Encounter with Lemur
This activity is a chance to interact with the most iconic native species- Lemurs.
You can see and feed some of these marvelous primates.
Lemurs are natives of Madagascar and contribute to making the island one of the richest and most dynamic natural ecosystems.
You can also learn how we can help protect and sustain these endangered mammals.
---
---
Atlanta Zoo's Ivan
Ivan pronounced as Eye-Van- the western lowland gorilla, was one of the Atlanta Zoo star attractions from 1994 until his passing in August 2012.
His journey before arriving at the zoo is as fascinating as the time after.
Originally from the Democratic Republic of Congo, Ivan was an infant when he came to Tacoma in Washington.
He lived in an indoor enclosure, first as a family pet and then as the 'shopping mall gorilla.'
His solitary and enclosed existence caused a national outrage in the animal welfare and zoological communities.
He moved to Seattle's Woodland Park zoo before moving to Atlanta Zoo as a part of its successful gorilla program.
Atlanta Zoo gave Ivan his first outdoor stint in a surrounding like his African natural habitat.
He thrived as he lived out the rest of his life like gorillas are supposed to live – amongst their own and in an open, natural environment.
Ivan's legacy lives on in Katherine Applegate's book 'The One and Only Ivan' and his iconic "Ivan hearts Atlanta' picture and beyond.
Zoo Atlanta has diligently continued and enriched its pioneer gorilla conservation and preservation programs aiding the survival of these endangered species.
Atlanta Zoo's Willie B
Willie B, another famous gorilla inhabitant, was the Atlanta Zoo transformation icon and lived here from 1961 until his passing in 2000.
Named after former Atlanta Mayor William B Hartsfield, he lived in an indoor enclosure for almost three decades.
More than twenty-five thousand people witnessed his transition to the Ford African Rain Forest outdoor exhibit in Zoo Atlanta.
His legacy at the Atlanta Zoo lives on through the internationally- renowned gorilla program and his children and grandchildren.
The memorial to Willie B outside the Ford African Rain Forest is one of the most popular photo spots in Zoo Atlanta.
---
---
Atlanta Zoo map
If you wish to cover Atlanta Zoo in good time, it is best to get the zoo map.
A map can help you locate the enclosures, sections, and facilities such as Rest Rooms, Restaurants, Playgrounds, Medical Room, Stroller/Wheelchair rentals, Parking, and Souvenir shops.
Maps can be convenient for families wanting to start viewing their favorite animals and creating their itinerary in advance.
You can download the map (320 Kb) or bookmark this page for later.
---
---
Restaurants in Atlanta Zoo
If you don't plan to carry food, you need not worry.
Nourish Café, the flagship restaurant at Atlanta Zoo, has a lavish spread- classic burgers, hot dogs, made-to-order flatbreads, salads, and sandwiches.
Located in the Grand Patio of the zoo, it also offers vegetarian and vegan entrees. You can also get gluten-free buns and flatbreads upon request.
If you want more treats, check out these food outlets spread across Zoo Atlanta:
Ooz Grilled Cheese Truck: Gourmet Grilled Cheese Sandwiches and Crispy Tater Tots
The Coop Food Truck: Hand-Breaded Chicken Tenders and Fries
Fro-Zen: Ice Creams, Pop Corns, Cotton Candy, and more
Willie B's: Pizzas
Flamingo Joe's: Hot Beverages and Cold Treats
Sweetwater Beer Garden: Chilled Beers
Sources

# Zooatlanta.org
# Wikipedia.org
# Discoveratlanta.com
# Tripadvisor.com

The travel specialists at TheBetterVacation.com use only high-quality sources while researching & writing their articles. We make every attempt to keep our content current, reliable and trustworthy.
Popular attractions in Atlanta
# Georgia Aquarium
# World of Coca Cola
# Medieval Times Georgia
# Illuminarium Atlanta
# College Football Hall of Fame
# Legoland Discovery Center
# Fun Spot America
# SeaQuest Stonecrest
# iFly Atlanta
# Margaret Mitchell House